Are you Looking for windows 10 22H2 iso download links for fresh-install, reinstall or Windows 10 upgrade purposes? Here's how to download the official Windows 10 ISO file legally Direct from Microsoft Server. And once you have downloaded the Windows 10 version 22H2 ISO, you can use it to Create An Installation media DVD or Bootable USB Flash Drive For Windows 10 clean installation, Reset, or Windows 10 Upgrade purposes.
In this post, we discuss how to Direct Download the Windows 10 2022 update ISO using the media creation tool, Tweak web browser and also we have added Direct download links for Windows 10 version 22H2 build 19045 ISO.
Before you go ahead to the download win 10 ISO, ensure you have :

Stabel An internet connection (for Windows Files download purpose)
Sufficient data storage available on a computer, USB or external drive for the download.
A blank USB drive with at least 8 GB of space or DVD (and DVD burner) if you want to create media. We recommend using a blank USB or blank DVD because any content on it will be deleted.
Make sure your PC meets all other Windows 10 requirements include System Requirements.
Also if you are doing a clean install, Then a genuine Windows product key will be required during the installation process.
Download Windows 10 version 22H2 ISO
After checking the above requirements, let's discuss how to Download the latest Windows 10 ISO files from Microsoft Server using Media Creation Tool.
Using Media Creation Tool
First Visit Official Microsoft Windows 10 ISO download site, 
Then scroll down and click on the Download too now button.
This will Download the Official windows media Creation Tool size of around 18 MB.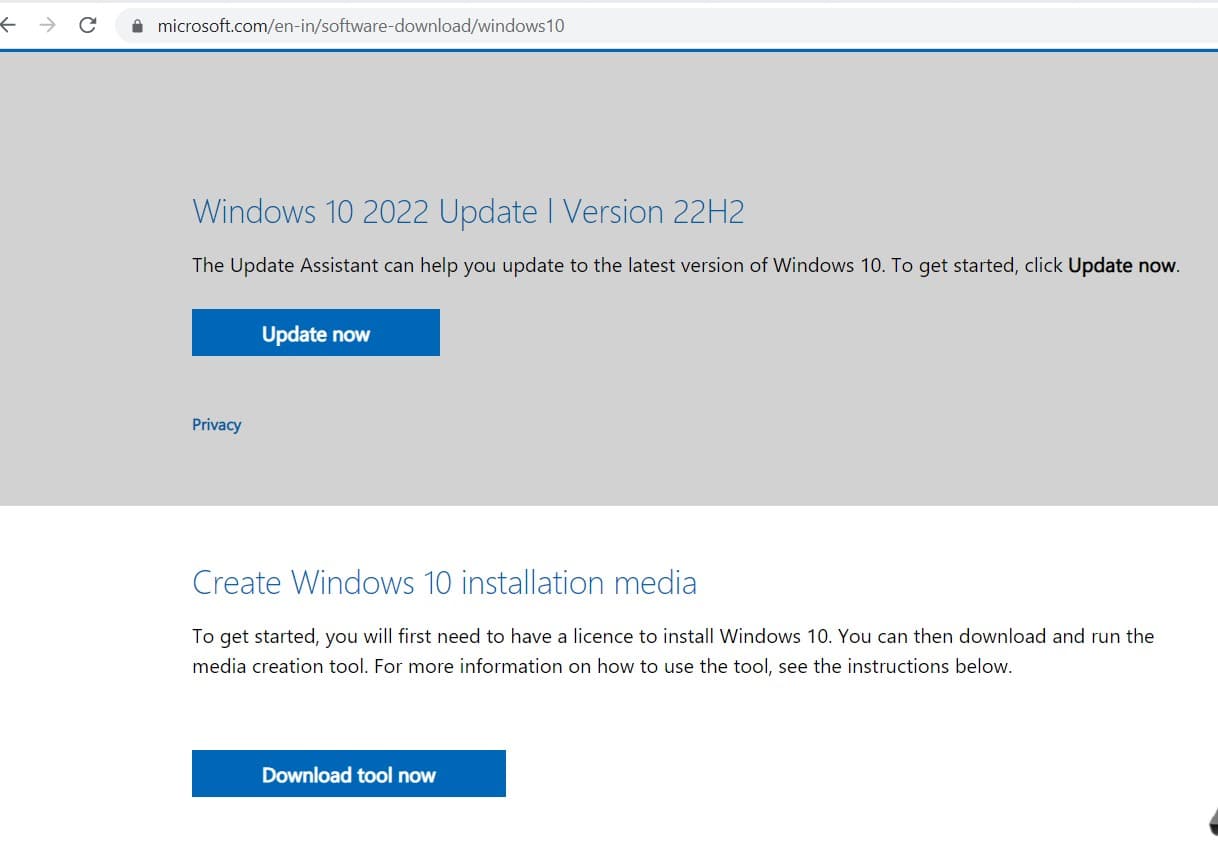 When the download is complete simply open the download location, And double-click on Media creation Tool.exe to Run the setup.
If windows prompted UAC, then click Yes.
You Will, See getting flew thing ready then This will prompt the Licence Terms Windows Click on Accept.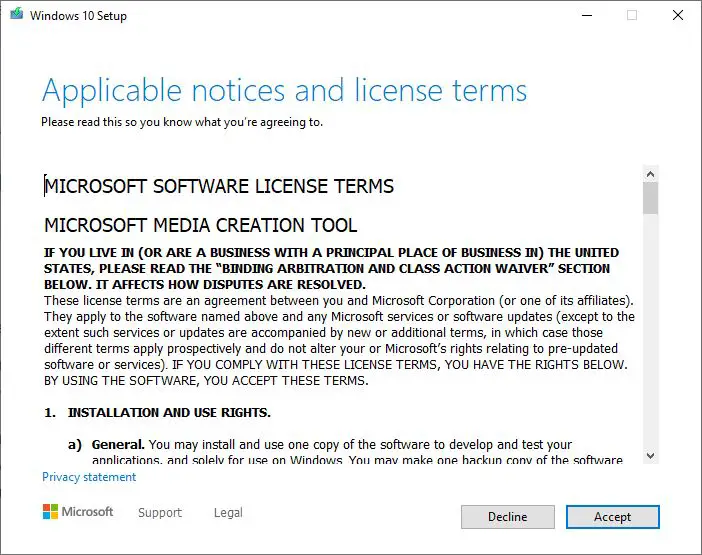 Next, Select Radio Button Create installation media (USB flash drive, DVD, or ISO file) for another PC and click/tap on Next.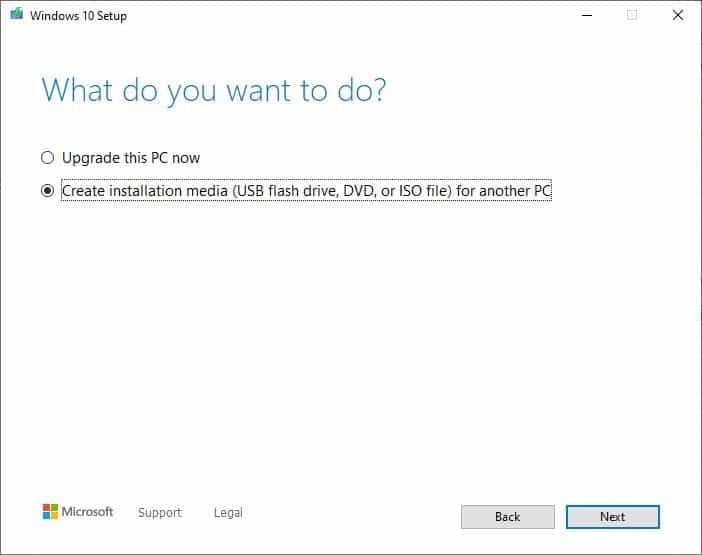 Then On the next Screen select language, Architecture, and edition.
Uncheck the Use the recommended options for this PC box.
And select Both options next to Architecture as shown below image.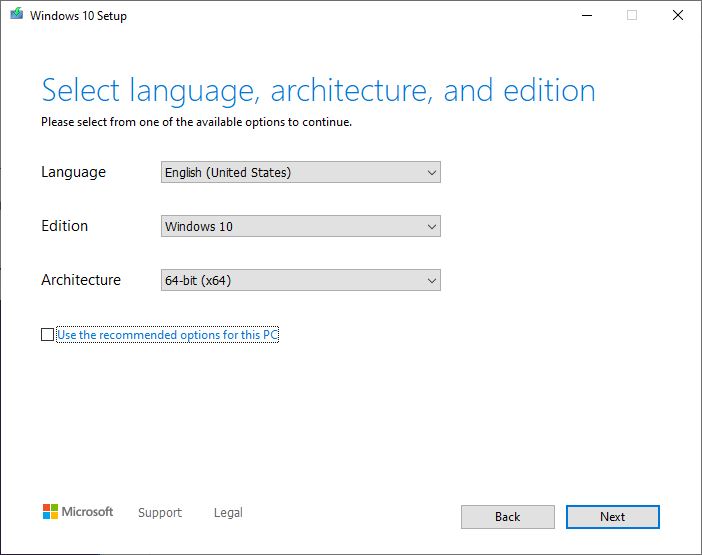 Next screen, the media creation tool asks to choose which media to use.
And represent two options USB flash drive and ISO.
Here you can select a USB flash drive to Download and Create a Windows 10 bootable USB drive.
But our concept is to download Windows ISO File So click the Radio Button ISO file as shown below.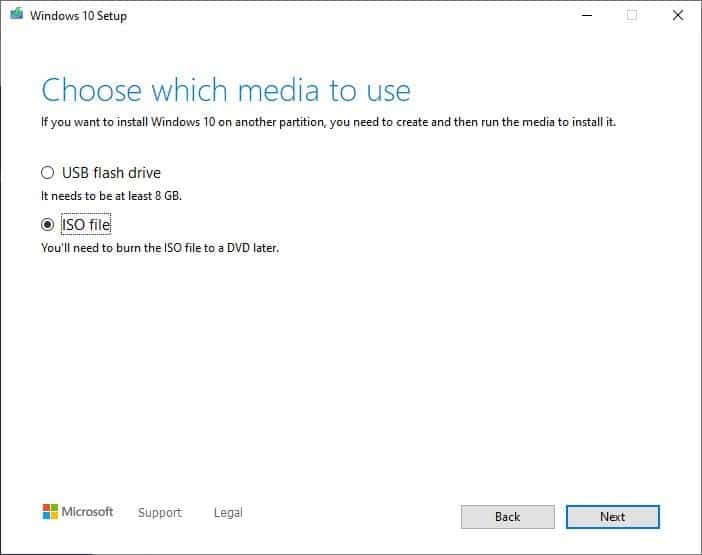 Next, This will prompt Where you want to save the Download ISO file.
Select the location where you would like to save the ISO file
Type in a name you want for the ISO file, and click/tap on Save.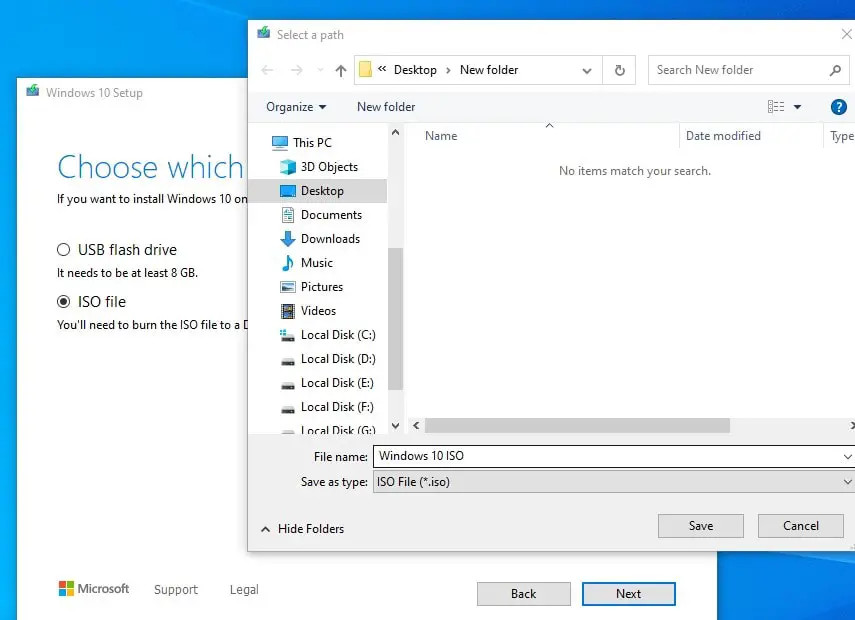 On Next Screen, this will start downloading Windows 10.
It will take some time to complete the download process depending on your internet speed.
Wait until complete the process.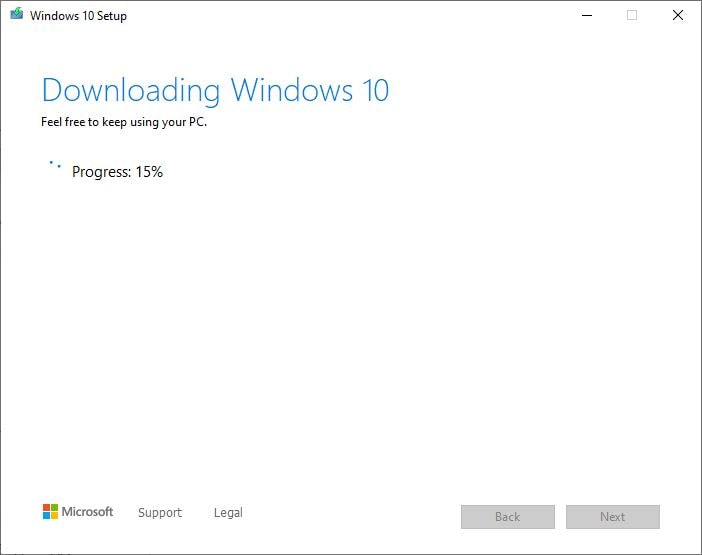 When the download has finished, select the location where you have to save the windows 10 ISO file, and click on Finish.
That's all you have successfully downloaded windows 10 22H2 ISO from Microsoft Server.
You can Create an Installation media by following this guide to windows 10 clean install or upgrade purposes.
Download Windows 10 22H2 Education ISO
To download Windows 10 Education ISO from Microsoft Server
First Visit Windows 10 Official Site for Academic Products here.
Then click/tap on the Download button below to download and Save the MediaCreationToolRetail.exe file.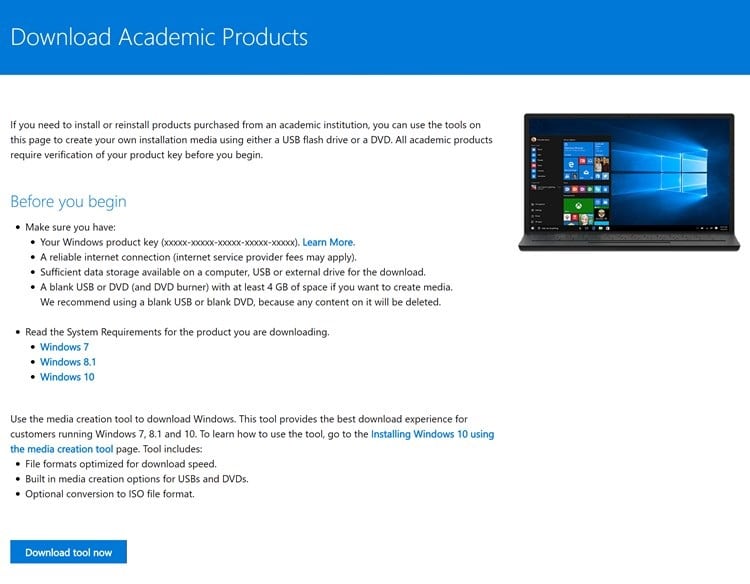 Next, Run the MediaCreationToolRetail.exe,
And click yes if it prompted UAC. Next, accept the License Terms.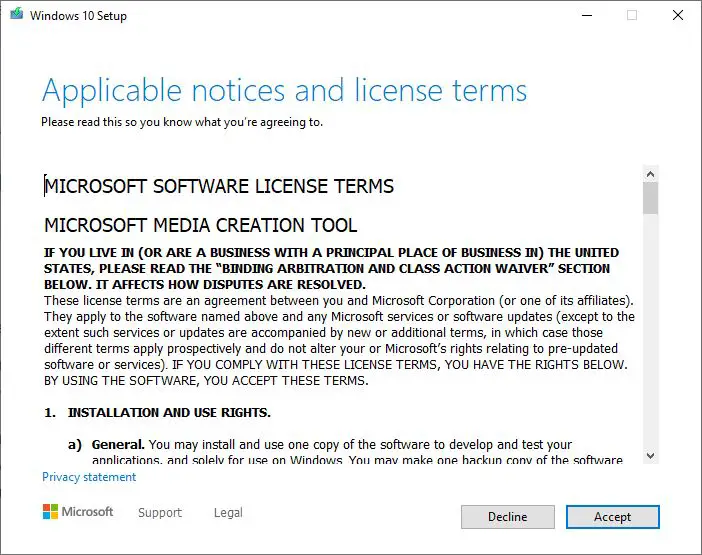 Now Enter the product key for your Windows 10 Education, and click on Next.
Next screen Select the radio button ISO file and click on Next.
Then select the location where you would like to save the ISO file,
type in a name you want for the ISO file, and click on Save.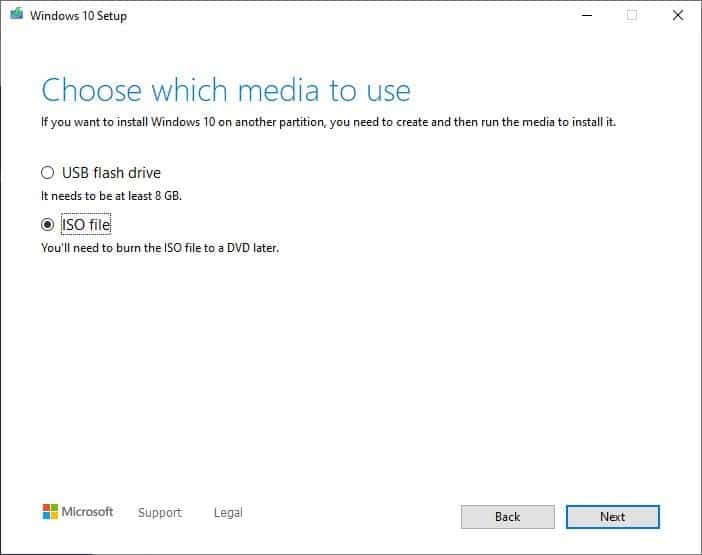 The Windows 10 Education ISO file will start to download.
Again it depends on your internet speed and how much time it would take to complete the process.
When the download has finished, select where you selected to save the ISO file,
And click on Finish to close the media creation tool.
Tweak the Web Browser To download windows 10 ISO File
Suppose you don't like to download windows 10 ISO through the Media Creation Tool. Then you can Tweak the web Browser to download the Windows 10 ISO directly from Microsoft Server without using any tool.
Usually, when we visit Microsoft Website, it forces us to open the Media Creation Tool, which lets us download the ISO images, but it is hidden for Windows 10 users. Tweaking the web page, you will also find the direct download of Windows 10 ISO files from Microsoft servers.
To do this, Open a new tab on the Chrome browser.
Then Copy and paste this Microsoft support site link https://www.microsoft.com/en-us/software-download/windows10ISO in the address bar, and press Enter.
Now Right-click anywhere on the page and select Inspect.
Click the three-dotted menu button on the top-right, and under "More tools," select Network conditions.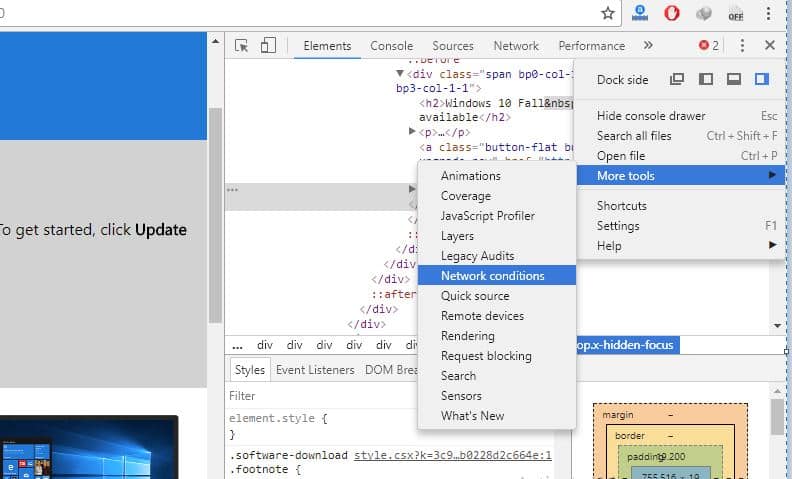 Here Under "User-agent," clear the Select automatically option.
And Select the Safari – iPad iOS 13 option from the "User-agent" drop-down menu.
Now Refresh the page if the browser doesn't reload automatically.
That's All Now Select the edition of Windows 10 you want, click the Confirm button.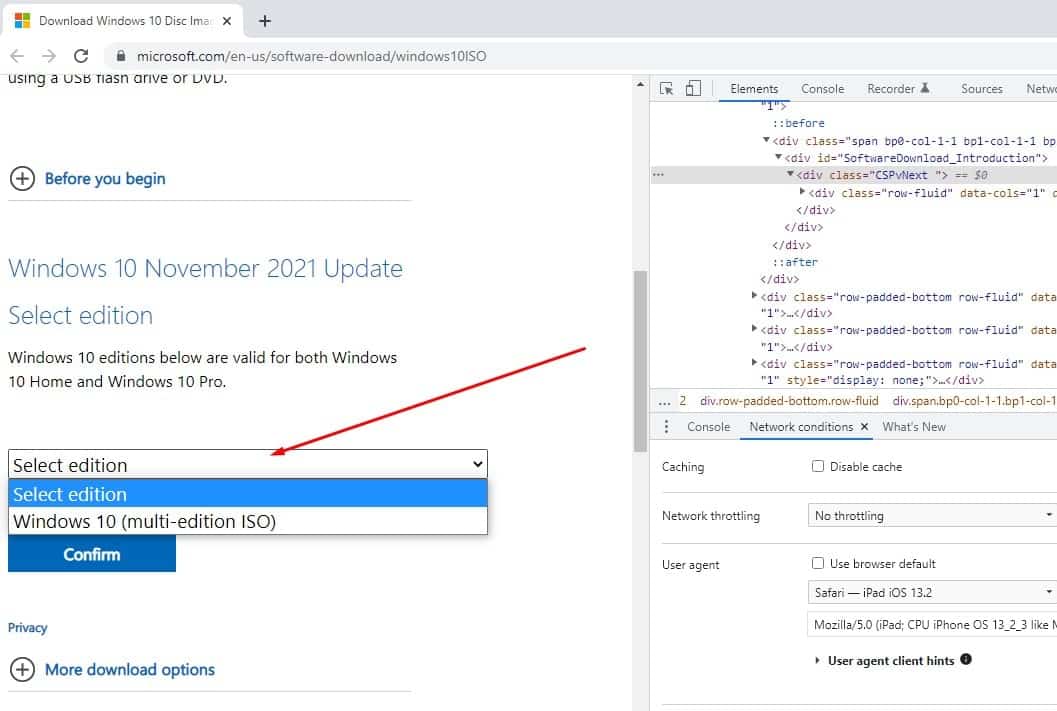 Next, Pick your product language from the drop-down menu,
And click the button to download the Windows 10 ISO to begin the process.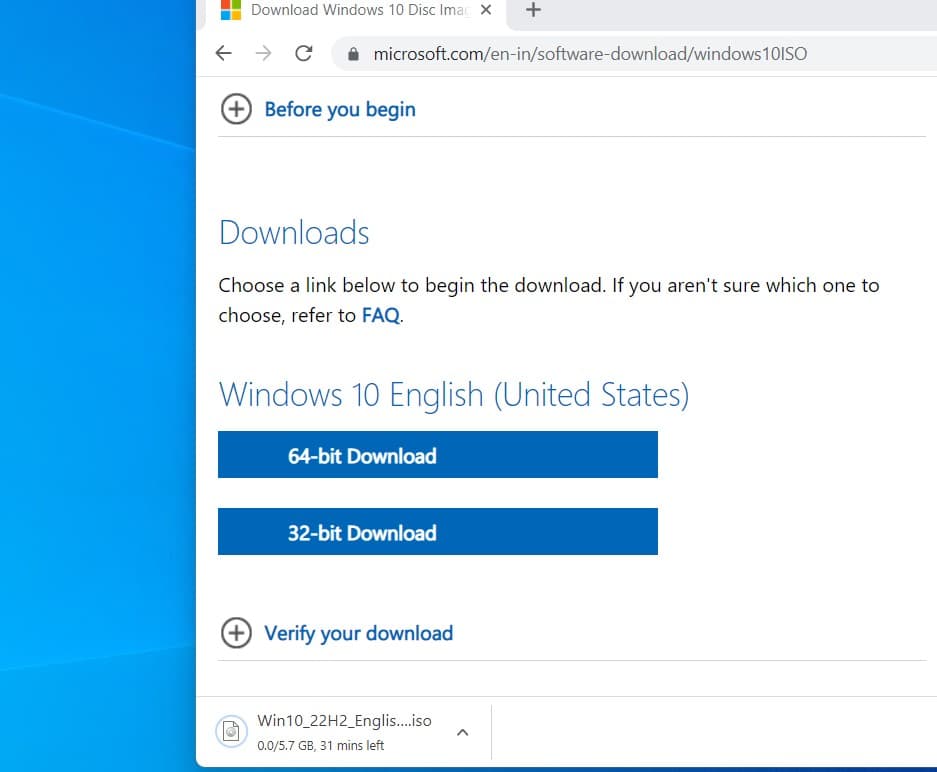 Windows 10 ISO Direct download link
Also, you can get the latest Windows 10 version 22H2 Update ISO file by following the link below.
That's All, I hope now you can easily download the latest Windows 10 ISO direct from the Microsoft server. Still, Have any queries, Suggestions Feel free to comment Bellow.
Also, Read :