Microsoft regularly releases security updates to patch security holes with various bug fixes. And Windows 10 feature updates to refresh the OS with new features and improvements.  Also, Windows updates are set to automatically download and install on Windows 10. But sometimes users report Windows 10 Update error 0x80070057, or feature update to Windows 10 version 22H2 error 0x80070057.
There were some problems installing updates, but we'll try again later If you keep seeing this and want to search the web or contact support for information, this may help – (0x80070057).
Windows update error 0x80070057
There are different reasons cause Windows update 0x80070057, But corrupt Windows update components and previous updates that failed and caused corruption with the system files are the most common, that cause: 
Incorrect Parameter 0x80070057 Error
Windows Update 0x80070057 Error Code
Microsoft Office 0x80070057 Error
Here we have different solutions that help to fix Windows update error 0x80070057.
First of all check, that you have a stable internet connection to download Windows update files from the Microsoft server.
Temporarily disable security software (antivirus) and disconnect from VPN if configured on your device.
Perform Clean boot, which helps to bypass any third-party service conflict and prevents Windows updates to download and install.
Open Time & Language check System Data, Time, and Region settings are correct.
Open Windows services and check Windows update service is running state, Also you can right-click on Windows update service to start or restart the service.
Run Windows Update Troubleshooter
Whenever you face a Windows update-related problem, Run the built in Troubleshooter that automatically checks for problems prevent Windows update to install correctly and try to fix them for you.
Press Windows + I to open Settings
Click on Update & Security, and Troubleshoot on the left side.
Now select Windows Update and click on Run Troubleshooter.
This will check the system for errors and problems that prevent to installation updates
Restart Windows after completing the troubleshooting process.
Now check again for Updates, There is no more 0x80070057 on the Windows update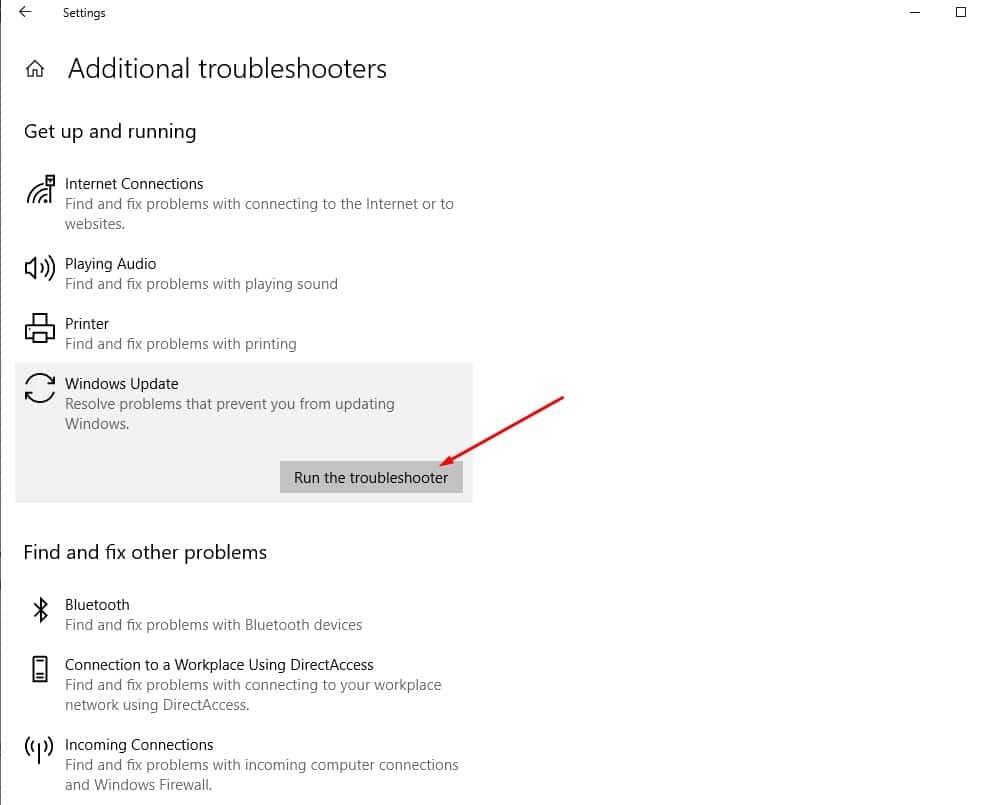 Clear Windows Update cache
Yet another effective solution that fixes almost every window update-related problem. Windows updates download and stored in a folder called SoftwareDistribution. If any previous update file gets corrupted on this folder next time windows creates problems while downloading and installing new update files. The solution is to clear previous update cache files and force Windows Update to download fresh update files.
Press Windows + R, type services.msc, and ok
Here look for a service named Windows Update, Right-click, and stop.
Do the same with services named BITS and Superfectch.
Now open C:\Windows\SoftwareDistribution\Download
Press Ctrl + A to select all contents inside the download folder.
Press the Delete key to clear them.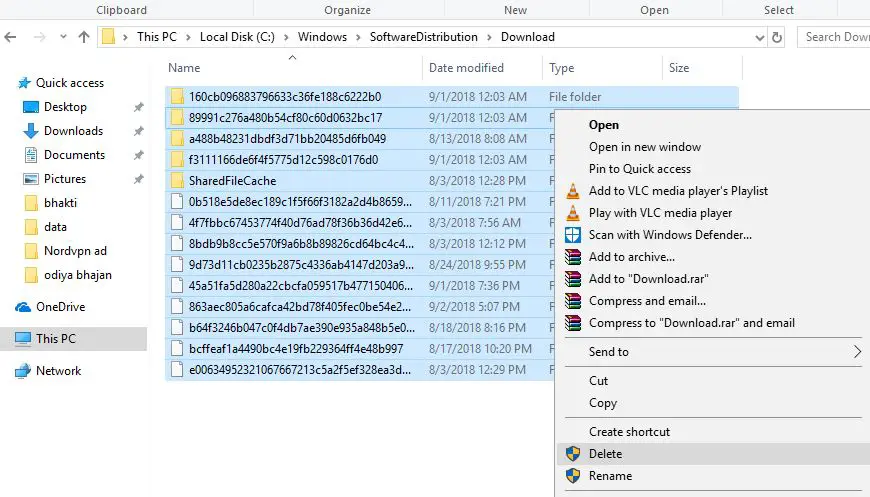 Again open Windows services and restart the services that you previously stopped.
That's all, Now check for Updates from Settings, Update and Security. hope this time you get succeed.
Run DISM component cleanup
If the error message still pops up, that's when Microsoft advises trying the following workaround:
Select the start button and type cmd
Right-click or long-press on Command Prompt and select Run as administrator.
If you receive a User Access Control (UAC) dialog for Windows Command Processor stating, "Do you want to allow this app to make changes to your device?", select Yes.
Type or copy and paste the following command into the Command Prompt window: dism /online /cleanup-image /startcomponentcleanup
Wait for the command to complete.
Restart your device.
Try checking for updates again.
Tweak Windows registry editor
Press Windows + R, type regedit, and ok to open the Windows registry editor.
Backup registry database and navigate to following
HKEY_LOCAL_MACHINE\SOFTWARE\Microsoft\WindowsUpdate\UX
Double-click on IsConvergedUpdateStackEnabled and change its value 0
Now navigate to
HKEY_LOCAL_MACHINE\SOFTWARE\Microsoft\WindowsUpdate\UXSettings
Here double click on UxOption and change its value 0
Close the registry editor and restart Windows to take effect the changes.
Now check for updates, hope this time there is no more error installing updates.
If you are Getting An internal error has occurred: The parameter is incorrect: (0x80070057) then open the registry editor and navigate to
HKEY_LOCAL_MACHINE\SOFTWARE\Policies\MicrosoftS\ystemCertificates
Now Right-click SystemCertificates, and create New > DWORD (32-bit) Value.
Enter the name as CopyFileBufferedSynchronousIo, and set the Value to 1.
Hit OK, then restart your system.
Fix Using the media creation tool
If you are getting ERROR 0X80070057 while installing the Windows 10 feature upgrade, that cause you can use the official Windows 10 media creation tool to avoid this error.
Download the Media Creation Tool from Microsoft and double-click MediaCreationTool.exe to launch the tool.
Select Upgrade this PC now > click next.
Click Accept when the download is complete and make sure the installer is set to Keep personal files and apps as the default behavior;
If it's not, click Change what to keep to change the settings;
Click Install to begin the update process.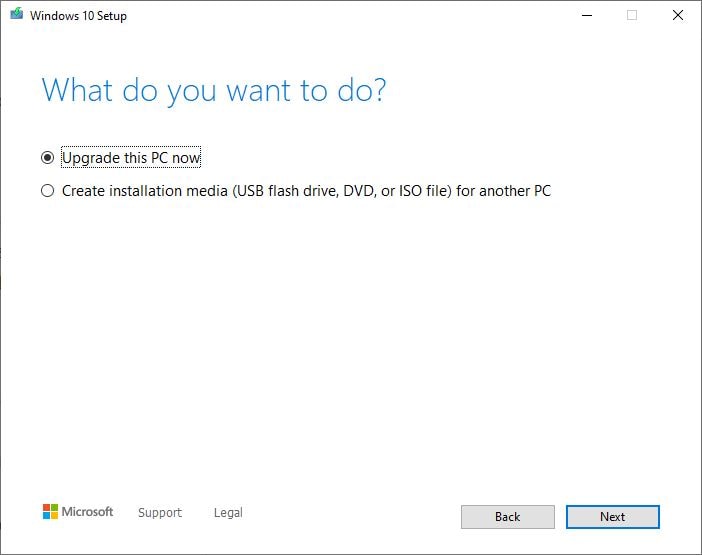 These are some best working solutions to fix Windows update error 0x80070057 and Windows 10 update failed error 80240fff, for Windows 10 computers. Have any queries, suggestion feel free to comment below.
Also read