Error code 0x0003 appears when you try to launch GeForce Experience application or use its features? Here is how to fix the problem
Nvidia GeForce Experience is a software application that allows NVIDIA Graphics card users to run specialized services and unlock the true potential of their GPU. It keeps update your graphics driver, automatically optimizes game settings for better performance and visuals, allows you to record and share gameplay moments, and more. However, you may encounter NVIDIA GeForce Experience Error code 0x0003 while trying to launch or use the GeForce Experience software on Windows 11. This article explores the reason behind NVIDIA GeForce Error code 0x0003 and how to fix it.
Try rebooting your PC and then launch GeForce Experience ERROR CODE: 0x0003
GeForce Experience Error Code 0x0003
This issue "Nvidia GeForce error code 0x0003" indicates a problem with the GeForce Experience service, which may prevent the software from functioning properly. Problems with your GPU driver or Missing files during installing the GeForce Experience application is the common reason for this.
The installation of NVIDIA GeForce Experience might be corrupted or incomplete, leading to issues.
Other software or services on your system might be interfering with the proper functioning of GeForce Experience.
Outdated or incompatible graphics drivers can cause conflicts with GeForce Experience and lead to errors.
Again Connectivity problems or issues with the network configuration can also impact GeForce Experience's ability to function properly. Whatever the reason here few tested solutions apply to fix GeForce Experience Error Code 0x0003 on Windows 11.
Well before getting started with troubleshooting methods, try restarting your computer and see if it fixes the problem. Restarting gives the PC a fresh perspective and clears the temporary glitch that may be causing the error.
Restart GeForce Tasks
Press Ctrl + Shift + Esc to open the task manager,
Right-click on all running Nvidia tasks one by one and select End Task.
Close the task manager and restart your computer to check if the issue is fixed.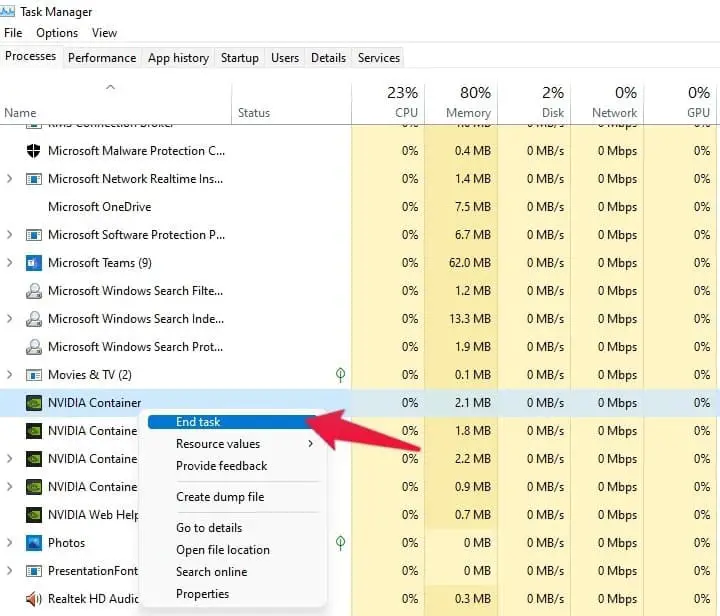 In addition, Run GeForce experience as an administrator can sometimes help fix the problem on Windows 11.
Restart NVIDIA services
If for some reason, essential NVIDIA services not started or become unresponsive it may cause the GeForce Experience 0X0003 Error to Appear on Windows 11. Restarting the relevant services ensures that any temporary glitches or issues in the service's functioning are cleared.
Press Windows key + R, type services.msc and click ok
Scroll down and locate NVIDIA services, right-click on it select Restart,
If any of NVIDIA services are not started, right-click on it and select start.
Note – same way locate and restart the "NVIDIA Display Service" and "NVIDIA LocalSystem Container" services.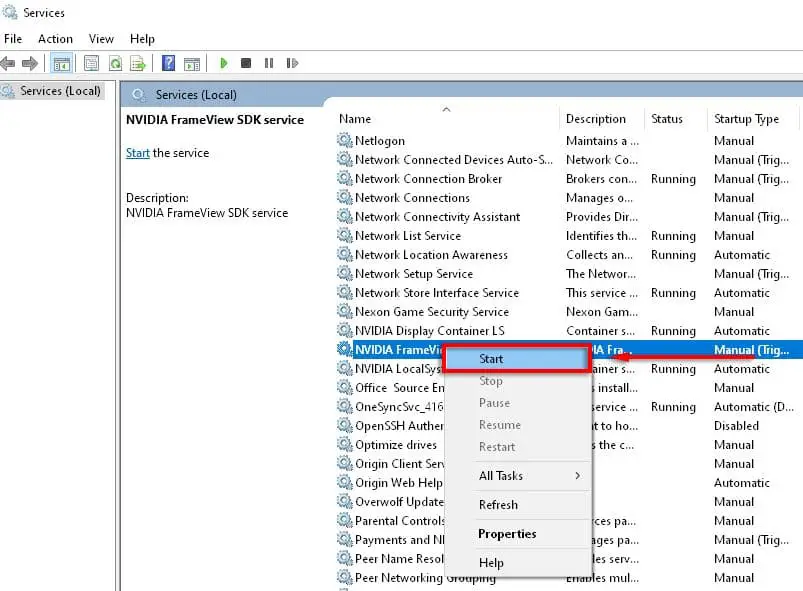 In addition, look and make sure, Nvidia Telemetry services are running and are allowed to interact with the desktop.
Right-click on Nvidia Telemetry Container select properties,
Move to the log-on tab and make sure the, Allow service to interact with the desktop is checked.
Click the apply button, and now check if this helps.
Update Graphics Drivers
Graphics drivers are crucial for the proper functioning of your GPU and associated software. An outdated Graphics driver or GeForce Experience app, leads to system instability and crashes. Updating to the latest drivers ensures compatibility with recent games and applications, as well as potential bug fixes that might be causing the error.
Press Windows key + X and select device manager,
Expand the display adapters, right-click on NVIDIA GeForce Experience
Select the Update Driver option from the context menu.
Then click on the Search automatically for drivers option and let Windows find and install the latest driver update for you.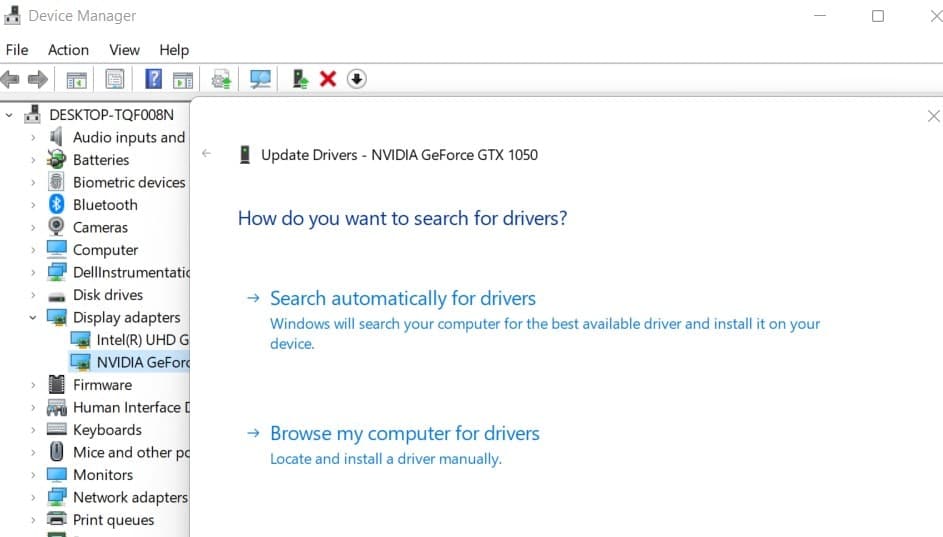 Restart your PC and relaunch the GeForce Experience app.
Also, you can Visit Nvidia's official website to download the latest version of GeForce Experience and install on Windows 11.
Reinstall Nvidia GeForce Experience
If NVIDIA components are corrupted, GeForce Experience error code 0x0003 may occur. Reinstalling GeForce Experience can address any corruption or misconfiguration in the software. This can provide a fresh start with properly installed components.
Uninstall Nvidia GeForce Experience
Press Windows key + X and select device manager,
Expand the display adapter, right-click on NVIDIA GeForce and select uninstall,
Click uninstall again when the confirmation pop-up opens,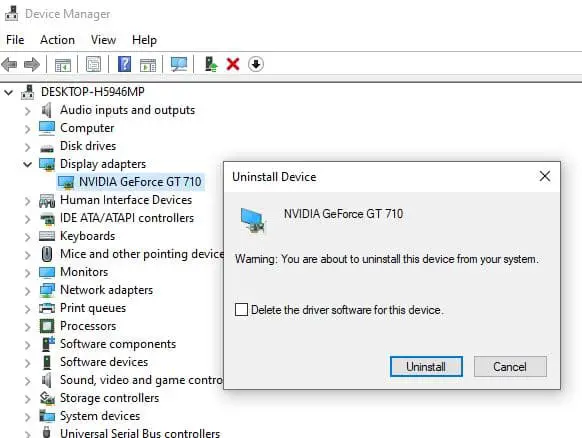 Now Press Windows key + R, type appwiz.cpl and click ok to

open the programs and features window,

Locate and Rightclick on NVIDIA programs select uninstall and restart your computer.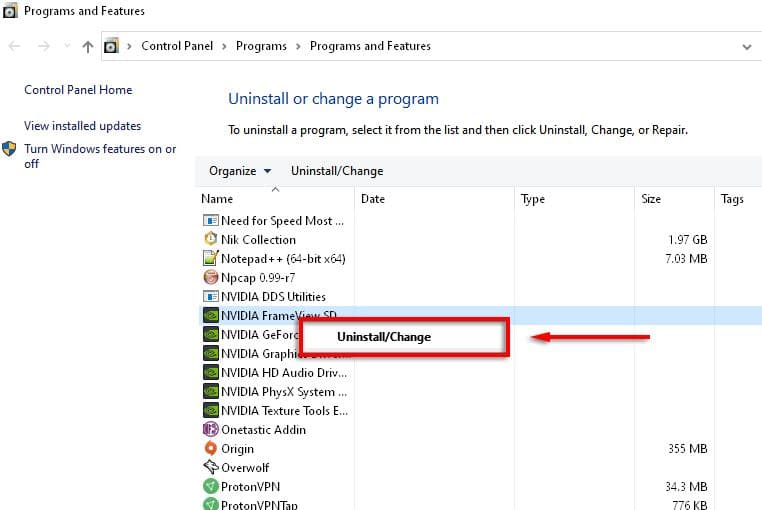 Now visit NVIDIA official site to download and install the latest driver update on your Device.
Clean Installation of Graphics Drivers
A clean installation of graphics drivers removes any remnants of old drivers that might be conflicting with the new ones. This can help in achieving a clean and stable driver installation. You can use the Display Driver Uninstaller (DDU) tool to completely remove your existing graphics drivers.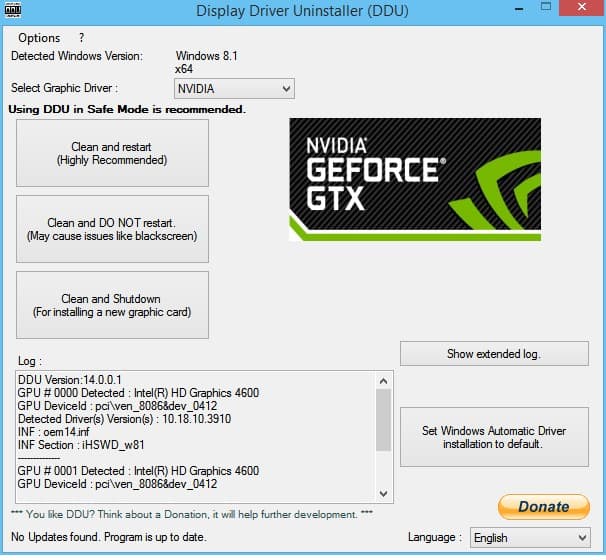 After removal, restart your computer and install the latest graphics drivers from the NVIDIA website.
Open the Chrome browser and go to Nvidia's official driver download web page
Fill required details, including GPU type, name, and Windows OS version, and click search.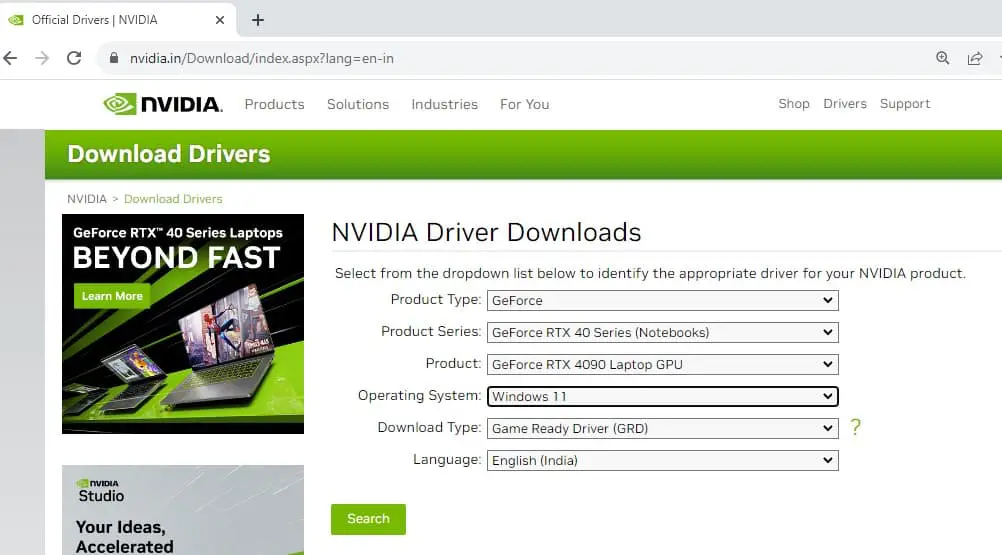 Downlaod the suitable game-ready driver, and install with administrator privileges.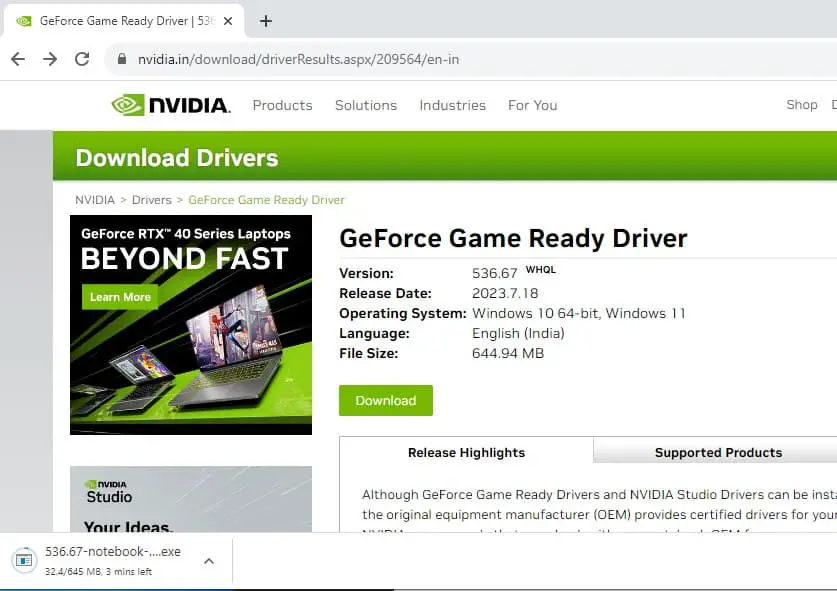 Accept the license agreement, then select the custom option and click next,
Select the 'Perform a clean installation' option and follow the on-screen instructions.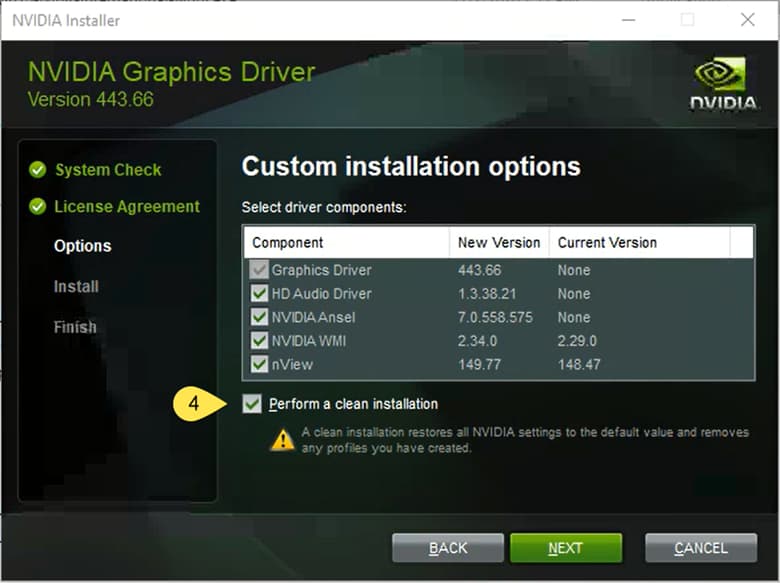 Download and install GeForce Experience: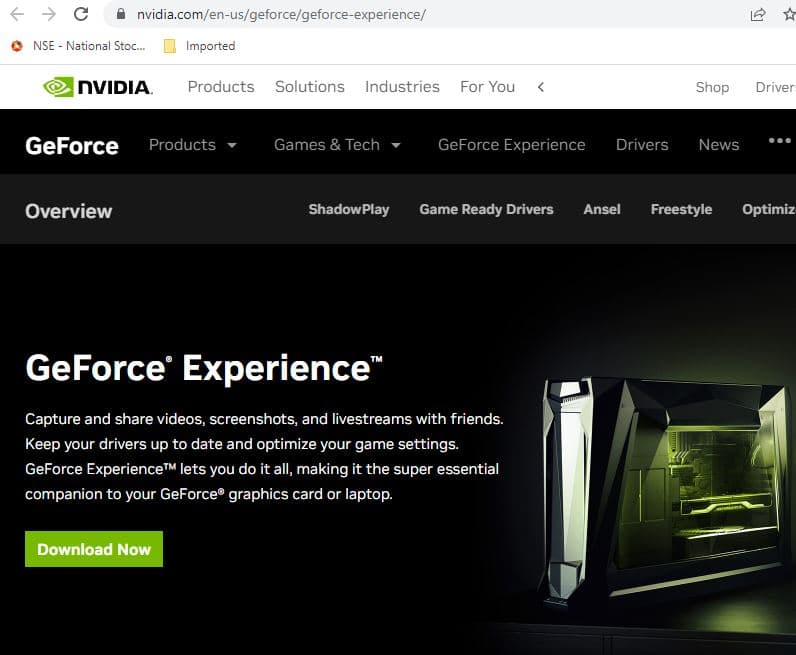 Right-click on the installer select run as administrator and follow the on-screen instructions.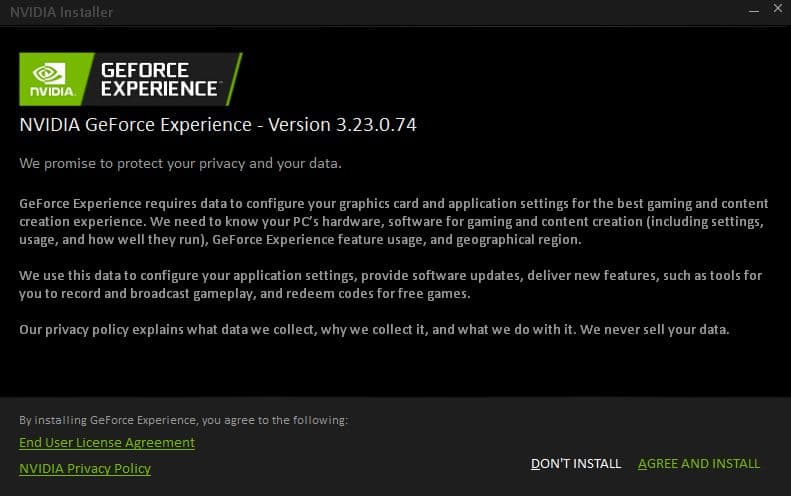 Once done reboot Windows 11 and Log in with your Nvidia account to check if NVIDIA GeForce Experience started without any error code 0x0003.
Update windows 11
Outdated system components can sometimes conflict with software applications include the current version of your NVIDIA GeForce application and result error code 0x0003. Updating Windows ensures that your operating system is equipped with the latest compatibility updates, which can help resolve potential conflicts.
Outdated Windows components might cause conflicts with GeForce Experience
Press the Windows key + X and select settings,
Go to Windows Update and hit the check for updates button,
If pending updates there, allow them to download and install on your PC,
Once done, reboot your PC to apply the changes.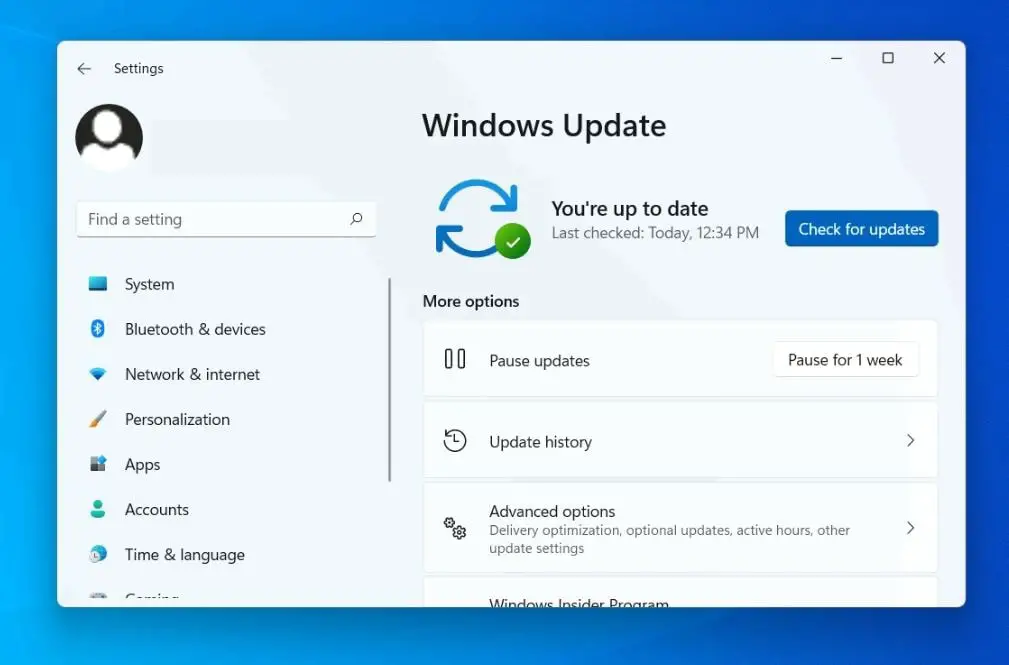 Disable Third-Party Software
Third-party security software, such as antivirus or firewall programs, can sometimes block or interfere with the normal operation of applications. Temporarily disabling them helps determine if they are the source of the issue.
Temporarily disable any third-party antivirus, firewall, or security software that might be interfering with GeForce Experience.
After disabling the software, try launching GeForce Experience to see if the error persists.
In addition, User Account Control settings can restrict applications from making necessary changes to your system. Lowering the UAC level allows GeForce Experience to function without unnecessary restrictions.
Open the Control Panel and search for "Change User Account Control settings."
Move the slider to a lower level (but not to the bottom) to allow applications to make changes to your computer without requiring your explicit permission.
Click "OK" to save the changes and restart your computer.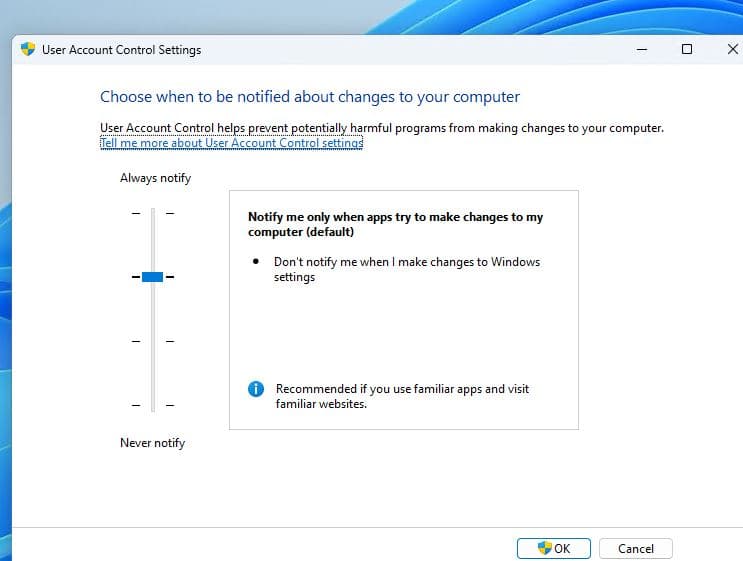 Check Network Connectivity
GeForce Experience requires a stable internet connection to access certain services or updates. Ensuring your network connectivity is stable can help eliminate potential network-related causes of the error.
Ensure that your internet connection is stable and that there are no network-related issues. You can check internet speed at fast.com or speedtest.net.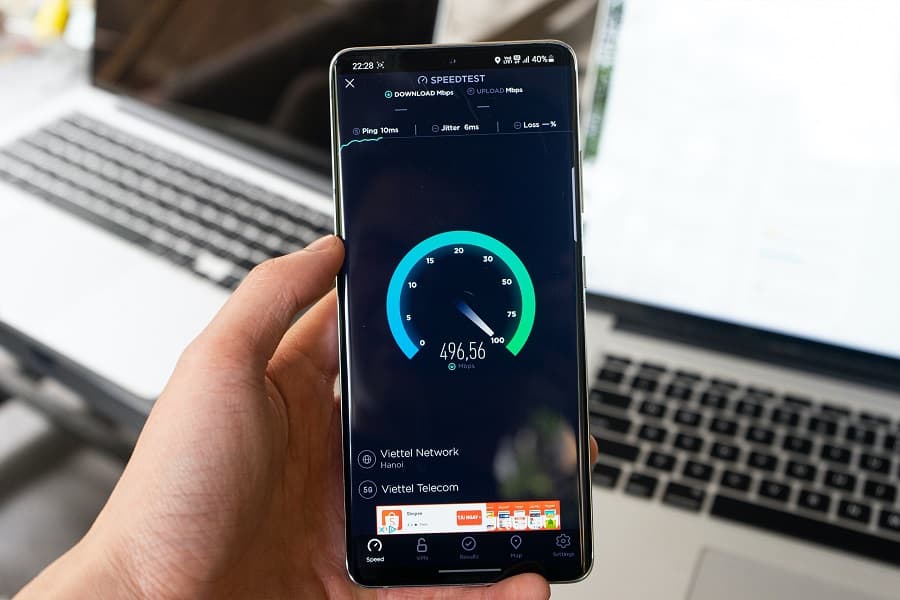 Also, you can press the Windows key + R, and run the ping command pint google.com -t to check the internet stability.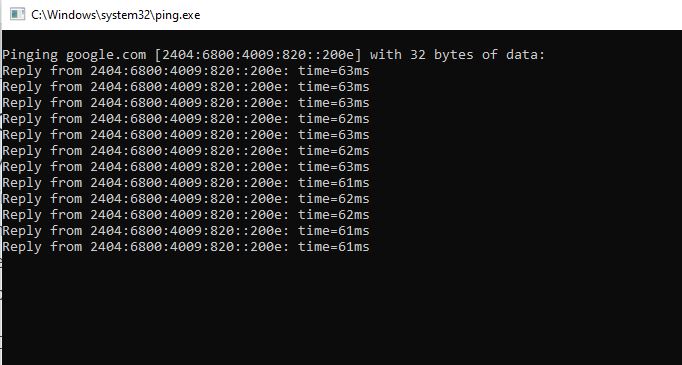 Open the command prompt as administrator and run the following command to fix internet problems.
netsh winsock reset 
netsh int ip reset 
ipconfig /flushdns
In addition, you can run the Internet troubleshooter, automatically detect and fix the problem on your device.
Contact NVIDIA Support
If the error persists, reaching out to NVIDIA's official support allows you to get specialized assistance from experts who are familiar with their software and can provide guidance tailored to your situation.
Also read: