Chrome Browser is an open-source browser developed by Google, The beta phase was launched on September 2, 2008, and the first stable version was released on December 11 of the same year. The company evolved the browser for various types of operating systems, both for PCs such as Windows, Mac, and Linux or Smartphone systems such as iOS, and Android. The browser combines a minimal design with sophisticated technology to make the Web faster, safer, and easier. And now with almost 70 percent market share, Google Chrome is by far the most popular browser all over the world.
Recently the company released Chrome version 120 which closes numerous security gaps. Also latest Chrome 120 introduces password sharing with family members, a new security control, announces the end of third-party cookies, let you save individual YouTube frames and more. The latest release addresses 10 security vulnerabilities. Additionally, there are notable changes to download warning prompts, enhancing overall user experience and safety. And, as always, a few security patches that will feed the entire Chromium family of browsers.
If you have Google Chrome browser installed on your device, it's recommended to upgrade the browser to the new version as soon as possible to protect it from attacks that exploit the recently patched security vulnerabilities.
Latest Google Chrome Versions
| Platform | Version | Release Date |
| --- | --- | --- |
| Chrome for Windows | 120.0.6099.62/.63 | 05-Dec-23 |
| Chrome for macOS | 120.0.6099.62 | 05-Dec-23 |
| Chrome for Linux | 120.0.6099.62 | 05-Dec-23 |
| Chrome for Android | 120.0.6099.43 | 05-Dec-23 |
| Chrome for iOS | 120.0.6099.101 | 05-Dec-23 |
Why Chrome is the best browser for Windows 11?
It's a fast, simple, and the most secure web browser built for the modern web. If you would like a single experience across every Internet-connected device you own, Chrome is your best option.
We can say it's the most secure browser Offering security against malicious software, and "phishing", among others. The latest Chrome introduced real-time blacklisting of malicious sites via the Safe Browsing API. And the company regularly releases auto-updates to make sure you have all the latest security fixes and more.
The main goal of the browser is the speed of navigation, from its implementation to the loading of complex web applications this is the fastest browser available so far. It's quick to start up from your desktop, loads web pages in a snap, and runs complex web applications lightning fast.
What's more, you can access bookmarks, open tabs, and history from any device that is compatible with Chrome.
Signing in to Chrome brings your bookmarks, history, and other settings to any device that is compatible with Chrome. It also automatically signs you into all your favorite Google services as well.
We can say It is designed as simple as possible, allowing you to focus on what you need to do.
The browser has its own manager that tells you what resources are used and on what pages. You can access the Chrome task manager using the keyboard shortcut shift + Esc.
What's New in Chrome
The new features in the latest Chrome update bring a refreshed look and enhanced productivity to the browser.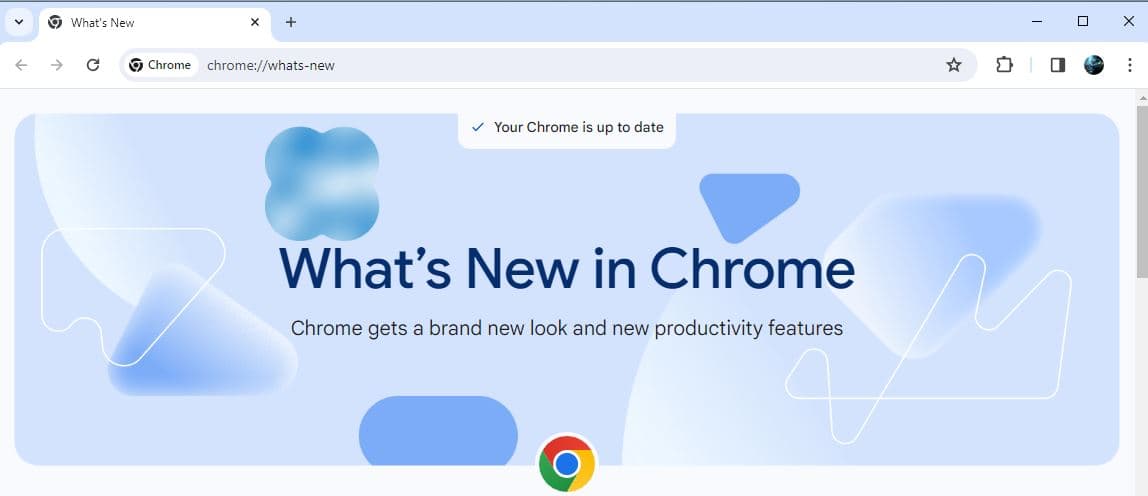 Customize Chrome
The update introduces new options to customize the look of Chrome. Users can experiment with expressive colors and themes, allowing for a personalized browsing experience.
Users now have the choice between light and dark mode, catering to different preferences and providing a visually appealing interface.
Open a New tab.
At the bottom of the page, click Customize Chrome.
Explore the new options under Appearance.
Improved Bookmarks
Bookmarks management is now more efficient with new search, sort, and edit tools in the side panel. These tools make it easier for users to find specific bookmarks and organize them based on their preferences.
Bookmarks in the side panel now come with thumbnail images, making it easier to visually distinguish between different bookmarks at a glance.
Open the Side panel.
Select Bookmarks from the side panel menu.
Choose a new tool to try.
Enhanced Chrome Menu
The new menu consolidates all the familiar tools and features while introducing new ones. The design is both simple and smart, streamlining the user experience by making it easier to locate and access the needed features.
Open the Chrome menu.
Explore the new layout and features.
Site Settings with Tune Icon
The Tune icon provides quick access to manage site permissions. Users can control access to features like the camera, microphone, or location. It also allows users to review and adjust privacy and security settings, such as managing cookies and site data.
Users can review their previous choices regarding site permissions and make any necessary changes. For first-time permissions, clicking on Site settings enables users to grant or modify permissions.
Open a New tab and visit a site.
In the address bar, click Tune.
If permissions have already been granted, review your choices and make any needed changes.
To grant permissions for the first time, click Site Settings.
What's new in Chrome 120
The update is both feature-rich and security-focused and primarily fixes security vulnerabilities. The company noted Google Chrome 120 patches 10 different security issues. However, it will not support systems running Windows 7, 8 and 8.1.
It is recommended to install the update ASAP to protect the browser and system from potential exploits.
Includes 10 security fixes
Chrome version 120 update includes 10 security fixes: 
Proactive Safety Check Feature
Google introduces a new proactive Safety Check in Chrome 120 for desktop users. This feature performs regular safety-related checks on the browser and notifies users of any issues discovered during these checks. Users can access the results and recommendations on the new Safety Check page in Settings. The feature can be enabled through chrome://settings/safetyCheck.
Password Sharing in Google Family Group Accounts
Chrome 120 integrates a password-sharing feature within Google Family Group accounts. Members can share one password at a time, but it's important to note that shared passwords cannot be updated or revoked by the sender.
Deprecation of Third-Party Cookies
Google initiates the deprecation of third-party cookies in Chrome 120. About 1% of all Chrome users will have third-party cookies disabled by January 2024, with the plan to extend this to the entire user base by mid-2024.
iOS-Specific Changes
Chrome 120 includes two iOS-specific changes. First, users can now save images directly to Google Photos. Second, there is a new package tracking feature for iOS users.
Android 7 Nougat Deprecation
Chrome 120 no longer supports Android 7 Nougat. Users with Nougat devices won't receive the update unless they upgrade to Android 8 or newer versions. Additionally, Theora support is deprecated and removed from the browser.
Platform Status for Developers
Developers are encouraged to explore the Platform Status entry for Chrome 120, which provides information about development-related changes in the new stable version.
To learn more about what's new for developers in Chrome 120, refer to this Google post for developers. 
Google Android also has an update to version 120 (120.0.6099.63). In this version, the same security vulnerabilities have been fixed as in the desktop version.
The next Chrome release, Chrome 120 Stable, is scheduled for Nov 29, 2023.
Update to Chrome 120
If you have already installed Chrome on your system, updating it to the latest version is easy.
Open Google Chrome on your computer
Click on the vertical three dots at the top right of the window, This will open the Chrome menu,
Under the menu, go to Help –> About Google Chrome. This will trigger Google Updates and will check for new updates automatically,
Also, you can type chrome://settings/help on the address bar and press the enter key to update Chrome 120.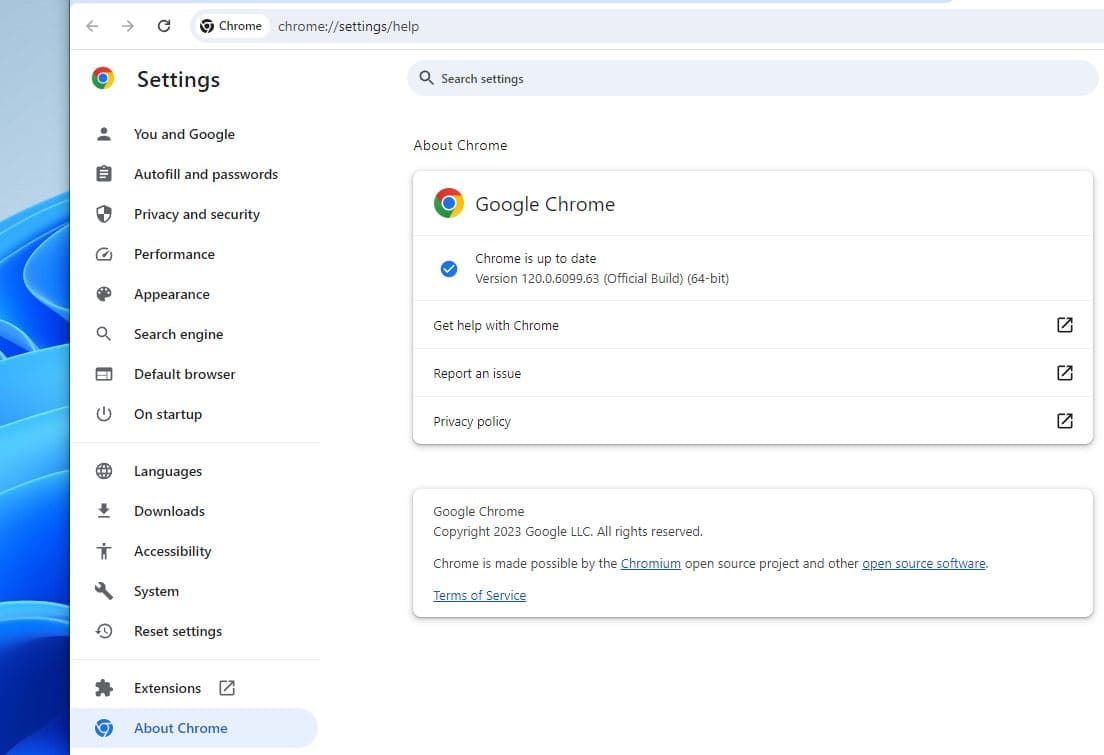 Google Chrome Android and iOS versions are updated through the official Google Play Store and App Store. The Android update for Chrome includes the same security fixes as the desktop version.
Download Chrome 120 offline installer
Note: The offline installer links do not include the automatic update feature.
Download Chrome web installer: 32-bit | 64-bit | Freeware.
Download: Google Chrome MSI Installers for Windows (automatic update)
Download: Google Chrome 120 Portable

How to install Chrome on Windows 11/10
Installing Google Chrome 120 is as simple as downloading it. Just run the installer downloaded from the above-mentioned download links. Chrome starts differently depending upon the version of Windows you're using. Let's see we install Chrome using a web installer.
First, visit the Chrome official site and click the Download Chrome button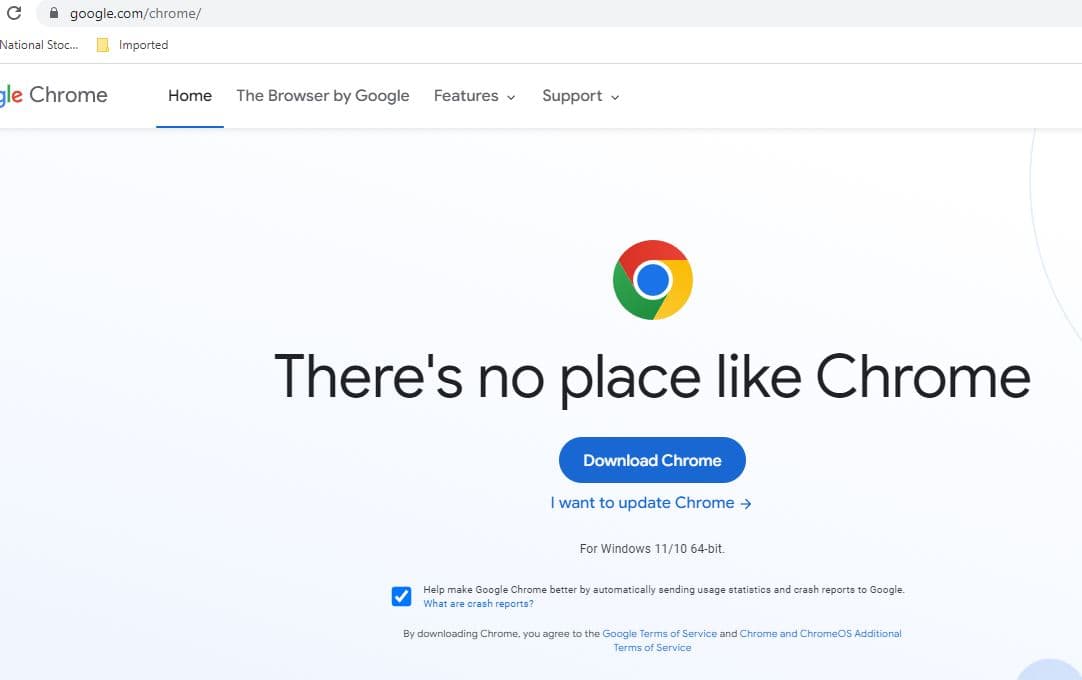 The next screen brings up the terms and service screen,
Read the terms and license agreement, then click the accept and install button to download the web setup file of Chrome.
Now open the download location, right-click on chromeSetup.exe and select run as administrator,
This will take less than a minute (depending on your internet speed) to complete the download and installation process.
Once done
Windows 10 or 11: A Chrome window opens after everything is done. You can make Chrome your default browser.
And you have successfully installed Google Chrome on Windows 10.
Also read: