This update addresses 26 security vulnerabilities, 8 of which are deemed of high importance and 13 medium.
Chrome Browser is an open-source browser developed by Google, The beta phase was launched on September 2, 2008, and the first stable version was released on December 11 of the same year. The company evolved the browser for various types of operating systems, both for PCs such as Windows, Mac, and Linux or Smartphone systems such as iOS, and Android. The browser combines a minimal design with sophisticated technology to make the Web faster, safer, and easier. And now with almost 70 percent market share, Google Chrome is by far the most popular browser all over the world.
Recently the company released Chrome version 117 which closes numerous security gaps and also introduces features like a scan for potentially unwanted extensions, price tracking, and information capabilities. Additionally, there are notable changes to download warning prompts, enhancing overall user experience and safety. And, as always, a few security patches that will feed the entire Chromium family of browsers.
If you have Google Chrome browser installed on your device, it's recommended to upgrade the browser to the new version as soon as possible to protect it from attacks that exploit the recently patched security vulnerabilities.
Why Chrome is the best browser for Windows 11?
It's a fast, simple, and the most secure web browser built for the modern web. If you would like a single experience across every Internet-connected device you own, Chrome is your best option.
We can say it's the most secure browser Offering security against malicious software, and "phishing", among others. The latest Chrome introduced real-time blacklisting of malicious sites via the Safe Browsing API. And the company regularly releases auto-updates to make sure you have all the latest security fixes and more.
The main goal of the browser is the speed of navigation, from its implementation to the loading of complex web applications this is the only fastest browser available so far. It's quick to start up from your desktop, loads web pages in a snap and runs complex web applications lightning fast.
What's more, you can access bookmarks, open tabs, and history from any device that is compatible with Chrome.
Signing in to Chrome brings your bookmarks, history, and other settings to any device that is compatible with Chrome. It also automatically signs you into all your favorite Google services as well.
We can say It is designed as simple as possible, allowing you to focus on what you need to do.
The browser has its own manager that tells you what resources are used and on what pages. You can access the Chrome task manager using the keyboard shortcut shift + Esc.
What's new in Chrome 117
The update is both feature-rich and security-focused and primarily fixes security vulnerabilities. The company noted Google Chrome 117 patches 15 different security issues, [1479274] Critical CVE-2023-4863: Heap buffer overflow in WebP and 6 rating of medium. However, it will not support systems running Windows 7, 8 and 8.1.
It is recommended to install the update asap to protect the browser and system from potential exploits.
Safety check for potential malicious Chrome extensions
Google's latest update to Chrome introduces a crucial extension warning system. This feature enables users to manually scan all installed extensions and also conducts periodic scans to notify users about extensions that are no longer accessible on the Chrome Web Store.
You can go to the "Privacy and Security" tab in Chrome's settings where Chrome will inform you of any extensions that may need reviewing.
Material You design on chrome 117
Chrome 117 brings a fresh desktop look, aligning with the Material You design language. The development team has revamped Chrome's icons for improved legibility, along with introducing new color palettes that seamlessly blend with your tabs and toolbar. These themes and distinct colors facilitate quick differentiation between profiles, such as work and personal accounts. Moreover, Chrome now harmoniously integrates with your operating system, allowing preferences to adapt to OS-level settings like dark and light modes.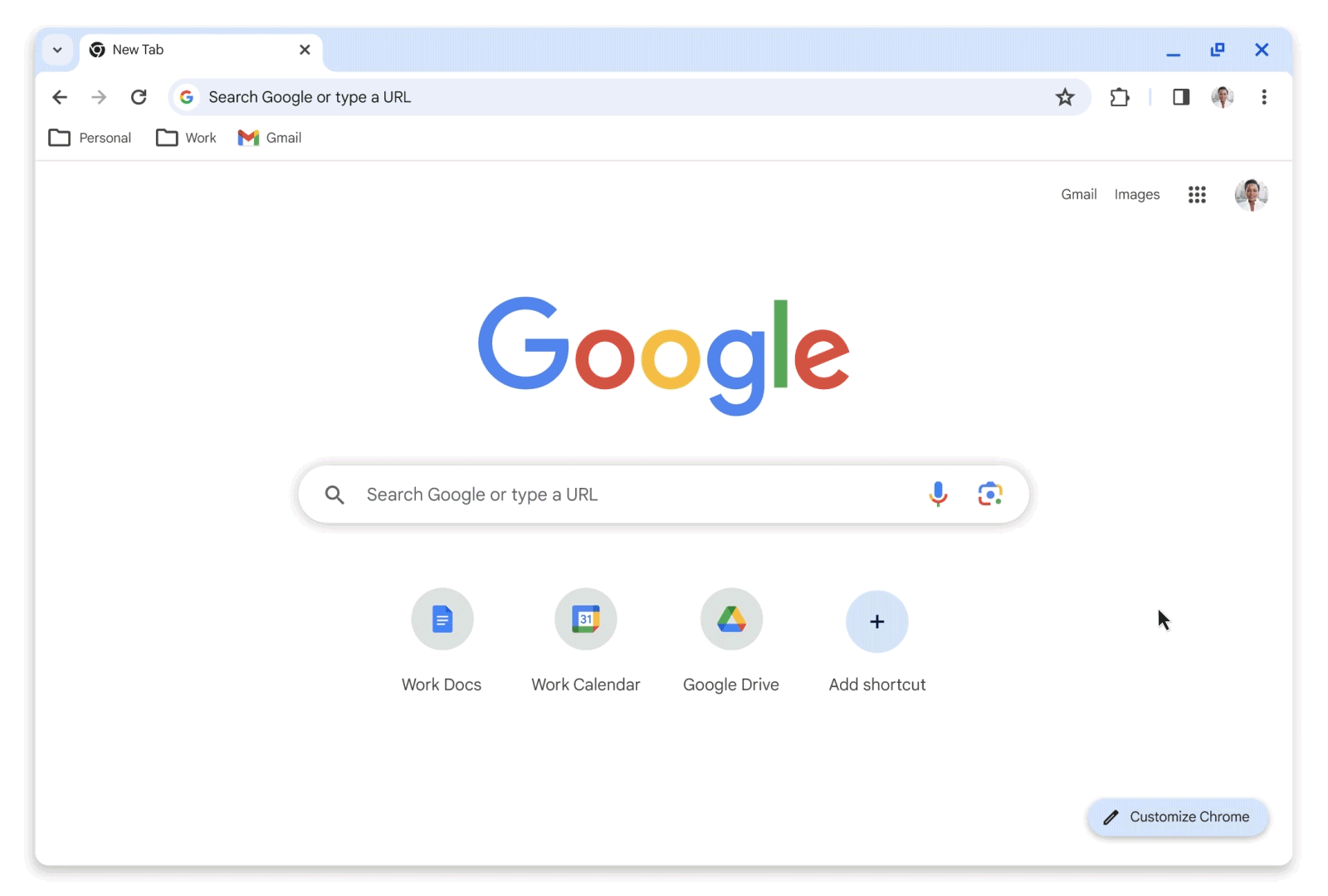 Furthermore, the update streamlines usability. A more comprehensive menu provides swifter access to Chrome extensions, Google Translate, Google Password Manager, and more. Simply click on the three dots in the top-right corner of your browser to access these features. This update aims to enhance user experience and functionality in Chrome.
 Redesigned Chrome Web Store
The Chrome Web Store has been given a makeover in the Material You style, offering a more user-friendly experience for discovering useful extensions. This includes a modernized interface and introduces new extension categories, such as AI-powered extensions and Editors' spotlight, along with personalized recommendations. You can explore the public preview now for an enhanced browsing experience.
Did you catch this update? We unveiled the Chrome Web Store redesign in celebration of Chrome's 15th birthday! 🎉 Learn more about what's new and the inspiration behind the update: https://t.co/Qj8ZZEfIqp pic.twitter.com/apsuE4Joru

— Chrome (@googlechrome) September 8, 2023
Browse the web with new Search features
Google is streamlining the search experience on Chrome. They've introduced new features for quicker access to information and search tools while you browse. When you're on a webpage, you can now select "Search this page with Google" from the three-dot menu. This action opens the Google Search side panel, allowing you to discover related searches, get details about a page's source, or initiate a new search. Additionally, you have the option to pin the Google Search side panel to your toolbar for easy access. This enhancement aims to make searching seamlessly integrated into your browsing experience.
To learn more about what's new for developers in Chrome 117, refer to this Google post for developers. 
Google Android also has an update to version 117 (117.0.5938.63). In this version, the same security vulnerabilities have been fixed as in the desktop version.
The next Chrome release, Chrome 118 Stable, is scheduled for Oct 04, 2023.
Update to Chrome 117
If you have already installed Chrome on your system, updating it to the latest version is easy.
Open Google Chrome on your computer
Click on the vertical three dots at the top right of the window, This will open the Chrome menu,
Under the menu, go to Help –> About Google Chrome. This will trigger Google Updates and will check for new updates automatically,
Also, you can type chrome://settings/help on the address bar and press the enter key to update Chrome 117.
Google Chrome Android and iOS versions are updated through the official Google Play Store and App Store. The Android update for Chrome includes the same security fixes as the desktop version.
Chrome 117 offline installer
Note: The offline installer links do not include the automatic update feature.
Download Chrome web installer: 32-bit | 64-bit | Freeware.
Download: Google Chrome MSI Installers for Windows (automatic update)
Download: Google Chrome 117 Portable

How to install Chrome on Windows 11/10
Installing Google Chrome 117 is as simple as downloading it. Just run the installer downloaded from the above-mentioned download links. Chrome starts differently depending upon the version of Windows you're using. Let's see we install Chrome using a web installer.
First, visit the Chrome official site and click the Download Chrome button
The next screen brings up the terms and service screen,
Read the terms and license agreement, then click the accept and install button to download the web setup file of Chrome.
Now open the download location, right-click on chromeSetup.exe and select run as administrator,
This will take less than a minute (depending on your internet speed) to complete the download and installation process.
Once done
Windows 10 or 11: A Chrome window opens after everything is done. You can make Chrome your default browser.
And you have successfully installed Google Chrome on Windows 10.
Also read: