A blurry screen usually makes apps, menus, or text unclear, you can try to fix the problem, from changing settings to updating your drivers.
Windows 11 is worth the update brings a wide range of new features, performance improvements, and design changes. Microsoft regularly updates the operating system with the latest bug fixes, new features, and security enhancements. But there are still some bugs and issues that need to be fixed and blurry screen issues on Windows 11 is one of them. Users report, My Windows 11 laptop is blurry images, text and pictures are not looking correctly. If you are also facing the same problem Blurry screen issue ruins the overall visual experience apply the solutions listed below to remove the screen blurriness and make the screen elements sharp and easy to read.
This problem could occurr due to low screen resolution, outdated graphics driver, or High-DPI scaling misconfigured.
Fix Blurry Screen Issues on Windows 11
The quick way to fix Blurry screen issue on Windows 11 is Go to Settings > System > Display > Change Display Resolution to Recommended. Or, change it to the one that is clear. Well If it is blurry only for a particular app, go to Settings > System > Display > Graphics > Select the app > Options > Change the options to "High Performance". Outdated display drivers or screen settings are somehow changed also causes Blurry screen issues on Windows 11. And you need to update the Graphics driver with the latest version to fix such a problem on Windows 11.
Check the Cable Connections
Sometimes, the blurry screen issue can occur due to a loose or faulty cable connection. Check and make sure that all the cable connections are properly connected and not damaged. If you find any issues, replace the cable with a new one and check if the issue is fixed.
Change the Display Settings
Incorrect display resolution can cause Windows 11 screen to appear blurry. Again if the scale resolution and display resolution is different it may also cause blurry screen issue on Windows 11. Let's select the recommended scale resolution and display resolutions that probably fix the issue.
Press Windows key + X and select settings
Go to the system then select the Display option,
Here under the scale & layout option select recommend option next to Scale and display resolution.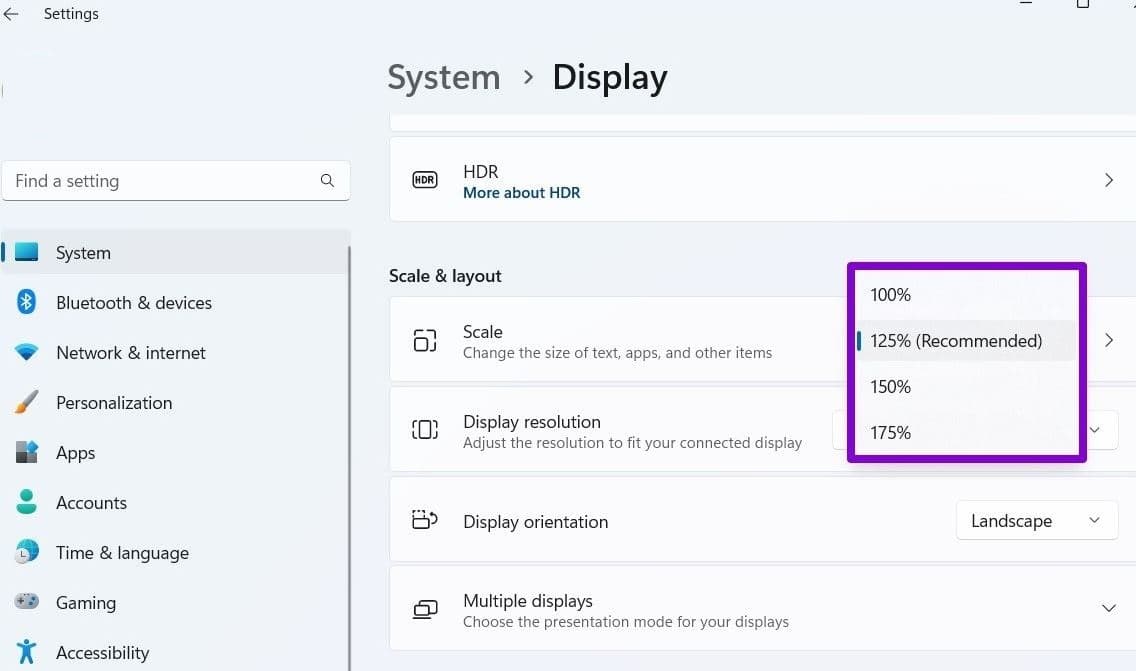 Now Select Keep Changes then restart your computer, now check if the blurry screen problem is resolved.
Adjust ClearType Text
ClearType is a technology that enhances the readability of text on LCD and similar displays. Let's check and configure ClearType text properly to make the text appear sharper on Windows 11.
You can use ClearType Text Tuner to fix the issue.
Press Windows key + s, type ClearType in the Windows search bar, and select the Adjust ClearType Text option
Checkmark on Turn on ClearType box and select Next.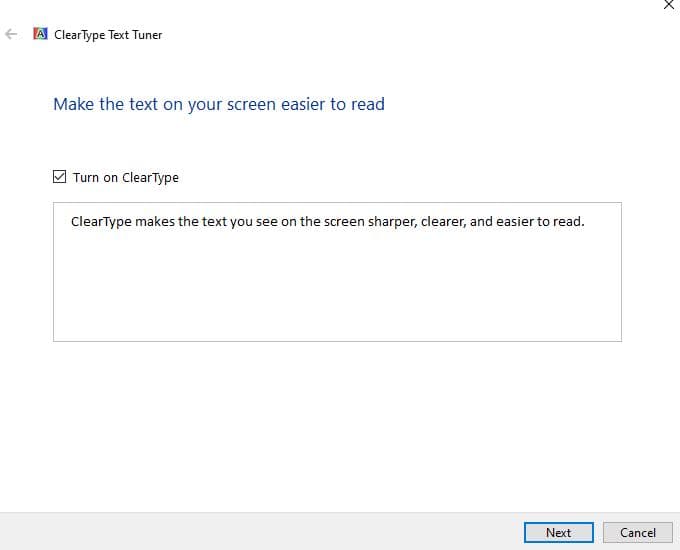 Keep on going next until you see text samples, choose the option that appears best to you, and click next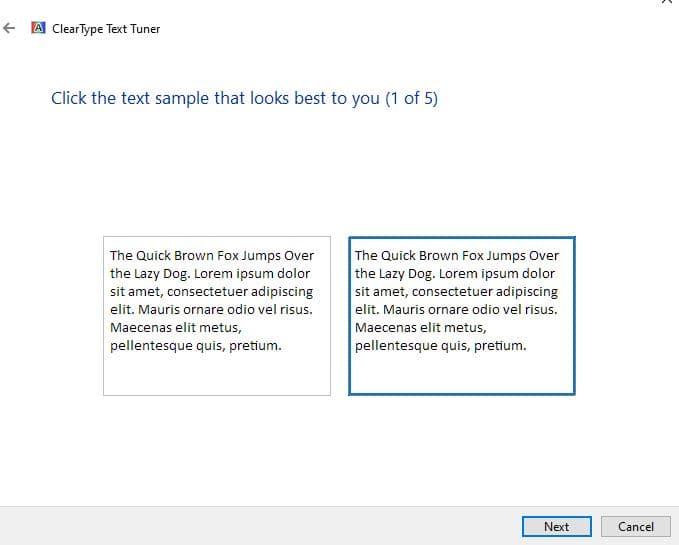 You'll need to select a text sample several times to let the computer understand your preference.
Once you are done, select Finish.
Update the Graphics Drivers
An outdated GPU driver can also run into compatibility issues with programs and cause blurry screen issues. And update the graphics drivers with the latest version to fix the blurry screen issue on Windows 11.
New drivers can fix issues like poor performance, frequent crashes, glitches, and rendering issues like blurry visuals.
Press Windows key + X and select the Device Manager option
Scroll down and expand the Display Adapters section.
Right-click on your graphics card, Select the Update Driver option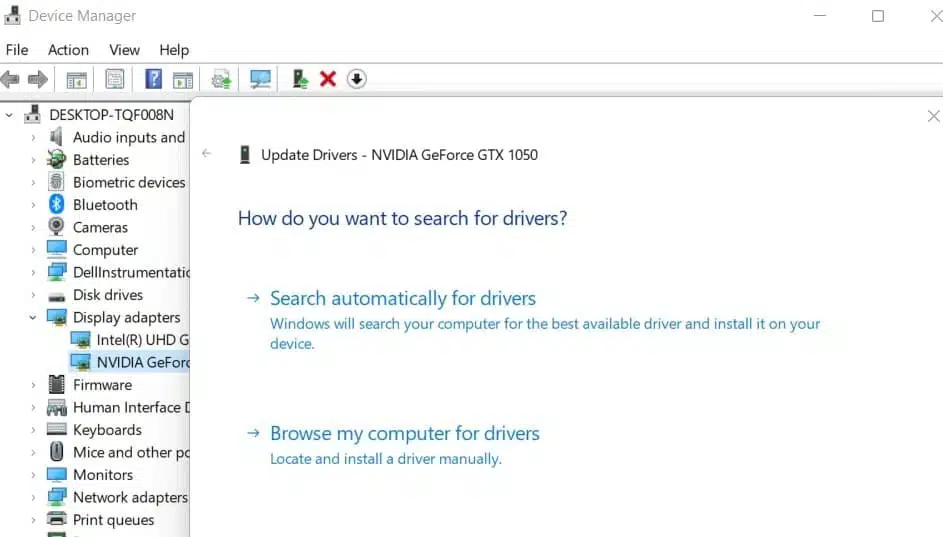 Click on the Search automatically for drivers option and wait for the utility to download and install the latest GPU drivers. Restart your system and run an app to check if the screen elements appear sharp or not.
Change Graphics Preference
Each app has its own graphics settings, if you find only app has blurred visuals you an modify the settings to suite your needs.
Press the windows key + x and select settings,
Go to the system then display option,
Scroll down and in the Related settings section, select Graphics.
Select the app that is blurred from the list. Click on Options.
Select High Performance and then click Save.
Now Restart your system and check if the issue is resolved.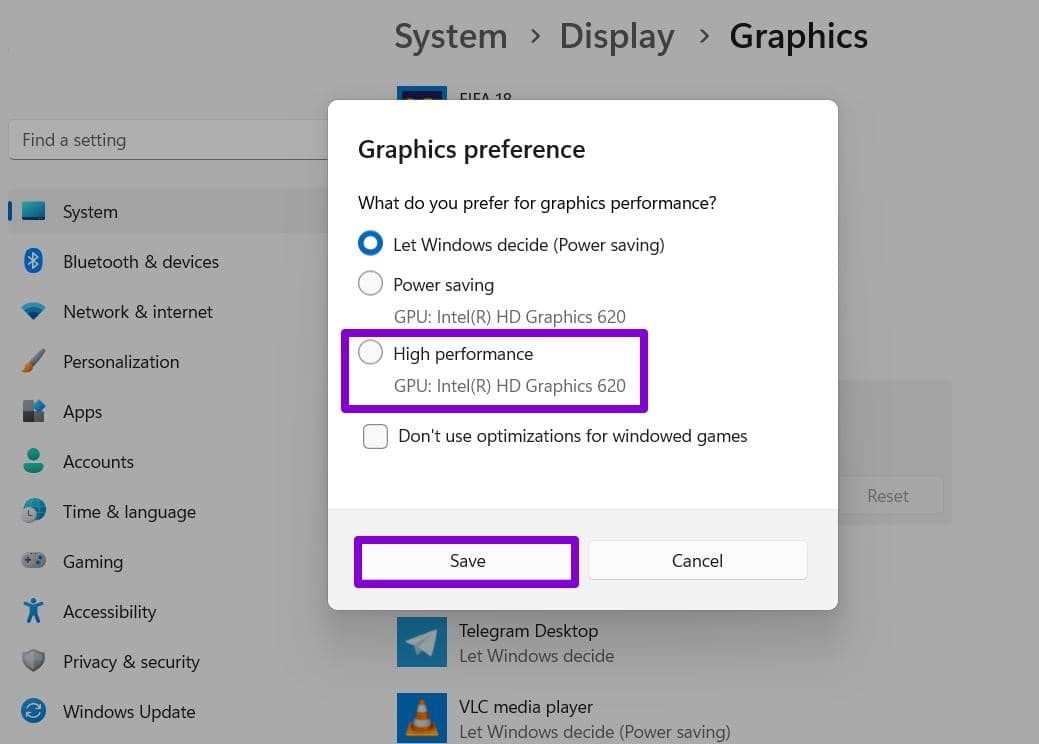 Disable Scaling for High-DPI Displays
Also If an app or program doesn't automatically scale up to the default settings, you can override the high DPI scaling to improve the clarity and text sharpness.
Using a high-DPI display, the scaling may cause a blurry screen issue
Press Windows key + s and type the app name causing a blurry screen issue, For example, Microsoft Edge,
Right-click on the name of the app and select open file location,
Now right-click on the Microsoft Edge icon select properties,
Move to the compatibility tab, and Select Change high DPI settings.
Check the boxes for 'Use this setting to fix scaling problems for this program instead of the one in Settings' and 'Override high DPI scaling behavior.'
In addition Ensure that the drop-down menu under Scaling performed by: is set to Application.
Select apply and then click ok and restart the program to see if the issue gets fixed.
Addjut Windows 11 for best appearance
If you have recently tweaked any Performance options on Windows to disable animation or any other visual effects that may also cause text or menu appear blurry. Let's adjust Windows 11 for the best appearance option.
Press Windows key + R, type sysdm.cpl and click ok
Move to the advanced tab, then Under Performance, click on Settings.
Select Adjust for the best appearance option. Select Apply.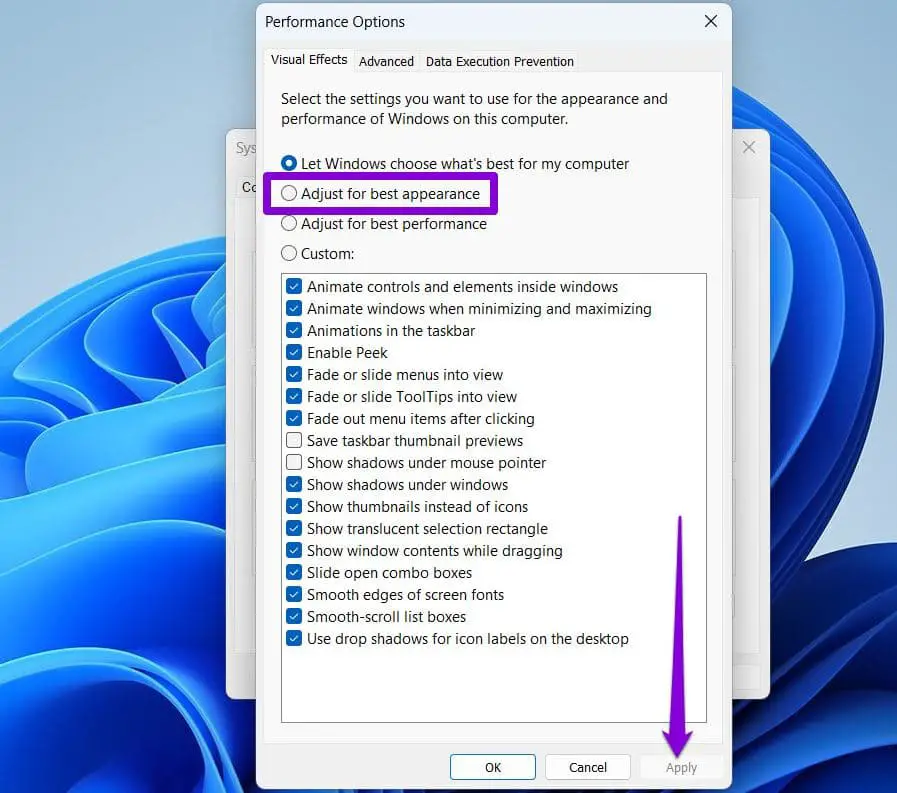 In addition, install the latest Windows updates that may have bug fixes for this issue. If the above solutions fail to fix the problem try system restore that reverts system settings to the previous working state and fix the blurry screen issue.
FAQ:
Why is my screen blurry on Windows 11? 
There could be several reasons why your screen is blurry on Windows 11, such as incorrect display settings, outdated or incorrect graphics drivers, hardware issues, or incompatible software.
How do I fix a blurry screen on Windows 11? 
To fix this issue on Windows 11, try adjusting the display settings, updating or reinstalling graphics drivers, running the built-in display troubleshooter, or checking for hardware issues.
How do I adjust display settings on Windows 11?
Right-click on the desktop and select "Display settings". Here, you can adjust settings such as resolution, scaling, and orientation.
How do I update or reinstall graphics drivers on Windows 11?
You can update or reinstall graphics drivers on Windows 11 through the Device Manager. Go to Start > Search > Device Manager. Find the graphics device you want to update or reinstall and right-click on it. Select "Update driver" or "Uninstall device" from the drop-down menu.
Also read: