Do you want to make striking illustrations for your creative projects? This article explains the basics of creating vector graphics and where you can use these HD images. Read on!
Digital creators often use vector graphics to design eye-catching projects that grab customer attention. Usually, vectors are made with the help of professional vector graphics software, mainly used by experts in the industry. But what should you do if you have no skills or resources for using such programs? Beginner designers can easily convert their sketches and raster files into vectors with the help of online tools. Read further to discover the details of creating high-quality illustrations using popular vector graphics programs and software.
Why are vectors often used in design?
Vector images are made of lines, curves, and geometric shapes that are based on mathematical formulas. These formulas preserve all-important characteristics, such as positioning, proportions, and color. You can enlarge and compress such visuals numerous times, and they will always maintain their appearance and high quality. Due to their high scalability, editing simplicity, and excellent resolution, vectors are the preferred graphics for most digital creators.
Often, designers have a lot of ongoing projects and don't have time to create vectors themselves. That's why they browse stock content marketplaces for ready-to-use licensed files. Depositphotos is an international photo bank featuring 230+ million royalty-free photos, vectors, illustrations, videos, and music. You can explore thematic categories and trendy collections with numerous HD vectors at depositphotos.com/stock-vectors.html. Moreover, their library offers advanced search filters with color, orientation, date, contributor, and vector type options.
Where can you use vector graphics?
You can utilize these highly scalable graphics for different personal and commercial projects. Here are some of the common uses:
Commercial graphic design. Branding and advertising materials require using visuals in different sizes without quality loss. Vectors look sharp in small and big formats, like business cards and billboard posters.
Website and mobile app design. Websites and apps are accessed from various devices with different screen sizes. And their responsive designs automatically adapt to the available frame. Vector graphics maintain the same proportions no matter how big or small a screen is.
Animation. When creating games, cartoons, and other types of animation, you must use high-quality graphics for better-perceived motion. Besides, vector images are always straightforward to understand.
Font creation. Special optical technologies can recognize patterns and convert handwriting and signatures into vectors. You can create a unique font generated from your scanned script. Also, vectorized signatures can be used to sign PDF documents online.
Architecture documents. Paper blueprints can be scanned or photographed for further vectorization. Vectorizing such documents creates digital copies that can be easily edited and shared.
Geographic materials. Maps are created based on aerial images taken and scanned by geographic systems. Vector graphics used for mapping let you effortlessly understand the layout.
How do you vectorize images online?
Vectorizing a visual turns a pixel-based image (such as JPG, JPEG, GIF, and PNG) into a vector (such as SVG, EPS, AI, and CDR). The process doesn't only include changing the file format, but also preserving all the lines, shapes, text, and other elements. A high-quality vectorization ensures that the raster image and its vectorized copy look identical.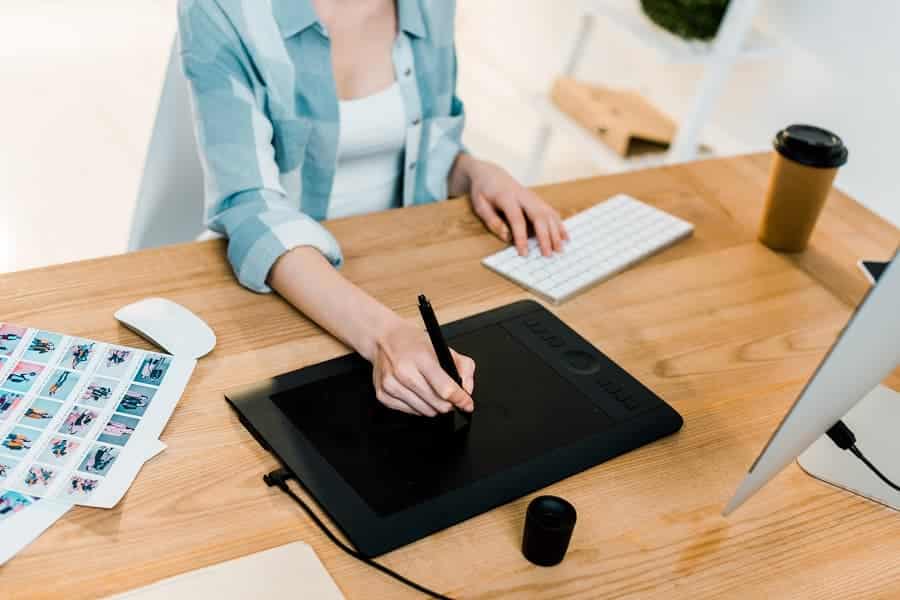 You can use web-based tools to convert your rasters into vectors. The most popular free websites are Autotracer, Vectorizer, and Vector Magic. Just upload your pixel-based image; choose the output format, color, and advanced vectorization options; preview the result, and download your vector. Remember that simple images like logos, flat illustrations, and cartoon art are quicker and easier to process due to low detail.
How do you convert images to vectors in Adobe Illustrator?
Adobe Illustrator is the most popular professional tool for vectorizing images and creating vector art from scratch. It's a paid software that comes with a free 30-day trial. So even if you need to vectorize an image on a one-time basis, this can be an excellent option.
The program offers two ways to convert an image into a vector. You can do so with the help of Pen or Image Tracing tools.
Vectorize an image with the help of the Pen tool
This option works well for simple shapes that are easy to trace manually.
Create a new file. You can pick a template after opening Adobe Illustrator or click File → New and set up file parameters, such as width and height.
Upload an image you want to trace. Select File → Place.
Lock the image layer. Select Windows → Layer. Go to the layers tab, double-click on the image preview, and click the Lockbox in the pop-up window.
Create a new layer by clicking on the New Layer icon at the bottom of the tab.
Select the Pen tool from the toolbar or press P for a quick pick.
Trace the image using this tool.
Export the visual by clicking File → Save as…, and choose the desired file format.
Vectorize an image with the help of the Image Tracing tool
This option works well for more detailed and complex images.
Create a new file by picking an Adobe Illustrator template or click on File → New, and set up the width and height file parameters.
Select File → Place to upload your image.
Select an image.
Open the Object menu.
Click on Image Trace → Make.
Choose the preset option you would want to use. There are various color options (3-color, 16-color, high- and low-fidelity visuals). There is also a Grayscale option if you want to only use shades of gray and a Silhouette option for black and white images.
Pick an option you would like to use and click on it. The tracing will start right away.
Fine-tune your image after the tracing is complete. Go to the Window menu and open the Image Trace panel. Check the tracing options available and adjust them until you're satisfied with the colors and the level of detail. Click on Expand to finalize the tracing.
For now, your vector consists of different small shapes in different colors, grouped by default. If you want to make additional changes, ungroup the shapes by right-clicking on the image and selecting Ungroup. After that, you can select and recolor specific elements, adjust their size, and do additional tuning.
Export the visual by clicking File → Save as…, and pick the file format.
To sum up
Vectors are highly scalable HD graphics often used in different niches that require quick image adjustment: web design, marketing, advertising, animation, geographic mapping, and more. You can easily create vector art by tracing the picture using Adobe Illustrator software or converting your images with online tools. Follow the instructions presented in this article to ensure smooth processing. If you need ready-made vector graphics right away, you can browse stock content platforms featuring licensed, high-quality files.
Also read: