Creating the backup of your important data is a very good habit. And, if you are using Windows 10, then you have different options to create a backup of your data. But, the two most useful methods to create a backup of your data are – Recovery Drive and System Image. Well, if you are using a computer today, then you know the importance of backing up data so no need to elaborate that. But, it is worth talking about different methods of backup. So, if you are confused between these two awesome backup options and don't know which one is going to be useful for you, then we have drawn a difference between Recovery Drive and System Image in Windows 10 so that you can easily make up your mind.
What is Recovery Drive?
As you might have guessed from the name that the role of the Recover Drive is to return the computer system to its original state. Now, the original state can be anything – a factory setting or a copy of your Windows environment. This feature is quite similar to using a factory reset on your android or iOS phone. This will almost format your entire computer. Yep, you are heading towards the right direction, this won't include your desktop apps and any other personal data.
That's because this setting will take your computer to the back as it was when you first time booted your computer, however, it is usually in a smaller size. All of your third-party apps and programs are left out during the process. So, it is not a good option when you have to retrieve your deleted files or other data.
This is a highly extreme step that should be used in adverse cases only like when your computer stops responding, crashes and nothing else work for you. Some people also call Recovery drive a Recovery Disk or System Recovery Disc as well. Earlier people used a CD or DVD to store Backup, but these days pen drives are preferred as they are easy to carry. Today, most of computer devices come with the built-in Recovery Drive. But, it is hidden from the users to protect the integrity of the drive. However, with Windows 10, this feature has been replaced as you need a separate bootable USB Recovery Drive nowadays.
How to Create Recovery Drive Windows 10
You need to open Control Panel on your Windows 10 and navigate for creating a Recovery Drive option and open it by entering your administrator password.
To perform this process, you at least have 16 GB of free space on your pen drive. So, ensure that your pen drive has full capacity, if not, then delete a few files to create free space and connect with your computer.
Up next, select the backup system files to Recovery Drive option and press next. This process will take a couple of minutes to complete meanwhile don't make any changes to your computer. Safely remove the pen drive once the process is complete.
To restore your PC to its 'original factory condition,' you will boot your PC from the USB drive. To do so, press F2 or F10 key when you see the setup screen during boot.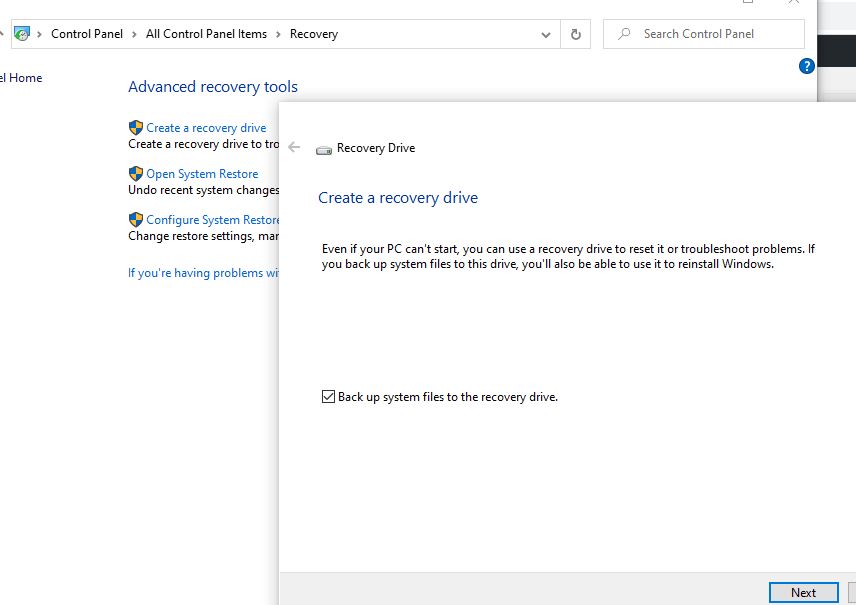 What is a System Image?
Well, System Image is quite different from the Recovery Drive as it creates a copy of an entire hard disk partition for you. But, in the end, it creates one large file. System Image is generally used to create a backup for the primary partition or when you install the windows operating system. That's because it contains your user data, program files, registry entries and all other files and folders which are related to your operating system.
In a normal sense, System Image File is bigger than Recovery Drive. It's because they take a backup of your entire user data along with third-party apps and programs installed on your computer. However, System Image is one jumbo file that has backed up everything. Fortunately, there are methods present by using them you can easily retrieve a particular file and folder from it without performing the full restoration process.
This system is highly preferred when you have to recover a deleted file or app. On the other hand, it will leave out other drives present on your computer from the process. That's why Microsoft has packed these different backup options in their system so that users can use them as per their needs.
How to Create System Image Windows 10
Open Control Panel and select the backup and restore settings present under the System Security head.
Now, you will see the System Image option on the left side and click on it.
On the next screen, you have to select the place where you want to create the backup. In this case, a hard disk with a minimum of 200 GB of free space is perfect.
Next, select C drive or any other drive where you want to create a system image. You can easily create a system image of any Drive using this method.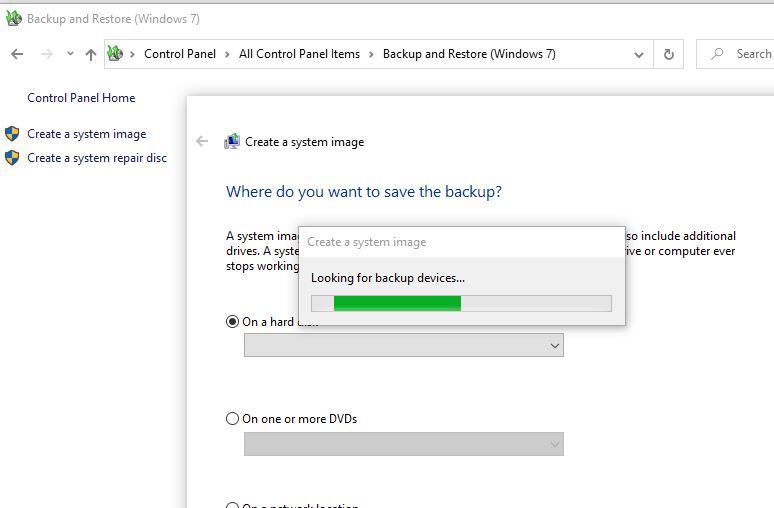 System image allows you to recover everything on your system, including multiple drives. On the other hand, recovery drive only allows you to copy your most essential files from your system drive.
So, it is clear from the difference between the Recovery Drive and System Image that they both are equally important parts of the backup process. Like, when you want to recover some app or file, then you should use System Image, otherwise, for user settings, backup Recovery Drive is a good option. That's why they both are equally useful and important.