Out of all the awesome features of Windows 10, one of the most controversial features is its telemetry gathering. This feature is incorporated by Windows to identify the security issues and fix them. Telemetry gathering is a good feature, but the level of telemetry present in Windows is astounding. This feature isn't appreciated by all the users as they feel like Microsoft is transpiring their personal data. That's Microsoft is slowly adding features where users can adjust telemetry settings as per their liking.
However, if you don't like Windows 10 extensive data collection, then you can install some of the best Windows 10 privacy tools on your computer and lock down your privacy.
Top Privacy Tools for Windows 10 Users
So, if you want to get back your privacy from Microsoft, then you can install any of the following tools on your computer today. Just make sure to create a system restore point on Windows 10 before installing any of the following tools because these tools might edit registry, values and other system files to achieve the settings.
O&O ShutUp 10 – Free antispy tool for Windows 10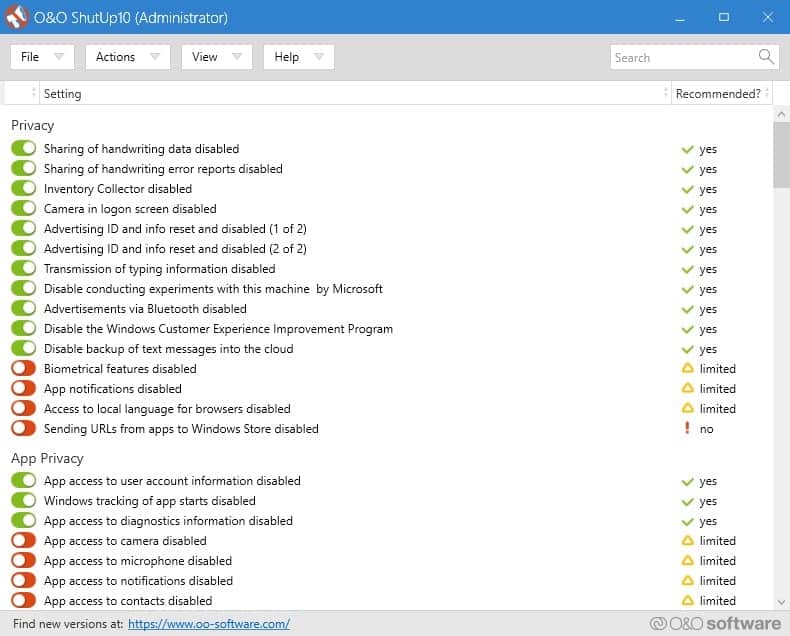 This is one of the most popular Privacy software available for Windows 10 users. It has the capacity to disable all of Windows telemetry. When you open the app, you will see an option to disable the telemetry in the long list of the features which are divided into their own categories. To disable any telemetry, you just need to adjust the toggle present in front of them.
Here, you need to remember that when you disable some of the telemetries, then you might lose some of Windows 10 functions. So, to avoid such situations, O&O ShutUp 10 offers you recommendations on which telemetry you can off and function lose by it. If you are alright with the loss of functionality, then you can easily turn down that telemetry and improve your privacy. One of the finest features of this app is quick to export and import the settings which are very helpful to backup your privacy settings or share with other users.
Privacy Repairer – free privacy restoring software for Windows 10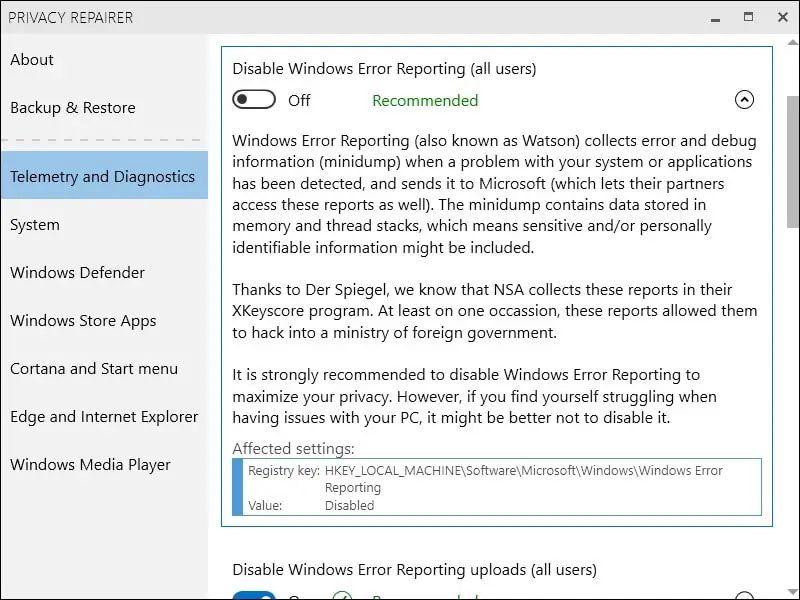 Privacy Repairer is a highly efficient tool that divides all the telemetry into different tabs and categories. You can easily disable or enable telemetry by pressing the toggle present in front of their respective names. This tool will also recommend to you whether you should turn on or off certain telemetry or not. Moreover, when you click on the telemetry option, then it will tell you what is the role of the particular telemetry and what registry is affected by it. It is a very interesting feature that most of Windows 10 privacy tools won't have. Additionally, you can create a backup of your settings with just one click of your finger on this app.
W10Privacy – Privacy made ​​easy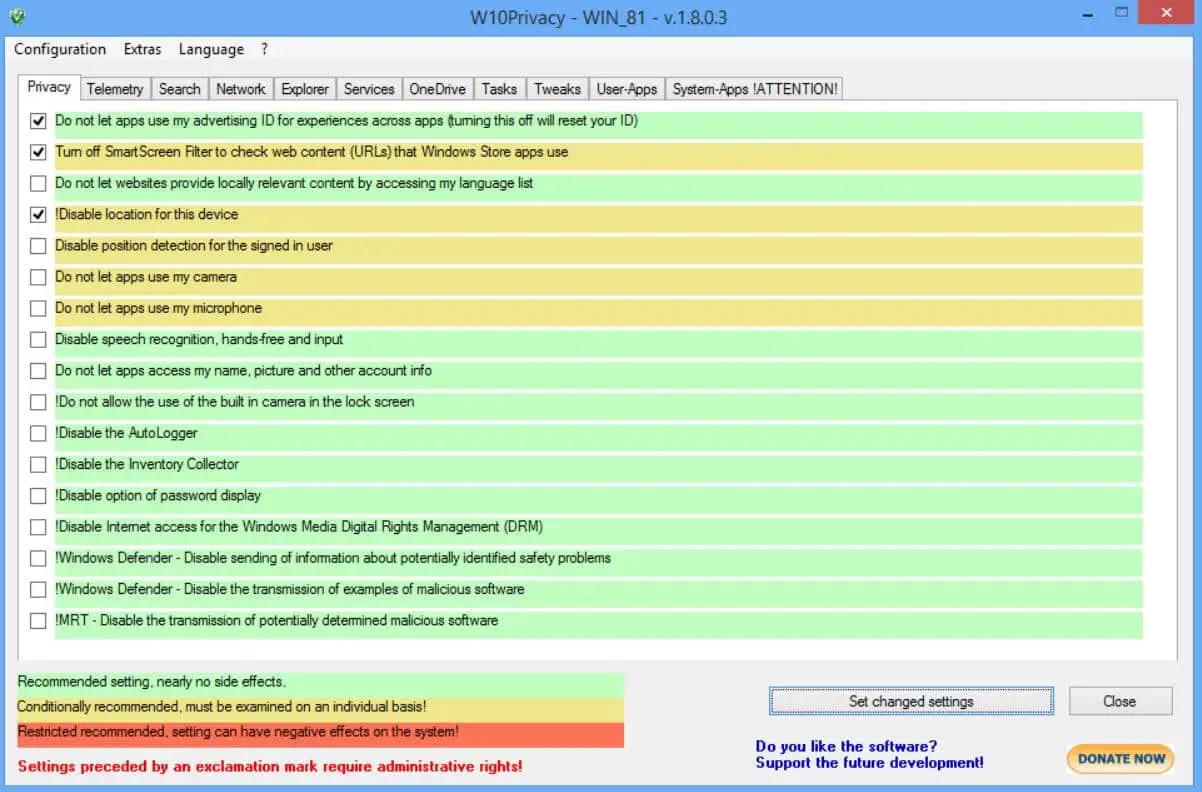 If you are looking for an app that can offer you immersive control over the telemetry enabling and disabling, then you should use the W10Privacy tool. With this tool, you will be able to literally find thousands of different telemetry and tracking options that can be manipulated pretty easily.  It is very simple to navigate for telemetry in the app as everything is categorized into different tabs.
Moreover, in this app, special color codes are used to tell which telemetry is safe to disable. When you hover your cursor over the telemetry option, then the small description will pop up with the role of that telemetry. However, if you are not a big fan of the complexed user interface, then this app is going to be overwhelming for you, especially if you are a beginner user.
Get Blackbird – Windows privacy, security and performance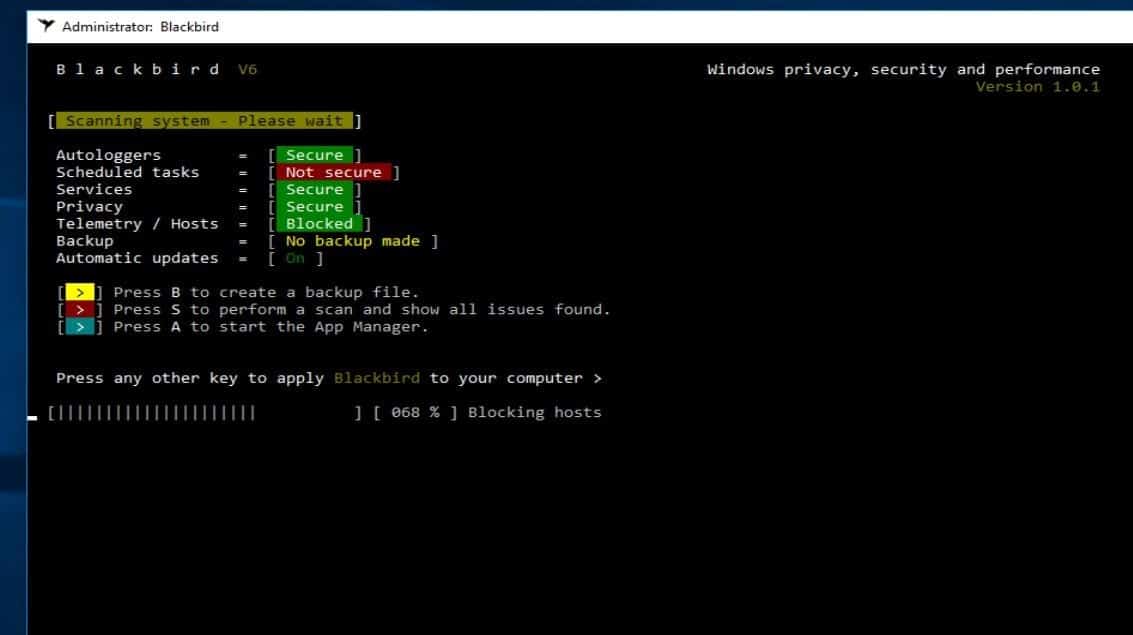 If you are looking for a simple and no-nonsense privacy tool for your Windows 10 computer, then you should get this command line application which makes the process of enabling and disabling telemetry easy. You just need to download this app on your computer, open it and press any key on your keyboard. It will foremost scan your entire system and make the list of the things that you can turn off to ensure your privacy. By pressing the number of the corresponding feature on your keyboard, you will be easily able to disable that particular telemetry.
This tool even offers you immediate control over the telemetry disabling features. However, it is an awesome app, but being a command-line app it can be pretty daunting for some users to operate it. But, if you have no problem with command-line features, then you should immediately download this app on your computer. You can read more details about blackbird here.
DoNotSpy 10 – Protect your privacy on Windows 10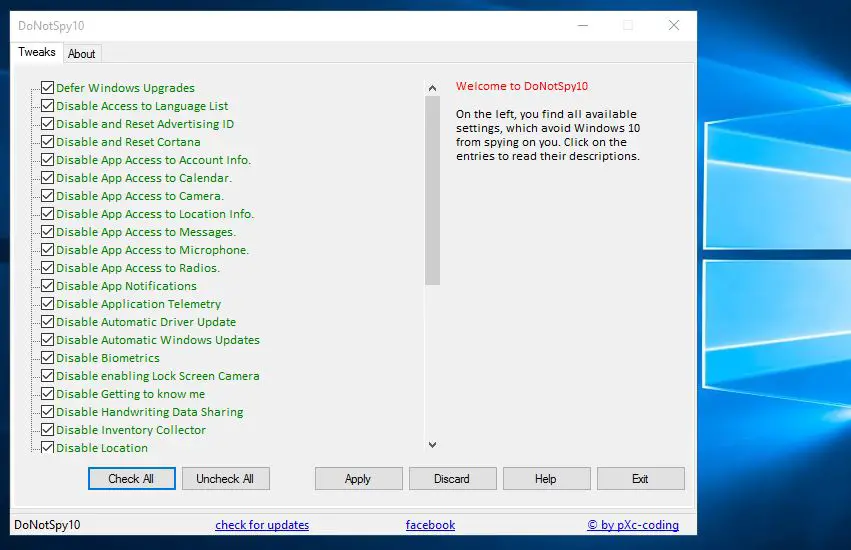 It is a simple and similar app that you can easily use. To disable a telemetry option, just select the checkbox and click on the Apply button. Like the other software on this list, DoNotSpy 10 color codes all the telemetry options that you can safely disable. This is a great app, but you have to bear the trouble of adware with it. So, beware of that. It is a free tool, but it has ads. But, you can easily remove ads by updating to the Pro version. However, if you don't want to update, then you have to compromise with ads.
Destroy Windows 10 Spying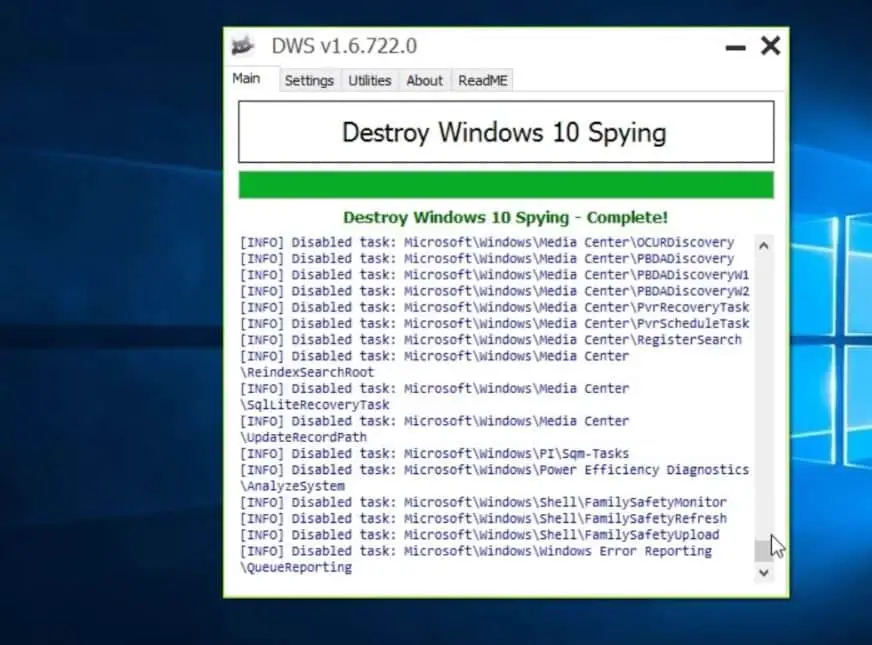 Destroy Windows 10 Spying another free and open source software that is very similar to Disable Win Tracking. With just a single click, Destroy Windows 10 Spying will disable all the Windows 10 telemetry and other tracking services. Of course, you can select what type of telemetry to disable from the Settings tab. However, you won't get the fine control like in W10 Privacy, Privacy Repairer or O&O ShutUp 10.
Additionally, you can also disable or enable Windows Update with just a single click. Other features of the app include host file manager and user account control switcher.
Privacy is your right and if you don't like Microsoft prying on your data, then you have to download the best Windows 10 privacy tools instantly. By downloading these tools you can minimize the telemetry function and intact some of your privacy features.
Also read: