Microphone miraculously stopped working after Windows 10 update? You are not alone a number of users report the issue of "internal Microphone not working on their laptop" for a few others report Microphone no longer picks up any audio after Windows 10 update.
Mic. Stopped working after windows 10 update
There are many reasons why the issue is happening such as driver conflict or outdated device drivers. It is also possible that you have multiple or duplicate microphone devices in the Device Manager. Whatever the reason here are some solutions you may apply to fix If your built-in Microphone or Skype Audio is not working in Windows 10.
Microphone not working
Here a quick solution that fixes the problem if this started recently after Windows 10 update.
Allow apps to access your microphone
Open Settings using the keyboard shortcut Windows + I.
Then click on Privacy to access all your privacy settings.
Select Microphone and switch on the "Allow apps to access your microphone" toggle.
Also, make sure microphone access for this device is on,
Or you can turn on by click on the change button as shown image below.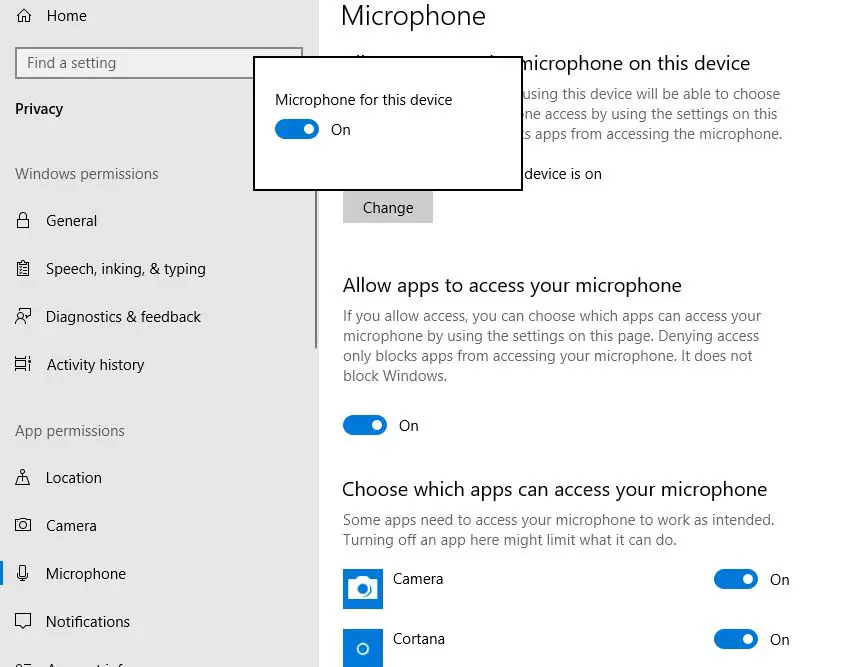 And finally, in the app list, make sure to turn on microphone access for every app you want to give permission to access your microphone.
This is a very useful solution recommended by users on the Microsoft forum, Reddit as applying this microphone started working.
Run Windows Audio Troubleshooter
Run the built-in audio sound troubleshooter that automatically detects and fixes the problems that prevent the microphone from working properly.
Press Windows + X keyboard shortcut and select settings,
Click on Update & Security then troubleshoot
On the right-hand side locate and select playing audio
Now click run the troubleshooter as shown image below.
This will start to diagnose and fix the problems causing to stop windows sounds.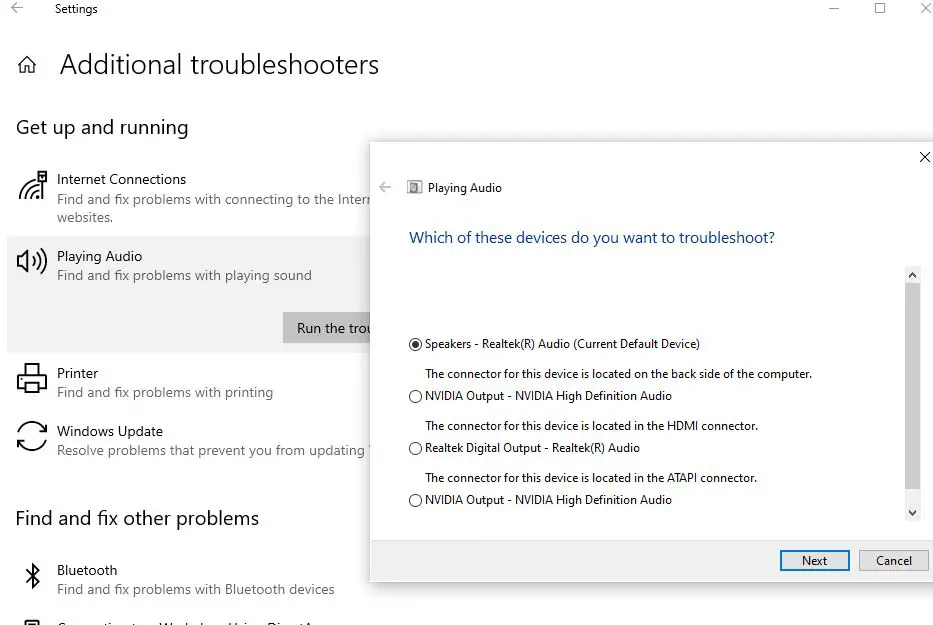 Adjust the Microphone Setting
Go to the audio icon in your taskbar, right-click and select Recording Devices.
Select the microphone and double-tap to open the properties.
Here you can adjust the levels and adjustments like Noise Cancellation, DC Offset Cancellation, Echo Cancellation, and more.
Disabling all the sound effects also fixes the Microphone issues sometimes.
Under the Advanced tab, disable the checkbox Allow applications to take exclusive control of this device.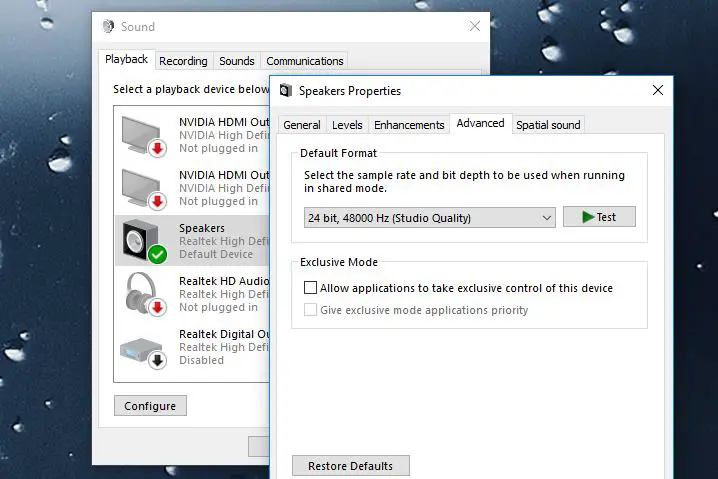 Set microphone As Default Device
Right-click the speaker icon in the System Tray and select Sounds.
Go to the Playback tab, and make sure your default device is set.
If all the listed devices are disabled, enable them and then set a default device.
Repeat these steps for the Recording tab.
If it isn't present run the Hardware troubleshooter at Settings > Update & Security > Troubleshoot
Restart Windows Audio Service
Some minor issues in your Windows Audio Service can also be the reason for microphone bugs and restart it is the best possible fix.
Open the Run command and type services.msc.
This will open the entire list of Windows Services on your PC.
Here check Windows audio and AudioEndpointbuildert service is running. If not start the service and change its startup type automatically. Also If the service is already running state simply right-click on it and select restart.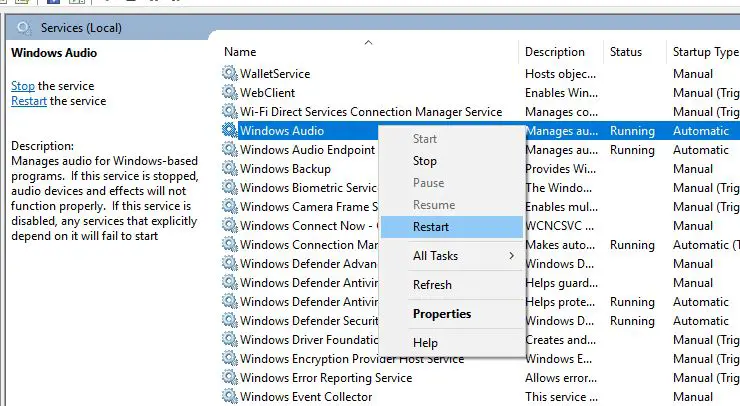 Reinstall the Audio driver
This is one of the most common reasons for any malfunction in a PC. Your Microphone won't work properly if the drivers are broken or outdated. especially the problem that started after the recent Windows upgrade there is a chance, the audio driver is not compatible with the current Windows version or it corrupted during the upgrade process. So you need to install or update your device driver.
Open Device Manager (devmgmt.msc ) and expand "Sound, video and game controllers".
Right Click on the installed Audio driver "Realtek High Definition Audio"
Select Update Driver.
Click on Search automatically for updated driver software and follow on-screen instructions to let Windows check and install the latest available audio driver.
Also, you can visit the device manufacturer's website to download the latest available Audio driver version for your system. Then again open the device manager, and expand "Sound, video and game controllers". Right-click on the installed audio driver and select uninstall, restart windows.
Now on the next login install the latest Audio driver and check Windows Audio And Microphone Started working.
Did applying these solutions help to fix " Audio or Microphone not working after Windows 10 update"? Let us know which option worked for you.
Also Read: