Booting into Safe Mode and uninstalling recently installed software can help pinpoint whether third-party applications are responsible for the "Unknown Hard Error."
Getting "Unknown Hard Error" while you're playing a game, opening or closing applications, or executing any file, on your Windows PC. This error can lead to system instability and unexpected crashes, causing inconvenience and potential data loss. Users report, due to the Unknown Hard error windows screen turns black, the taskbar freezes, desktop icons disappear, etc. This error is usually related to hardware or driver problems but can also result from software conflicts or corrupted system files. It could also be an incompatible app causing problems, and uninstalling any recent apps probably help fix the problem.
Fix "Unknown Hard Error" on Windows 10
The "Unknown Hard Error" on Windows indicates a critical problem that Windows can't pinpoint clearly. Several factors can trigger the "Unknown Hard Error" on Windows 10:
Faulty hardware components, such as RAM or hard drive.
Outdated or incompatible device drivers.
Malware infections.
Corrupted system files.
Conflicts between third-party software and Windows components.
First of all, if you notice the problem started with recent Hardware or Software installation, Temporarily remove them, And check this will fix "Unknown Hard Error" if the device driver conflict causing the issue.
Also, disable the security software (antivirus) if installed, To check and make sure the security application not blocking the application to run with Unknown Hard Error.
Update windows 10
Microsoft regularly releases Windows updates with bug fixes to patch the security hole created by third-party software. Install the latest Windows Cumulative Updates sometimes fix the problem for you.
Open the Settings app using Windows key + I
Click on Update & Security then Windows update
Next, click check updates to download the Windows update from the Microsoft server.
Restart your PC to apply them and check if this fixes the unknown hard error on Windows 10.
Perform Clean Boot
This is the most important step to diagnose the problem if any third-party application or startup service causing Windows 10 Unknown Hard Error. Once you know the main culprit leading to this issue, you can easily resolve it.
Let's perform Clean boot in Windows 10/windows 11 and start your computer by using a minimal set of drivers and startup programs:
Type msconfig in the Start search and then hit the Enter key
This will open the System Configuration utility.
Now on the System Configuration dialog box, go to the Services tab
Select the Hide all Microsoft services checkbox, and then click on the Disable all button.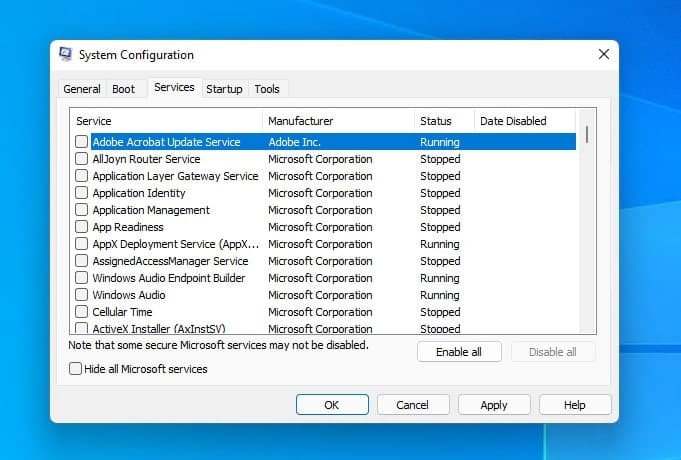 Next, go to the Startup tab and click on the Open Task Manager link.
On the Startup tab of the Task Manager, select each startup item one by one and then click on the Disable button.
That's all click apply and restart Windows to check if the error still persists.
If performing a clean boot fixed the explorer.exe Unknown Hard Error in Windows 10 then you should enable all the services one by one to identify which one is the real culprit.
Run DISM command
As discussed before corrupt or malfunctioning system files on Windows cause different errors to include "Unknown Hard Error"We recommend running DISM command with System File Checker utility that helps to scan, repair, and restore these corrupted files.
Repairing the Windows system using DISM and SFC can resolve underlying issues that contribute to the "Unknown Hard Error."
Open the command prompt with administrative privileges.
Type the command dism /online /cleanup-image /restorehealth and press enter key to execute the command.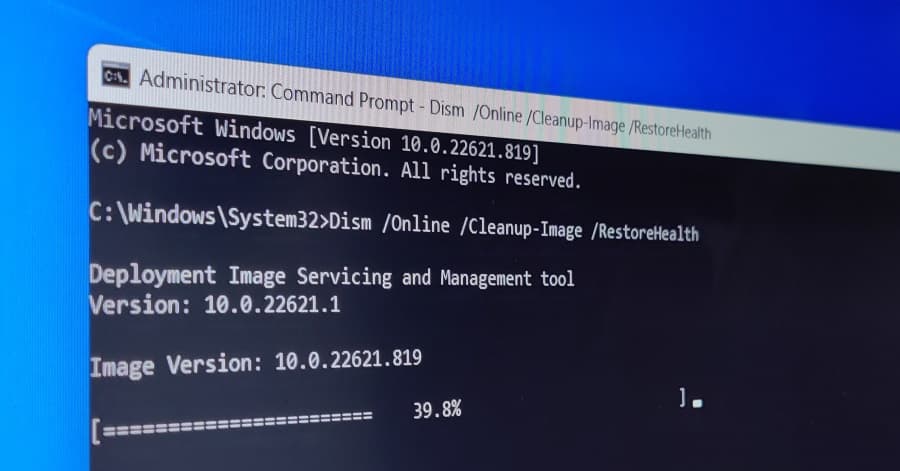 This will check the system image for component store corruption, perform repair operations automatically, and record that corruption to the log file. This can take around 10-15 minutes up to a few hours to finish depending on the level of corruption.
Run system file checker
Corrupted system files can lead to a range of issues, including the "Unknown Hard Error." Running a System File Checker scan helps repair these files and ensures the integrity of the operating system.
Again open the command prompt as administrator
Type sfc /scannow and press enter to run the system file checker utility.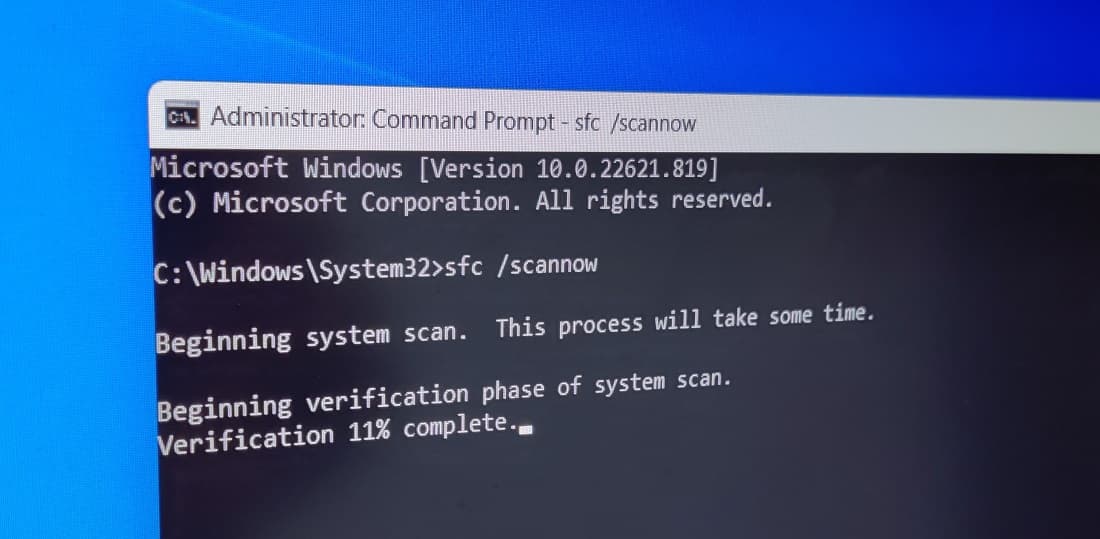 This will start scanning Windows 10 for corrupted system files if found any the sfc utility automatically restores them from a compressed folder located   %WinDir%\System32\dllcache. Wait until 100% complete the scanning process, after that restart windows and check there is no more Unknown Hard Error.
Run Check Disk to detect Disk Errors
Again run chkdsk command to check and make sure it's not due to hard disk error. This is especially common for sihost.exe and ctfmon.exe unknown hard errors. Let's run chkdsk with add extra parameters to force chkdsk check disk drive errors and fix them.
Type cmd on the start menu search, Right-click on the command prompt and select run as administrator.
Here type the command chkdsk C: /f /r and press enter key.
You might be prompted to schedule the disk check for the next system restart. Type "Y" and press Enter.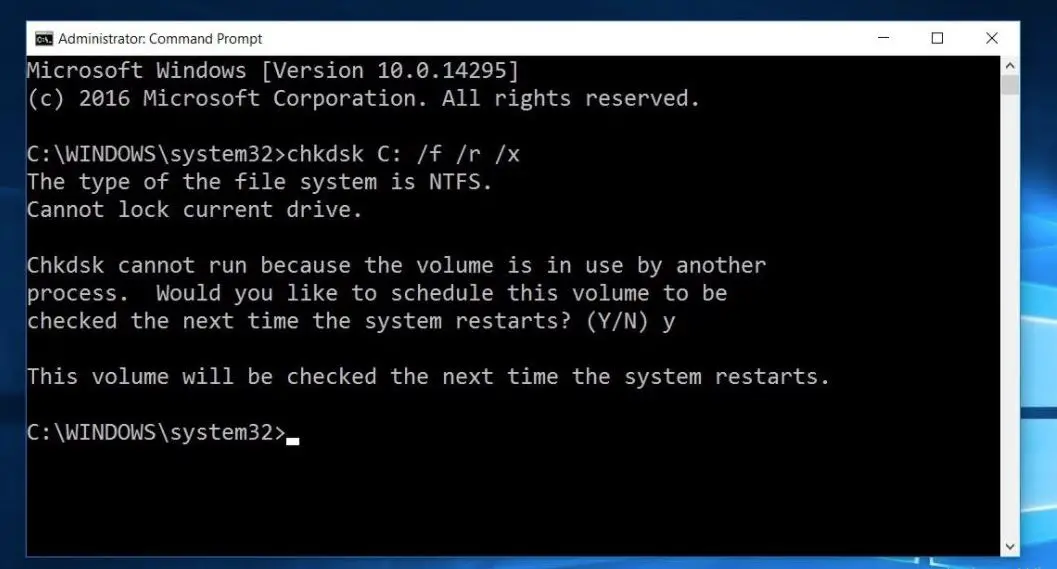 Restart your computer, and Windows will scan and repair any disk-related issues.
In addition Run Windows Memory Diagnostic Tool following steps:
Press the Windows key and type "Windows Memory Diagnostic." Select the app from the search results.
Choose "Restart now and check for problems." Your computer will restart and perform a memory check. Follow the on-screen instructions.
If any memory issues are detected, consider replacing or upgrading your RAM modules.
Update Video Driver
If installed device drivers are outdated, corrupted or not compatible with the current Windows version this will cause Unknown Hard Error. Especially if you are getting this error while playing games this mostly causes due to an Outdated display driver.
Open device manager using devmgmt.msc,
This will display all installed device driver lists.
Here look if any driver with a yellow exclamation mark, if found any right click on it and select uninstall.
Visit the manufacturer's website for each component and download the latest drivers compatible with your Windows version. Install the drivers and restart your computer.
Perform a System Restore
Restoring the system to a previous state can help reverse recent changes that might have triggered the error. It's a way to undo alterations and potentially eliminate the "Unknown Hard Error."
Press the Windows key and type "Create a restore point," then select the corresponding result.
In the "System Properties" window, click the "System Restore" button.
Follow the wizard to restore your system to a point where the "Unknown Hard Error" was not present.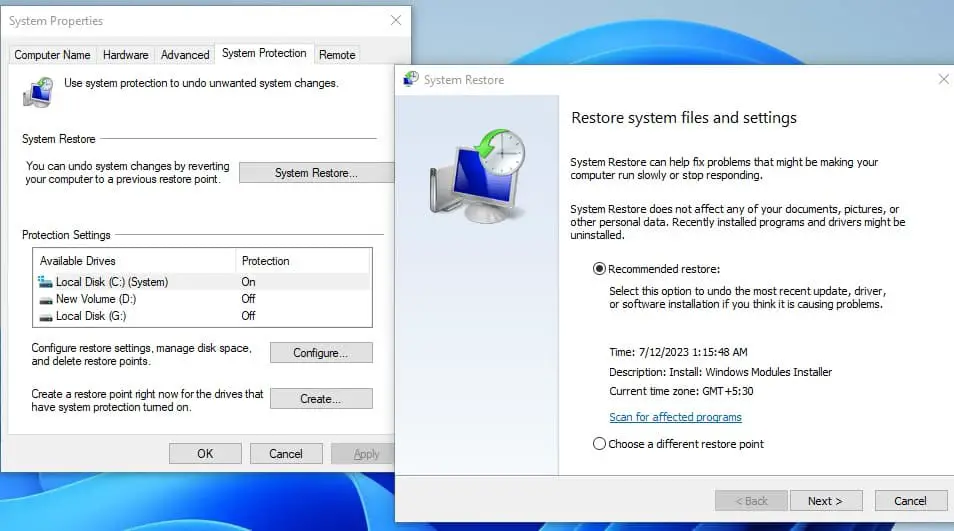 Scan for Malware
Malware can disrupt system operations and lead to mysterious errors. Scanning for malware ensures that your system is clean from harmful software that could be causing the "Unknown Hard Error."
First search for and select "Windows Security" in the Start menu.
Select "Virus & threat protection" and click "Scan options."
Choose "Full scan" and then "Scan now." Follow the prompts to remove or quarantine any detected malware.
Also read