Did you getting Twitch Network error 2000 or thinking Why do I keep getting error 2000 on Twitch? This error usually occurs, when Twitch servers cannot securely make connections and prevent live stream or video. Bad network or internet connection, issues with the web browser (usually Chrome), ad blocker, browser extension or antivirus software are some common reasons that cause Twitch network error please try again. If you are looking for solutions to get rid of this, This post might helpful for you.
How to fix Twitch Error 2000?
Before start, it's recommended to refresh the page, and If refreshing the page doesn't work, then try restarting your computer. Sometimes a simple restart to refresh your internal operations is all your computer needs to reconnect to the networks needed to play Twitch.
Disable your third-party antivirus
Sometimes twitch error 2000 is caused by third-party antivirus software installed on your computer. Disable third-party antivirus or Make an Exception for Twitch in Antivirus help most users to fix the problem.
Temporarily disable or uninstall third-party antivirus installed on your computer and check Twitch to see whether the problem is fixed or not. If it's solved, then open up your antivirus software and make an exception for Twitch,
The Exception setting is located in different places with respect to different antivirus tools

Kaspersky Internet Security: Home >> Settings >> Additional >> Threats and Exclusions >> Exclusions >> Specify Trusted Applications >> Add.
AVG: Home >> Settings >> Components >> Web Shield >> Exceptions.
Avast: Home >> Settings >> General >> Exclusions.
Check your Internet Connection
It might be a problem with the Internet connection that causing twitch network error 2000. And a slow internet connection also causes this problem as well.
Press Windows key + R, type ping google.com -t and check whether you are continuously getting replay or not. If the replay breaks then you need to check your network configuration, restart the Network devices that include the router, modem etc.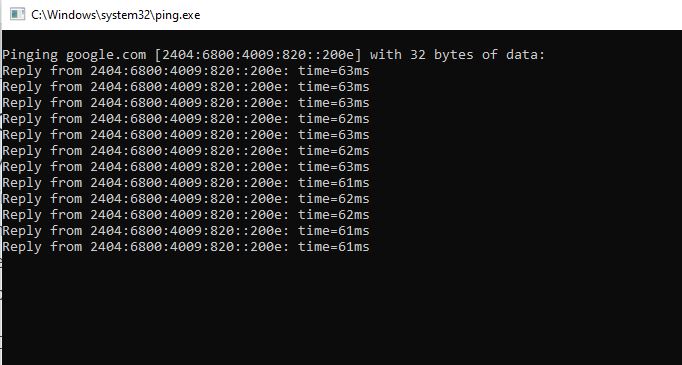 If you are connected to VPN, Disconnect from it and reload Twitch.tv to check whether it worked or not.
Also, open Speedtest.net and check your Internet bandwidth speed.
Disable network proxy
In addition, disable network proxy that helps if incorrect proxy configuration prevents twitch.tv streaming videos.
Navigate to Control Panel -> Network and Internet -> Internet Options
In the Internet Properties window, switch to the Connections tab and then click Lan setting
In the Local Area Network (LAN) settings window, uncheck the box next to Automatically detect settings and Use a proxy server for your LAN. Then click Ok.
Close the Internet properties window by clicking Apply and Ok.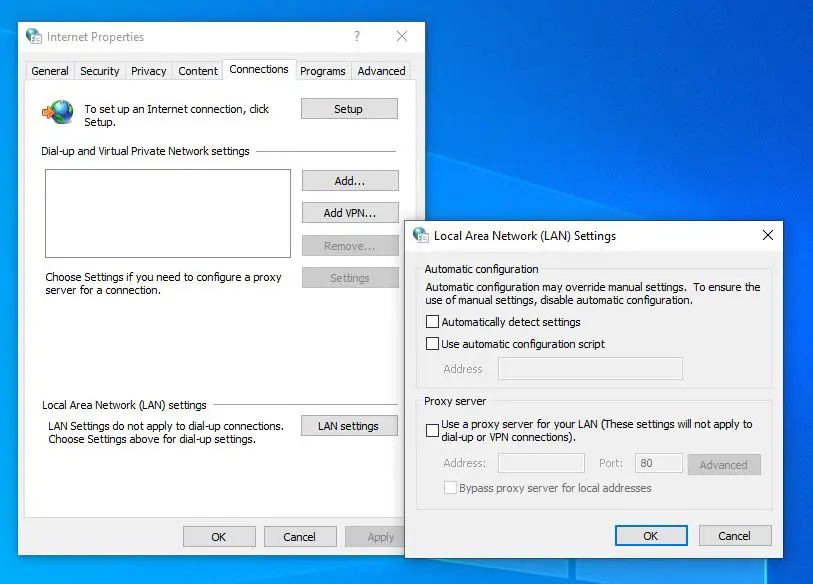 Clear Your Browser Cache and Cookies
Yet another but the most working solution, Clear Your Browser Cache and Cookies and reload twitch.tv that probably resolves the error 2000.
For Google Chrome and Mozilla Firefox:
Open the "Clear browsing data" menu by using the shortcut key Ctrl + Shift + Delete.
Select the time range according to you (according to me select all time option).
Select the "Cookies and other site data" and "Clear images and files" options.
Click on clear data.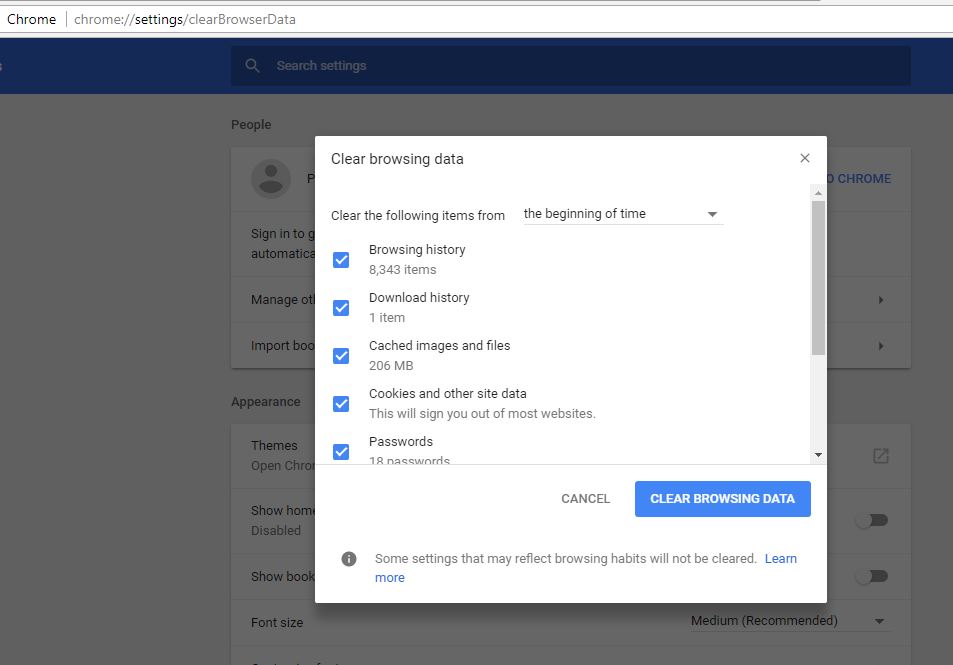 For Microsoft Edge:
Open Microsoft Edge.
Use a shortcut key to open the "Clear browsing data" menu by pressing Ctrl + Shift + Delete.
Select all the boxes and click on a clear option.
Disable Ad-blockers
If you have installed Ad-blockers to remove pesky pop-ups and annoying videos that inhibit your browsing experience you might get Twitch error 2000 because they depend entirely upon advertising revenue which was blocked earlier. If your browser is acting up then disable Ad-blocker following steps below.
To disable Ad-blockers, follow the steps given below:
Open the browser (always prefer Goggle chrome).
Type "chrome://extensions" in the search box.
Now, there will be the extension that you have used and to disable it uncheck the enable option.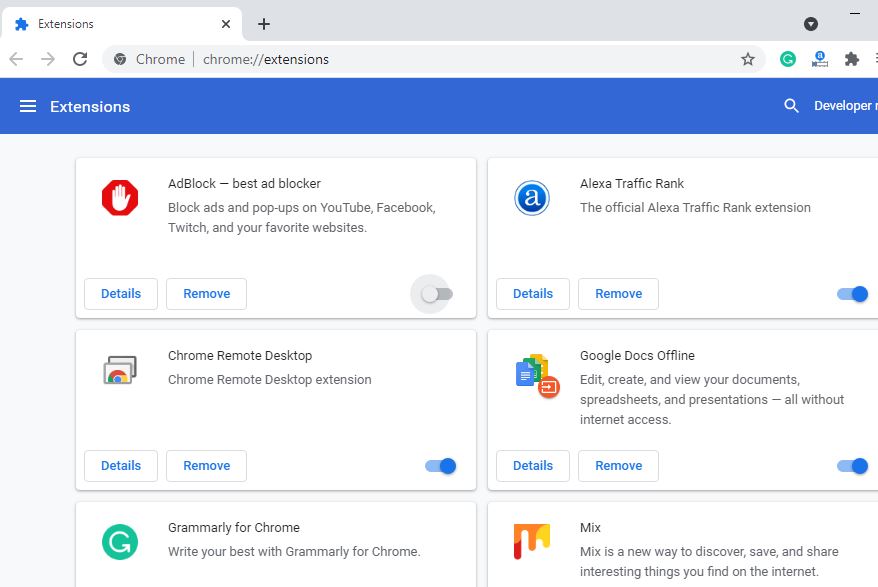 Disable Browser Extensions
If you have installed a number of browser extensions, there might be a chance it causes network error 2000 on Twitch. Not all extensions are responsible for twitch network error 2000 but some extensions might be, that's why we recommend open twitch on incognito browser mode and check if there is no more error. Then try to remove or disable extensions in chrome following the steps below.
Open your Chrome browser and click on the three-dot of the top right corner.
After that, a menu will open. Under that, you will see the "More Tools" hover mouse on that, and at that point, you will see the "Extensions" option. Click on it.
A new tab will open up, where you can see your all Extensions.
Disable all Extensions by clicking on the toggle. And find which are causing the error.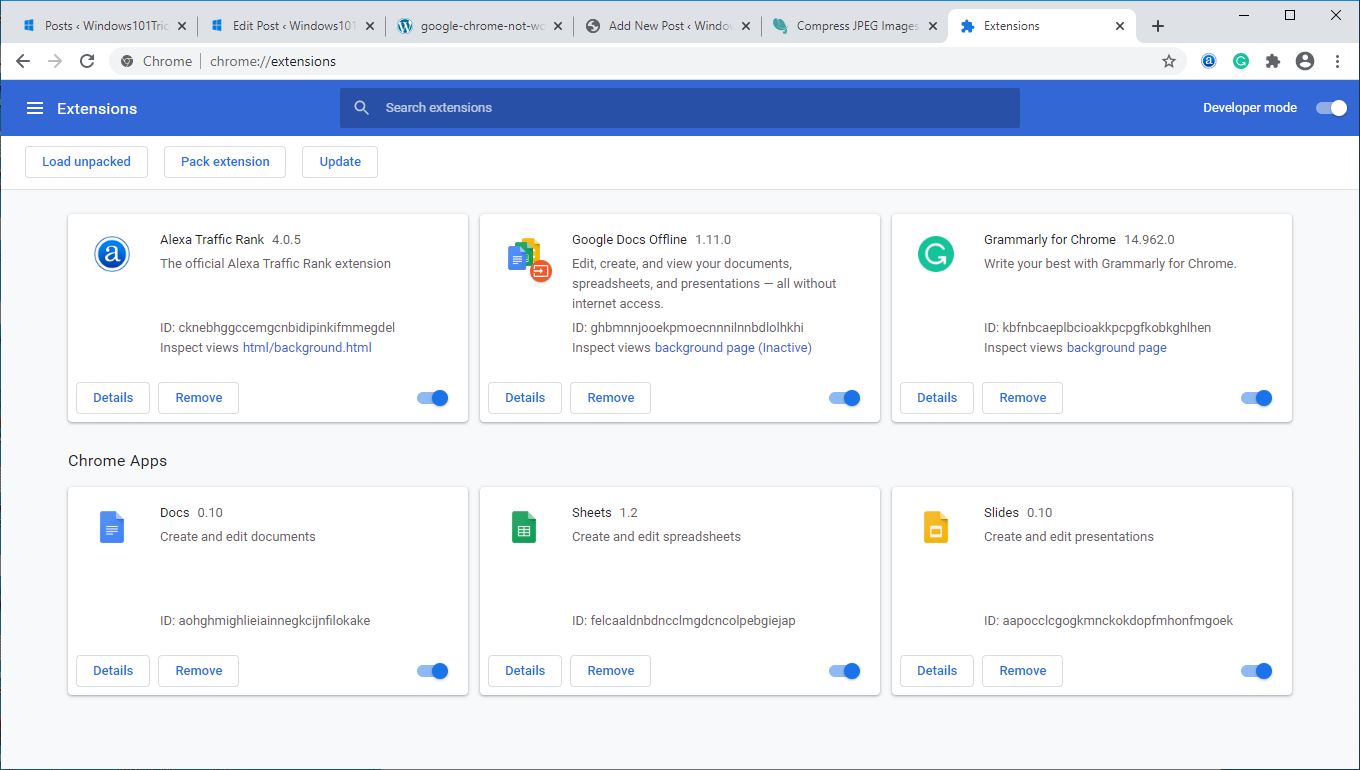 Try Desktop Client
Applied all the above solutions but still unable to resolve twitch error 2000? Dont worry, there's one last solution for you, download the Twitch installer from the link given here. The desktop version of the twitch application is very stable and offers a better interface with an improved experience than any mobile device would be able to offer because it runs on more powerful hardware that has access to higher bandwidth connections. Downloading this installer will allow you to set up another option if none of these work out!
Also read: