Where do files go after they are deleted from the Recycle Bin? Let's find the deleted files and recover them on windows 10
While you carry out your daily routine on your computer, you unquestionably come across files and folders you have used and are no longer critical. Some of these files may also be duplicates of others. As a result, you may need to delete them and retain the originals only.
Also, people delete files from computer hard drives to create more space and room for new and more important ones. Whether you are working on Windows 10 or other systems, creating more space on your hard drives also helps make your computer faster, among other benefits. But where do deleted files on Windows 10 go?
Apart from deletion, you can also lose data through disk corruption, viruses, data corruption, malware, or other challenging drive problems. Fortunately, it is now easier to restore files in Windows 10. See some of the methods to restore permanently deleted files Windows 10 here.
Find deleted files in windows 10
You may have learned some data recovery methods from the link above but still, wonder where your deleted files go. Also, you realize that it is much easier to delete files than to get them back from our computer. Let's show you where deleted files on Windows 10 go to.
Recycle Bin
Windows 10 comes with a Recycle Bin. This tool in your Windows 10 system temporarily stores all the files you delete from the hard drive. Here, the files are stored for as long as you want, and you can decide to recover them back to their original storage locations.
The idea is to safely store your files after deletion if you change your mind and want to recover and use them again. Otherwise, you can follow the files you deleted and permanently delete them from the recycle bin.
So, if you are wondering if you can still recover deleted files, don't go too far. Find the recycle bin icon on your desktop or go to the Search tab and type recycle bin. Open the recycle bin and scroll to locate the files you deleted recently or the ones you intend to recover. Highlight the files and tap on "recover selected" to get your files back.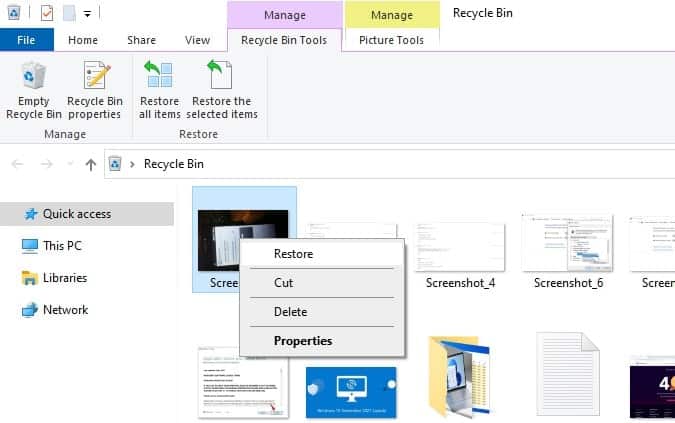 So, do not panic whether you are deleting files you already used or just deleting files randomly to create more space in your hard drive. This is because the files will automatically be sent to the recycle bin, and you can quickly get them back if necessary.
Trash Cans
You may not be running a Windows 10 machine but have a Mac or even Tablet. Here, you will encounter trash cans. They are similar to recycle bins and are also available as third-party apps. You can, therefore, easily download and install trash cans from the Apps store. If you have trash cans, you can similarly use them as the Recycle Bins in Windows 10.
Where do files go after they are deleted from the Recycle Bin?
When you normally delete a file or folder it goes to Recycle Bin that you can easily restore from there. But what if you empty the recycle bin or delete the file permanently with shift + Delete, where do permanently deleted files go? The simile answer is the file content still remains in the same place but the relevant information is marked as invisible.
Can I Recover Deleted Files?
We already mentioned that deleted file recovery is possible. However, the process is much easier if the files are still available in the recycle bin or trash can.
However, if you followed up the files and permanently deleted them from the recycle bin, you will need to use one of the best data recovery software. For best results, Disk Drill developed by CleverFiles is versatile data recovery software you can trust. We'll show you how to use this software to recover your deleted files.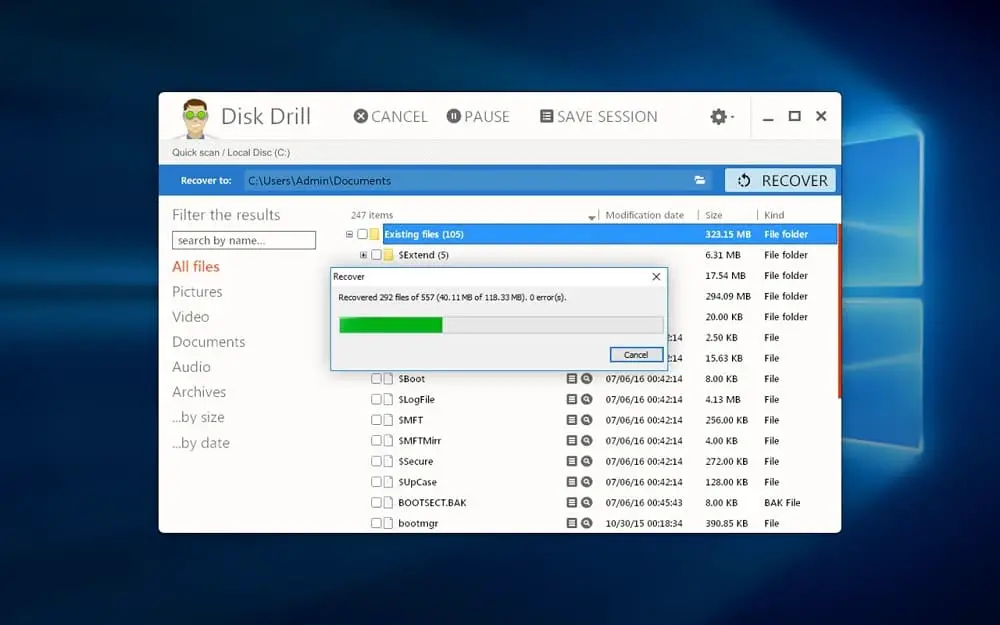 How Do I Recover Deleted Files? 
For successful deleted data recovery on PC, use Disk Drill developed by CleverFiles. To do this, ensure you have downloaded and installed the software on your Windows 10 PC and follow the steps below to restore your files.
Step 1: Launch Disk Drill and choose the hard drive where the files were deleted
Open Disk Drill and select the hard drive from the list. This should be the drive from where your files were deleted.
Step 2: Scan The hard drive
Click the "Recover" button to start the scanning process.
Step 3: Preview The Files
Preview the files displayed in your results. Check the list carefully and find out if the files you lost are there.
Step 4: Choose the files for recovery
Select the files you intend to recover and choose a designated storage location to save them.
Step 5: Recover the deleted files
Now click "Recover" a second time and allow the software to recover the files and send them to a new location.
Remember, file recovery from PC is possible because the files you delete are moved to a different location on the hard drive. However, when the files are overwritten, it becomes more difficult to recover them.
Also read: