Windows updates are crucial for maintaining system security and performance. However, encountering errors like 0x80070002 and 0x80070003 can be frustrating. Users report Windows 11 Update failed to install (Feature update to Windows 11 version 23H2 – error 0x80242002). Sometimes the error code will be different like Windows 11 Update Error 0x80070002 or 0x80070003, 0xc1900403, 0x80070020, etc A few users report Windows update download and install is stuck for hours and display Errors 0x80070002. This error code usually indicates that Windows 11 is unable to find a specific file needed to complete the update process. It can be caused by various reasons such as corrupt system files, incorrect system settings, or issues with Windows Update services.
windows update Error 0x80070002: This indicates that a file required by Windows Update is either missing or corrupted. It might be due to problems with the Windows Update components or a misconfiguration in your system.
windows update Error 0x80070003: This error arises when Windows Update fails to locate the necessary files for the update process. Similar to 0x80070002, it's often linked to issues with the update components.
How To Fix Windows 11 Update Errors?
There are various potential causes behind these errors, some of the common ones are, that the Files needed for the update may be damaged or incomplete. It may be slow internet connectivity or network disruptions can interfere with the update process.
Components responsible for managing updates might be corrupted or not functioning correctly.
Again Incorrect system time can lead to update failures, or Third-party antivirus or firewall software may block the update process.
Before apply solutions to fix the Windows update problem, Ensure you have enough free space on your system drive and run a System File Check (sfc) to scan for and repair corrupted system files. Temporarily disable your security software and attempt the update again.
Check Internet connection
A stable and active internet connection is crucial for download and install the latest Windows 11 updates on your PC. Whenever you experience Windows 11 update error or Windows 11 23H2 stuck download the first thing you need to check and ensure that your internet connection is working optimally:
If you're using Wi-Fi, make sure you're within range of your router, or use a wired Ethernet connection for more reliable connectivity.
If you're experiencing slow or unstable internet, try resetting or rebooting your router. This can often resolve minor connectivity issues.
If you're using a Virtual Private Network (VPN) or a proxy server, try disconnecting from them temporarily. These services can sometimes interfere with Windows updates.
Sometimes, routers or modems may encounter temporary glitches. Unplug the power source from your router/modem, wait for about 30 seconds, and then plug it back in. Allow a few minutes for it to reboot.
Sometimes, a simple restart of your computer can resolve network-related issues.
Check your internet speed using online speed test tools. A slow internet connection can lead to update failures. Ensure that your download speed is sufficient for downloading updates.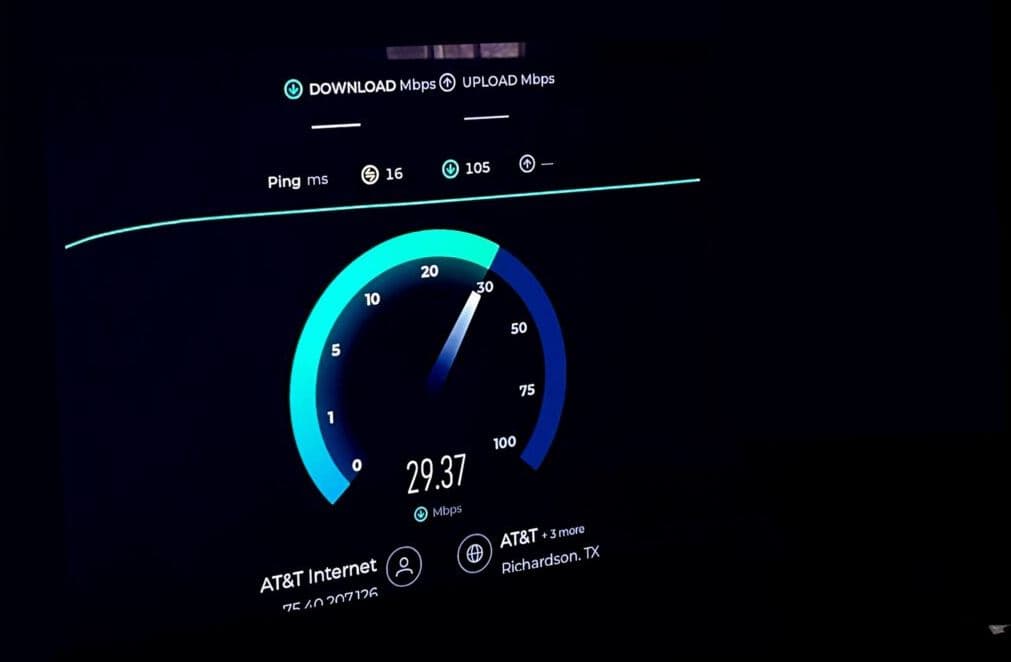 Verify Date and Time Settings
Check and Confirm that your system's date and time are set correctly. Its important because accurate time and date information is crucial for various aspects of the update process, including security certificates, synchronization with update servers, and file timestamp verification.
Press Windows key + I to open the settings app
Go to Time and Language then click on Date & time,
Toggle the switch for "Set time automatically" to the "On" position.
This allows Windows to automatically sync the time with Microsoft servers.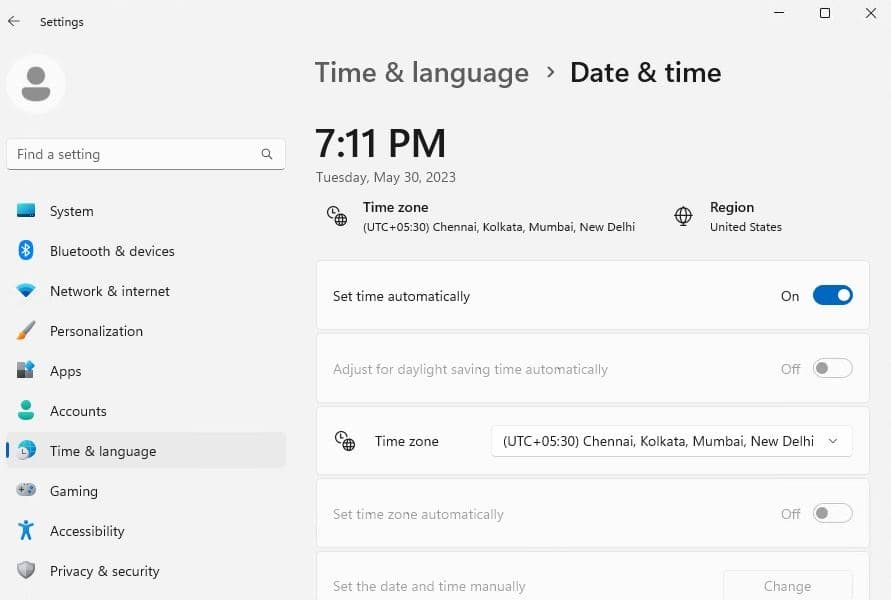 Reset Windows update components
As discussed before corrupted Windows update components are the most common reason behind the problem. And reset Windows update components, resolve issues related to update errors, as it ensures a clean slate for the update process to start fresh.
Let's follow the steps below to delete old update files and force Windows Update to download fresh ones.
Press Windows + R, the keyboard shortcut to open run
Type services.msc and click ok to open the Windows services console,
Scroll down and locate the Windows update service,
Right-click on the Windows Update service and select Stop,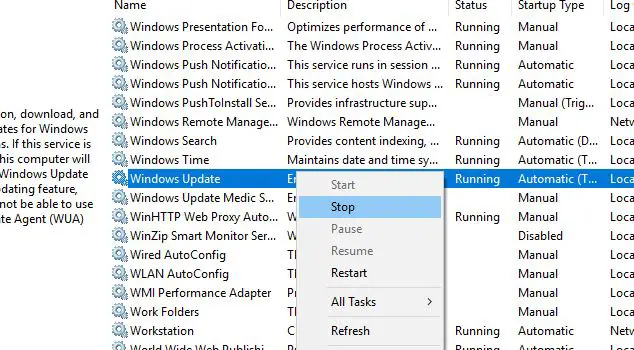 Now navigate to C:\Windows\SoftwareDistribution\downloads.
Here delete all files and folders inside the download folder,
To do this use the keyboard shortcut Ctrl + a to select all and hit del key to delete them.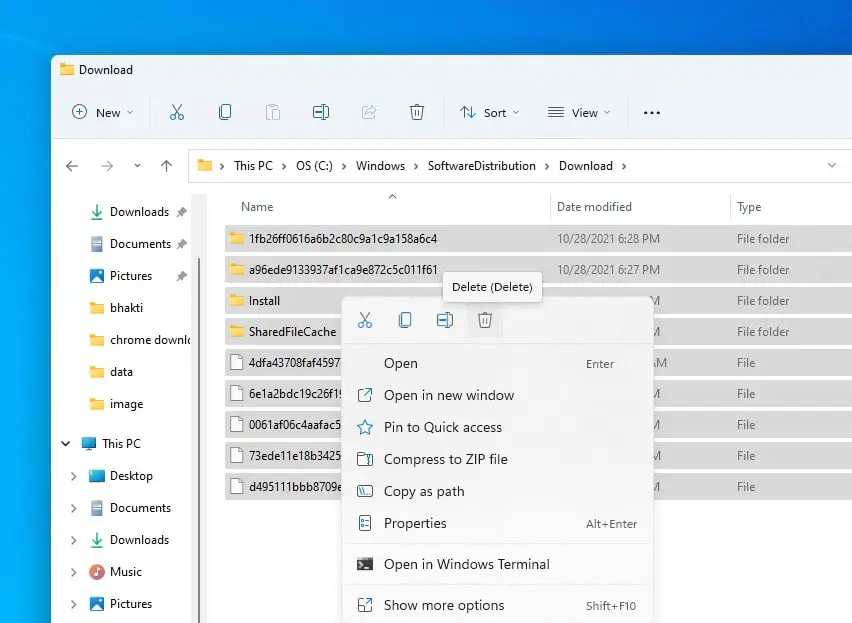 Now again open the Windows services console and start the Windows update service.
After completing this process, attempt to run the Windows Update again. If all goes well, this should resolve the 0x80070002 and 0x80070003 errors you were encountering.
Run Windows update Troubleshooter
This is another effective solution, Officially provided by Microsoft. Run the built-in Windows update troubleshooter its designed to automatically identify and fix common issues related to Windows updates. It scans for known problems, provides user-friendly guidance, and resolves errors like 0x80070002 and 0x80070003.
Press Windows key + I to open the settings app
Go to the system then troubleshoot and click on other troubleshooters
locate Windows update and click Run to allow it to automatically detect issues and fix them.
The troubleshooter automatically identifies and fixes common issues related to Windows updates. It scans for problems such as update file errors, software conflicts, or network connectivity issues
Once the troubleshooter finishes this process, restart Windows and check Windows updates download and install without any errors.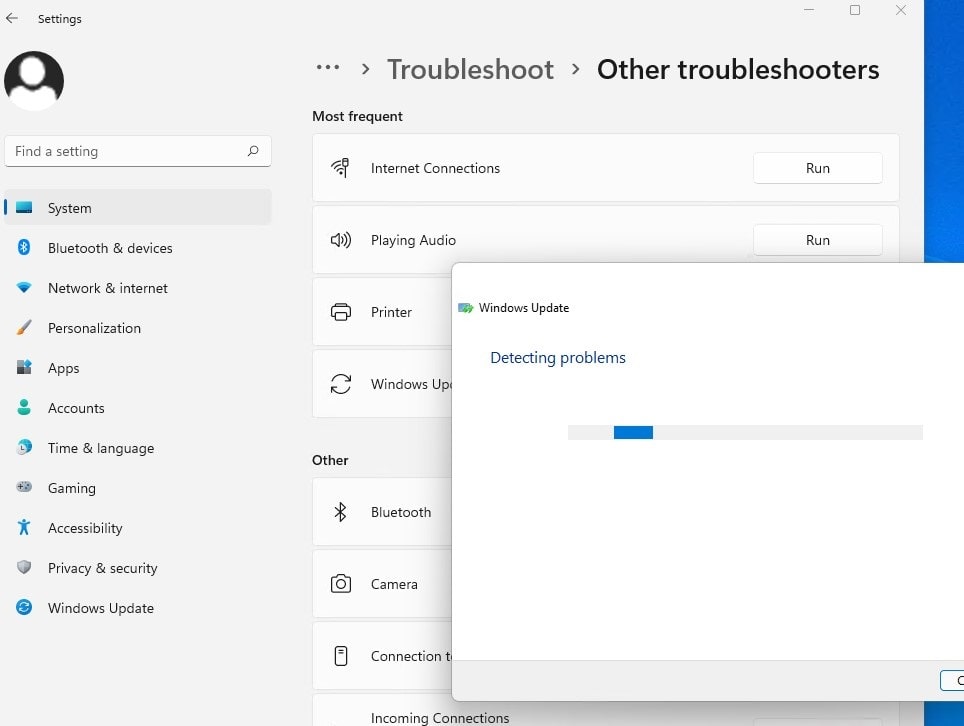 Tweak Windows registry to fix Windows update error
This is another effective solution, to fix most of the Windows update problems. If reset Windows update components and running the update troubleshooter fails to fix the problem and still getting Windows Update installation error must try this registry tweak to fix Windows update problems.
Open the Windows registry editor by pressing Windows + R, type regedit and click OK.
Then first backup Registry database then navigate to the following key.
HKEY_LOCAL_MACHINE\SOFTWARE\Microsoft\Windows\CurrentVersion\WindowsUpdate\OSUpgrade.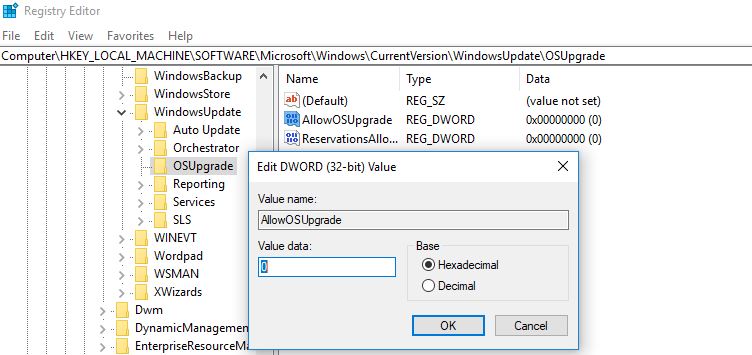 Then select OSUpgrade and Right-click on middle pane new -> DWORD32bit value and rename it as AllowOSUpgrade, after that double-click on AllowOSUpgrade and change the number under Value data and enter 1.
Now close the registry editor and restart the windows. On the next login check for updates, I hope this time it didn't create any problem or results any Windows update errors.
Change DNS address
Here is another solution to work effectively if Windows updates files with different errors.
Press Windows + R, type ncpa.cpl and click ok,
This will open the network connections window,
Right-click the network interface connected to the internet, and select the Properties option.
Select and check the Internet Protocol Version 4 (TCP/IPv4) option, Click the Properties button.
Next, select the radio button Use the following DNS server addresses option.
Type your "preferred" DNS 8.8.8.8 and "alternate" DNS addresses as 8.8.4.4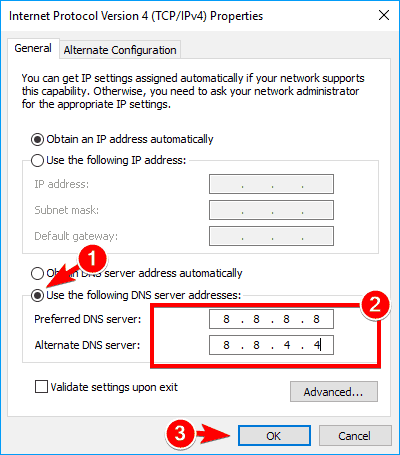 Make sure to checkmark on validate settings upon exit and click ok, apply to make save changes. Now again check for updates hope this time you get succeed.
Alternatively, you can download and install the Windows 11 cumulative update offline package from here or use the official media creation tool for the Windows 11 upgrade. And there is the latest Windows 11 version 23H2 ISO available as well.
Also read: