Discord, one of the most popular free voice and text chat application for gamers (VOIP gaming platform) allows text, video, and audio communication between game players. And it can run on Windows, macOS, Android, iOS, Linux, and web browsers as well. On Windows 10 you can use the web app or dedicated app to do voice chat or send text messages to your game teammates. But sometimes when you click the Discord app it won't open, discord is stuck on connecting. Few users report Discord not opening on startup or discord Stuck updating forever.
Issue: while launching Discord won't open
The possible reasons for Discord Won't Open Problems could be an outdated Discord app, the previous session is not closed properly, a problem with AppData and LocalAppData contents, corrupted system files, Internet connection issues, incorrect proxy settings or firewall settings and more. Here we have listed a few solutions to fix Discord won't open error on Windows 10
Pro tip: Go to Discord's official status page to see if the service is down, if not then the client might have a problem and need to fix.
Discord Won't Open Windows 10
If this is the very first time you have noticed, Discord Not Opening Issue we recommend restart your computer. This action will be clear and fix the issue caused by a minor software glitch.
Also try run the app as administrator, to do this right click on the Discord app shortcut located on the desktop, and select run as administrator.
Make sure the latest version of the Discord app is installed on your device.
Here is the quick solution work for most users to fix when Discord not opening on startup or Discord Stuck updating forever
Open the command prompt as administrator,
Type command taskkill /F /IM discord.exe press the enter key,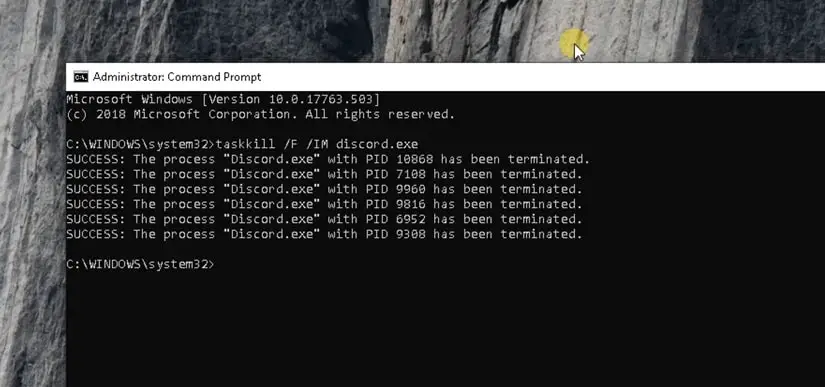 Now open task manager using Ctrl + shift + Esc key simultaneously
Find any process named discord, right-click on it and select end task,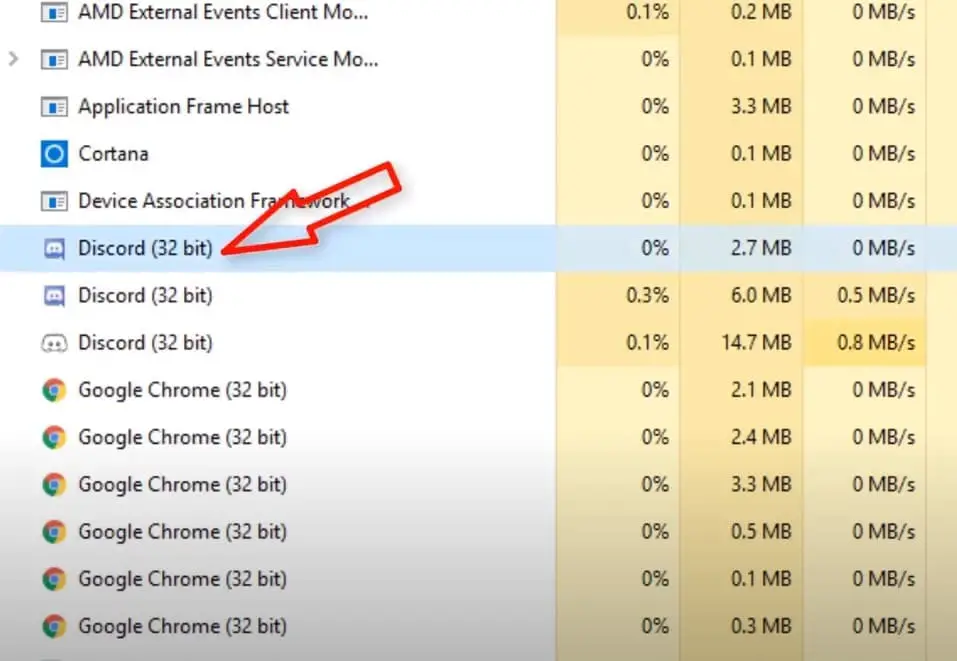 Again open the command prompt as administrator,
Type the command ipconfig/flushdns and press the enter key, this will clear the DNS cache on your Device,
That's all try open the Discord app, hope there is no more problem with the app
Still need help apply the additional solutions listed below
Discord is Stuck updating forever
Here is another effective solution most probably fix the discord app problem on Windows 10. Before starting first Close the Discord app (if running) and end the Discord process on task manager.
Uninstall discord
Press Windows + R, type appwiz.cpl and click ok,
On the programs and features window Locate the Discord app, right-click on it select uninstall,
And follow on-screen instructions to completely remove the app from your device.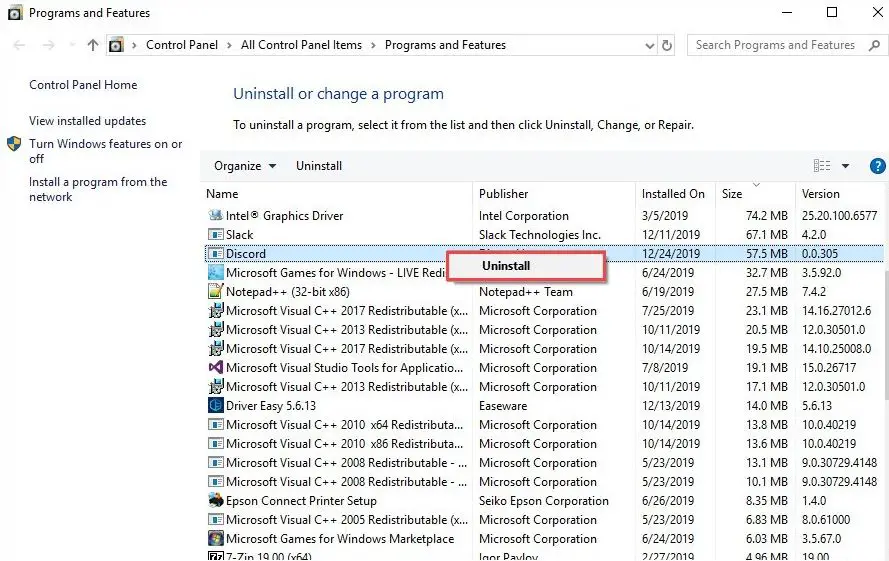 Clear AppData and LocalAppData
Press Windows key + R, type %appdata% and click ok,
A new window opens, scroll down and locate the Discord folder, right-click on it to select and Delete to remove the folder.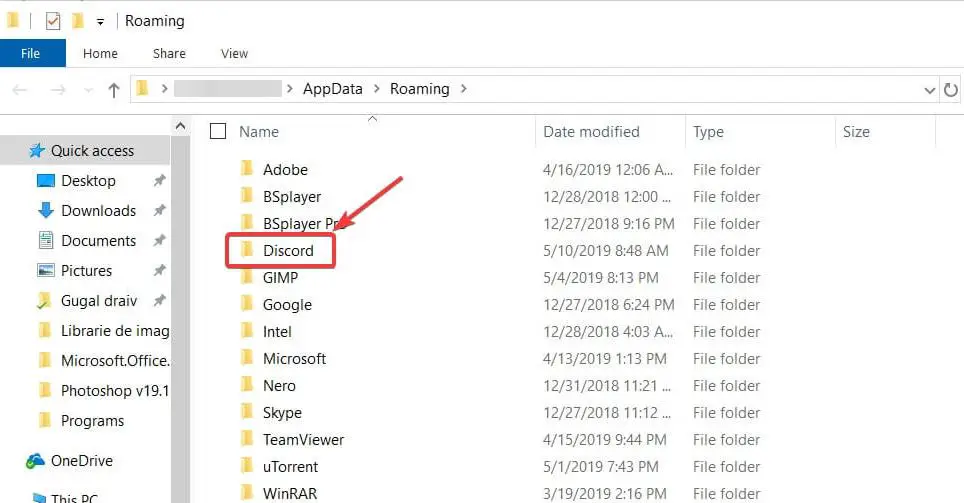 Now again press Windows key + R, type %localappdata% and click ok.
Here locate the Discord folder, right-click on it and select delete.
Once done, reboot your computer
Reinstall Discord app
Now visit Discord's official site, download Discord app and install on your device,
Once Reinstall the Discord App try to log in again. I am sure this process of reinstall Discord app should fix the issues that you were having with the app.
Log in via the Web Version
Check proxy or VPN causing the issue
Again there are chances proxy server or VPN may be the case of discord app not opening. Let's first Disconnect VPN (If configured on your Device). Disable proxy following the steps below.
On the start menu search for internet options and select the first result,
Also, you can open the same using inetcpl.cpl on start menu search,
The Internet Proprieties window should appear, click on the Connections tab
Here Under the Local Area Network (LAN) settings section, click on LAN Settings.
Now Under the Proxy server section, uncheck Use a proxy server for your LAN
Finally, click ok then apply, Let's Relaunch Discord.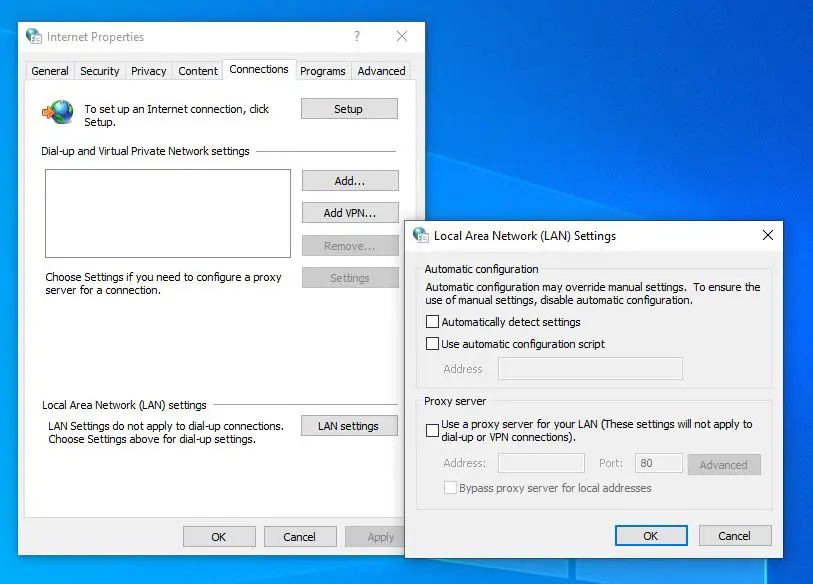 Log in Discord with Web Version
Few users report they able to fix the discord app problem by signing in from the web version and then trying the Windows app version. If you are still having a problem with the Discord app, it doesn't start or shows up a grey screen, run the web version of Discord and sign in.
Open Discord's official website https://discordapp.com, click Login
Enter your account information (credentials ) to log in to Discord in the browser.
Now open the Discord app again on your Windows 10, and check if it's working properly.
Make sure your system is up-to-date
If you are running an older Windows version or the latest updates are not installed long time it might prevent apps open or functioning properly on your PC. Again latest Windows updates include security improvements and the latest bug fixes as well.
Press the Windows key + I to open the Settings app,
Click Update & Security then windows update,
Click the Check for Updates button to allow download and install the latest Windows updates from the Microsoft server (if available)
Once done restart Windows to apply changes.
Additional solutions:
If your Windows 10 computer has a wrong date and time setting then this can also cause Discord not to open. We recommend Set the Windows Date and Time to Automatic. Right-click on the date and time in the lower-right of your screen > Adjust date/time > Set time automatically.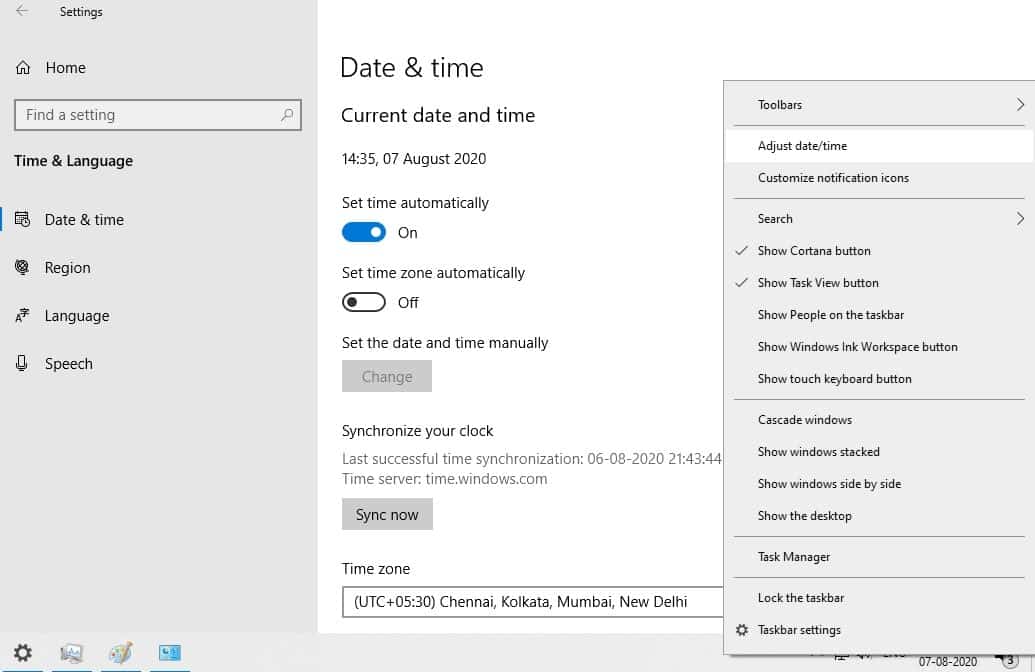 If system files are corrupted that might prevent the Discord app open or functioning smoothly. Run a system file checker utility that helps scan and replace corrupted missing system files with the correct one.
Also read: