Discord one of the most popular VOIP app for gamers provides superb quality voice/video/chat for free. Using Discord anyone can create a server, invite friends, and communicate with each other while playing favorite games. It's available for almost every platform from mobile devices to gaming consoles, And people love to use Discord because of its amazing user interface, and ever-growing features. However, sometimes you might experience" Discord getting stuck on the connecting screen", especially on windows 10 computers.
Discord Stuck On Connecting Screen
There are many possibilities that can cause Discord Stuck On The Connecting Screen, which corresponds to different scenarios such as, a proxy server, VPN or antivirus or you are using multiple apps that require a microphone and other important resources. Whatever the reason, here we have listed a few solutions, that help fix discord stuck on connecting to channel or discord stuck on starting.
Check for outage
The first thing you must do is visit status.discordapp.com and check the current server status, if the Discord server is undergoing problems, you won't be able to get past the connecting screen.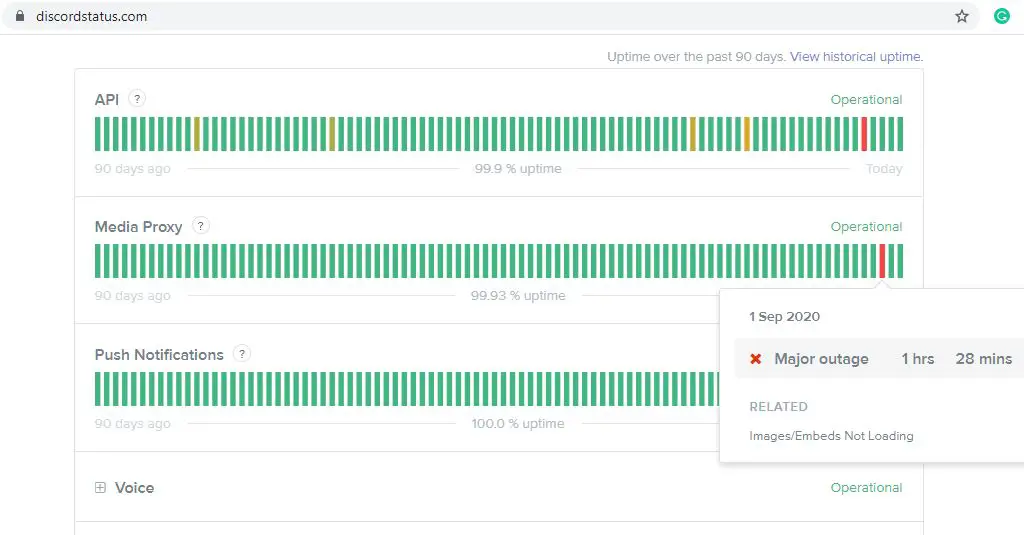 Restart your PC
If there is no outage problem with the Discord server then restart your PC, (many problems can be resolved by just restarting the application.) that probably helps if a temporary glitch causes discord stuck connecting.
In addition to this restart your network devices, which probably fix the internet connection glitch as well.
Set Date & Time settings Automatic
Again incorrect date & time settings also cause some issues with discord running properly or Discord being Stuck On The Connecting Screen.
First close Discord by clicking the Show hidden icons button in the bottom left of the taskbar. Right-click Discord, and click Close discord.
Right-click on the current date and time located on the taskbar select adjust date/time,
Here toggle set time automatically, and set time zone automatically.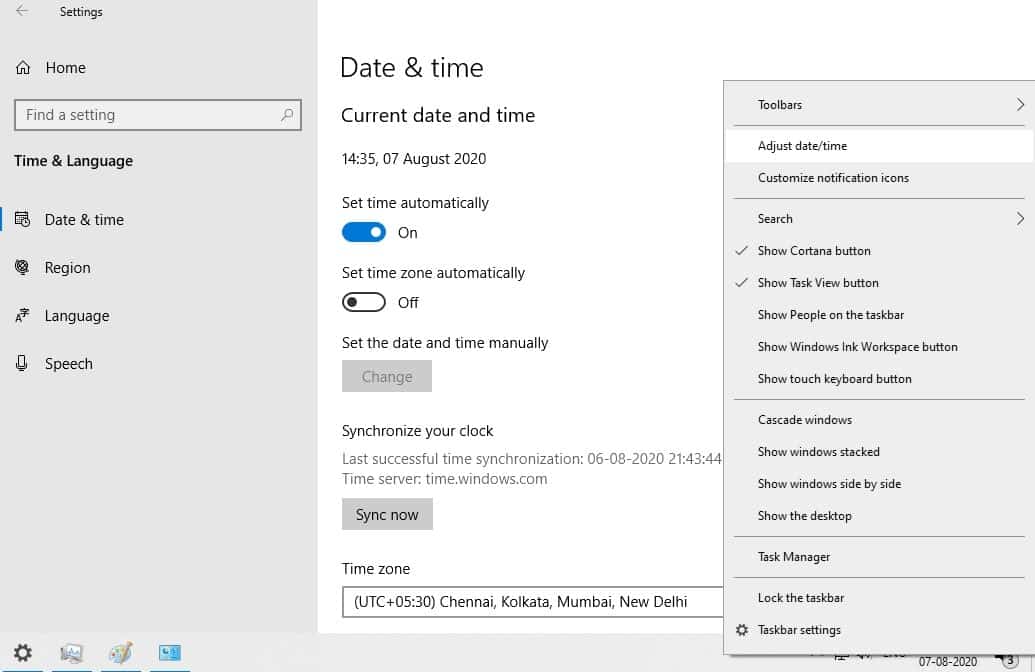 Disable Proxy
Again Proxies must be turned off for Discord to connect, In addition, disconnect from VPN (if configured) and temporarily disable third-party antivirus software.
To disable Proxy on windows computer
Press Windows key + R type inetcpl.cpl and click ok,
This will open the internet properties, move to the Connections tab and click on LAN Settings
Now select Automatically detect settings and uncheck the Use a proxy server option
Click Apply and OK, Next reboot your computer and try open Discord again.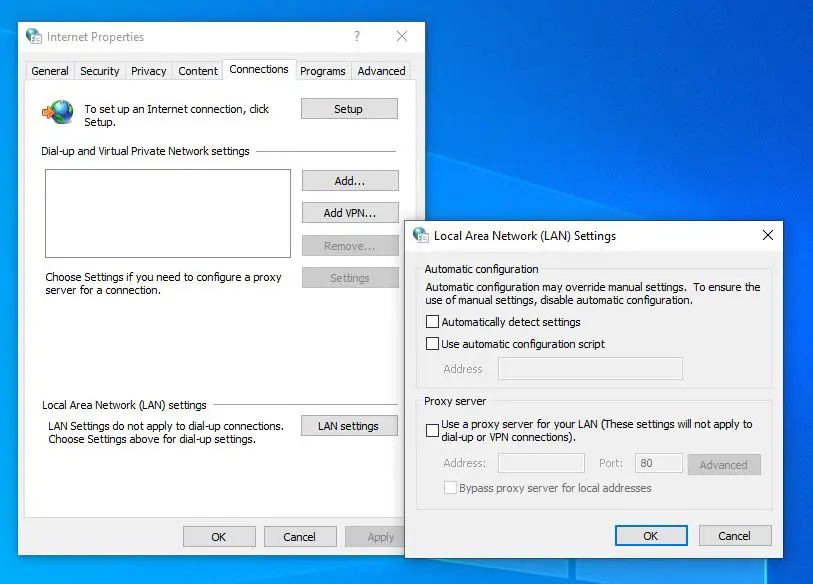 Switch to Google DNS
Discord works better when using Google's or Cloudflare's DNS. Their official page explains "We typically recommend Google Public DNS and Cloudflare 1.1.1.1. Both Google and Cloudflare are trusted and dependable service providers whose servers we rely on for hosting Discord! We recommend these options because they deliver the most consistent and speedy access to text chat, images, videos, and even voice chat! "
To change the DNS address on a Windows computer:
Press Windows key + R, type ncpa.cpl and click ok,
This will open the network connections window, right-click on the active network adapter select properties,
locate and Double click Internet Protocol Version 4 (TCP/IPv4) to open its properties,
Now select the radio button "Use the following DNS server addresses" set preferred DNS server 8.8.8.8 and Alternate DNS server 8.8.4.4
Checkmark on validate settings upon exit and click ok to make save changes.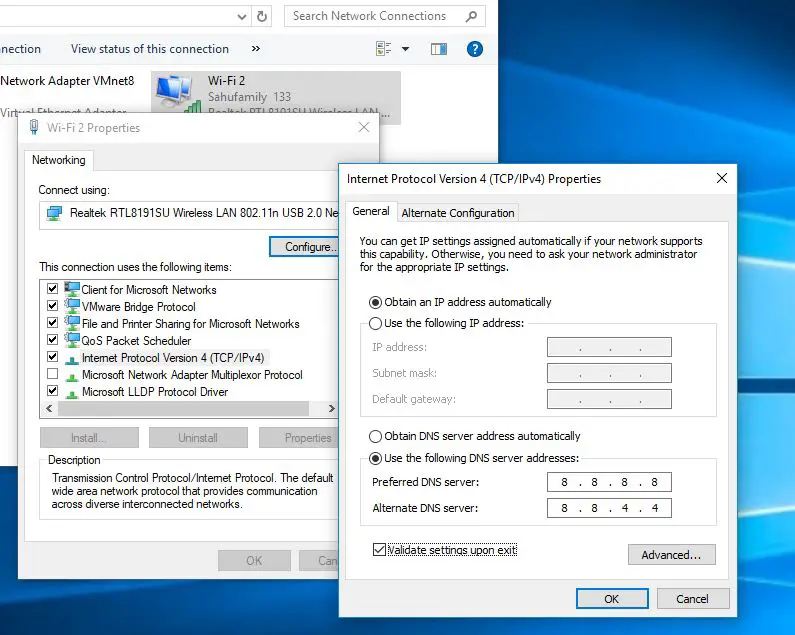 Flush DNS cache
Also open the command prompt as administrator, type ipconfig /flushdns, and hit the enter key. This will force your computer to find the new DNS. Now try to reopen the Discord app on your computer.
Allow Discord through Firewall
Also, check if Windows Firewall blocks Discord from connecting the network. Follow the steps below to allow discord through the firewall.
From the start menu, search for and select windows defender firewall,
Click on Allow an app or feature through the Windows Defender Firewall link,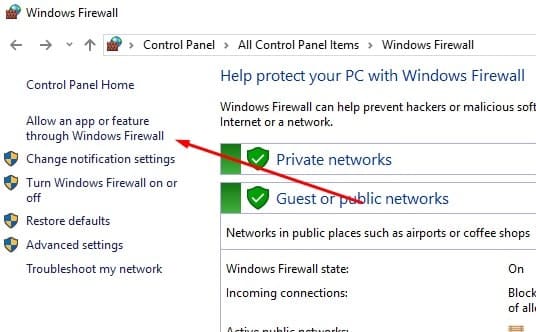 Click the Change settings button. Then scroll down the list, find Discord and check the box next to it and click OK.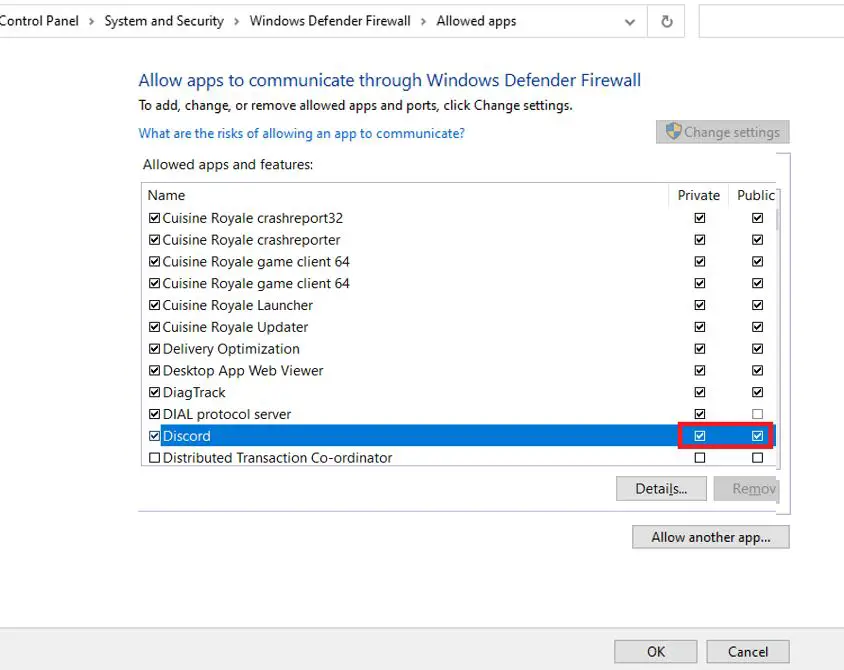 If you can get past the connecting screen but Discord stuck on connecting to the voice channel and come across an Awaiting Endpoint error then changing the server region probably fix the problem
Find this option in Server Settings > Overview
here select a different server region and click Save Changes.
If you're having connectivity issues with voice channels on Discord servers then try disabling the Quality Of Service on the Discord app.
Open the user settings on the discord app,
select the 'Voice and Video' option under the App Settings section
scroll down to find the 'Enable Quality Of Service High Packet Priority' option and turn it off.
Pro tip: Start windows in clean boot state and check if there is no more Discord Stuck On The Connecting Screen.
Also read: