Non-Maskable Interrupt (NMI) is an important feature protects your system and devices due to memory and bus-data corruption, chipset errors, and so on
Windows 10 computer fails to start and displays a blue screen error code: NMI_HARDWARE_FAILURE. This error NMI or Non-Maskable Interrupt Hardware Failure usually occurs after recent hardware or driver changes. Again blue screen of death errors on windows 10 can cause due to many reasons, third-party problematic software, incompatible device drivers or faulty hardware are common. And to prevent future damage, system crashes and restart your PC with different blue screen errors. Here in this post, We circled out all the possible causes behind this blue screen error along with the fixes that you can apply to Fix this NMI Hardware Failure error on windows 10.
What does NMI hardware failure mean?
NMI stands for Non-Maskable Interrupt, a type of hardware interrupt (or signal to the processor) that prioritizes a certain thread or process. There are two reasons for NMI (Non-Maskable Interrupt) The first reason is due to a Hardware Failure error. While the second reason is "watchdog timer", which is used to find when the kernel locks itself.
Mostly you will get this NMI_HARDWARE_FAILURE error after installing new hardware or software. It can even appear during program installation or playing games on your computer. Incorrectly configured device drivers or Device driver conflict to Damaged system files or Faulty disk drives are some common reasons behind this NMI hardware failure error.
How to Fix NMI HARDWARE FAILURE on Windows 10
If you installed a new hardware piece, try removing or reattaching it. Update problematic device driver and repair disk errors using chkdsk tool or scan system file for corruption using SFC command most probably fix the blue screen error on windows 10.
Remove External Devices
This problem mostly occurs due to faulty hardware, or incompatibility of Hardware Devices. Let's first remove the hardware you've installed recently like sound card, graphics card or external hard drive. In addition remove the printer, scanner or USB flash drive if connected to your device and restart your computer to see if it works.
If you installed a new hardware piece, try removing or reattaching it.
Recent driver installations may also cause the NMI hardware failure blue screen error. The new hardware and driver installed on your computer, may not be compatible. Open Device Manager to uninstall the driver. Next, visit the official website of the hardware manufacturer, and download and install the latest driver on your computer.
If due to this blue Screen error windows frequently restart and don't allow to start windows normally we recommend booting into safe mode with networking. Which starts windows with minimum system configuration and allows to perform troubleshooting steps.
Install the latest windows updates
When you start windows in safe mode with networking first make sure windows have installed the latest security patch and it's up to date. Microsoft Regularly releases security updates and patches that aim to fix and avoid BSOD errors to occur.
Press the Windows key + X and select settings
Go to Update & Security then windows update
Now click on check for updates button to get the latest windows updates downloaded and install on your computer
Update device drivers
Sometimes NMI Hardware Failure error is related to hardware on your PC, the device drivers could be the reason behind this issue. Most of time we have noticed outdated or incompatible device driver is the common reason behind blue screen error on windows 10. And in order to fix a faulty or outdated driver, you must make sure the Drivers on your PC are updated.
Press the Windows key + X and select settings on the context menu,
This will display all devices and Peripheral connected to your computer,
Expand all of them and look if any driver listed there with yellow exclamation mark
If found any right click on it and try to update the driver or uninstall and reinstall the driver.
In addition, we recommend check and update the essential drivers including the Display, Network adapter and Audio driver.
Or you can visit the device manufacturer, to download and install the latest driver software for Windows PC. You should no longer encounter that blue screen of death.
Uninstall Recently Installed applications
Sometimes, Users may encounter NMI_HARDWARE_FAILURE after installing a new application on their PC. It happens more when users install cracked, pirated applications. In this case, simply uninstall the application from programs and features (Press Windows + R, type appwiz.cpl and hit the enter key.)
Run Clean Boot and Disable Third-party Software
For some users, This blue screen error occurs for some third-party programs like antivirus or firewalls. In this case, You can disable your antivirus and firewall to see if it fixes the problem.
Additionally, You can perform the clean boot. It will help you to understand if any third-party programs or services are causing the problem or not.
It is possible that malware entities have infected your PC, Perform A full system scan with a good antivirus with the latest updates installed.
Run third-party system optimizer like Ccleaner to clean up junk, temp, System error, and Memory dump files. And registry cleaner to fix different registry errors which may cause NMI_HARDWARE_FAILURE BSOD error.
Check Corrupted system files
Again sometimes corrupted, damaged system files cause different BSOD errors or Startup errors on windows 10 computers. So we recommend running System file checker Utility to make sure any corrupted missing system files not causing this NMI_HARDWARE_FAILURE BSOD error.
Corrupted or missing system files can also cause the system to show the NMI HARDWARE FAILURE BSOD screen.
To run SFC utility Simply Open the command prompt with admin privileges.
Then type the command below and hit the enter key to execute the same.
SFC /scannow
This will start scanning for missing, damaged system files on your Windows PC. If found any the utility will automatically restore them from a compressed folder located on %WinDir%\System32\dllcache. Wait until 100% complete the scanning process after that Restart windows.
If the SFC scan results windows resource protection found corrupt files but was unable to fix some of them That cause you need to run The DISM tool which repairs the system image and allows SFC to Do its job. After that Restart your Computer And let start windows normally. I am sure you didn't get any blue screen on your PC and Windows runs smoothly for you.
Check for Memory Issues
Sometimes the NMI error is related to RAM issues, and you need to run Memory Diagnostic Tool to see if there are some memory issues.
Press Windows key + R, type mdsched.exe, and click ok to open Memory Diagnostic Tool
Click Restart now and check for problems (recommended)
Your computer will restart and start checking memory problems, you cannot use your mouse in the Memory Diagnostic Tool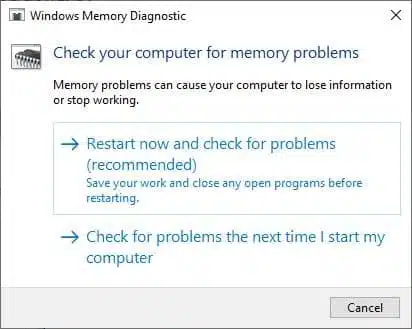 These are some applicable solutions to fix nmi hardware failure Blue Screen error on windows. have any queries or suggestions about this post feel free to discuss on the comments below.
Also read