Windows 10 kernel security check failure bug check value of 0x00000139, usually occurs when one or more of your data files is corrupt or has failed a compatibility check. Sometimes this error KERNEL_SECURITY_CHECK_FAILURE is caused by incompatible memory, hard disk error, or virus infections. Again Driver incompatibility issues or faulty hardware also cause kernel security check failure on Windows 10, 8.1 or 7.
Your PC ran into a problem and needs to restart. We're just collecting some error info, and then we'll restart for you. Stop Code: KERNEL_SECURITY_CHECK_FAILURE
Kernel security check failure windows 10
Well If you're also seeing the blue screen of death error Kernel Security Check Failure on Windows 10, don't worry, here we have different solutions to fix the problem.
Note: If due to this blue screen error Windows 10 restarts frequently, boot into safe mode and perform following steps below.
Disconnect all external devices, or newly installed hardware devices like printer, scanner, external HDD etc and restart your PC. Check if this time Windows start normally.
Open programs and features window using appwiz.cpl, and uninstall recently installed applications.
Microsoft regularly releases security updates with various bug fixes, It's recommended to check and install the latest Windows updates before apply any other solution.
Press Windows + I keyboard shortcut to open the settings app,
Click Update & security then Windows update
Hit the check for updates button to allow the download of windows updates from the Microsoft server,
Restart PC to apply them, and check if the problem is resolved.
Run Memory Diagnostic Tool
Windows 10 has a Memory Diagnostic Tool which you can use to check for possible memory problems, including testing of the Random Access Memory (RAM) on your computer. Run it and see if it throws up any issues.
Press Windows + R keyboard shortcut to invoke a Run command
Here type mdsched.exe and click ok to open the windows memory diagnostic tool.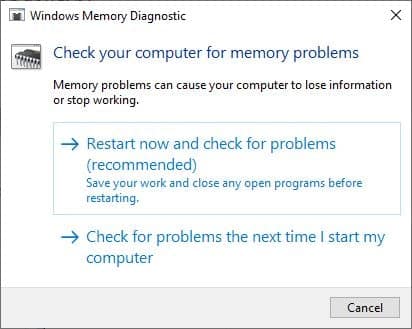 Click on Restart Now And Check for problems ( Recommended).
This Will Restart your windows and check for Memory Errors.
You will be seeing a page showing the progress of the check and the number of passes it will run on memory.
If you don't see any error here, it's likely that your memory card is not causing any issues.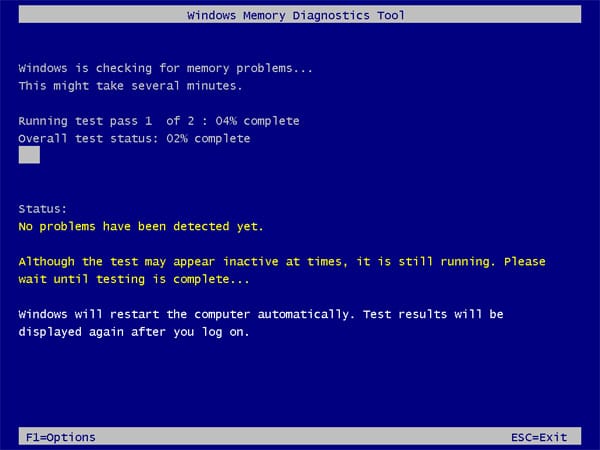 Check Hard Disk For Errors
Again a faulty hard drive or bad sectors on HDD also cause Kernel Security Check Failure Windows 10. Run build in chkdsk tool that verifies the file system integrity of a volume and fixes logical file system errors if there any.
Open the command prompt as administrator,
In the command prompt window, type chkdsk c: /f /r and press the Enter key.
Tip: CHKDSK is short of Check Disk, C: is the drive letter you want to check, /F means fix disk errors and /R stands for recover information from bad sectors.
When it prompts "Would you like to schedule this volume to be checked the next time the system restarts? (Y/N)". Answer Yes to that question by pressing the Y key on your keyboard and press Enter. Restart your computer.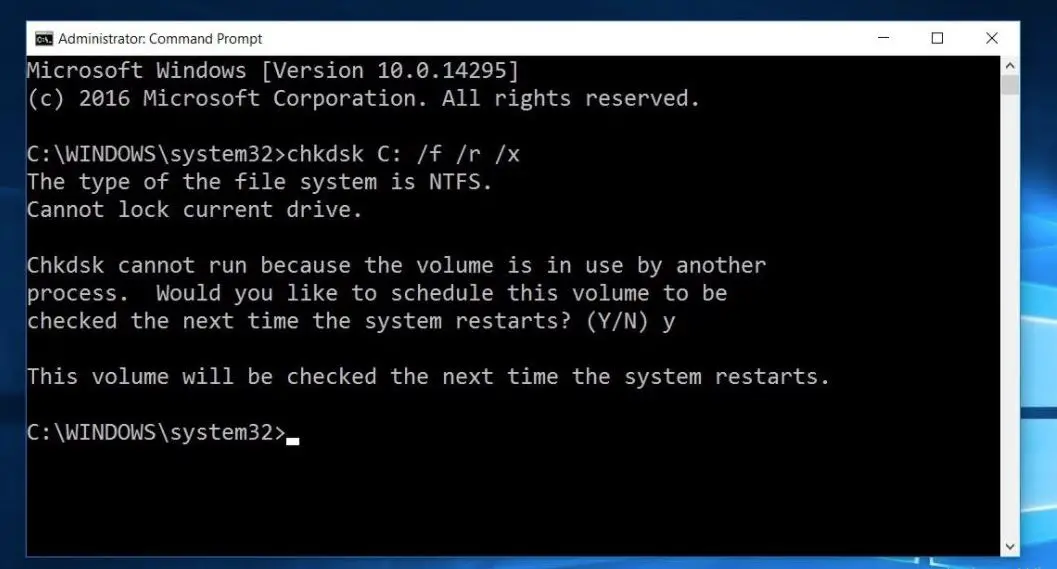 After restarting, the disk checking operation should start. Wait until Windows check your disk for errors. Once the checking process completes Windows automatically restarts and starts normally.
Run system file checker utility
As discussed before if data files are corrupt or missing you may encounter different blue screen errors on Windows 10. And You may need to fix the corrupted system files problem on Windows to fix this blue screen of death error. Run the system file checker utility that finds out the protected files are overwritten by incorrect files, it will extract the correct system file from the system file backup (namely dllcache) and replace the incorrect file.
Open Command prompt as administrator,
Now type sfc /scannow and hit enter.
This will start to scan your system for all its important system files and replace them where necessary. Wait until SFC utility 100% completes the scan and repair system files. Restart your computer and check if your computer works smoothly.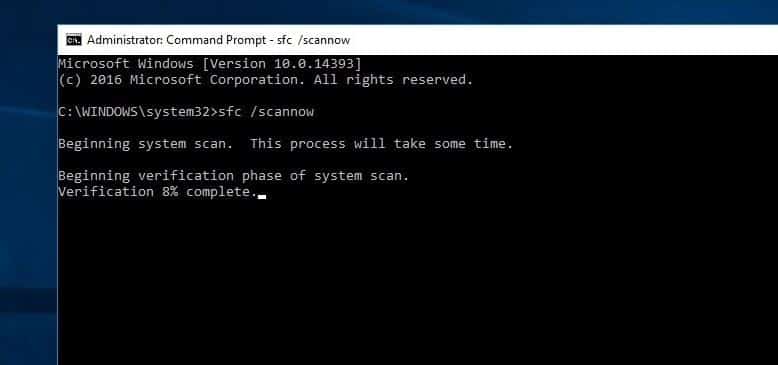 Check Device Software Compatibility Issues
Another most common reason behind many BSOD errors including the kernel security check failure is a corrupt or incompatible driver. Incompatibility is most likely to occur if you have recently upgraded your OS to Windows 10. Drivers may also become corrupt without any obvious reason.
To check if the error is caused by a faulty drive, run an automatic driver update or manually update the drivers to the latest available versions. Install the latest drivers for any newly installed hardware device. If no new hardware has been installed, make sure you have the latest drivers for the below devices.
Video card
Network card
Audio driver
Any removable or external disk drive
Update device drivers
Press Windows + x keyboard shortcut and select device manager
This will display all installed device driver list,
You just have to find the device which is yellow marked.
Right-click on the device and select update driver software and follow the instruction to get driver updates.
If you didn't find any update for the driver you can uninstall it from here. Download the best driver for the specific device from the manufacturer's website and install it.
Perform system restore
If none above solutions fix the problem, it's time to utilize the System restore feature that roll back your PC to its previous stage. So, You can restore your PC to its earlier restore point when your PC was running well. It should fix the KERNEL SECURITY CHECK FAILURE.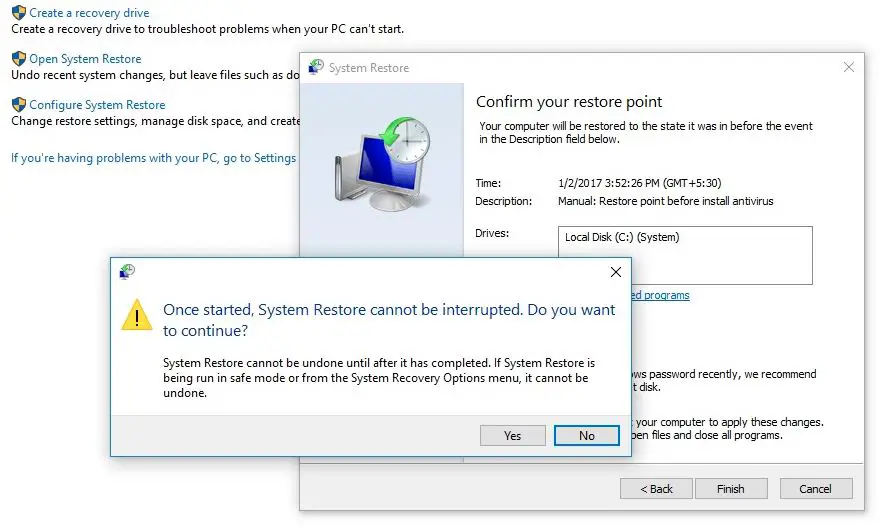 Reinstall Windows 10
If nothing works from the things mentioned above, then you might very well be forced to Refresh or Reinstall Windows. Refreshing Windows will keep your Personal data, but your base operating system will be reinstalled.
Reinstalling Windows will Remove Everything from your System Drive, which in most cases is C Drive. So you better take a backup of anything present in your C drive. This Option Pretty much guarantees to Solve the Critical_Process_Died Error.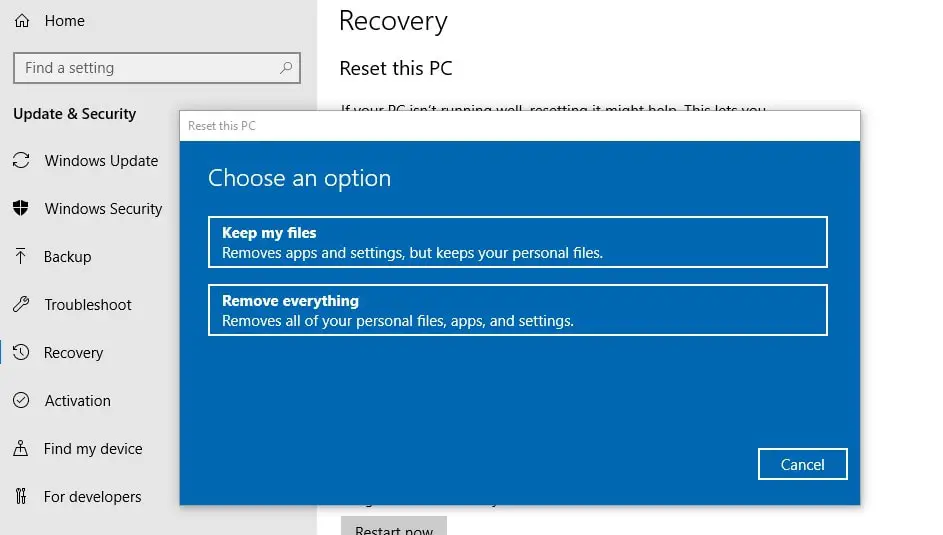 To Refresh your PC:
Open Settings then click on Update & security
On the left-hand side Click Recovery.
Now Click Get Started under reset this PC to "Refresh your PC without affecting your Files.  Read How To Refresh or Reinstall Windows 10
Video tutorial Kernel Security Check Failure in Windows 10
Did these solutions help fix kernel security check failure on Windows 10? let us know on the comment below.
Also Read