This error code usually indicates that Windows 10 is unable to find a specific file needed to complete the update process. It can be caused by various reasons such as corrupt system files, incorrect system settings, or issues with Windows Update services.
Did you notice Windows 10 Update failed to install with a different error like feature update to Windows 10 version 22H2 – error 0x80242006 or the error code will be different like Windows 10 Update Error 0x80070002 or 0x80070003, 0xc1900403, 0x80070020, etc? Or windows update download and install stuck at any specific point such as 40%, 99%, etc. Here are 3 most effective solutions To fix Windows 10 Update Error 0x80070002 or 0x80070003 or windows update stuck while downloading and installing etc.
Issue: Feature update to Windows 10, version 22H2 – Error 0x80070002

Windows 10 Laptop stopped updating with an error message: "Feature update to Windows 10, version 22H2 – Error 0x80070002" Currently using Windows 10 Pro 64-bit version 22H2 . When I retry Windows Update, I am getting the same error message. Tried to run Windows Update Troubleshooter to fix issues, then run Windows 10 Update Assistant, it downloaded content, started update when almost finished and got error 0x8007001f. Is there any solution to fix Windows 10 Update Error?
There are a number of reasons behind windows update installation failure. But the most common is the Corrupted windows update components (The Software Distribution Folder where windows download updates temporarily before installing them). If due to any reason Windows update database gets corrupted, Downloads a buggy update file, this may result from the windows update stuck while downloading and installing, Or update installation fails with a Different error such as a feature update to Windows 10, version 22H2 – error 0x80242006, Windows 10 Update Error 0x80070002 or 0x80070003 etc.
How To fix Different Windows 10 Update Errors?
Start with basic Frist make sure that the time and date settings are correct on your PC/Laptop.
Turn off the third-party antivirus or firewall on your PC and disconnect from VPN (If configured).
Make sure you have a stable internet connection to download windows update files from the Microsoft server.
And most important have sufficient free disk space to download and install windows update files.
Also, Run System file checker Utility to make sure any corrupt missing system files not causing the issue. To do this
open command prompt as administrator
type the command sfc /scannow and hit the enter key.
After 100% complete the scanning process restart windows to take effect the changes.
On next start again open windows updates from Settings -> Update & Security -> windows update -> check for updates check this time there is no more windows 10 Update errors.
Also, Try to perform Clean Boot And Check for updates. If any third-party service or startup application causes issue to install the updates then perform a Clean boot And Try To check for updates this is also a most applicable solution to fix Windows Update Error 0x80d02002.
Reset windows update Components
As discussed before corrupted windows update components are the most common reason behind most of Windows 10 Update installation errors. Let's follow the steps below to delete old update files and force windows Update to download fresh ones.
Press Windows + R, the keyboard shortcut to open run
Type services.msc and click ok to open the windows services console,
Scroll down and locate the windows update service,
Right-click on the Windows Update service and select stop,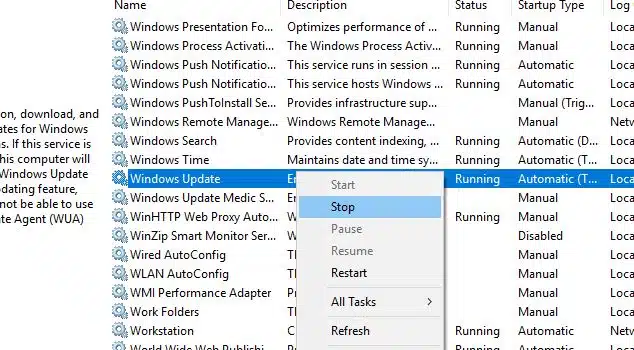 Now navigate to C:\Windows\SoftwareDistribution\downloads.
Here delete all files and folders inside the download folder,
To do this use the keyboard shortcut Ctrl + a to select all and hit del key to delete them.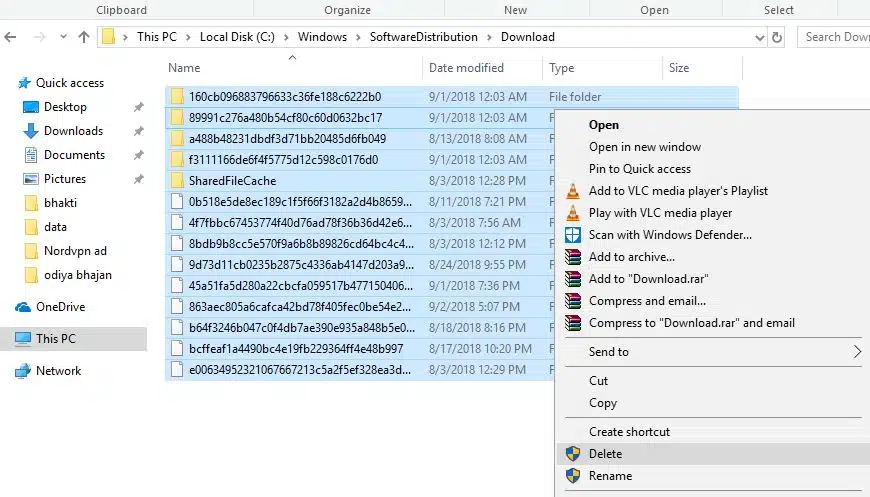 Now again open the windows services console and start the windows update service.
Run windows update Troubleshooter
This is another effective solution, Officially provided by Microsoft. Simply download the windows update troubleshooter from the Microsoft site. Run the Troubleshooter and let windows to check and fix windows problems itself.
Also, you can use the windows 10 inbuild update troubleshooter following the steps below.
Open the settings app using the keyboard shortcut Windows + I,
Click on Update & security then Troubleshoot
Now, scroll down and select Windows  update,
Next click on Run the troubleshooter to allow it to automatically detect issues and fix.
Once the troubleshooter finishes this process, Restart windows and check windows updates download and install without any errors.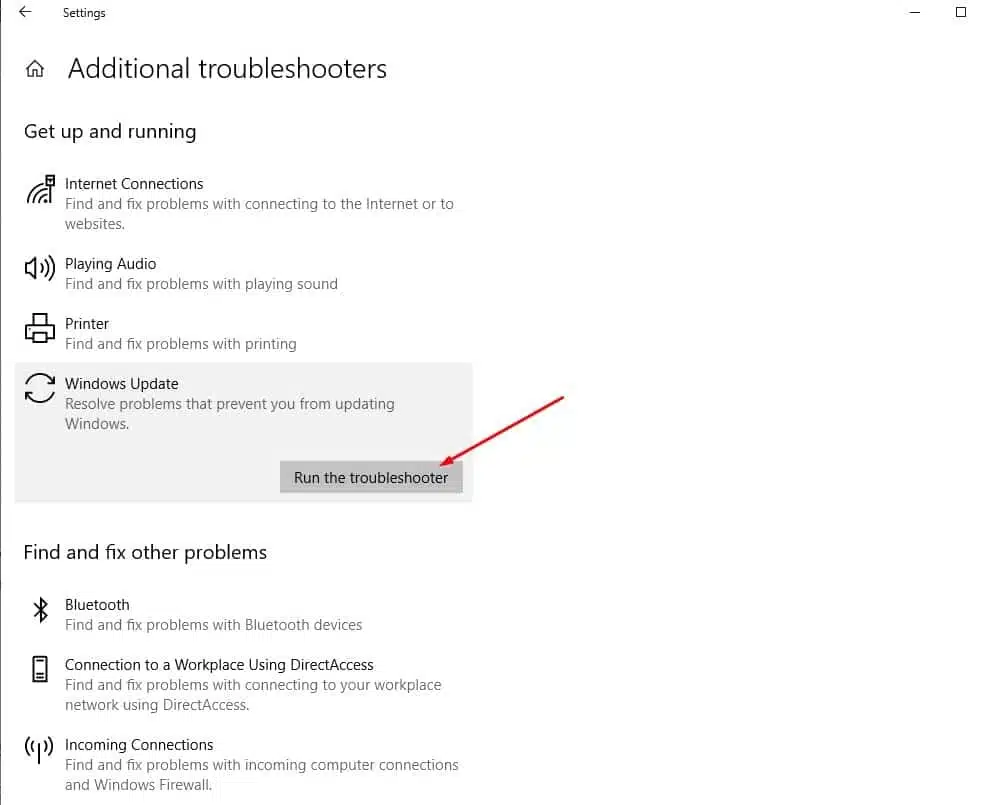 Tweak windows registry to fix windows update error
This is another effective solution, to fix most of the windows update related problems. If reset windows update components and running update troubleshooter fails to fix the problem and still getting windows Update installation error must try this registry tweak to fix windows update problems.
Open the windows registry editor by press windows + R, type regedit and click ok. Then first backup Registry database then navigate to the following key.
HKEY_LOCAL_MACHINE\SOFTWARE\Microsoft\Windows\CurrentVersion\WindowsUpdate\OSUpgrade.
Then select OSUpgrade and Right-click on middle pane new -> DWORD32bit value and rename it as AllowOSUpgrade, after that double-click on AllowOSUpgrade and change the number under Value data and enter 1. Now close the registry editor and restart the windows. On the next login check for updates, I hope this time it didn't create any problem or results any windows update errors.
Change DNS address
Here is another solution to work effectively if windows update files with different errors.
Press Windows + R, type ncpa.cpl and click ok,
This will open the network connections window,
Right-click the network interface connected to the internet, and select the Properties option.
Select and check the Internet Protocol Version 4 (TCP/IPv4) option, Click the Properties button.
Next, select the radio button Use the following DNS server addresses option.
Type your "preferred" DNS 8.8.8.8 and "alternate" DNS addresses as 8.8.4.4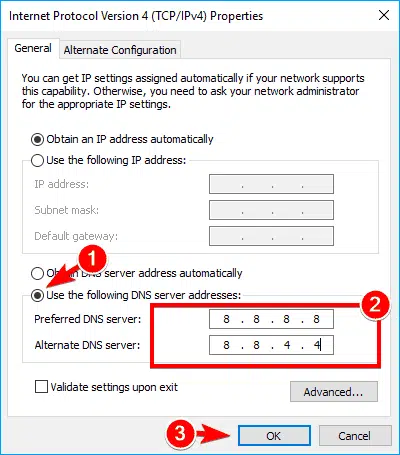 Make sure to checkmark on validate settings upon exit and click ok, apply to make save changes. Now again check for updates hope this time you get succeed.
Alternatively, you can download and install Windows 10 cumulative update offline package from here or use the official media creation tool for Windows 10 upgrade. And there is the latest Windows 10 version 22H2 ISO available as well.
Also read: