After lots of testing and preview builds finally Today on 31 October 2023 Microsoft announced that the Windows 11 2023 update (Version 23H2) is now available through a free upgrade on eligible Windows 10 PCs, existing Windows 11 and new PCs pre-installed with Windows 11 worldwide. The latest Windows 11 version 23H2 brings 150+ new features and changes include Windows Copilot, A Modernized File Explorer Experience, support for passkeys, Dynamic Lighting for Windows Users, Enhanced Volume Mixer in Quick Settings, Windows Ink Enhancements, redesigned settings page and more.
According to Microsoft, the latest Windows 11 2023 Update features powerful new experiences whether users are working on a school project, collaborating on a presentation for work, building a new app or creating your next big idea. Windows 11 also includes support for DirectStorage, a feature first introduced on Xbox Series X and Xbox Series S consoles
Windows 11 System requirement
The company already revealed basic requirements for running Windows 11. It requires a processor that has two or more cores and a clock speed of 1GHz or higher along with 4GB RAM and at least 64GB storage.
Windows 11 needs a PC that runs Intel's 8th-generation or newer processor or AMD Zen 2 CPUs or higher.
Another requirement is that your CPU should have TPM 2.0 enabled.
You need to ensure your PC has at least 4GB of RAM and 64GB of storage (HDD or SSD).
You also need to have at least a 9-inch display with a 720p resolution.
DirectX 12 compatible graphics cards with WDDM 2.x is recommended by Microsoft.
System Firmware should be UEFI and Secure Boot capable.
Also to make it easier Microsoft has released an official Windows 11 system compatibility check tool called PC Health Check. Download it from its official site here, and run it on Windows 10 to find out if your PC is compatible or not. If the tool gives you the go-ahead, this is how you can get Windows 11.
How to Upgrade to Windows 11?
If you have a device that meets the above system requirements or have recently purchased a Windows 10 machine, chances are that you may have the option to upgrade to Windows 11 right away. Here's how to do so:
First Back up your important data on either the cloud or an external drive.
Now, on your Windows 10 PC, go to Settings, followed by navigation to Update & Security.
Click on Windows Update and then, Check for Updates.
The Windows 11 update will be available if it is rolled out to your device. If it is, click Download and install.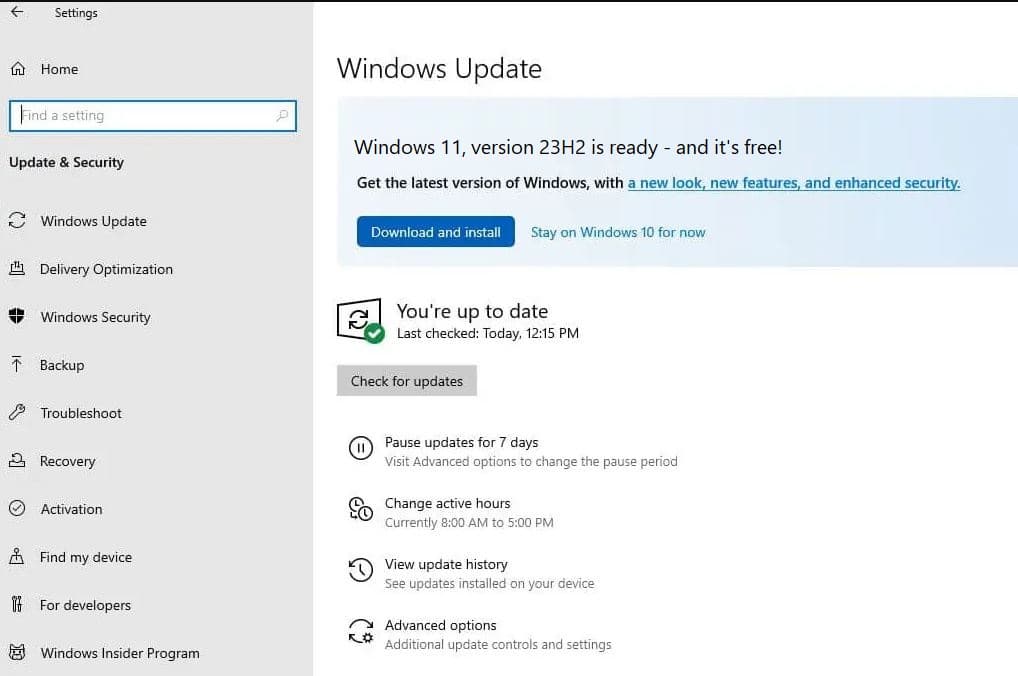 It's a huge update and You need a good internet connection to download Windows 11 update files from the Microsoft server.
Restart your PC for the installation process and configure settings as prompted on the screen.
Note: If your device meets the minimum system requirement for Windows 11 but you aren't seeing Windows 11 update available, then don't get disheartened as Microsoft will take some time to roll out Windows 11 to all PCs.
Later today, Microsoft is also making Windows 11 available for download via installation media and tools like the Upgrade Tool.
If you are an existing Windows 11 user, open settings -> Windows update and hit check for updates.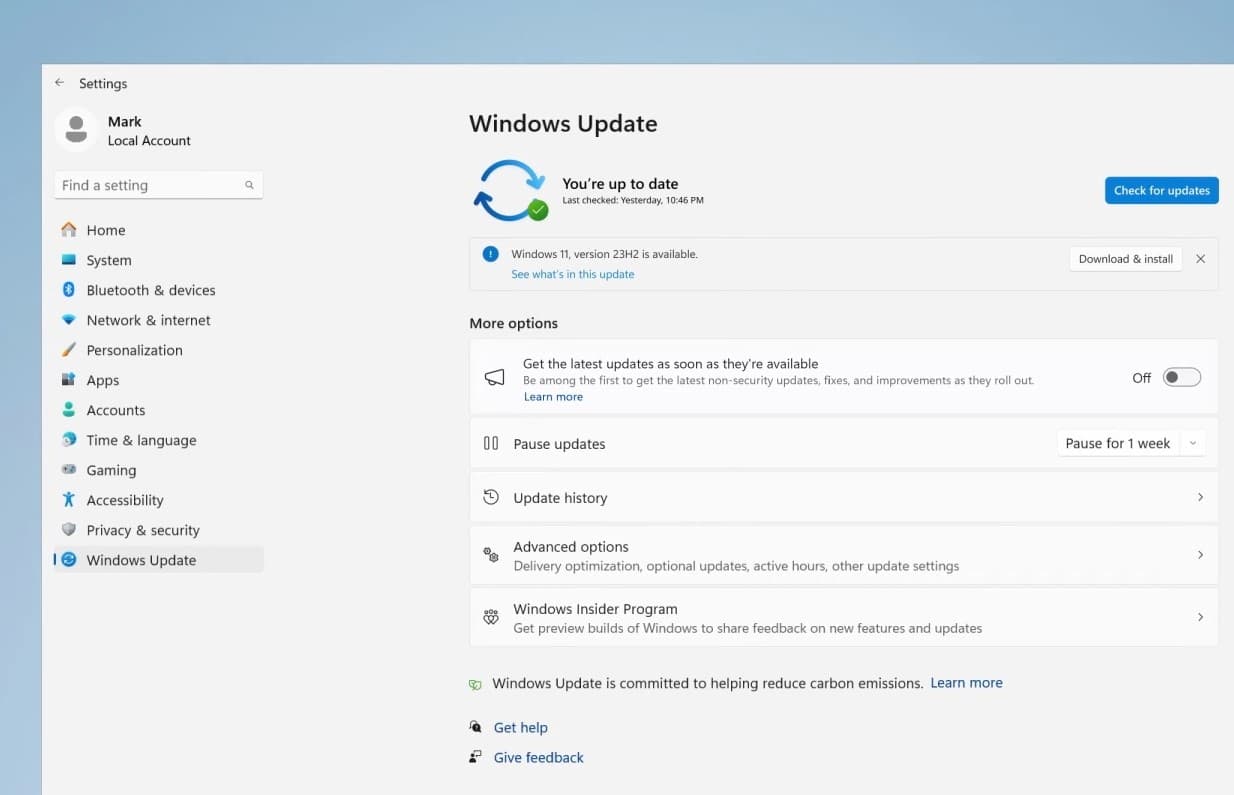 If you see Windows 11 version 23H2 is available click on downlaod and install. Here is Microsoft's official video how to Install Windows 11 2023 update version 23H2.

What's new in Windows 11 23H2?
Microsoft's latest Windows 11 2023 update comes with numerous changes that include, overhauled user interface, start menu, taskbar, new features and apps to enhance gaming and creativity and more.
When you first time install Windows 11 you will notice the start menu redesigned and it's now centered on the taskbar by default (But you can be set to a left alignment if you wish)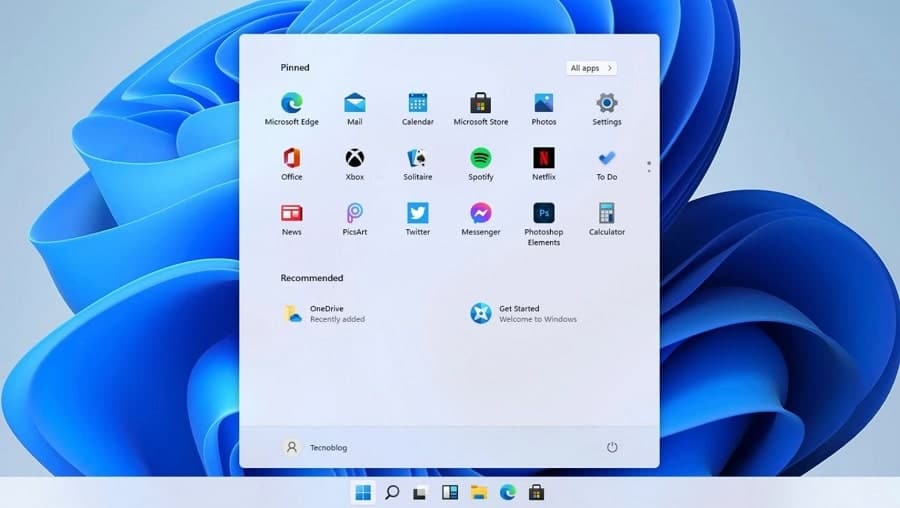 Some other highlighted features include
Windows Copilot: Provides quick access to various functions through a sidebar, making it more convenient and efficient to perform tasks on your Windows system.
Passkey Experience: Offers secure sign-ins using passkeys in conjunction with Windows Hello, enhancing the security of your login process.
Paint Cocreator: Utilizes AI to transform text descriptions into visual art, allowing for creative expression and visualization of ideas.
Gallery in File Explorer: Enables easy access to recent photos and snapshots directly within the File Explorer, streamlining the process of finding and managing your images.
Automated Video Creation with Clipchamp: Simplifies the process of creating professional-looking videos with automated tools provided by Clipchamp.
Windows Backup: Facilitates a smooth transition when migrating to a new PC by transferring applications and settings, ensuring a seamless experience.
Enhancements in Presence Sensing: Introduces improved user interaction features, enhancing the way your system detects and responds to your presence.
Photos App with Advanced Editing: Offers advanced editing capabilities, including background blur effects, to enhance and customize your photos.
Narrator and Voice Access: Provides natural-sounding voices and extended voice options, making it easier for users with accessibility needs to interact with their system.
Snipping Tool: Offers a versatile screen recording tool with audio support, allowing users to capture and share content from their screen.
Dev Drive: Offers specialized storage designed for developers, providing enhanced performance and security features to support development work.
How to download Windows 11 ISO
If you are looking to download Windows 11 October 2021 Update ISO, you can get it from the Microsoft official site by following the steps below.
Open your favorite browser and visit the official Windows 11 download page here
Locate the section, Download Windows 11 disk image (ISO), and select Windows 11 from the dropdown menu.
Click on download, it will ask for select the preferred language, then click on 64-bit download to being the process.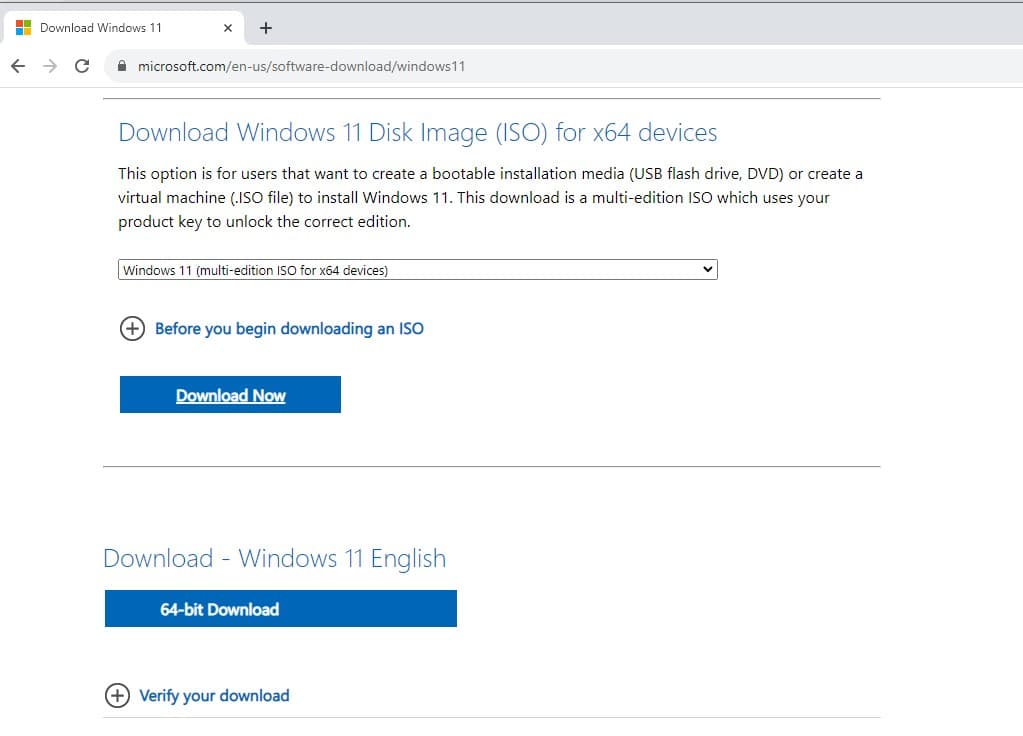 Note: The size of the Windows 11 ISO 64bit file is 6.2 GB, but it could be slightly lower or higher depending on the language pack you select.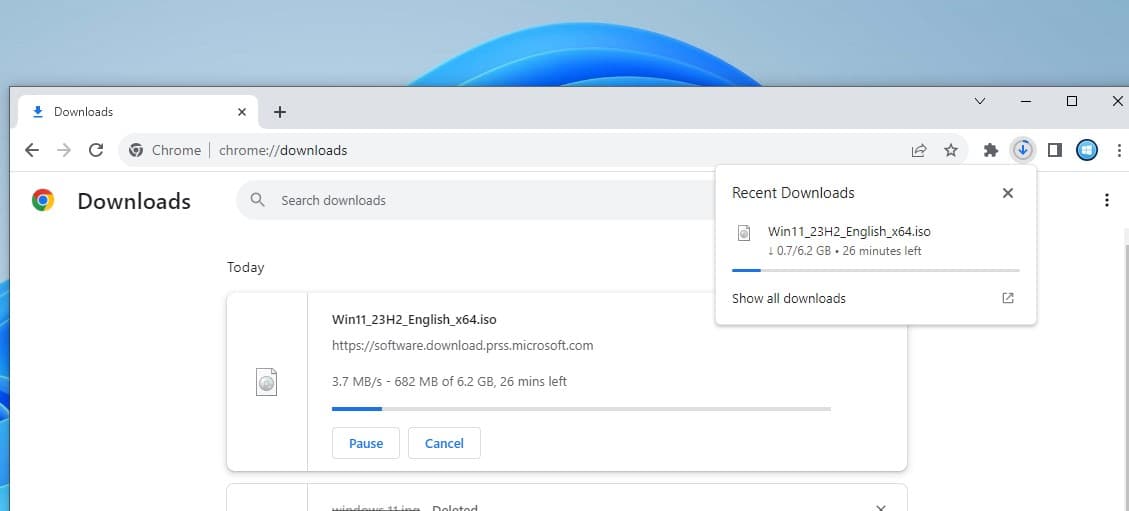 Here is a video comparison between Windows 10 vs Windows 11 | Features & Changes
How do I get Windows 11?
The easiest way to get Windows 11 is by checking Windows Update on a supported, fully up-to-date Windows 10 PC
Do I need to pay for it?
Windows 11 is a free upgrade to all eligible Windows 10 devices.
What does my PC need to be eligible or "supported"?
Windows 11 requires, a dual-core 64-bit processor, 4 GB RAM, 64 GB free storage space, UEFI secure boot and a trusted platform module (TPM) enabled.
How to check my PC is eligible for Windows 11?
The easy and simple way to check if your device is compatible with Windows 11 is download the official Microsoft's PC Health Check app.
Also read: