Microsoft Edge is one of the fastest web browsers around for Windows 10 and 11, starts in under 2 seconds, loads web pages faster, and is low on system resources as well. The latest Edge browser is based on the Chromium source engine, so it behaves similarly to Chrome and brings new features such as sleep tabs, tab groups, and more that can help with productivity and efficiency. With regular updates edge browsers getting new features and improvements to compete with Chrome and Firefox and provide a smooth and fast experience. But sometimes something bogs it down, few users report Microsoft edge running slow after the Windows 10 update. The webpages are slow on loading and unresponsive, Sometimes it says cannot reach this page not connected to the internet.
Edge Browser Running Extremely slow, when they try to access a webpage on Microsoft Edge it hangs down and creeps forward slowly. Also Images on web pages don't load in a proper way.
Why Microsoft edge is slow to open?
There are multiple reasons that may slow down the edge browser performance. From outdated edge browser to too many open tabs or extensions, or even malware infection are some common reasons why edge browser is slow to open or not respond. Again a large amount of cache & browser history, Corrupted system files etc may also cause this issue.
Most of the time clearing the browser cache can help with performance issues in any browser. Some browser extensions can also cause issues, so disable all unnecessary extensions to improve browser performance. You need to check internet speed when Edge fails to load web pages, Also repair or resetting Edge browser default settings fix all sorts of issues on your computer.
How to make Microsoft Edge faster
Restarting your computer can fix most of the issues with the PC including the browser performance. Let's first reboot your computer, which refreshes the operating system, Free up system resources and clears temporary glitches that might slow down the PC or Edge browser performance.
If you have many open tabs on Edge browser that may eatup system resources and slow down the browser, Close unnecessary tabs to free up your resources.
Check your Internet connection
Before doing any troubleshooting steps below, make sure that your internet connection works properly. If you are experiencing web pages loading very slowly you need to check the internet connection before apply any solutions. Because you must have a stable working internet to connect web server and load web pages on your computer.
You can check your internet speed at fast.com or speedtest.net
In addition Press the Windows key + R, type ping google.com -t and click ok
Check if the ping replay from the Google server is consistent or breaks between
If the ping replay breaks you need to troubleshoot the internet connection first.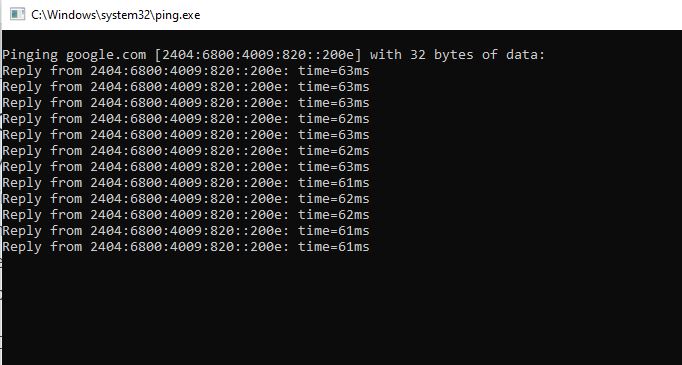 In addition, if you are using VPN or connected to a different server we recommend disconnect it and check if web pages load faster on Edge.
Update Microsfot Edge
An outdated browser can lead to slow browser experience, Microsoft regularly updates the browser to address several bugs and issues. If you don't update it, the problems present on the app will stay and hamper your usage.
Open Microsoft Edge and click the three-dot menu found on the right side of the screen and select settings,
Now select About Microsoft Edge from the left-side navigation.
This will automatically install any available updates.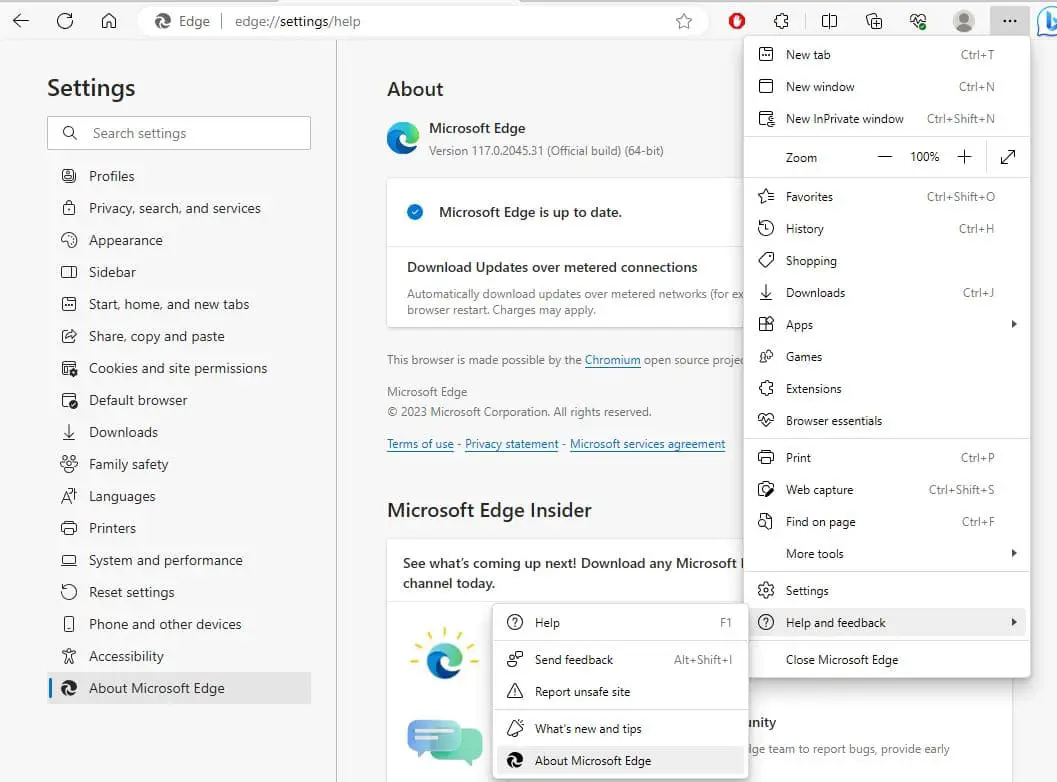 Delete Cache and Cookies
Similar to other web browsers Microsoft Edge also stores cache and cookies to make the browsing experience faster. But if the browser has a lot of them, it can affect its speed. Clear browser cache regularly to prevent such problems with the edge browser on Windows 10.
Browser cache can also cause Microsoft Edge to be running slow on Windows 10 and 11
First, open the Edge browser on your computer
Then Press Ctrl + Shift + Del to Get the clear browsing data dialog box
Also, you can type edge://settings/clearBrowserData on the address bar and press enter key to open the same window,
Select the time frame between the last hour to all time, then checkmark on Browsing History, Cookies, and other site data, and Cached Images and Files.
And finally, click on the Clear now button and wait for the process to complete.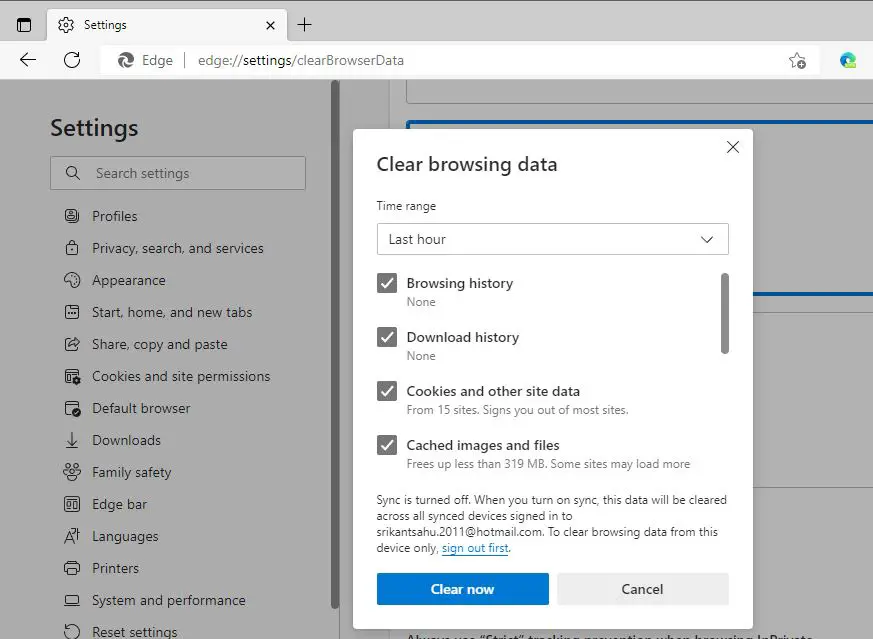 Also, you can run Third-party system optimization tools like CCleaner to clear Cache, cookies, junk, Browser history etc also, and Fix broken Registry  Entries.
Disable Edge Extensions
Edge now supports Chrome extensions, that extend the functionality and browsing experience. But having a number of extensions or malicious extensions installed can slow down the browser and you may notice edge web pages loading very slow or browser crashes. Therefore, you should consider disabling these extensions to fix such problems.
To turn off Or uninstall an Edge extensions
Open the Microsoft Edge browser and head over to the Edge extensions, using edge://extensions/
This will display a list of extensions installed and enabled on Edge browser toggle off the extensions or there is an option to remove them as well.
By doing so, you'll notice an improvement in the performance of the browser.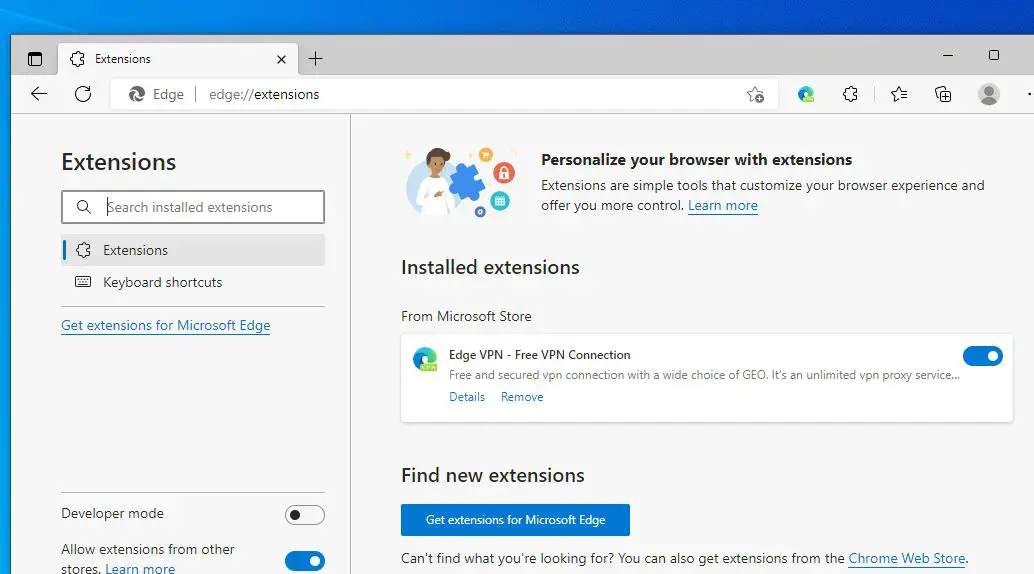 Set Balanced Privacy Approach
Edge comes with three levels of privacy: Basic, Balanced and Strict. Well, the strict level blocks all the trackers but it could also break a few websites and you may experience edge not loading web pages.
Open Edge browser and navigate to edge://settings/privacy to open the Privacy settings and  Select Balanced under Tracking protection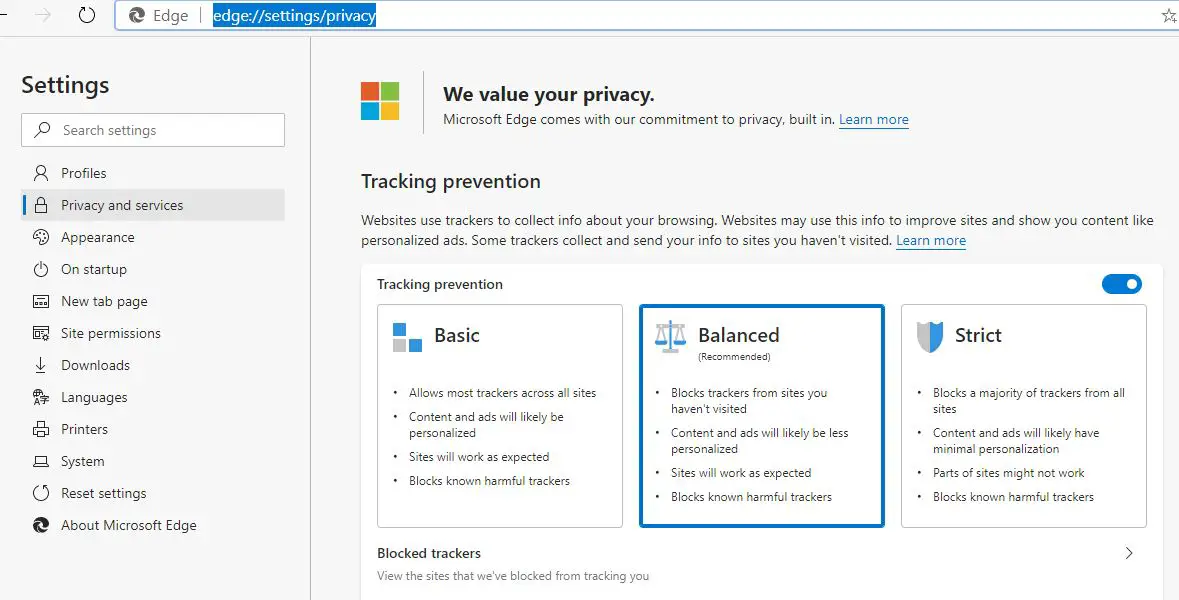 In addition Scroll down to the Security section and disable the Use Secure DNS toggle. Now check if this fixes the Microsoft Edge slow performance issue
Repair Microsoft Edge
Microsoft Edge is a built-in app that you can't uninstall but you can use the repair option to fix minor problems with the edge browser. This option also uninstall the app from your PC and then re-installs it (If needed), without any manual intervention from your end.
Press the Windows key + X and select Apps and Features,
This will display all installed app lists on your computer
Scroll down to locate Microsoft Edge, select it and click on Modify option
This will open the window with the option to repair the edge browser,
Click on the repair button and wait for the process to complete
Once done restart your PC and now open Edge browser check Edge is faster and responds quickly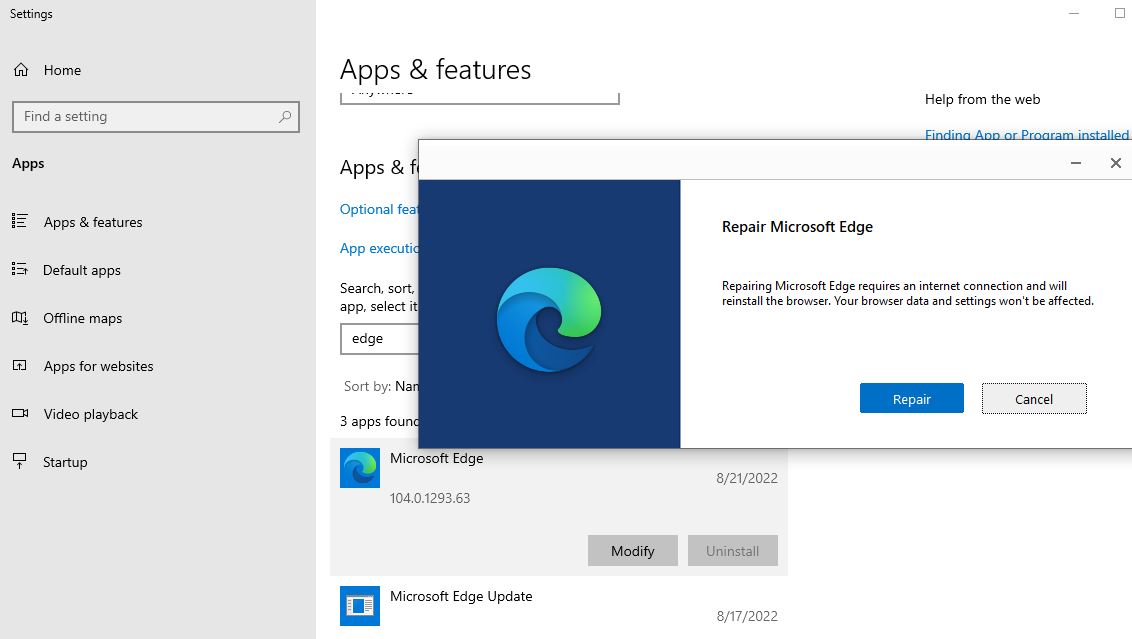 Reset Microsoft Edge Browser
If all the above solutions fail to fix the problem, still Microsoft Edge is very slow, and not responding you should consider Resetting the Microsoft Edge Browser default setting. Keep in mind that doing so will reset all data and new tabs pages and remove the pinned tabs, make it a fresh new install.
First, open the Microsoft Edge browser,
Head over edge://settings/resetProfileSettings
Click on the Reset button in the confirmation dialog box.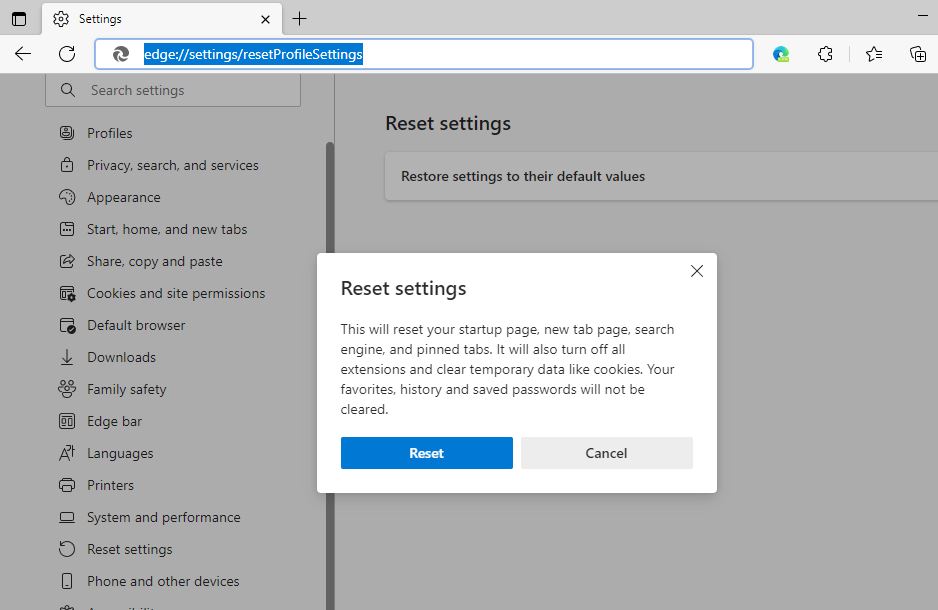 Disable the "Preload New Tab Page" Option
This is another effective way to fix the slow edge browser on Windows 10 or 11.
Open Microsoft Edge, Click the three-dot menu found on the upper right side of the screen. Then, click Settings from the drop-down menu.
On the Settings page, click Start, home, and new tabs from the left-side navigation.
Under the New tab page section, disable the Preload the new tab page for a faster experience option.
Relaunch Microsoft Edge and check if it works faster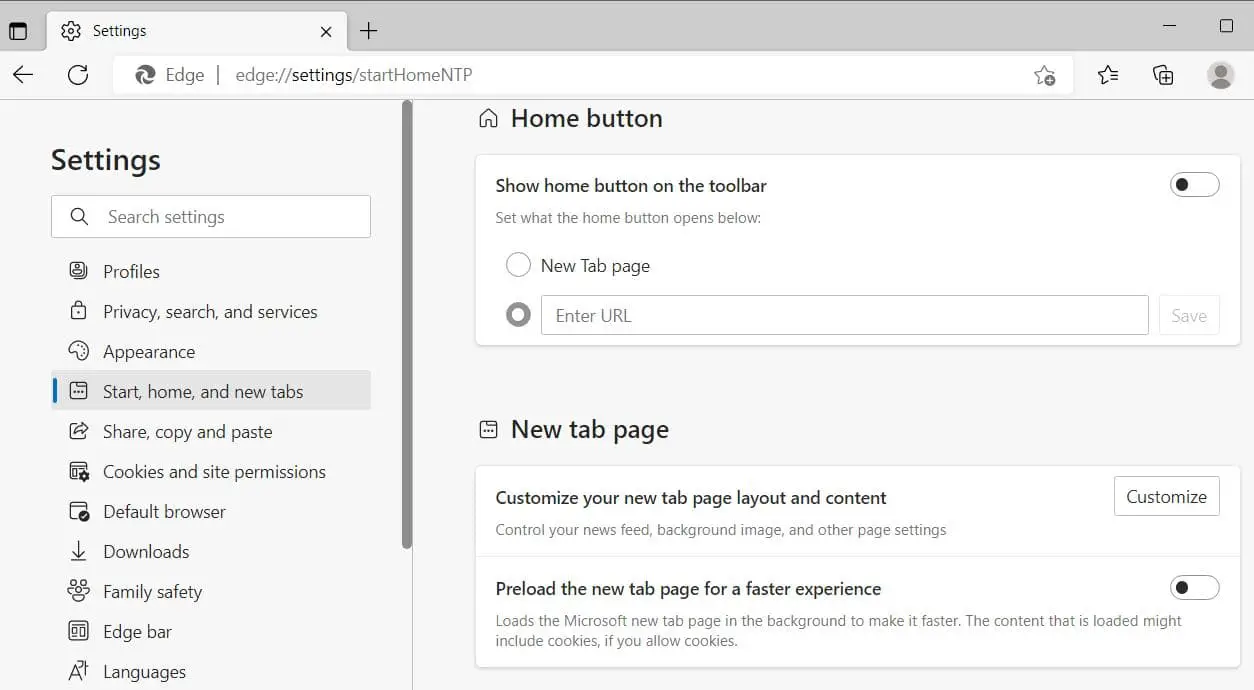 Set the New Location For Temporary Files
Also, Some Users Report Set the New Location For Temporary files which 're-gain' the Temporary Files directory and helps the edge Browser work normally.
To set a new location for Temp Files: 
Press Windows key + R, type inetcpl.cpl, and click ok to open internet options.
Here on the General tab, under Browsing History, go to Settings.
On the Temporary Internet Files tab, click Move folder…
Choose the new location for the Temporary Internet Files folder.
Then set the Disk Space to use 1024MB and click OK.
Open Microsoft Edge, and see if the browsing is now faster.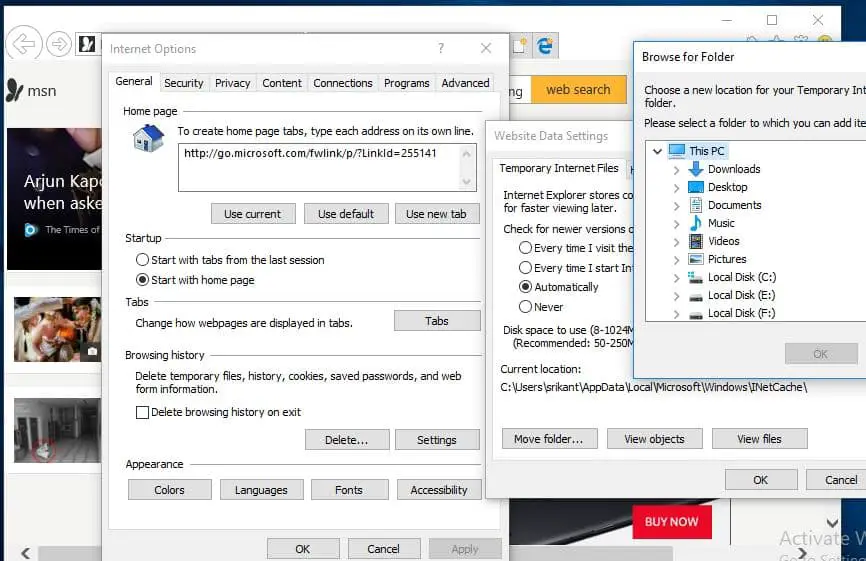 Create a New User Account
You may check the same issue with the new user account. Try these steps to create a new user account and check if it fixes the issue. Refer to the steps below to create a new User Account:
Press the Windows key + I to open Settings.
Choose Accounts and then select Family & Other Users towards the left.
Click on Add someone else to this PC.
When the Microsoft sign-in option prompts click on I don't have this person's sign information,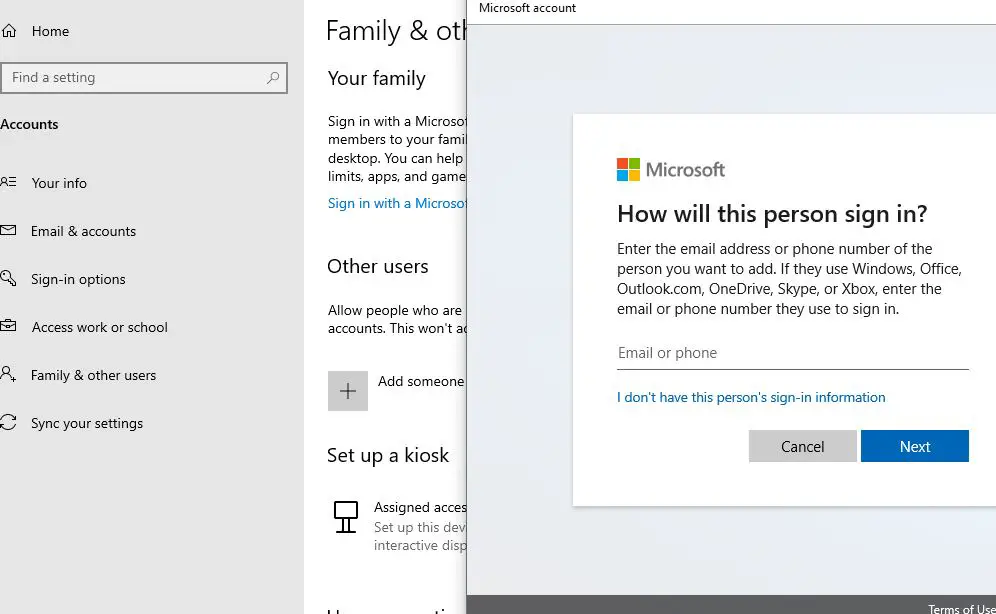 Next click on Add a user without a Microsoft account, Type a username and then the password for it, and confirm the password again.
Click next to finish the setup and add a new user account.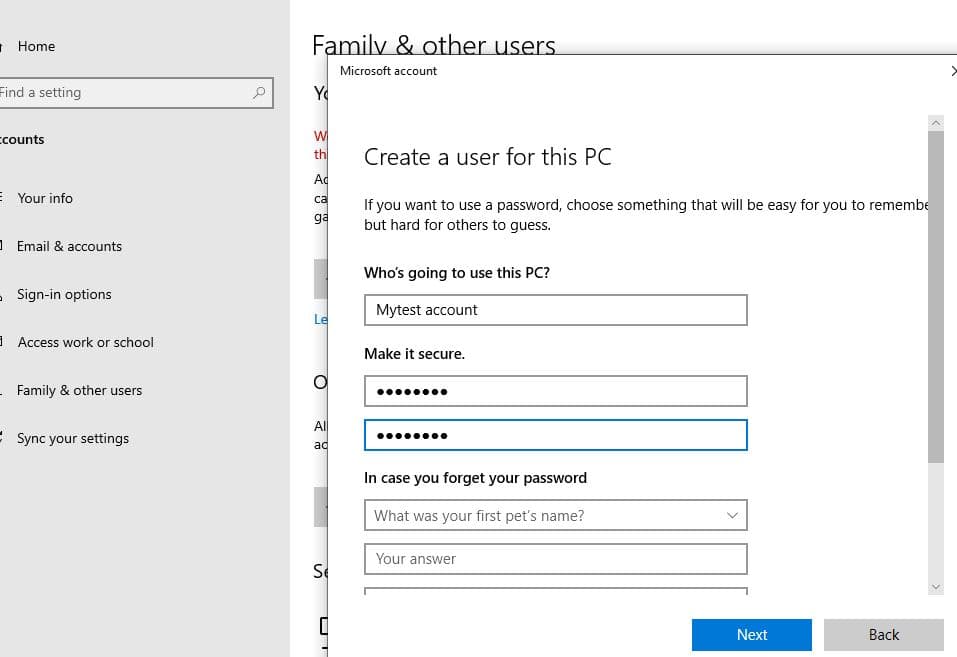 Now Sign out from the current Account and Log into the new account and Check if the issue persists.
In addition, Run System File Checker Tool To Scan And Restore missing Damaged system files not only fix browser performance issues but also speed up Windows 10.
Did these solutions help to fix the Edge browser running slow, not responding, or crashing issue on Windows 10? let us know in the comments below.
Also read: