Did you notice the Windows 10 Laptop screen stays black after waking the computer from sleep mode? Or the computer would not wake up from Sleep after windows 10 1809 upgrade? This could be a result of outdated Display drivers, Or incorrect power plan settings. A number of users report "Windows 10 black screen with cursor after sleep"
After waking the computer from sleep it comes to a black screen and just the mouse pointer that I can move around. This happens always when I put the computer in sleep mode, even after a windows reset (erase everything). Ctrl Alt Del doesn't work or anything else. I have to force shut down the computer and even after that the PC doesn't start well, nothing comes on the screen. I have to power off an on several times till it really works.
Update Display (graphics) driver, restore default settings of power plan, Turning off the Fast Startup and Hibernation option most probably fix the problem for you.
Windows 10 black screen with cursor after sleep
First of all, make sure windows have installed the latest cumulative updates on your device.
If you are stuck on black screen, press Alt + Ctrl + Del and select task manager,
Click file, Run new task
Here type explorer.exe and check mark on create this task with administrative privileges.
When you click ok this wakeup the normal screen.
If not forcefully shut down windows, and on next start fallow solutions below to prevent windows 10 black screen problem.
Also Try this: If you are using a laptop, unplug your power adapter and take out of the battery. Then hold on the power button and wait for a little while. Put the battery back, plug it and restart your computer.
Turn of Hibernation On windows 10
To disable the Hybrid Shutdown by following these steps:
Open control panel, search and open power options.
Here On the left side of the window click on Choose what the power button does
Then, click on Change settings that are currently unavailable, under Define power buttons and turn on password protection
From the enabled options under the Shutdown settings section, uncheck Turn on fast startup (recommended) check box to disable Hybrid Shutdown.
Click the Save changes button to save the modified settings.
Close Power Options window when done.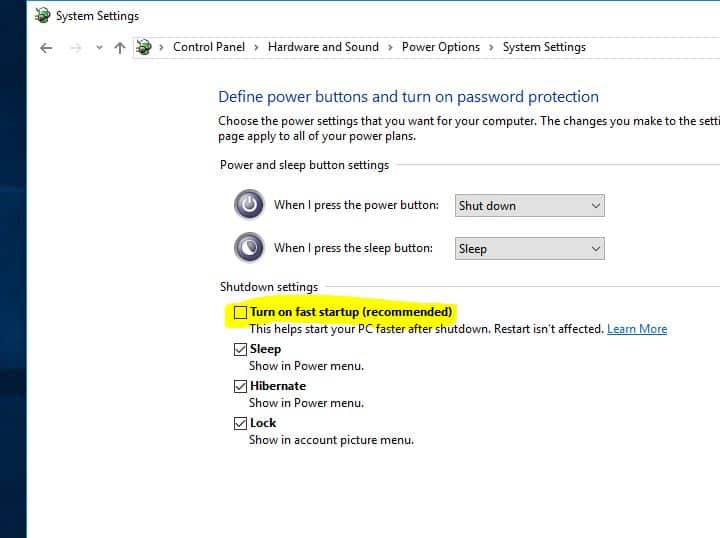 Run Power troubleshooter
Also run the build in power troubleshooter and check if the issue can be resolved. Power troubleshooter helps to fix any issue with the power settings of the computer.
Follow the below steps to run the Power troubleshooter:
Type troubleshooting settings in the Search tab and select the Troubleshooting from the search results.
scroll down and look for the option Power
Select Power option and Click Run the troubleshooter
This will find and fix problems with your computer's power settings, that prevent windows wakeup after sleep mode.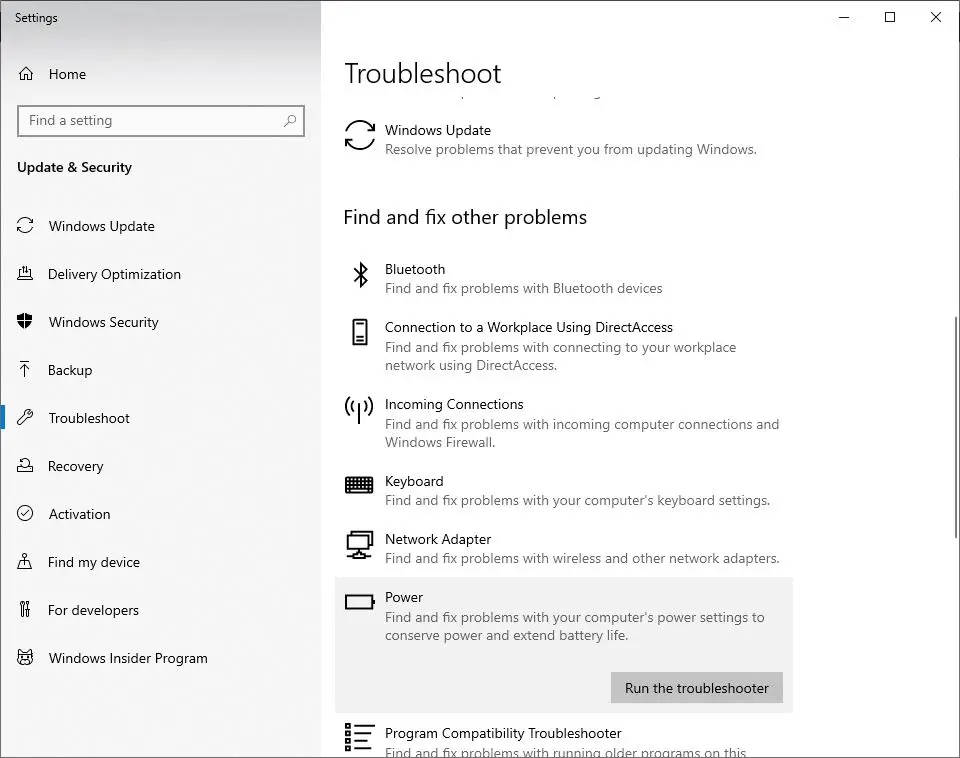 Restore Power Plan Default Settings
Restore Power Plan Default Settings is another effective way to fix "windows 10 black screen after idle"
Search for Control Panel and select the first result.
Click on the Power Options icon.
Click on Change plan settings.
Select the option "Restore default settings for this plan".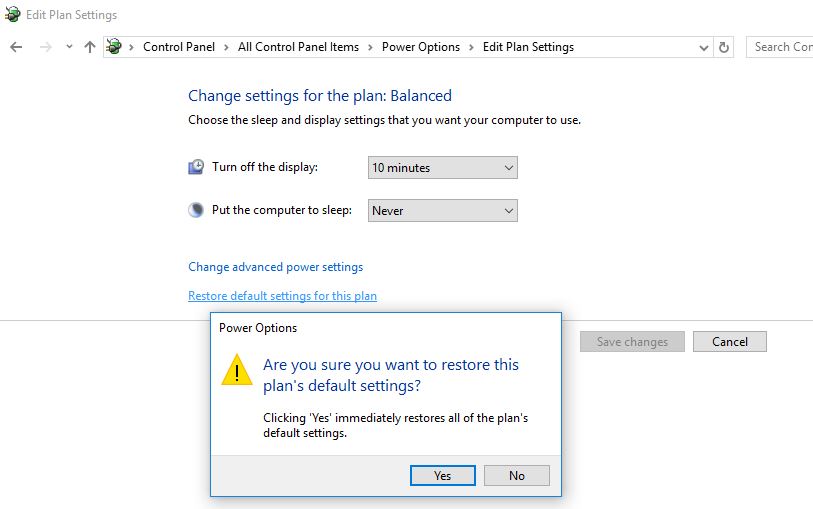 If issue still persists try method 2,
Create a power plan
Again open Control Panel, Click on the Power Options
Click where it says "Create a power plan" in the area on the left side of the Power options window.
Select a power plan to start with such as "Balanced" or "High performance" and then click "Next."
Select a number of minutes you want both the display and the computer sleep mode, and then click"Create."
Lets check this helps to fix the problem for you.
Update display drivers
If none above solutions work for you, we strongly recommend Update your display adapter drivers this should be most probably fix the problem for you.
Select the Start button, type Device Manager, then select it from the list of results.
Expand the display adapter driver, then right-click (or tap and hold) it, and select Update Driver Software.
Select Search automatically for updated driver software.
If Windows doesn't find a new driver, you can try looking for one on the device manufacturer's website and follow their instructions.
Did these solutions help to fix Windows 10 black screen with cursor after sleep mode or ideal? let us know on comments below, Also read: