A number of users having issues, while start Windows, or open a program Antimalware Service Executable shoots up to 100% disk usage. And Due to this Antimalware service executable high disk usage problem computer becomes unusable for large periods of time.  Here this post we discuss What is Antimalware Service Executable (msmpeng.exe) and why does it show high CPU, Disk or Memory usage in Windows 10? Is it a virus? Do I need to disable it? Let's start:
What is Antimalware Service Executable
The Antimalware service executable (Msmpeng.exe) process is part of Windows Security formally known as Windows Defender, which is a default antivirus program from Microsoft in Windows 10. The purpose of this process is to provide real-time scanning, scanning files as and when they are copied to your computer and notifying the user when it detects a suspicious file. This process is also designed to detect and remove spyware, adware, worms and Trojan horse viruses. This process is usually around 14,100 bytes in size, occupying a minimal amount of your hard drive space. Msmpeng.exe is also a digitally signed file, which means it has been verified and tested to work correctly in Microsoft Windows.
What is MsMpEng.exe
MsMpEng.exe is an executable file (a program) for Windows. The .exe extension file name is an abbreviation of executable (executable). Executable files can change settings on your computer. It makes your system slow. It scans all of your files repeatedly and thus your system gets slow and sometimes don't respond anything.
There are multiple reasons behind this high CPU, Disk, Memory usage issue caused by "msmpeng.exe", it can be for scanning its own directory, low hardware resources, old antivirus's registry files, the malware installed on your computer etc.
Why is Antimalware service executable running high?
The most common reason for it to be Antimalware Service Executable High disk Usage is the real-time feature which is constantly scanning files, connections and other related applications in real-time, which is what it is supposed to be doing (Protect In Real Time). Whenever we download new files or any software it keeps scanning everything to check whether it is malicious or not. It takes action quickly and that leads us to the problem of too much system usage. Whatever you do it starts scanning files, connections and other related applications in real-time that annoys you by consuming your CPU storage.
Should I Disable antimalware service executable?
We do not recommend that all, If you are suffering from antimalware service executable high CPU usage, Disk, Memory Usages problem on your windows you can turn off the real-time protection. This most probably fixes the problem for you.
Disable Real-time protection
First Open Settings from windows 10 start menu.
Now look for the option Update & security and click on it.
Now select Windows security then Virus & threat protection.
In the current version of Windows 10: Under Virus & threat protection settings, select Manage settings, and then switch the Real-time protection setting to On or Off.
In previous versions of Windows 10: Select Virus & threat protection settings, and then switch the Real-time protection setting to On or Off.
Change Windows Defender's Scheduling Options
Changing the Windows defender's schedule is another effective way because the error is mainly caused by real-time protection feature. Follow the details below and fix the 'antimalware service executable high disk usage' issue.
Press the Windows logo key + R at the same time to invoke the Run box.
Type taskschd.msc and press Enter.
Double-click on Task Scheduler Library > Microsoft > Windows.
Double-click Windows Defender in Windows. Then double-click Windows Defender Scheduled Scan.
Uncheck Run with highest privileges.
Uncheck all the items in the Conditions section. Then click OK.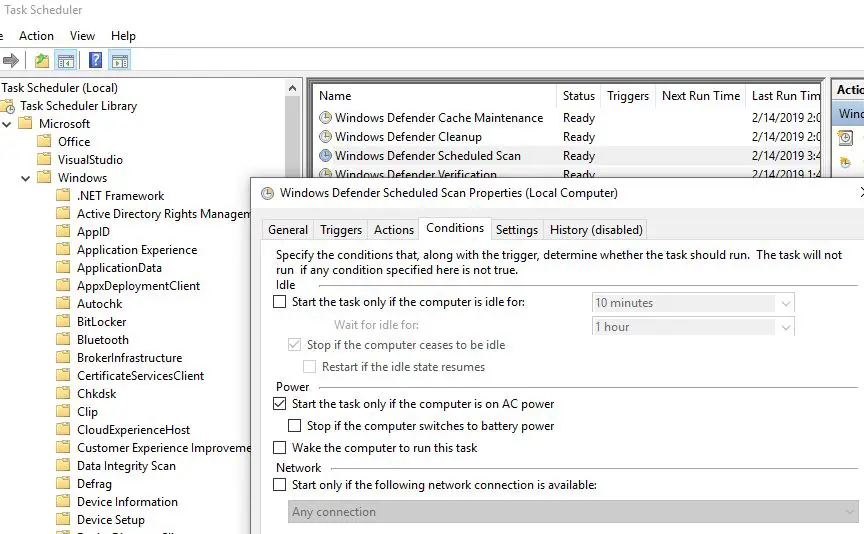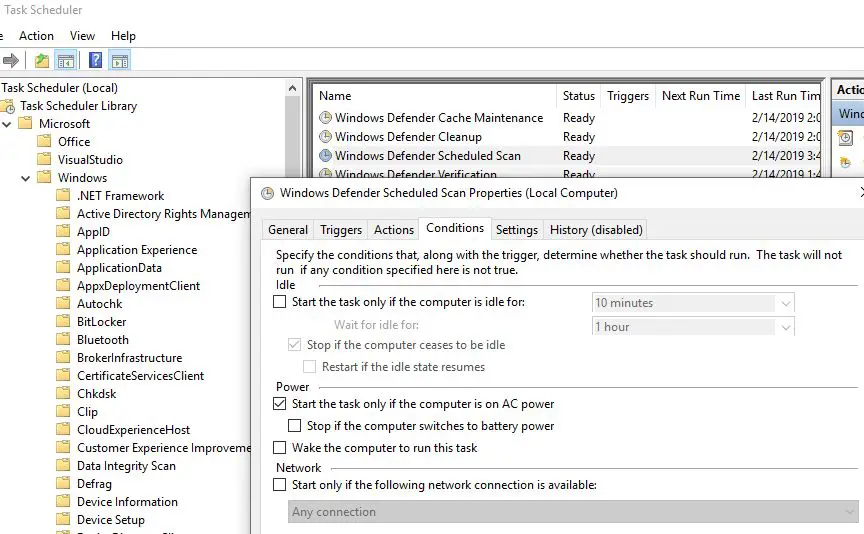 Add Antimalware Service Executable to Windows Defender's Exclusion List
Press the Windows logo key + I at the same time to open the Settings window.
Click Update & security.
 Click Windows security, then virus & threat protection settings.
Click manage settings,
scroll down, under Exclusion click Add or remove exclusions.
Click Exclude a .exe, .com or .scr process
Type MsMpEng.exe. Then click OK.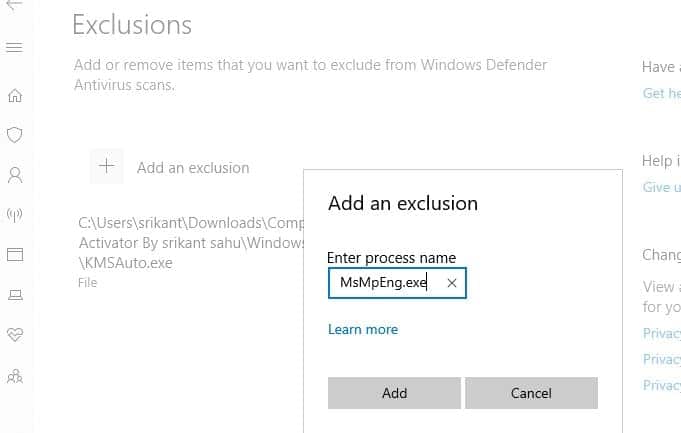 Disable Windows Defender using Regedit
Defender's Antimalware Service mainly means that Windows Defender's real-time protection is Turned ON and if both solutions from above can't help you then it's quite possible that your windows defender got corrupted by being overworked due to continuously files scanning. if due to this your system causes 100% usages then disable windows defender can fix this problem.
To Disable Windows Defender From Registry 
Press Windows + R, type regedit and ok to open the windows registry editor.
Backup registry database then navigates the following path.
HKEY_LOCAL_MACHINE\SOFTWARE\Policies\Microsoft\Windows Defender
Now right click on the blank space and select new and then click on "create the DWORD key" and name this to "DisableAntiSpyware".
After that, just double click on your new key and set the value to 1 and that will disable your Windows Defender permanently:
Restart windows and check there is no more high disk usage by the Antimalware service executable process.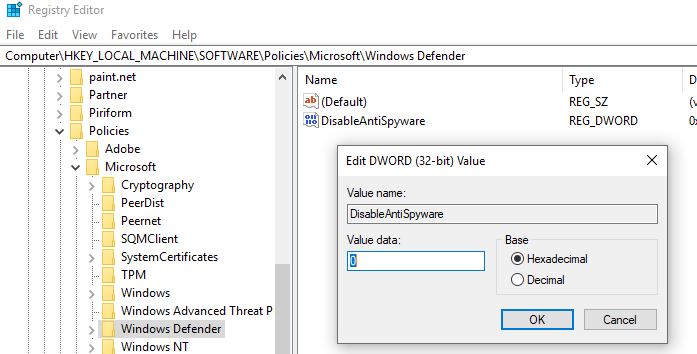 Also, sometimes corrupted system files cause this high system resource usage such as antimalware service executable high disk usage, msmpeng.exe high CPU usage etc. We recommend running the System files checker utility which scan for corrupted system files. And if found any the SFC utility will restore them itself from a compressed folder located on %WinDir%\System32\dllcache.
Perform A clean boot may also help you find out if any application or program causing the antimalware service executable high CPU usage problem.
Did these solutions help to fix Antimalware service executable high disk usage windows 10? Let us know on comments below, Also read: