league of legends client wont open when double-clicking the shortcut on the desktop? Here few workarounds that will help fix these issues and launch the game.
League of Legends launcher won't open on windows 10? you are not alone, a number of users complain League of Legends launcher does not open. So you might be thinking, why the league of legends wont open? Bad shortcuts, game files being corrupted or missing, outdated Graphics Card Drivers, other application conflicts or the app requires administrative privileges are some common reasons Why League of Legends not opening. In addition Internet Connection issues, Firewalls, or lol Server Issues also cause this problem.
league of legends won't open
If you are experiencing similar problem, League of Legends doesn't start or League of Legends Client won't open here a few workarounds that will help fix these issues and launch the game.
Run lol game as administrator
Before applying any solutions, open the File Explorer and go to the location C:\Riot Games\League of Legends. look for application file named LeagueClient.exe double click on it and check if the game started without any problem.
In addition,  right-click the LeagueClient.exe file and choose Run as Administrator.
If the game runs properly right-click on LeagueClient.exe create a shortcut. Delete the previous shortcut and try to run the lol game again.
Disable League of Legends processes
Press Ctrl + Shift + Esc key simultaneously to start Task Manager.
Under process, tab locate both LoLLauncher.exe and LoLClient.exe processes and end them.
To do that, simply right-click the process you want to end and choose End Task from the menu.
After disabling the required processes, try to start the game again and check if the problem reappears.
Change user.cfg and Delete LeagueClient.exe
Sometimes issue with user.cfg file prevents League of Legends to open on windows 10. Let's make some modifications in the League of Legends Client that help most users to fix the issue.
Press Windows key + E to open file explorer,
Go to C:\Riot Games\League of Legends and go to \RADS\system.
Right-click the user.cfg file and use Notepad to open it.
Change leagueClientOptIn=yes to leagueClientOptIn=no and save the file.
Now Open this game again and go to the directory folder to delete the LeagueClient.exe file.
Double-click launcher.exe to run LOL in the install directory. If it is not starting, run launcher.admin.exe.
Force-Update lol Client
There is chances, League of Legends not launching because some of ".dil" files corrupted in the game directory. And update the game help resolve the issue.
Go to the installation directory and then navigate to RADS > Projects.
here locate league_client and lol_game_client and Delete these two folders
Go to the solutions folder, delete league_client_sin and lol_game_client.sin.
Restart the PC, launch LOL again and it will force the game to update automatically.
Reinstall lol game
Still need help, try to reinstall the league of legends game following the steps below that might help resolve the problem prevent lol game open or the league of legends wont open.
Press Windows key + x select Apps and Features,
scroll down to locate league of legends, select it then click uninstall,
follow on-screen instructions to remove the game and restart your PC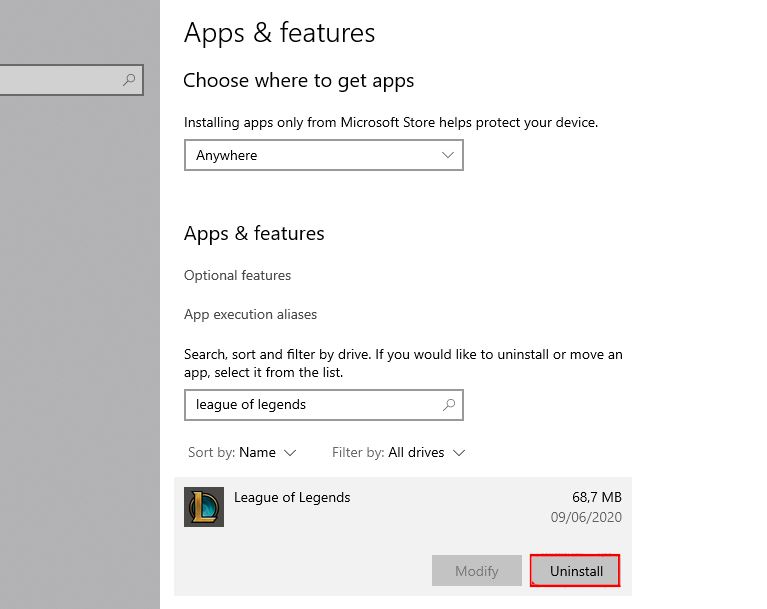 Now download the game from lol official site here and install it.
once done try to open the game and check if there is no more problem starting the game.
Reinstall your graphics card drivers
Again graphics cards play a crucial role in gaming sessions, and if there's a problem with your graphics card drivers, you might not be able to start League of Legends at all.
Press Windows key + X and select device manager
This will display all installed device driver list, locate and expand display adapters,
Right-click on installed graphics driver select uninstall device follow on-screen instructions to remove the driver from your PC once done restart windows.
Now visit the graphics card manufacturer website such as NVIDIA or AMD to download and install the latest graphics driver on your PC.
Did these solutions help fix league of legends wont open on windows 10? Let us know on comments below,
Also read: