Microsoft released Windows 11 2023 update version 21H2 for existing users and devices running Windows 10 2004 and later. The latest release brings AI features like Copilot and Cocreator in Paint, ungrouping for the taskbar, modern File Explorer, and more. For existing Windows 11 users, 23H2 update is delivered via Enablement package (around 600MB) in Windows update settings. Compatible Windows 10 Devices also upgrade to the Windows 11 2023 update for free, but it's a full package takes time to download and install. However, at times you may stuck downloading Windows 11 2023 update (version 23H2). Few users report Windows 11 version 23H2 stuck at percentage marks when they try to download and install them from Settings. Some users see error codes like 0x800f0806 for that update. This article explores the reason why Windows 11 23H2 Download is stuck at 0 or 100% downloading, and troubleshooting tips to fix the issue.
Windows 11 23H2 Download stuck
There could be several factors responsible for Windows 11 update stuck downloading or Preparing to install slow internet, low storage, or firewall or security software are common.
Slow or unstable internet connection.
Insufficient available storage space on your device.
Compatibility issues with your hardware or software.
Background applications or services interfering with the upgrade process.
Corrupted system files or Windows Update components.
Security software or firewall blocking the upgrade.
Sometimes, a simple restart of your device can resolve temporary issues that are causing the upgrade to stall. Simply restart your computer and try the update again
Check Internet Connection
A stable and fast internet connection is crucial for a smooth download and installation process. Slow or unstable internet can lead to update failures, Let's first check and ensure there is no problem with the internet connection.
Power cycling your router can sometimes resolve temporary connectivity issues. Simply unplug it, wait for about 30 seconds, and then plug it back in.
Virtual Private Networks (VPNs) can sometimes interfere with the update process. Disconnect from the VPN before attempting the update.
Press the Windows key + R, and type ping www.google.com -t (or any website). If the response times are consistently high or if there are timeouts, it may indicate an issue with your connection.
Use an online speed test tool to check the upload and download speeds of your internet connection. Ensure that the speeds meet the minimum requirements for downloading updates.
Free Up Some Drive Storage Space
If your system drive (C drive) is nearly full, there may not be enough space for the Windows 11 update files to be downloaded and installed. This can lead to the update getting stuck during the download process.
You can press Windows key + E to open Files Explorer then select This PC to check your drive space.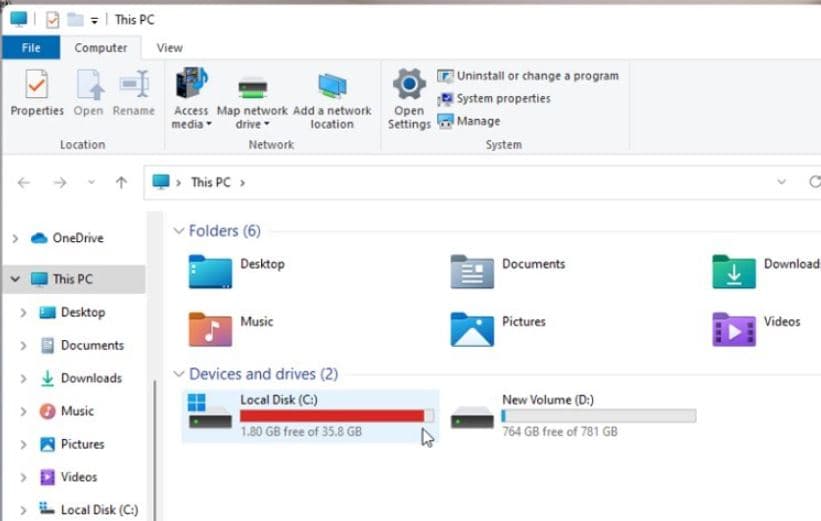 Use the Disk Cleanup tool or manually clear temporary files from your system.
Uninstall programs you no longer use and check for any duplicate applications that may be installed.
Identify and delete large files or folders, such as old movies, videos, or high-resolution images that you no longer need.
Move large files, like videos or high-resolution images, to an external hard drive or cloud storage to free up space on your main drive.
Disable Security Software
Security software, including antivirus programs and firewalls, can occasionally interfere with the update process. if you're experiencing issues with a Windows update getting stuck during download, temporarily disabling your security software can sometimes help resolve the problem.
Look for the icon representing your antivirus software in the system tray.
Right-click on the antivirus icon to open a context menu and select disable or turn off the protection temporarily.
Look at your antivirus software for Firewall protection and disable as well.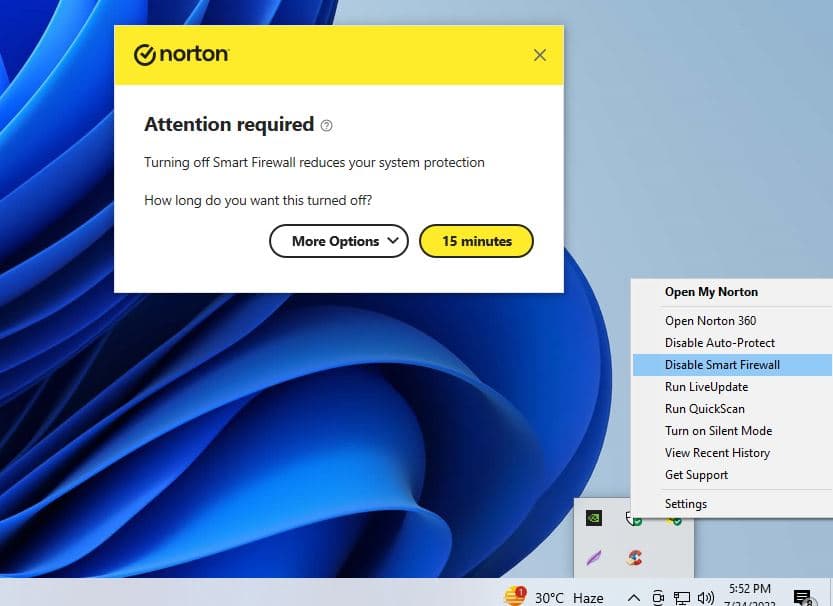 Run Windows Update Troubleshooter
The Windows Update Troubleshooter is a built-in tool that can automatically detect and fix common update-related problems. If a Windows 11 23H2 upgrade is stuck during download, running the Windows Update Troubleshooter can potentially identify and fix the problem.
Press Win + I to open Settings, select "Update & Security," then click on "Troubleshoot"
Click on additional troubleshooters to display list of available troubleshooters
Select the option Windows update and click Run the troubleshooter.
The troubleshooter will start detecting and attempting to resolve any issues related to Windows updates. Follow any on-screen instructions that may be provided.
Restart Windows after completing the troubleshooting process.
And again check for updates from settings, update & Security and check for updates.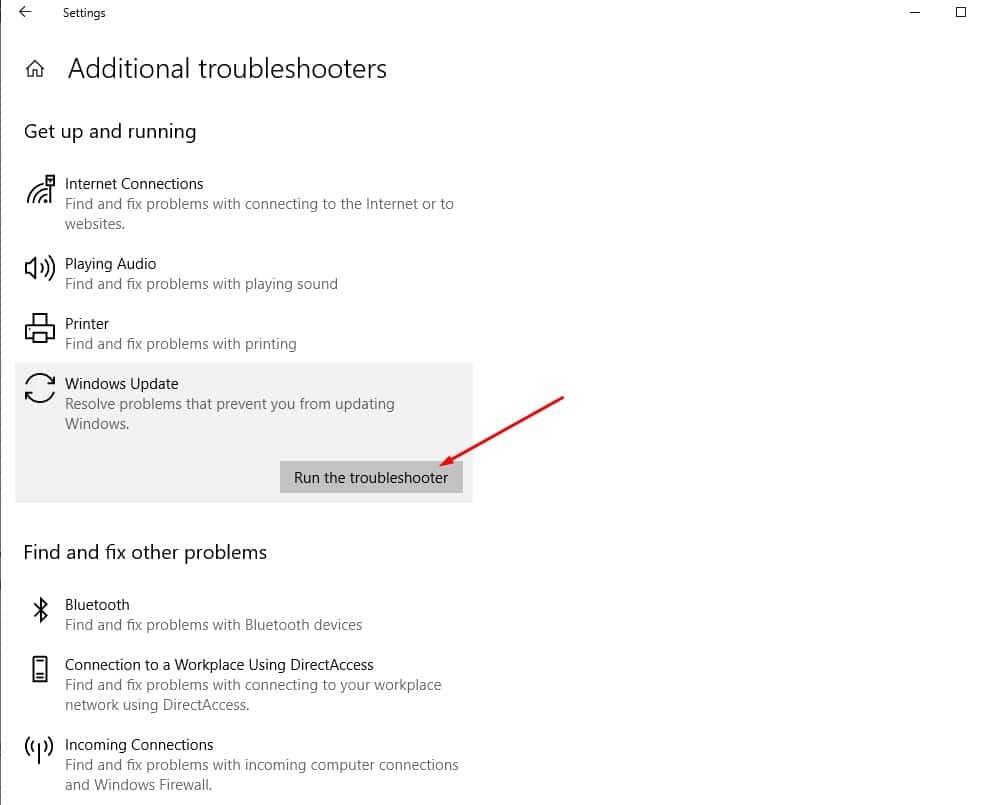 Reset Windows Update Components
It's a very useful step if you're experiencing issues with Windows updates, including when an upgrade is stuck during download. This process essentially clears the current state of the Windows Update service and allows it to start fresh.
To reset Windows Update components:
Press Windows + R, type services.msc and hit the enter key.
On Windows Services Scroll down and look for Windows update service Right-click on it and select stop.
Again Look for Background Intelligent Transfer Service (BITS) Right-click and select Stop.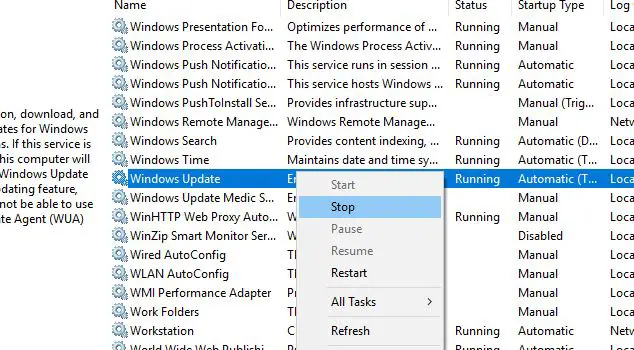 Following the steps clear the Windows update cache
Open file explorer using Windows key + E  and navigate C:\Windows\SoftwareDistribution\download.
Delete all files and folders inside the download folder (Don't delete the download folder itself) To do this by press the ctrl key + A to select all and hit the del key on the keyboard.
Note: Don't worry about these files, these are update cache files. When you next time check for Windows updates this will download a fresh copy from the Microsoft server.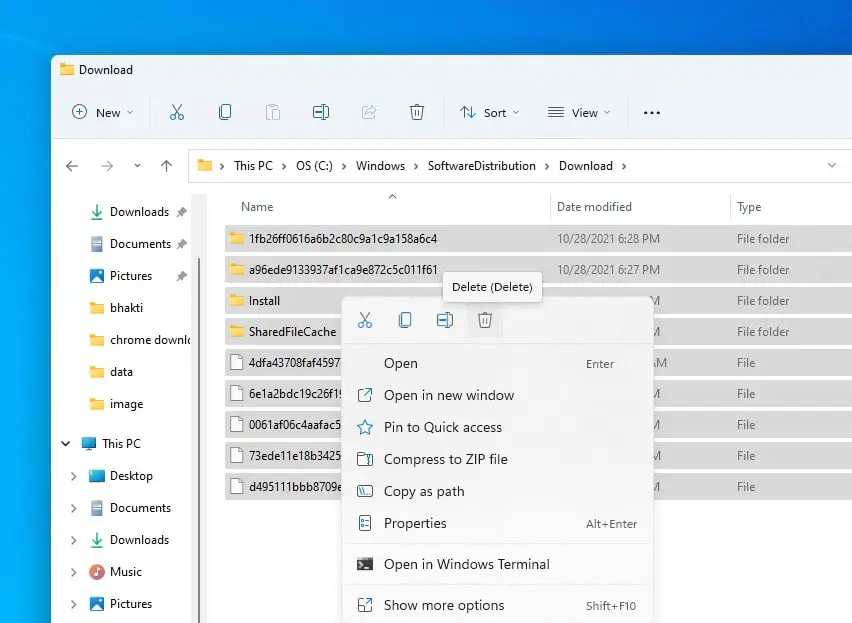 Again Open Windows Services and Start Services Which you stopped before. Simply Right-click on Windows Update service and select Start again Rightclick on Background Intelligent Transfer Service select start.
After performing these steps, restart your computer to allow the changes to take effect.
Run SFC and DISM command
When essential system files are damaged or missing, it can disrupt the update process. If you suspect that your Windows 11 system may have corrupt system files, using tools like Deployment Servicing and Management (DISM) and System File Checker (sfc) to scan and repair damaged files can be a helpful step in resolving the issue.
Repair windows image file with DISM
Open the command prompt as administrator,
type command DISM /Online /Cleanup-Image /RestoreHealth and press enter key,
DISM will connect to the Windows Update servers to download and replace any damaged files in the local image for Windows 10
Run system file checker
Open the command prompt as administrator,
Type command sfc /scannow and press enter key
This will scan your device and repair any system files using the good files from the local image to restore the health of Windows 10
You only have to wait until 100% complete the scanning process.
Use Windows 11 Installation Assistance
The Installation Assistant is designed to streamline the upgrade process and ensure that your system meets the necessary requirements for Windows 11. If Windows 11 upgrade getting stuck during download, using the Windows 11 Installation Assistant can be a helpful step to resolve the problem.
Visit the official Microsoft website and download the Windows 11 Update Assistant. This tool can help you manually install the update.
Go to the Microsoft official website to download the Installation Assistant tool.
Once downloaded, run the Installation Assistant tool. It will check your system for compatibility with Windows 11.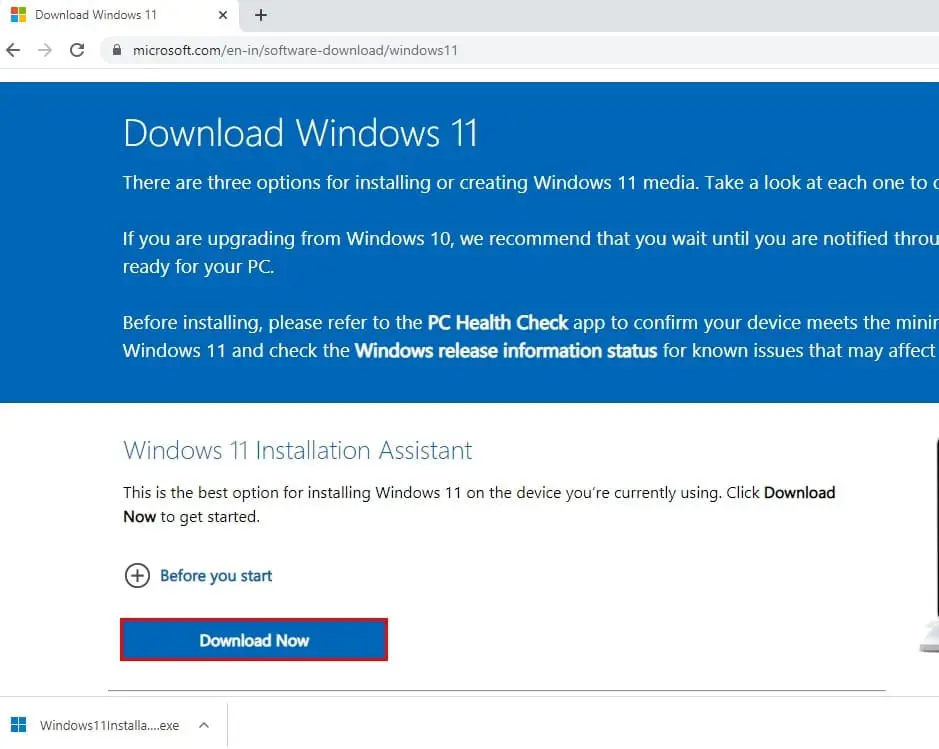 The tool will perform a quick check to see if your PC meets the system requirements for Windows 11. It will provide a summary of the results.
If your PC meets the requirements, the tool will guide you through the upgrade process. This may include downloading necessary files and performing the installation.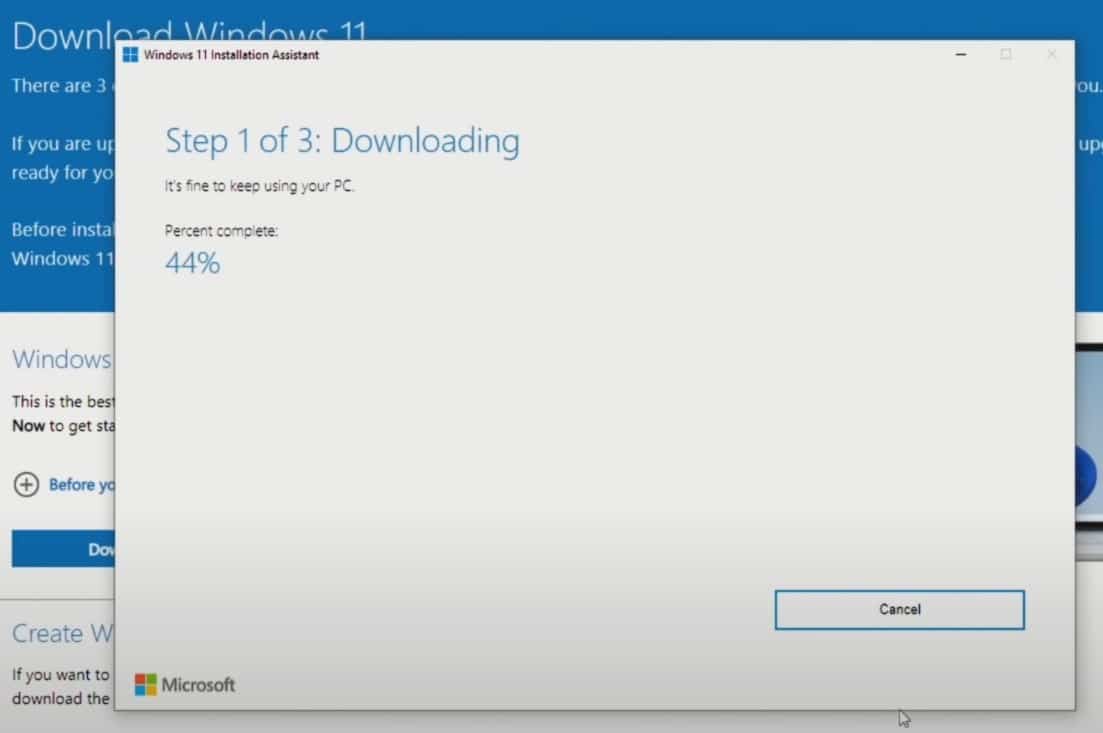 Before proceeding with the upgrade, it's a good practice to back up any important files and documents on your computer.
Depending on your system's performance and internet speed, the upgrade process may take some time. Ensure your computer is plugged in and connected to a stable power source.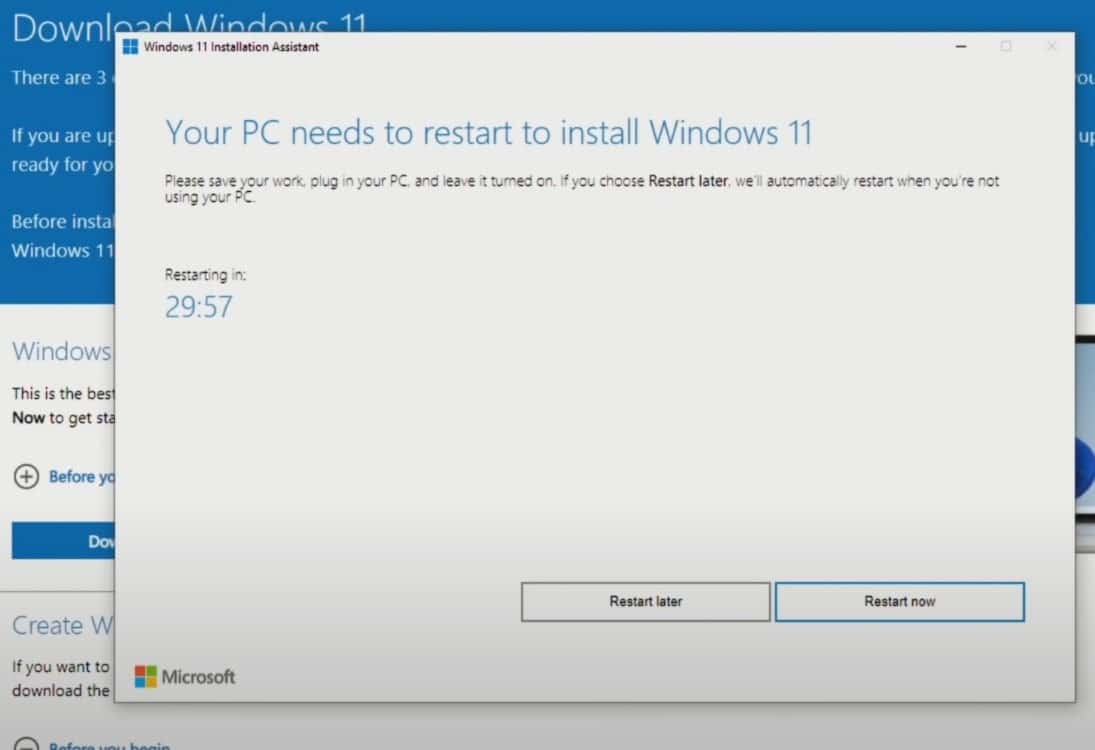 After the installation is complete, your computer will likely need to restart. Once your computer restarts, you'll be guided through the initial setup process for Windows 11.
Also, Ensure that your hardware and software are compatible with Windows 11. Some older or incompatible components may cause installation problems.
Temporarily disable all non-essential startup programs and services to prevent any conflicts that might be causing the upgrade to stall.
Again Creating a bootable USB drive with the Windows 11 installation files and performing the upgrade from it can be an effective way to bypass any download issues you may be experiencing.
Frequently Asked Questions (FAQs)
Can I cancel the upgrade if it's stuck at this stage?
Yes, if the upgrade process seems unresponsive, you can cancel it. However, it's important to resolve the underlying issue before attempting the upgrade again.
How long should I wait if the upgrade is stuck at this stage?
If it's been stuck for more than an hour, it's advisable to take action to resolve the issue.
What could be causing the upgrade to get stuck at this stage?
Common causes include conflicting software, corrupted installation files, insufficient system resources, or driver compatibility issues.
What should I do if the upgrade is stuck at "Preparing to install"?
Start by checking for any error messages or specific details provided. Then, try restarting the upgrade process or performing troubleshooting steps.
Can I roll back to my previous OS if the upgrade gets stuck?
If you're performing an upgrade, you can usually roll back to your previous OS within a specific time window. However, for a clean installation, you'd need to reinstall the previous OS.
Also read