Did you are getting VIDEO DXGKRNL FATAL ERROR after windows 10 update? This error indicates Microsoft DirectX graphics kernel subsystem has detected a violation. One of the drivers might be corrupt/incompatible Especially display/graphics drivers and hence it might not function normally and could have caused this violation. Here we have effective solutions apply to fix Video_Dxgkrnl_Fatal_Error In Windows 10.
Video dxgkrnl fatal error windows 10
Whenever you face Windows 10 BSOD error, the first thing you should remove all external devices connected to your computer and restart windows. This should fix the issue if any hardware device driver conflicts cause the issue.
Note: If due to this video dxgkrnl fatal error Windows frequently restarts, you are unable to log into the computer to detect which driver is causing this issue, we recommend boot into safe mode. This will start Windows with the default driver set and allow to perform solutions listed below.
Check for outdated Video Driver
As discussed before this blue screen of death error could be caused by outdated or incompatible graphics or display card drivers. And update or reinstalling the graphics card driver with the latest version most probably fix the problem.
Update Driver
Press Windows key + x and select Device manager,
This will display all installed driver list, look for Display adapters expand it
Right-click on your installed graphics driver Select Update driver
Next, select Search Automatically for updated driver option and click next to let windows find and install the best available driver software.
This will Check for the latest available driver if found download and install it for you itself.
Simply Restart windows and check, Problem solved.
Reinstall Display Driver
Also, Reinstalling the current driver is the best solution that worked for the number of users to fix most of the Blue Screen Errors.
Visit the device manufacturer's website (if you are using the Graphics card then visit NVIDIA, AMD, Intel etc, Otherwise visit the laptop manufacturer's website for installed desktop users visit the motherboard manufacturer's website) And download the latest available Driver software.
Open Device Manager by press win + R, Type Devmgtmt.msc and hit the enter key.
Expand the display adapter, right-click on the display driver and select uninstall,
Click yes when ask for confirmation, and restart windows.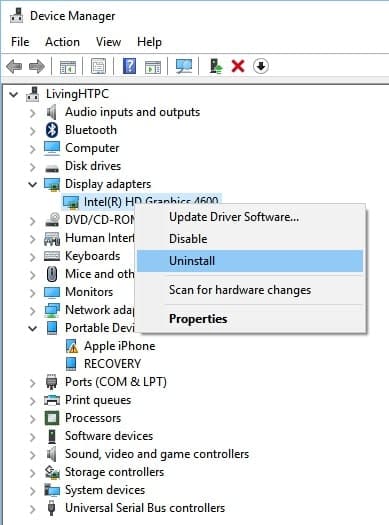 On the next login, windows will install the basic display driver automatically
Otherwise Again open Device manager click Action -> scan for hardware changes.
This will find and install a basic display driver for you.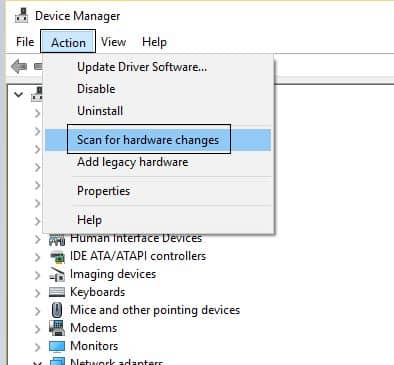 Now expend display adapter right click and select update driver
Browse my computer for driver software and set the driver path which you downloaded before from the manufacturer's website.
Click next to install the driver then restart windows to take the changes effect.
Now check VIDEO_DXGKRNL_FATAL_ERROR is fixed.
Disable Fast Startup
With Windows 10 Microsoft added the fast startup feature to reduce the startup time and make windows 10 start faster. But this feature has disadvantages that cause most of the startup problems. A number of users report after Turn of the Fast startup Feature BSOD problem solved for them.
Open Control panel, Search for and select power options,
Choose what the power buttons do
Then click Change settings that are currently unavailable
Here uncheck the Turn on fast startup (recommended) and click ok to make save the changes.
Restart windows to take effect the changes hope this BSOD error will gone for you.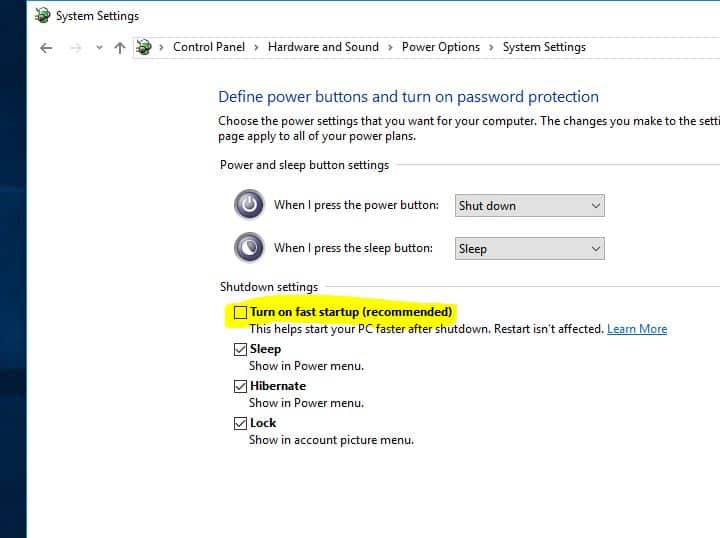 Repair Corrupted Windows System Files
Also, Any corrupted or missing Windows system files can cause this error. Run DISM restore health command and system file checker utility that probably helps restore missing system files.
Search for the command prompt, right click and select run as administrator,
Now run the command DISM /Online /Cleanup-Image /RestoreHealth
And after that run the system file checker utility command sfc /scannow
This will scan for corrupted, missing system files, if found any the SFC utility will restore them from a cache folder located on the system drive.
You only have to wait for 100% complete the scanning process then after restart windows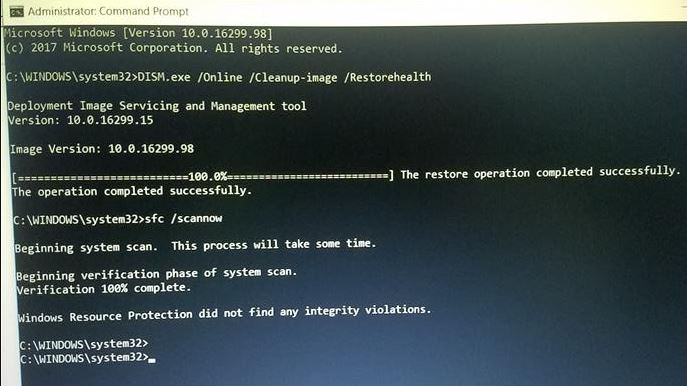 Make sure windows have the latest updates installed
Microsoft drops regular updates with lots of security improvements and bug fixes. If the problem started due to any bug Install Recent update will help to fix them. Normally Windows 10 set to install updates automatically but you can follow steps below to manually check.
Press Windows + I to open the Settings app,
Click Update and security then click Windows update,
Now click the Check for updates button,
Let windows download and install updates if available there.
And restart Windows to apply the updates.
Uninstall Recent Installed Application
If you notice this problem started recently after installing any third-party application or security software, You may try to uninstall the same and check the problem is fixed for you.
To uninstall a recent installed application
Open control panel and select Uninstall a program under programs
Now select the recently installed application and click uninstall.
After that restart windows and check there is no more BSOD error.
Check for virus infection
Also, Sometimes Virus / Malware infections can cause Different problems including BSOD Errors. We strongly recommend install good antivirus/malware applications with the latest updates and performing a full system scan.
Also, download third-party system optimizes applications like CCleaner To clear junk, Cache, and System error files and repair corrupted, Broken windows registry entries. After complete 100% scanning restarts windows and check problem is solved for you.
Perform System restore
If after applying the above methods still have the same BSOD error at startup, then it's time to utilize the system restore feature. If you face this blue screen of death after updating your PC or installing any third-party software but you can't get it, then a system restore is enough to make your PC free from video dxgkrnl fatal error. By performing windows system restore you can revert Windows system settings to a previous working state, Where windows work smoothly without any error or problem. Check how to perform System restore on windows 10 and 8.1.
Did these solutions help to fix video dxgkrnl fatal error windows 10? Let us know on the comments below, also read: