If you are going to set up your new Windows 10 computer, then you have one hard decision to make – whether to log in with local account or Microsoft account. Microsoft account offers some extra features to Windows 10 users that they cannot enjoy by logging in using a local account. But, on the contrary, Microsoft's account has few security limitations. So, which account is better for you – local account and Microsoft account? Let's find out –
Windows 10 Local Account
If you have ever signed in to your Windows 7 or XP home-based computer, then you have used a local account to do that. The name of the local account might confuse numerous users, but it is nothing special. It is just a default administrative account that you can use on a particular computer to log in. It is a permanent account of your computer system that's it.
This account has multiple benefits such as –
It's Secure:  You can set up a complex password to login into your computer. No one without your permission will be able to access your account. It is a highly secured account that can't be hacked as it operates offline.
Private: The settings saved in this account can't be accessed remotely by anyone as they are locally stored on your computer only. Your settings stay private for your use only.
Offline: To operate the local account, no internet connection is required as this account's settings are stored on your local device already. Without an internet connection or any other kind of connection, you can easily log in to your local account.
Custom Login: Your email address won't be used as login name, so it won't be displayed on the login screen when your screen locks.
If you want to keep your Windows 10 user experience similar to the previous versions, then you can keep on using a local account on your Windows 10.
How to create a local account in Windows 10?
Create a local user/administrator account on Windows 10 is a simple easy process. You can do this with few clicks by following the steps below.
Open Settings app using keyboard shortcut Windows + I,
Click on Accounts then

select 

Family & other users.
Select Add someone else to this PC.
Next Select I don't have this person's sign-in information,
On the next page, select Add a user without a Microsoft account.
Enter a user name, password, password hint or choose security questions, and then select Next.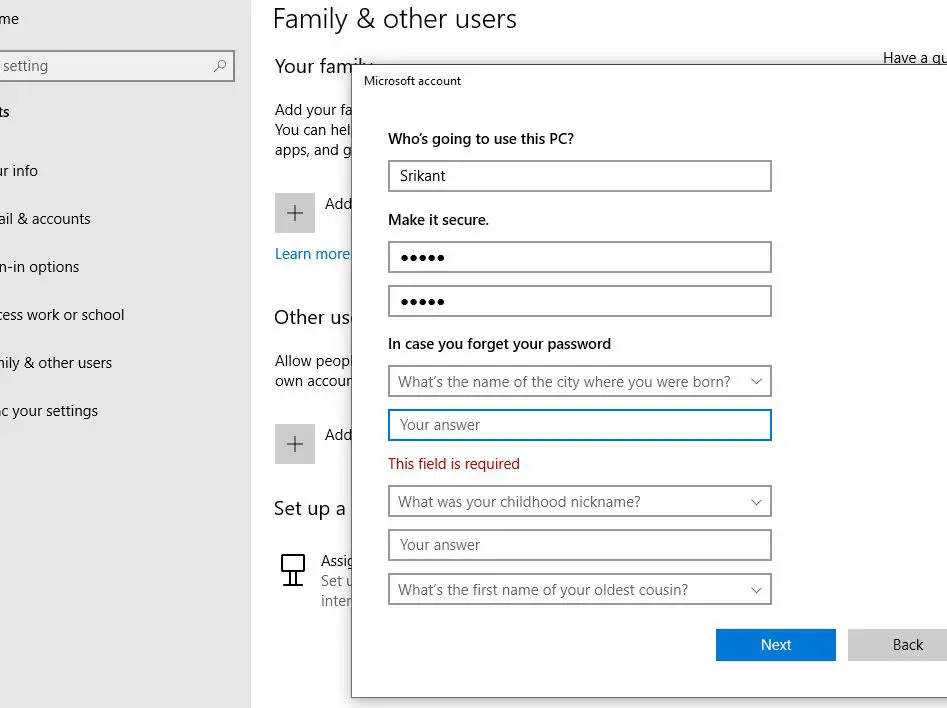 And to change the local user account to an administrator account again open Settings  > Accounts  > Family & other users
Select the account owner name, then select Change account type.
Under Account type, select Administrator and OK.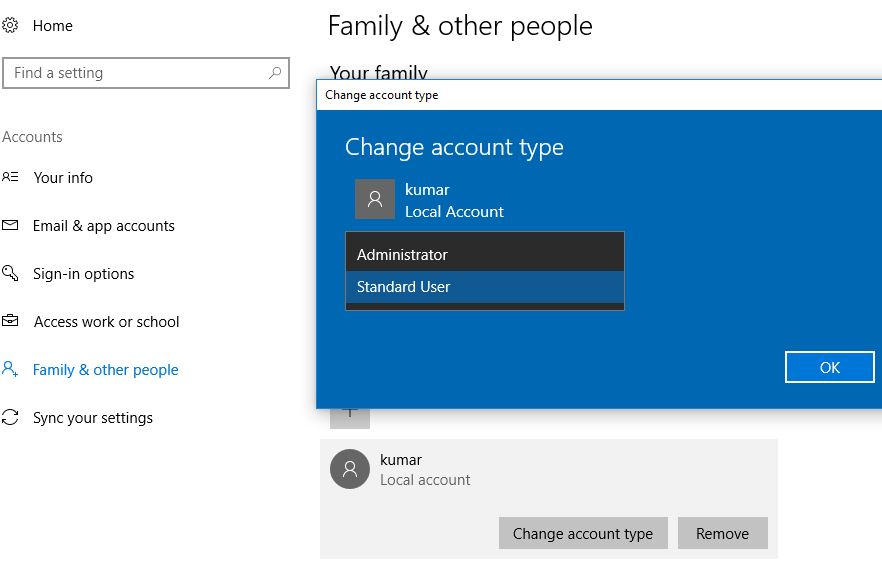 Windows 10 Microsoft Account
The Microsoft account isn't something new, it is just the new name of Windows Live ID. Users who have ever used Xbox Live, Hotmail, Outlook.com, OneDrive, or Windows Messenger services, then they already have a Microsoft account. Now, they can use all these services with just one email address and password. Using a Microsoft account, you can enjoy plenty of features offered by Microsoft with some additional perks provided by Windows 10.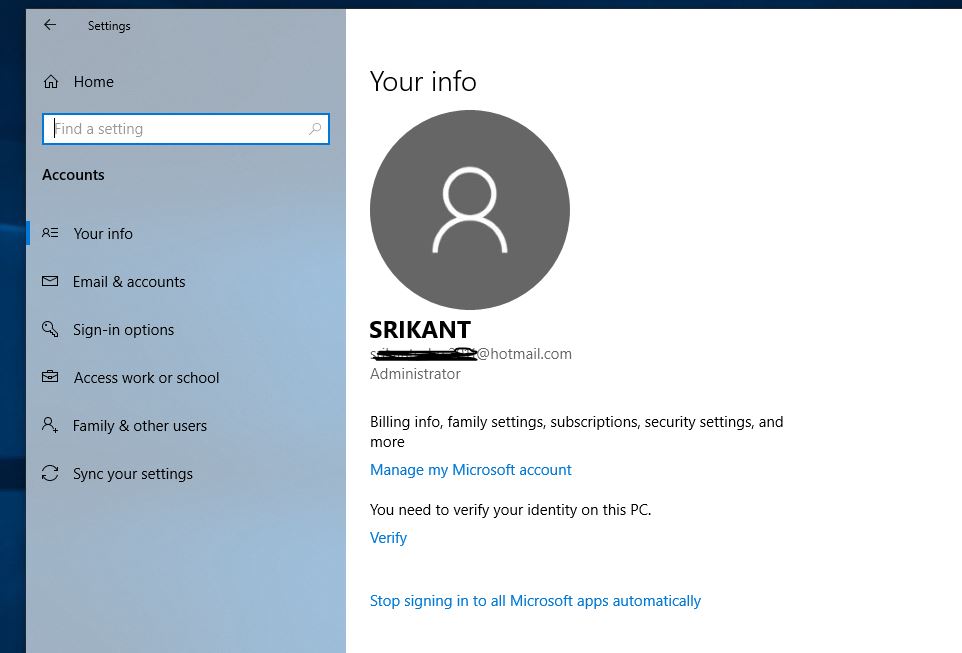 Microsoft Store – With Microsoft account, you can download different apps from the Microsoft store to your computer. Windows store works similar to the Google Play Store or Apple App Store. On the Microsoft Store, a wide range of games, entertainment, utility and other categories of apps are available. Some of the apps are free and some are paid which you can easily download on your desktop computer.
Cloud Storage – Microsoft account also offers free cloud storage of 5 GB on OneDrive. You can easily save your important files on OneDrive and access your files from any other device any time. You can even directly share files with your friends and family using cloud storage. OneDrive also provides offline editing tool to make changes in the file quickly.
Account Sync – In Microsoft account, your account settings are stored over the cloud that means your account settings can be easily synced. If you open up your Microsoft account on any other device, then your preferred account settings will be automatically transferred to the new device. Microsoft account enables you to sync your profiles, passwords and Windows store apps with just one click. It even allows you to share your wifi password with your friends and family.
Create a new Microsoft account Windows 10
If you don't have an account yet, you can create one during the sign-in process.
Go to Microsoft account and select Sign in.
Type the email, phone number, or Skype sign-in that you use for other services (Outlook, Office, etc.), then select Next.
If you don't have a Microsoft account, you can select No account? Create one!.
Microsoft recommends using an email you already have and use regularly.
Type your password and select the Keep me signed in box if you want to go straight into your account next time, then Select Sign in.
Do I need a Microsoft account for windows 10?
No, you don't need a Microsoft account to use Windows 10 or any version of Windows. But signup with Microsoft account makes things easier, Such as you can purchase paid apps from the Microsoft store, these apps are tied to a Microsoft account so you can re-download them on all your PCs. OneDrive, available on Windows 8.1 and 10, requires a Microsoft account as well.
Does a Microsoft account cost money?
There are no fees for having a Microsoft account,  it's completely free!
link local account to Microsoft account
If you are already using windows 10 with a local account but looking for link your local account to a Microsoft account here a useful video for you.
change Microsoft account to local account windows 10
Well Don't need a Microsoft account on Windows 10 you can follow steps below to switch to a traditional local account.
Open Settings, Click on Accounts then Your info.
Click the Sign in with a local account instead of option.
Type your current Microsoft account password and click the Next button.
Now type a new name for your account, and Create a new password.
Type a hint that will help you to remember your password in case you forget it.
That's all, click the Signout and finish button and login with new local account.
Conclusion
After reading the benefits of both the local account and Microsoft account, we can say that both accounts have different qualities. Both accounts have some great features, but the utility of both the accounts depends upon the requirements of their users. If you are more concerned about your privacy and security, then you should use a local account to access your computer. However, if you want functionality more in your Windows 10 user experience, then you can use a Microsoft account. It is a complete user's decision in the end.