Microsofts new AI assistant Copilot now available for Windows 11 23H2 users. Microsoft 365 Copilot also lets you use AI in Excel, PowerPoint, Word, and much more. To ensure that Windows 10 users get the AI experience, Microsoft is bringing its AI Copilot to Windows 10 soon. Today With Windows 10 22H2 Build 19045.3758 (KB5032278) Preview Microsoft confirmed the arrival of AI Copilot for Windows 10. The Copilot in Windows button will appear on the right side of the taskbar and when you select it copilot in Windows appears at the right on your screen. As per the firm, Copilot "will not overlap" with the desktop or block open app windows.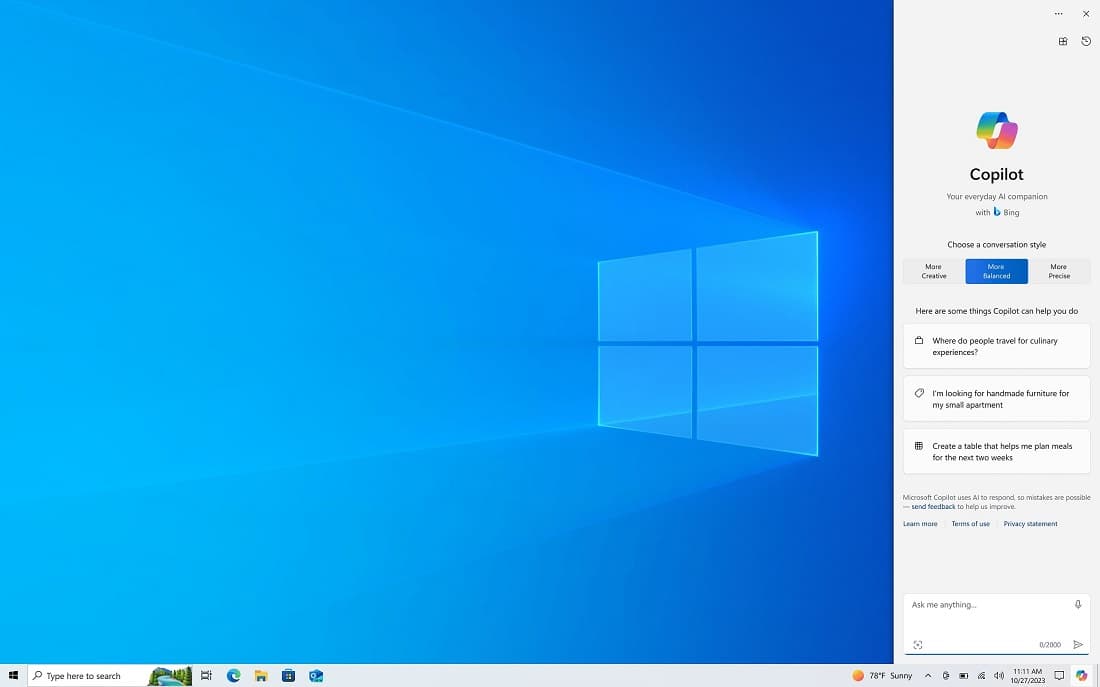 Just like the Windows 11 version, Copilot in Windows 10 will also support voice interactions, activated by clicking the microphone icon in the chat window; however, certain functionalities, such as opening apps or customizing preferences, won't be available in the Windows 10 version.
How to get Microsoft Copilot on Windows 10
To access this feature promptly, Interested Windows users can navigate to Settings > Update & Security > Windows Update and enable Get the latest updates as soon as they're available to get install "Windows Configuration update".
Note – The toggle won't be enabled for managed devices (those that are managed by Windows Update for Business or WSUS).
To prepare for Copilot in Windows on Windows 10, IT administrators can read Enable optional updates for Windows 10 devices.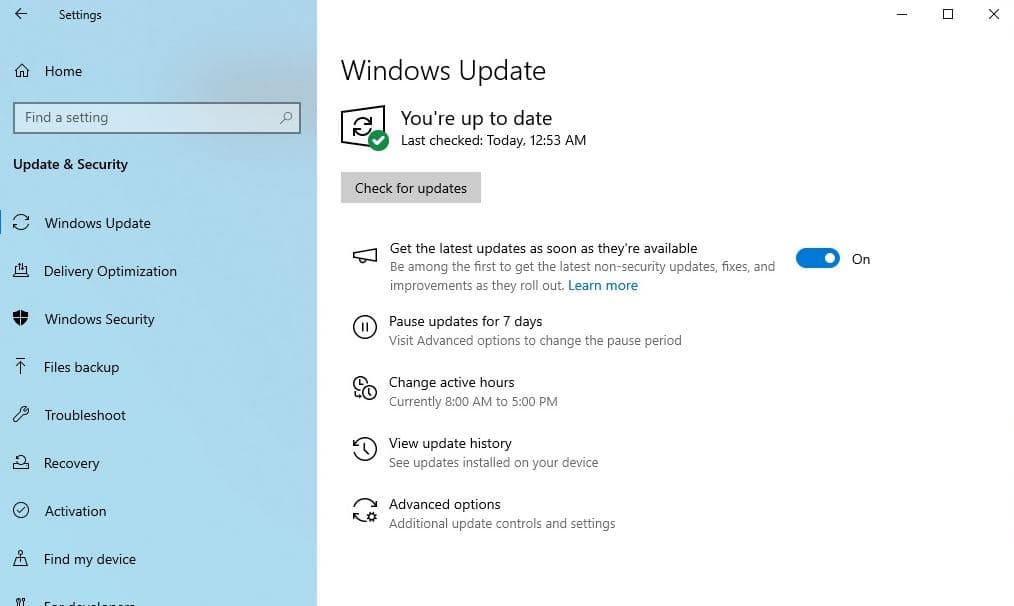 The company noted Copilot in Windows initial rollout excludes Windows 10 Pro devices managed by organizations and Windows 10 Enterprise/Education edition devices on version 22H2.
Microsoft noted Copilot for Windows 10 works on devices with at least 4GB of RAM and 720p, so if you have anything lower than the above specs, you won't be able to launch Bing Chat AI on the desktop.
"The Windows 10 end of support date of October 14, 2025, is unchanged," Microsoft says on a support page published today.
Windows 10 Build 19045.3758
In addition to introducing Copilot in Windows 10, today's build also adds new functionality that affects app defaults. Addresses several issues causes IE mode to stop responding, touch keyboard not appear during the out-of-box experience (OOBE), issue that affects Windows LAPS and more.
The news & interests feature is now larger, facilitating more effective use by displaying content on a larger scale, allowing users to focus on the content they care about most.
This update introduces Windows Update opt-in notifications on the sign-in screen, providing users with relevant information and options as they log in.
Several issues related to Internet Explorer (IE) mode have been resolved, including problems with responsiveness, modal dialogs, and cursor issues when using the WebView2Standalone XAML control.
An issue affecting the Trusted Sites Zone logon policy, which couldn't be managed using mobile device management (MDM), has been addressed.
This update addresses an issue that affects fontdrvhost.exe. It stops responding when you use Compact Font Format version 2 (CFF2) fonts.
The update includes adjustments to the Netherlands time zone, incorporating the recent man-made landmass outside of Rotterdam into the shape files.
An issue affecting non-admin processes, causing a decrease in game performance and video stuttering, has been resolved.
The update ensures proper handling of protected content, preventing the creation of cross-process windows and allowing continued use of out-of-process hosting for WebView2 under protected, top-level windows.
An issue impacting cursor movement in certain screen capture scenarios has been addressed.
The update resolves an issue where the touch keyboard might not appear during the out-of-box experience (OOBE).
Microsoft Defender for Endpoint (MDE) now enables Conditional Access (CA) scenarios, enhancing security features.
A localization issue for Great Britain English (EN-GB) locales has been addressed, correcting the error message for invalid characters in a new Windows Hello PIN.
The update addresses a leak in volatile notifications that could prevent users from signing in to their machines.
An issue with the PasswordExpirationProtectionEnabled policy in Windows LAPS failing to turn on the setting has been resolved.
Also, read:
Source: Windows Blog