GPT-4, short for Generating Pre-trained Transformer 4, is the most powerful "multimodal" language model developed by OpenAI. It's multimodal, meaning it can interpret not only text but image inputs as well. To access this advanced language moded you need to subscribe to ChatGPT plus for $20/Month. But you can use ChatGPT 4 for free on Windows 11, generate images, and more. Here is how to use and access it.
ChatGPT 4 free on Microsoft Copilot
After the release of GPT-4 by OpenAI, Microsoft confirmed that Copilot incorporates the new GPT-4. Since Microsoft Copilot is free on Windows 11, you can operate GPT-4 for free by accessing Copilot on Edge or Windows 11.
Edge Copilot is a new feature of Microsoft Edge that lets you chat with Bing in different modes, including the "Creative" mode that uses ChatGPT 4. Here is how to access and use Edge Copilot, and how to generate amazing content, and images with GPT-4 and Dall-E 3.
Edge copilot Creative mode uses GPT-4 and Dall-E 3 to generate creative content such as poems, stories, code, images, and more.
What is Edge Copilot?
Edge Copilot is a chat mode of Microsoft Bing search that you can access from clicking on the icon at top right of Microsoft Edge. It allows you to interact with Bing in a natural and conversational way, and get answers, information, suggestions, and more.
Edge Copilot has three modes: Balanced, Creative, and Precise. Each mode has different capabilities and limitations, depending on your needs and preferences.
The Balanced mode is the default mode that gives you informative, logical, and actionable responses. The Precise mode is for when you need accurate and factual answers, such as for homework or research. The Creative mode is the most exciting one, as it uses GPT-4 and Dall-E 3 to generate creative content such as poems, stories, code, images, and more.

How to access Edge Copilot?
To access Edge Copilot, you need to have Microsoft Edge installed on your device. If you are Windows 10 or 11 users Microsoft Edge is preinstalled on your device. Edge Copilot works on Windows, Mac, Android, and iOS devices.
macOS → install Microsoft Edge available for ARM and Intel
Android → install Microsoft Edge from Google Play
iOS → install Microsoft Edge from the App Store
Microsoft Edge Download (For Windows, macOS, iOS, and Android)
Then open Copilot by clicking on the icon at the top right on laptop and bottom center on mobile. You can even select the most suitable mode.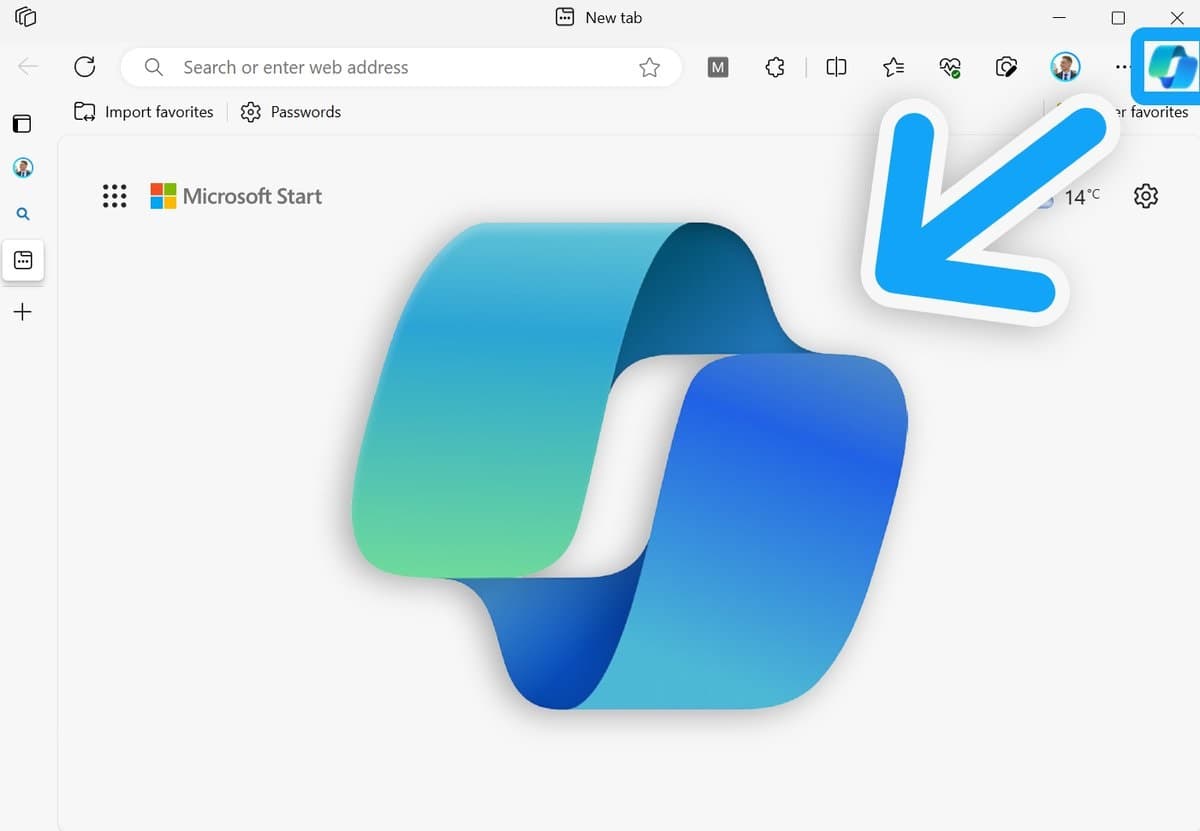 How to use GPT-4 on Edge for free?
Edge Copilot is based on Bing Chat. To use ChatGPT 4 on Edge for free, you need to select the "Creative" mode of Edge Copilot. Then you can enter your prompt or query in the chat box, and wait for Bing to respond. Bing will use ChatGPT 4 to generate a response that is interesting, entertaining, and engaging.
You can ask Copilot to perform a specific search before replying.
Example: "Search the internet for the latest announcements made by OpenAI and summarize them in short, easy-to-understand bullet points".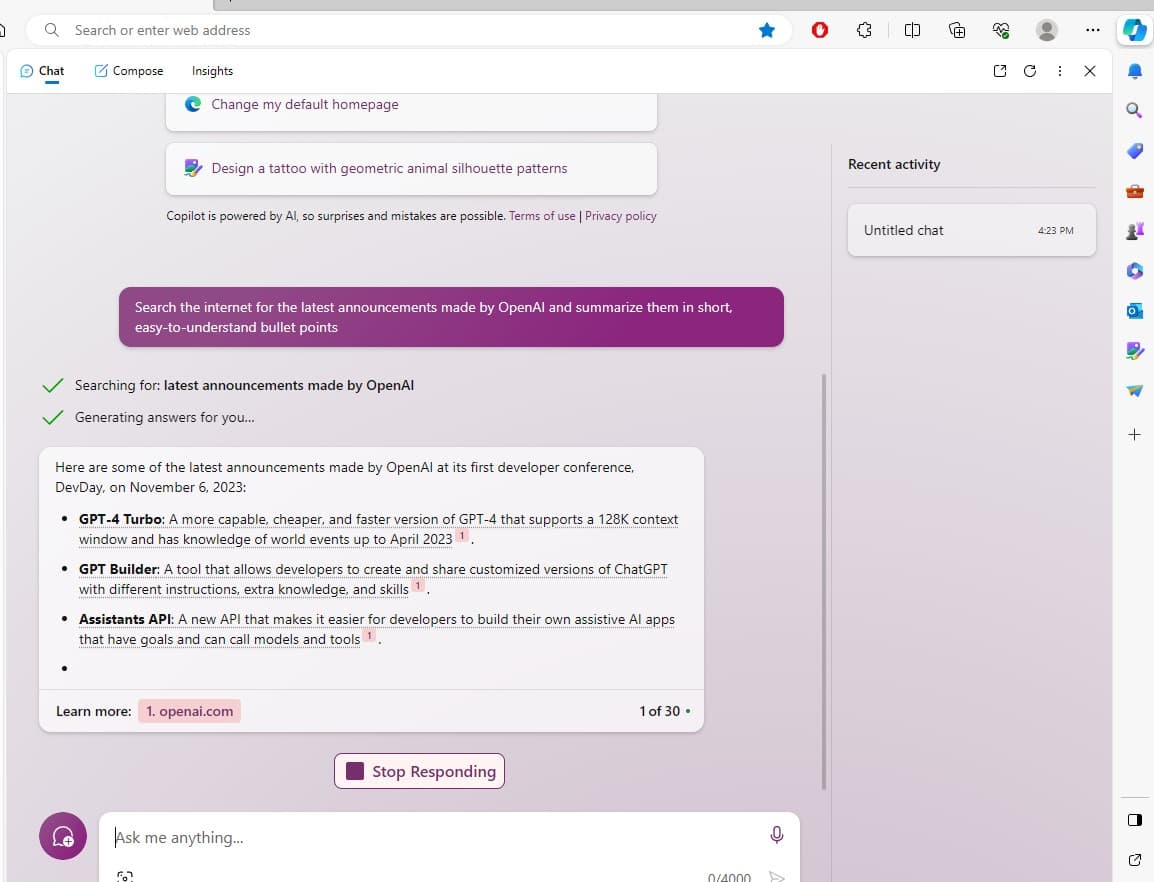 Summarize and explain web pages
You can also ask Bing to help you with rewriting, improving, or optimizing your content. For example, if you want to summarize and explain a web page, Go to the web page you want, Click on the Copilot icon, and ask Bing to summarize it for you. Bing will use GPT-4 to generate a concise summary of the web page and explain its main points.
Here is an example of how Bing summarized and explained this web page: https://windows101tricks.com/microsoft-paint-app-features/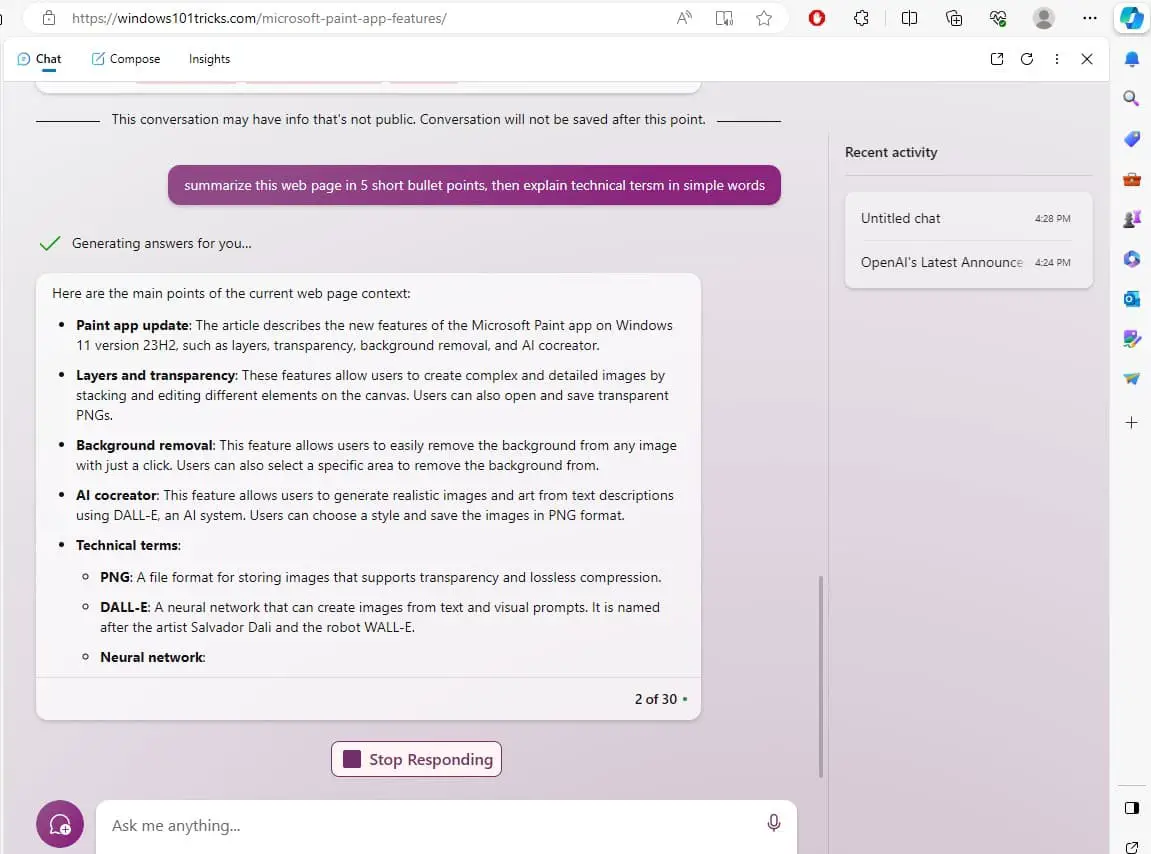 Note: You can also generate new content from the web page. For example, ask Copilot to "Write a new blog post introduction that summarizes this information".
Generate images with Dall-E 3
Also, you can use edge copilot (creative) mode to generate AI images using DALL-E.
Start your prompt with "Create an image:" to use Dall-E 3 for free.
You can type Create an image: a futuristic cityscape at sunset You can also make modifications to the image just generated.
Example: "Add a plane to the sky". All that's left to do is save your image or share it directly from the chat.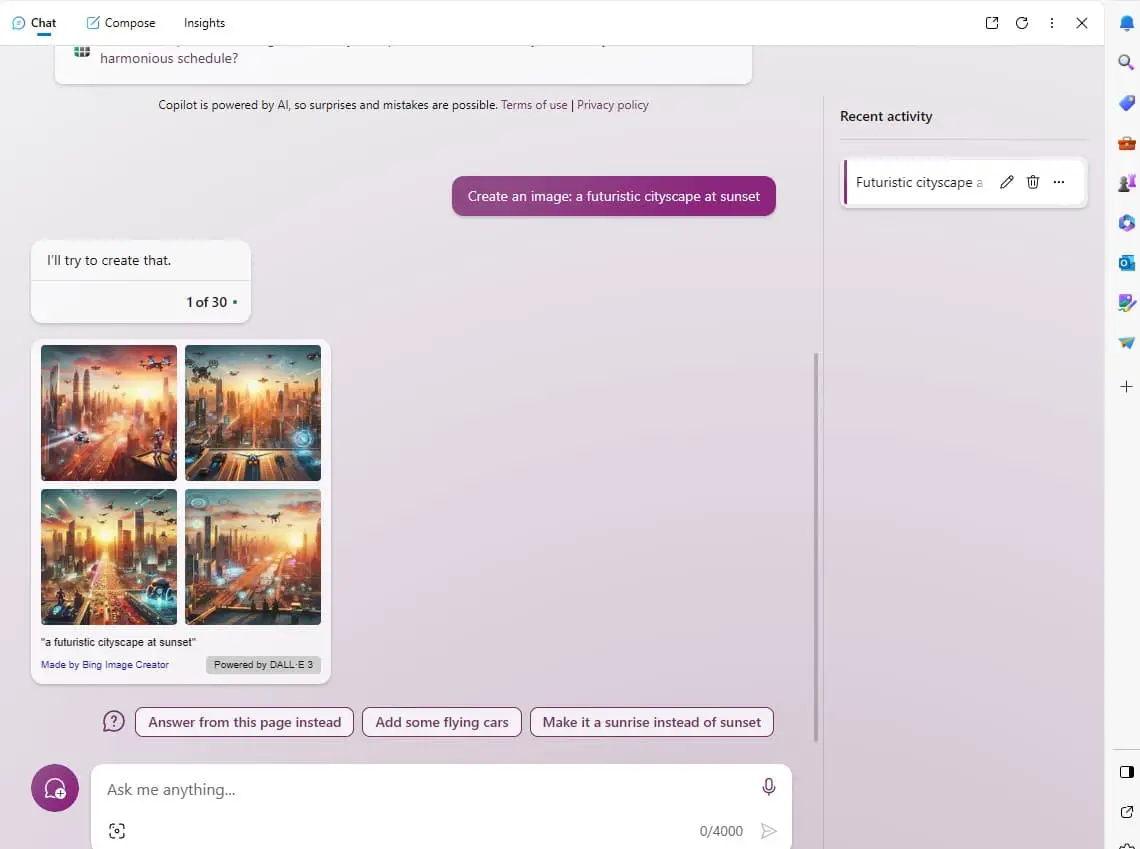 Using ChatGPT 4 on Perplexity AI
Perplexity AI, an AI-powered search engine, integrates the advanced GPT-4 model through its Co-Pilot feature to enhance search results and information. To access ChatGPT 4 on Perplexity AI:
Visit the official Perplexity AI website and sign up for an account.
On the main page, toggle on the "Copilot" option in the search bar to enable the GPT-4 model.
Enter your query, and Copilot will utilize GPT-4 to provide detailed and relevant information. Free users can ask five questions every four hours.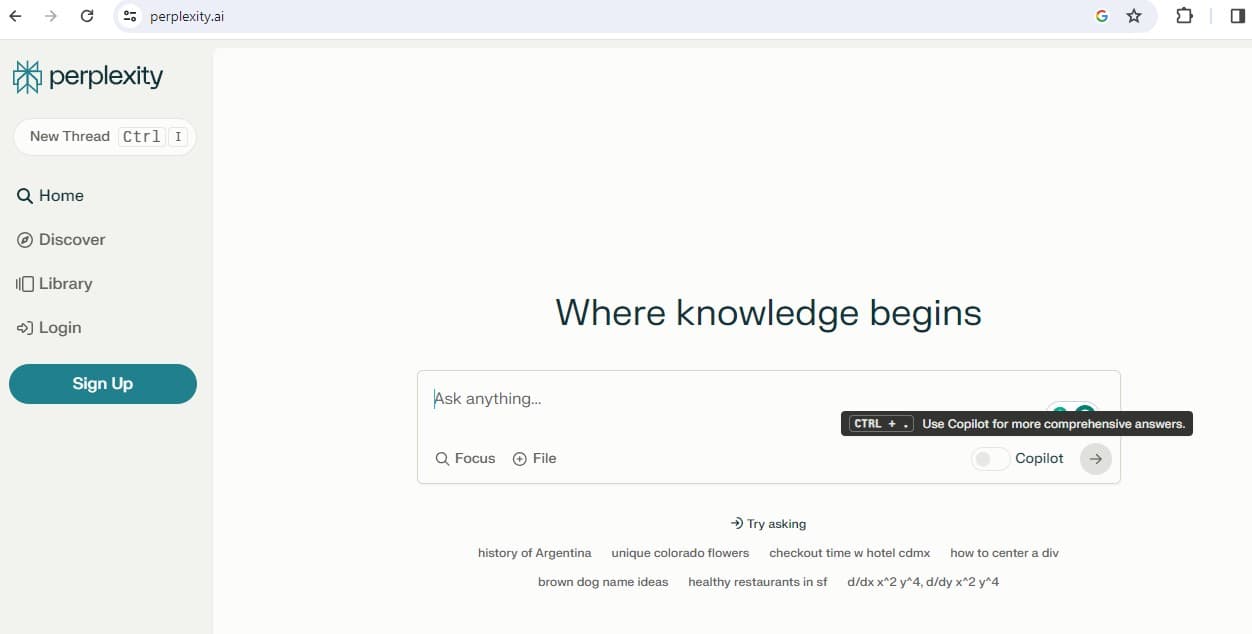 AI Dungeon is a free online platform using ChatGPT to generate content for text-based adventure games. Users can engage with AI in an open-world setting, explore new worlds, create stories, and improve their ChatGPT 4 (GPT-4) skills.
Ora.sh is a web-based platform allowing users to quickly create LLM applications using a chat interface. Recently, Ora.sh introduced a cost-free feature to experiment with the ChatGPT 4 model, offering unrestricted access without message restrictions or waiting time.
ALSO READ: