This article is all about how to download the Microsoft Edge browser offline installer and install it on windows 11 or windows 10.
The latest Microsoft Edge browser is based on the Chromium project and it uses the same blink engine used by Google Chrome. It's the default browser for the latest Windows 11 and Windows 10 that comes preinstalled with the latest version or Windows 11 version 22H2. Microsoft Edge is a fast and secure browser that helps you protect your data and save time. The built-in features like startup boost and sleeping tabs make the browser startup quicker and boost the browsing experience. Recently The company updated the Microsoft Edge browser Version 113.0.1774.35 which brings lots of new changes and bug fixes and improvements to the browser.
The new Edge is based on the Chromium open source project, an open-source web rendering engine developed by Google, which is also the engine behind Chrome, Opera, Amazon Silk, and many other browsers and that makes new edge similar to Google Chrome in that regard.
Microsoft Edge 113
The latest version of Microsoft Edge is 113.0.1774.35  available on May 06, 2023, and features lots of improvements and security patches.
Microsoft Edge 113 is a Fast and Secure browser that helps you protect your data and save time.
The built-in features like startup boost and sleeping tabs make the browser startup quicker and boost the browsing experience.
There is a new sidebar that allows you side by side access to your Outlook, so you can keep a tab on your inbox or check your calendar without having to switch between tabs or apps.
You can now quickly share files across devices with Drop. Just select the Drop icon in the sidebar on your desktop or in the Microsoft Edge mobile menu.
Technical Details of the Browser
Application Name: Microsoft Edge
Publisher: Microsoft
Category: Web Browser
Latest Build: Version 113.0.1774.35 (Official Build) (64-bit)
Size: Around 138 MB for 32/64 bit.
Supported OS: Windows 11, Windows 10
Installer Type: Offline Installer
Note – Microsoft Edge 111 and later browsers will no longer be supported on Windows 7, 8 and 8.1
Edge 113 includes two security patches CVE-2023-29350 and CVE-2023-29354 that make the browser vulnerable to hacking.
What's new?
In this release,  Microsoft Edge brings Improvements to enhanced security mode, which provides an extra layer of protection when browsing the web and visiting unfamiliar sites.
There is a new update mechanism for macOS, the automatic update process will be switched from "Microsoft Autoupdate" to "EdgeUpdater for macOS". Only if you've changed your Microsoft Autoupdate settings to prevent Edge from auto-updating, you may need to take action.
 If you use update preferences for Microsoft Autoupdate to prevent browser updates, you will need to transition to the new EdgeUpdater UpdateDefault policy before Microsoft Edge 113 to prevent future automatic updates.
Also, there is a new "RestorePdfView" policy added to control the PDF viewer from restoring to the previous state when "Edge" is opened.
When enabled or if the policy isn't configured, Microsoft Edge will recover the last state of PDF view and land users on the section where they ended reading in the last session.
Additionally, the MicrosoftRootStoreEnabled policy has been updated to work on Edge 113 and Edge 114 as well. This policy is used to switch whether the verification process of the certificate used when establishing a connection to the HTTPS server is left to the OS or performed on the "Edge" side.
New policies
This version of the web browser didn't support Windows 7 and Windows 8.1, earlier this week Microsoft dropped support for the two operating systems and recommend upgrade Windows 11 or 10.
You can read the complete changelog Microsoft Edge support site here.
Download Microsoft Edge 113.0.1774.35
If you are running Windows 11 or Windows 10 you'll eventually get it in a future update. Also, you can download the stable version for Windows 11, Windows 10, and macOS directly from microsoft.com/edge in more than 90 languages.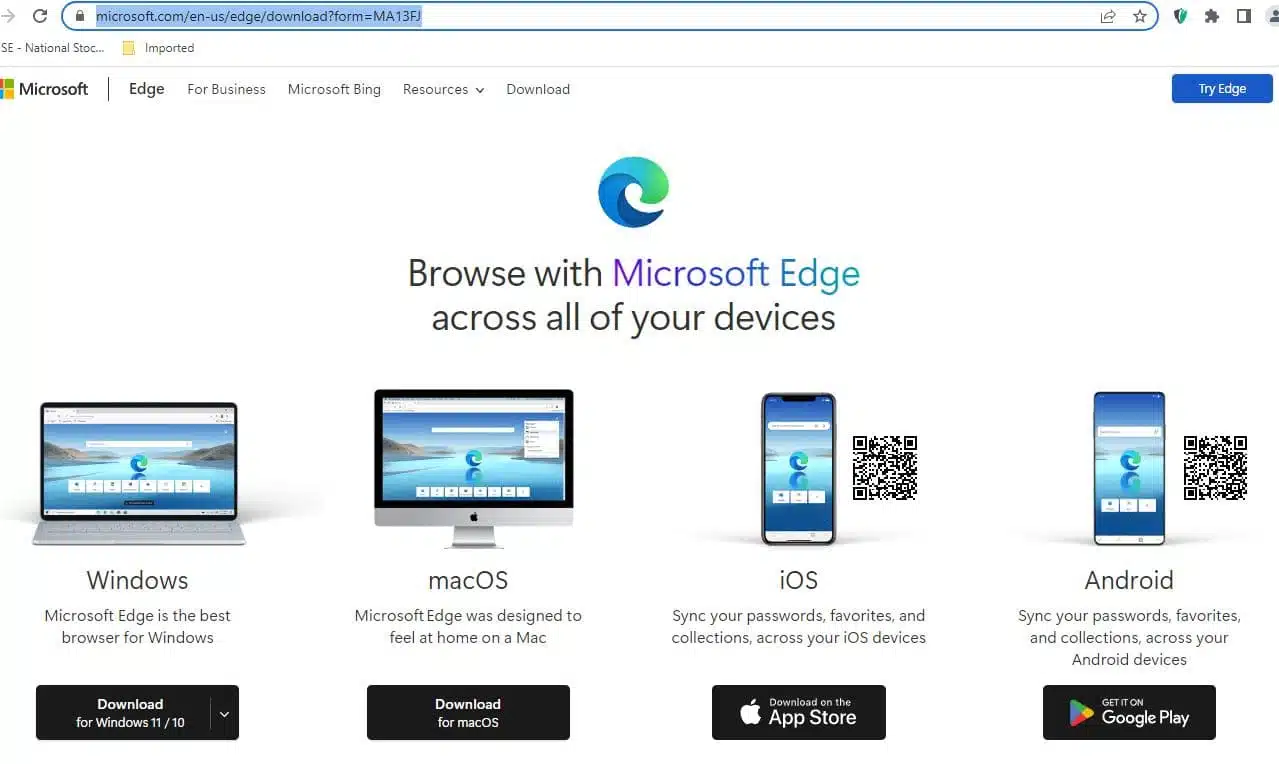 If you are already running Microsoft Edge on your computer, you can type edge://settings/help on the address bar and press enter key to update the browser with the latest version.
Also, you can download Microsoft Edge Offline Standalone Installer
Download: Microsoft Edge 113.0.1774.35 Stable (offline installer) 32-bit (127 MB)
Download: Microsoft Edge 113.0.1774.35m Stable (offline installer) 64-bit (139 MB)
Download: Microsoft Edge 113.0.1774.35 Stable (offline installer) ARM 64-bit (137 MB)
Download: Microsoft Edge 113.0.1774.35 Stable for Linux 64-bit (133 MB)
Download: Microsoft Edge 113.0.1774.35 Stable for MacOS 64-bit (331 MB)
Download: Microsoft Edge for iOS
Download: Microsoft Edge for Android
You can download the offline installer to install the Microsoft Edge browser on multiple computers without an internet connection.
Installing Edge manually
The following steps listed here are also applicable to Windows 10, 8.1, and 7 as well.
Open the Chromium Microsoft Edge download website.
Click the download for Windows 11/10 button
Locate the download file, right-click on it select Run as administrator, Click the Accept and Download button
Double-click the file to launch the wizard and install Microsoft Edge Chromium.
Once you complete the steps, the new Edge browser will install replacing the legacy version.
Click the Get Started button.
Select the new tab experience:
Inspirational: Sets background image on a page that includes a search box and quick access to your most frequent websites.
Informational: Sets a background image on the page with a search box, and you get access to the latest news headlines curated by Microsoft News.
Focused: This option is similar to the "Inspirational" but without the background image.
Follow on-screen instructions to Customize the sync settings option and select the items you wish to sync And finally, you will get the new chromium edge.
New chromium edge features
The new chromium edge browser also comes with several new features as well. Here are some of the exciting features introduced on the new Edge browser for Windows 11/10.

Tracking prevention
Talking about features latest Microsoft Edge comes with new privacy-focused features such as tracking prevention, which is enabled by default to limit tracking through ads and cookies. You can manage this setting from the Edge -> Settings -> privacy and Services section.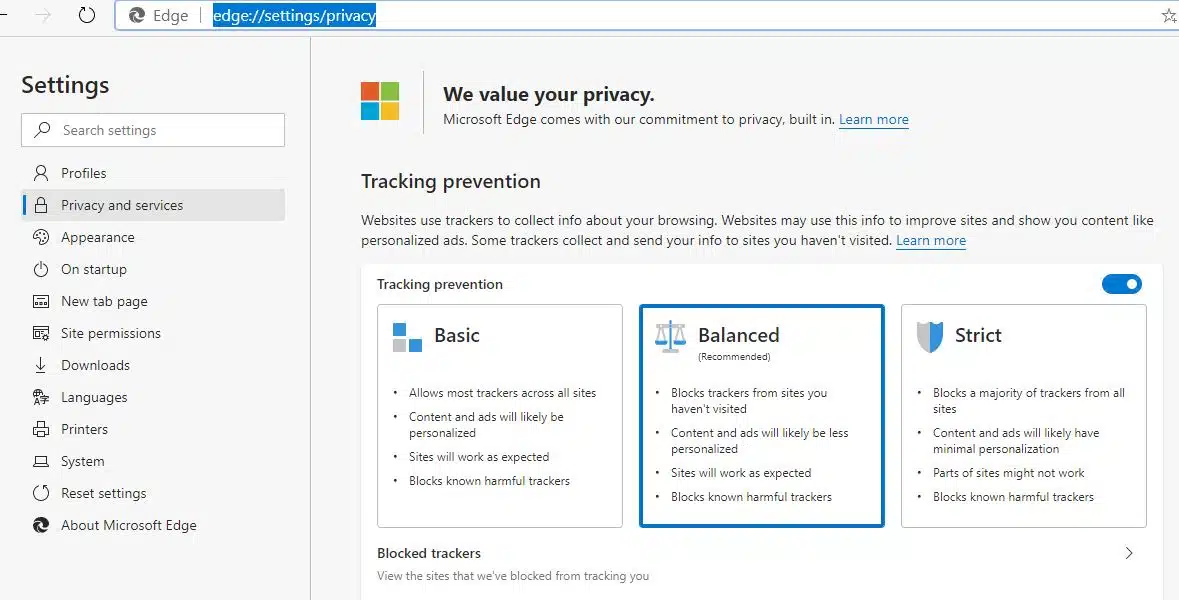 Custom page layout
Also, there is a new tab page layout that lets users choose which types of news they want to be seen on their new tab screen. You can manage the same using setting or from settings -> New tab page then select focused, inspirational, informational or customize your setting. Here also you can adjust the content language as well.
Install Chrome extensions
The new Edge is based on the Chromium project (open-source platform) it also means that the new Microsoft Edge is now compatible with many features available for Google Chrome users, including extensions. Yes, now you can use Chrome extensions on the Edge browser well.
Microsoft Edge has its own store to download extensions but you can also install an extension that is designed for Chrome and available on the Chrome web store. But before this, you need to enable the option to install extensions from other stores from the "Extensions" settings.
Similar to the legacy version of the Edge browser, the new version includes a dark theme option. And within the "Appearance" settings you can switch between the light or dark mode. And select the "System default" option, which allows Edge to switch theme colors when you change the color scheme of Windows 11 using the Settings app.
Further, Microsoft has provided AAD support, Internet Explorer mode, 4K Web streaming, Dolby audio, inking in PDF, support for Chrome-based extensions, and Microsoft Search in Bing integration among various others.
| Edge Version | Release Date | Features |
| --- | --- | --- |
| Edge 113 | 06-may-23 | Improvements to enhanced security mode, a new update mechanism for macOS, PDF View Recovery Policy, and updates to certificate policies. |
| Edge 112 | 06-Apr-23 | Introduced Browser Essentials in place of the Performance Hub, improvements to enhanced security mode and some policies. |
| Edge 111 | 11-mar-23 | Introduces Adobe Acrobat PDF features, A New Microsoft Edge Sidebar, and Microsoft Edge built-in PDF reader powered by Adobe Acrobat enabled. |
| Edge 110 | 9-Feb-23 | Introduces Immersive Reader policies, Azure Active Directory synchronization, Drop feature to share files, and several security updates. |
| Edge 109 | 13-Jan-23 | 14 security updates, 8 new policies, and 2 deprecated policies. |
| Edge 108 | 5-Dec-22 | Important security fixes, a new policy to disable Web Select amongst others. |
| Edge 107 | 27-Oct-22 | Improved sidebar, new policies, and security fixes. |
| Edge 106 | 3-Oct-22 | Improved web defense and increased the maximum number of search results to 4 |
| Edge 105 | 2-Sep-22 | Improvements to IE mode and enhanced security |
| Edge 104 | 5-Aug-22 | Support to import data and enhanced security on the web |
| Edge 103 | 23-Jun-22 | Improvements for online and web gaming |
| Edge 102 | 31-May-22 | With reverse image search and security improvements |
| Edge 100 | 1-Apr-22 | Sends 3-digit user agent string, PDF updates, and hardware-enforces stack protection |
| Edge 99 | 3-Mar-22 | Custom primary password and PDF navigation |
| Edge 98 | 4-Feb-22 | Edge Bar, reduced resource consumption |
| Edge 97 | 6-Jan-22 | Auto-citation, endpoint data loss prevention (DLP) |
| Edge 96 | 10-Dec-21 | Super duper secure mode, typosquatting |
| Edge 90 | 15-Apr-21 | SSO, PDF printing |
| Edge 88 | 21-Jan-21 | Password generator, transparent privacy controls |
Also read:
Source: Microsoft support