Recently Microsoft has released a new Windows 11 preview build 25227 for insider users and is now available for download to all dev and beta channels. The latest update brings several new features, changes and improvements for key areas of the Operating System, along with a long list of fixes and known issues. Here in this post, we have listed the complete list of changes that windows 11 build 25227 brings.
What's new Windows 11 build 25227?
The latest preview build for windows 11 ships with many fixes and improvements. The Microsoft Store application updated to include a new features, Microsoft has also made changes to the widgets flyout, several changes to the Windows Update management and more.
With today's Build 25227, Microsoft is testing minor changes to the Start menu and Widgets board. Microsoft is experimenting with various new layouts for the header and wants to find out where the best position for it is. Also there is monoline icons in the widgets board for a more clean and consistent look to improve user experience.
In addition changing the partition type in the disk management under System > Storage > Disks & Volumes > Disk Properties, you are now warned of possible data loss.
Updated the ethernet and Wi-Fi property pages in Settings to show gateway information in the network details summary.
Additionally, those of you who use voice typing can now sync Automatic punctuation and Voice typing launcher settings across all devices using the same Microsoft account. You can adjust this behavior from Settings > Accounts > Windows backup > Remember my preferences > Accessibility.
Also, Microsoft made a change to allow you to contribute your voice clips to the company again even if on-device speech recognition is used.
All Insiders can now use the clipboard history (Win + V) on password fields,
Refer to this video to get more information on whats new on windows 11 build 25227.
Also there is new update for microsoft store that brings "popup trailers" for games and movies. You can use it to preview the video trailer from the overview without opening the detail page.
In addition, various group policies have been added and adjusted for admins. That inlcude, allow IT administrators manage the quality and feature updates separately.
General fixes and improvements
Fixed an issue which was causing some Insiders to not be able to upgrade to recent Dev Channel builds, with error 0xC1900101.
Fixed an issue that was causing explorer.exe to crash while switching between apps on the tablet-optimized taskbar.
Start's touch gesture should now follow your finger correctly with the tablet-optimized taskbar.
Improved how touch gestures and their animations with the tablet-optimized taskbar work with the touch keyboard.
You can now swipe up from within the taskbar with a pen to expand the tablet-optimized taskbar.
Fixed an issue causing explorer.exe to crash when dragging icons in the system tray.
Right-clicking system tray icons should no longer cause the auto-hidden taskbar to hide incorrectly.
The show hidden icons panel in the system tray should no longer block context menus opened after it.
Fixed an issue where the first time you tried to open Quick Settings from the system tray it wouldn't work.
Fixed an issue that was preventing system tray icons from updating in real time.
Since this is an early build, it ought to have some issues. Microsoft has disclosed them in its Windows Blog here.
Windows 11 system requirement
Unlike Windows 10, which is specially designed to run on older hardware, windows 11 require relatively new hardware and does not install on older computer. Windows 11 also require a hardware security component called Trusted Platform Module (TPM), along with UEFI firmware (no legacy BIOS allowed) and Secure Boot.
Microsoft official recommends the following system requirements for install the latest windows 11.
8th-gen core CPU and newer, along with AMD Ryzen 2000 chips and up. ARM, Qualcomm Snapdragon 850, Snapdragon 8cx Gen 2, and newer are also supported.
At least 4GB of system memory (RAM).
At least 64GB of available storage.
A graphics processor that is compatible with DirectX 12 and Windows Display Driver Model (WDDM) 2.0 or greater.
A monitor or display with at least 720 dots per inch resolution.
TPM – Trusted Platform Module (TPM) version 2.0
Download Windows 11 build 25227
The update is available to download in dev and beta insider channel. If you have already enrolled windows 11 beta or dev channel head over to settings then Update & security. Click on windows update then check for the Updates button to download and install Windows 11 build 25227 on your device. You need to reboot your system apply the changes.
You can upgrade to this build by subscribing to the Dev channel, or by performing a clean install using the ISO image Microsoft has provided for this release. You will get the Windows 11 Build 25227 ISO here.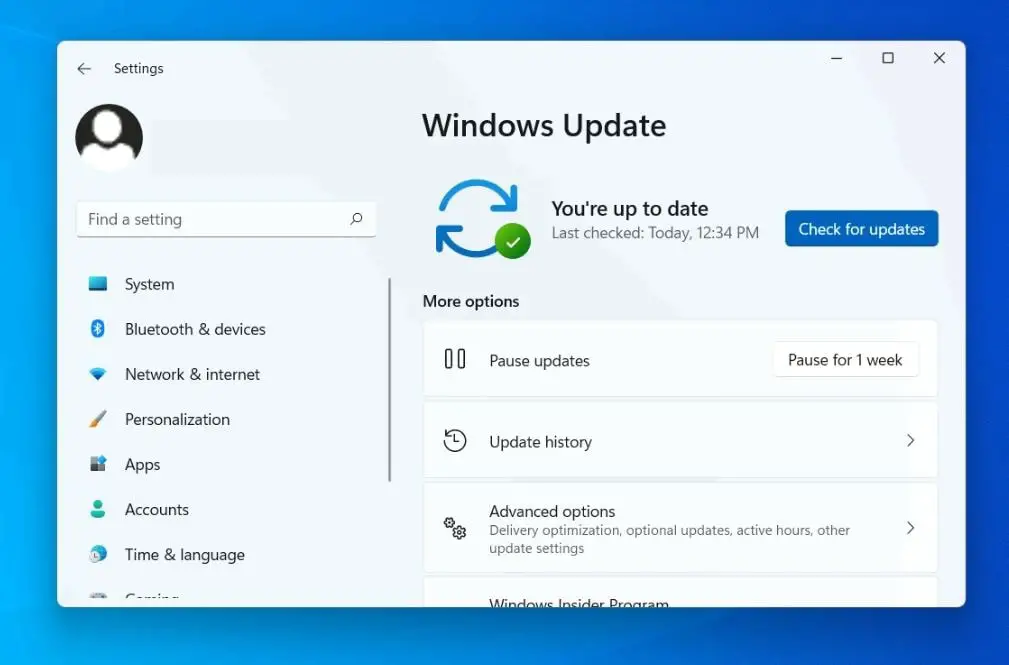 If you are looking for the latest Windows 11 ISO, get it from here.
Once the Windows 11 ISO is downloaded use third-party tools like Rufus to create a bootable media and install windows 11 on your device.
Windows 11 Insider Preview updates history
| Build | Features added |
| --- | --- |
| Windows 11 Build 25227 | Improvements to Windows Update management, pop-up trailer preview in Microsoft Store, monoline icons in widgets board. |
| Windows 11 Build 25217 | Supports third-party widgets, new video calling experience in the taskbar, Simplified Chinese IME cloud suggestions, and Microsoft Store improvements |
| Windows 11 Build 25211 | New Widget Settings and Widget Picker, New Outlook for Windows experience, Task Manager in the taskbar context menu |
| Windows 11 Build 25206 | SMB authentication rate limiter and dynamic refresh rate |
| Windows 11 Build 25201 | Expandable widgets board and sign-in option in Game Pass widget |
| Windows 11 Build 25197 | Tablet-optimized taskbar restored, animated icons introduced in the Settings app, system tray icons updated |
| Windows 11 Build 25193 | New Braille support for Narrator and Xbox subscription management from the Settings app |
| Windows 11 Build 25188 | Intelligent touch keyboard when the physical keyboard detached |
| Windows 11 Build 25169 | Added App lockdown feature |
| Windows 11 Build 25126 | Improved account settings page |
| Windows 11 Build 25120 | Added search widget on Desktop/ |
| Windows 11 Build 25115 | Added suggested actions feature |
| Windows 11 Build 22616 | Improved Xbox controller bar |
| Windows 11 Build 22598 | Improved Windows Media Player, Windows Spotlight default background |
| Windows 11 Build 22593 | Homepage to Windows Explorer |
| Windows 11 Build 22579 | Allows naming start menu folders |
| Windows 11 Build 22572 | Introducing Microsoft Family and Clipchamp |
| Windows 11 Build 22567 | Smart App Control, Focuses On Renewable Energy |
| Windows 11 Build 22557 | Folders of pinned apps, DnD, Focus, Live captions, quick access to Android apps, pin files to Quick Access, and more. |
Also read: