Windows 11 Insider Preview Build 25295 allows users to change the Taskbar's Search style
Recently Microsoft has released a new Windows 11 preview build 25295 for insider users and is now available for download to all dev and beta channels. The latest update brings several new features, changes and improvements for key areas of the Operating System, along with a long list of fixes and known issues. Here in this post, we have listed the complete list of changes that windows 11 build 25295 brings.
What's new Windows 11 build 25295?
The latest preview build for windows 11 ships with many fixes and improvements. A new search bar option, copy button for quickly copying two-factor authentication, also rolls out a new policy for commercial customers to disable feature drops. and more.
The latest preview build adds a quick button to copy the two-factor authentication (2FA) codes to the clipboard from an email.
Add a header to begin generating the table of contents
In addition to this, the ability to change the search box style is now available for all users. You can customize the experience from Settings > Personalization > Taskbar > Taskbar Items.
Microsoft also added a new policy that allows administrators to enable or disable feature drops from Windows Update (outside of the annual feature update) for managed devices.
General fixes and improvements
Fixed an issue where the add and close tab buttons weren't working in File Explorer if File Explorer was maximized, and you were using an Arabic or Hebrew display language.
Fixed an issue that could lead to app windows becoming unresponsive after using multi-finger on screen touch gestures.
Fixed an underlying issue that was causing your mouse to appear like pointer trails was enabled when sharing your screen.
The Add a Device dialog should no longer have an unexpectedly big border.
Fixed an issue which could cause certain apps to move very slowly when you dragged it across the screen.
Fixed a DWM crash in recent flights which could cause your screen to flash black.
Fixed an issue where snapped windows might not remember their positions if you disconnected and reconnected your monitor.
The issue causing repeated bugchecks for some Insiders after upgrading to Build 25284+ should be fixed now.
Made another fix for an issue causing Insiders to experience freezes in recent flights.
Fixed an issue where the Update history page under Settings > Windows Update > Update history was blank for some users after installing Build 25290.
Fixed an issue where some users experienced longer than expected update times installing recent builds.
Fixed an underlying crash impacting the ability the ability for apps using Graphics.Capture to take screen captures in recent flights.
Fixed an underlying issue causing crashes in certain apps when trying to print to PDFs in recent flights.
Since this is an early build, it ought to have some issues. Microsoft has disclosed them in its Windows Blog here.
Windows 11 system requirement
Unlike Windows 10, which is specially designed to run on older hardware, windows 11 require relatively new hardware and does not install on older computer. Windows 11 also require a hardware security component called Trusted Platform Module (TPM), along with UEFI firmware (no legacy BIOS allowed) and Secure Boot.
Microsoft official recommends the following system requirements for installing the latest windows 11.
8th-gen core CPU and newer, along with AMD Ryzen 2000 chips and up. ARM, Qualcomm Snapdragon 850, Snapdragon 8cx Gen 2, and newer are also supported.
At least 4GB of system memory (RAM).
At least 64GB of available storage.
A graphics processor that is compatible with DirectX 12 and Windows Display Driver Model (WDDM) 2.0 or greater.
A monitor or display with at least 720 dots per inch resolution.
TPM – Trusted Platform Module (TPM) version 2.0
Download Windows 11 build 25295
The update is available to download in dev and beta insider channel. If you have already enrolled windows 11 beta or dev channel head over to settings then Update & security. Click on windows update then check for the Updates button to download and install Windows 11 build 25295 on your device. You need to reboot your system apply the changes.
You can upgrade to this build by subscribing to the Dev channel, or by performing a clean install using the ISO image Microsoft has provided for this release. You will get the Windows 11 Build 25295 ISO here.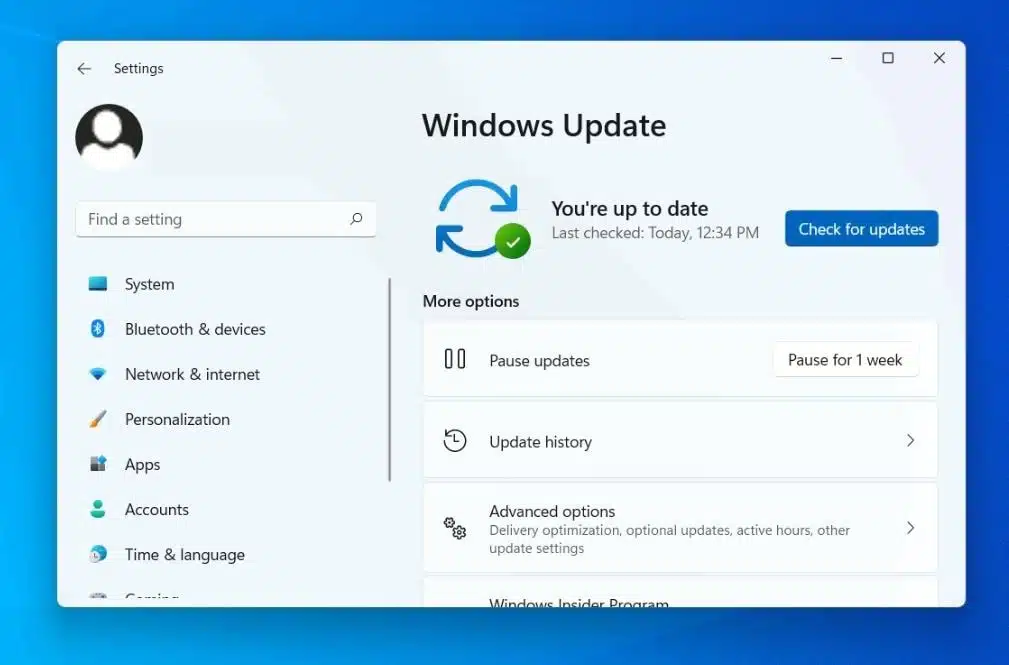 If you are looking for the latest Windows 11 ISO, get it from here.
Once the Windows 11 ISO is downloaded use third-party tools like Rufus to create a bootable media and install windows 11 on your device.
Also read