Windows 11 is available as a free upgrade for compatible Windows 10 PCs, you can wait for the update to appear in the usual Windows update section under settings on your computer. However, if the option isn't there yet, and you are excited to upgrade to Windows 11 now there are a couple of ways to force your computer to install it. or even Windows 11 ISO images available for download to create installation media and perform a clean install manually. Here in this post, we go through the steps how to Use Windows 11 Installation Assistant to Upgrade From Windows 10 to the latest Windows 11 version 23H2.
What is windows 11 installation assistant?
The Windows 11 Installation assistant previously known as Windows 10 update assistant is a dedicated tool that helps you upgrade to the latest Windows 11 version 23H2 on your PC. It is the recommended way from Microsoft to get Windows 11 up and running on your system.
But before using this tool make sure your device has windows 10 version 2004 or higher installed,
Your device must meet minimum system requirements for installing windows 11.
Ensure you have at least 16 GB of free disk space on your system to download windows 11 update files on your local storage using the assistant.
Make sure you have a stable internet connection to download windows 11 update files and disconnect VPN if configured on your device.
And most importantly, ensure that you run the installation assistant as an administrator.
Windows 11 system requirement
Here Microsoft official recommends the basic requirements for installing Windows 11 on your system.
Processor: 1GHz  or faster with 2 or more cores.
RAM: 4GB or higher
Graphics: DX12 compatible with WDDM 2.0 driver
Disk Space: 9GB for downloading installation files.
System: UEFI, with Secure Boot
TPM: 2.0 or higher
Display: 720p @ 8bits or higher
If you are not sure about the above system requirement, download and run the official PC Health Check software. This will show you any areas your PC needs attention in terms of compatibility and guide you on how to fix them Well.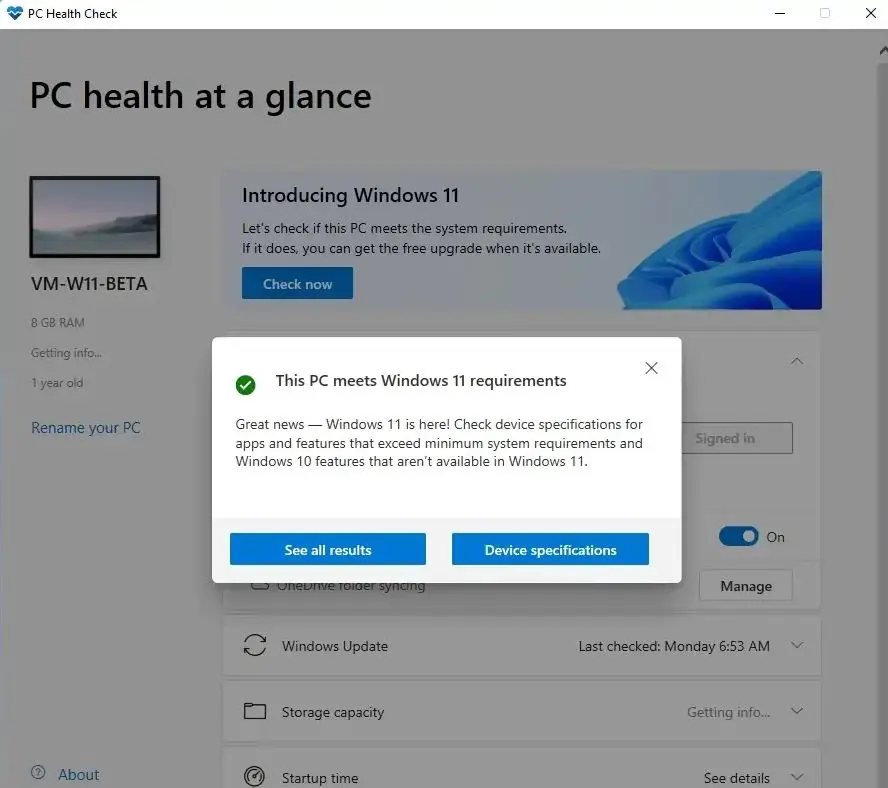 Upgrade Windows 11 using Installation Assistant
If your PC meets the basic requirements, or the PC health check tool shows a green signal you can continue with the guide below to upgrade using the Windows 11 Installation Assistant.
Note: If you upgrade your PC using Windows 11 Installation assistant you will get the option to roll back to Windows 10.
Backup your Data
When you upgrade to windows 11 it'll keep all of your different apps and files so you shouldn't lose anything. But before upgrading it's always a good idea to make sure that you have a backup in place. You can simple backup all your files to an external Hard drive or as an alternative use Microsoft One drive or any other cloud storage.
Download Windows 11 Installation Assistant
First, open your favorite web browser and visit the official windows 11 download link here,
Here Download the Windows 11 Installation Assistant (refer to the image below)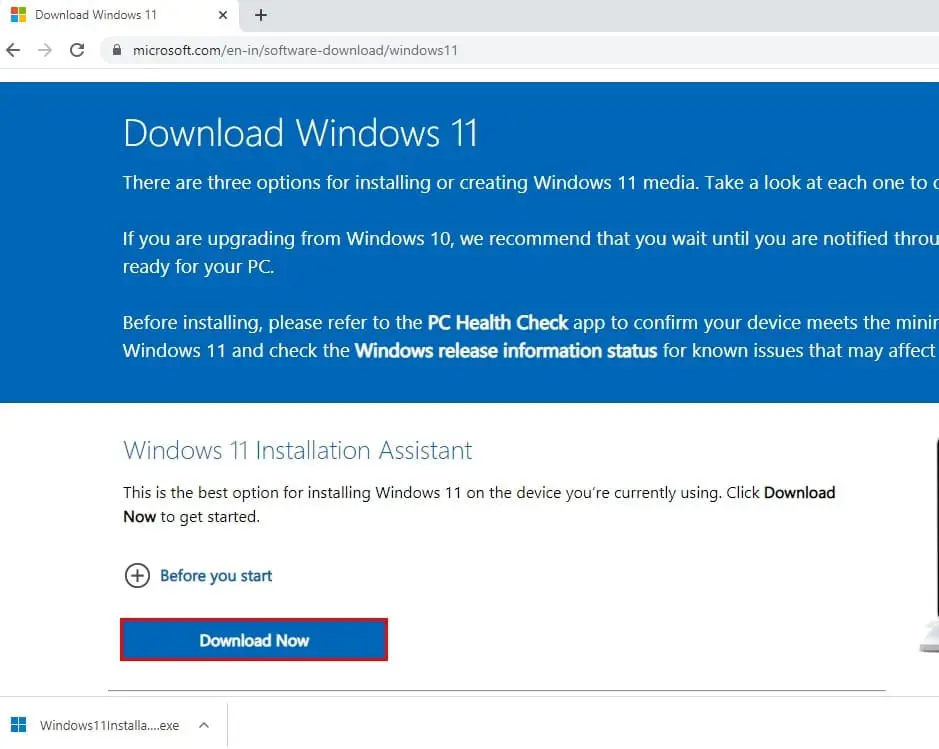 Run windows 11 Installation Assistant as administrator
Once downloaded, right-click on the file and select 'Run as administrator.
Select 'Yes' to allow the app if user account control prompts for permission.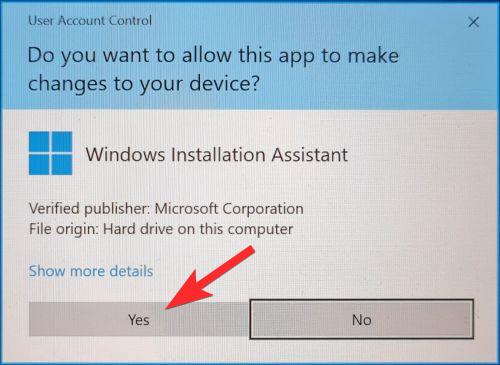 This will prompt the Microsoft license terms, scroll down to read them, once you've done go ahead and click on the Accept and Install button.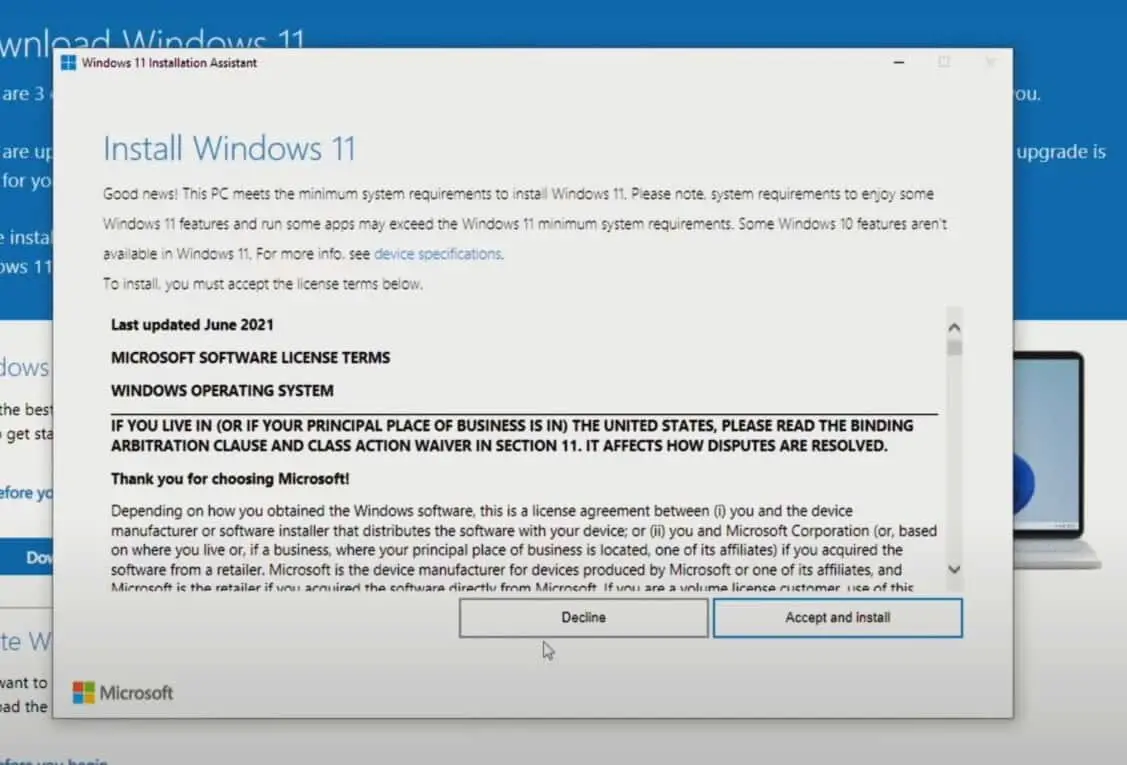 Let the assistant download Windows 11 files
The Assistant will start downloading Windows 11 files to your local computer, the download time depends on your internet speed.
It will take around 6 GB data from your internet and download the original windows 11 update from the Microsoft server.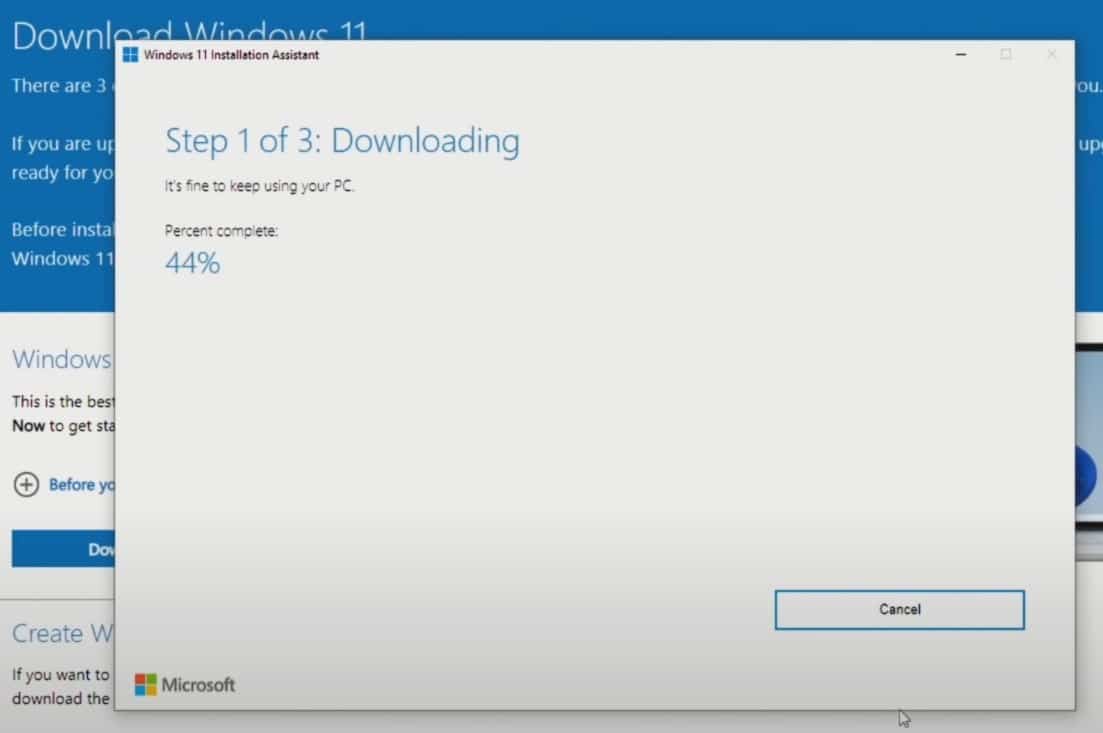 Once the windows 11 download is completed the next step will start verifying the download in the background.
Again it will take a few minutes, let the percentage complete 100.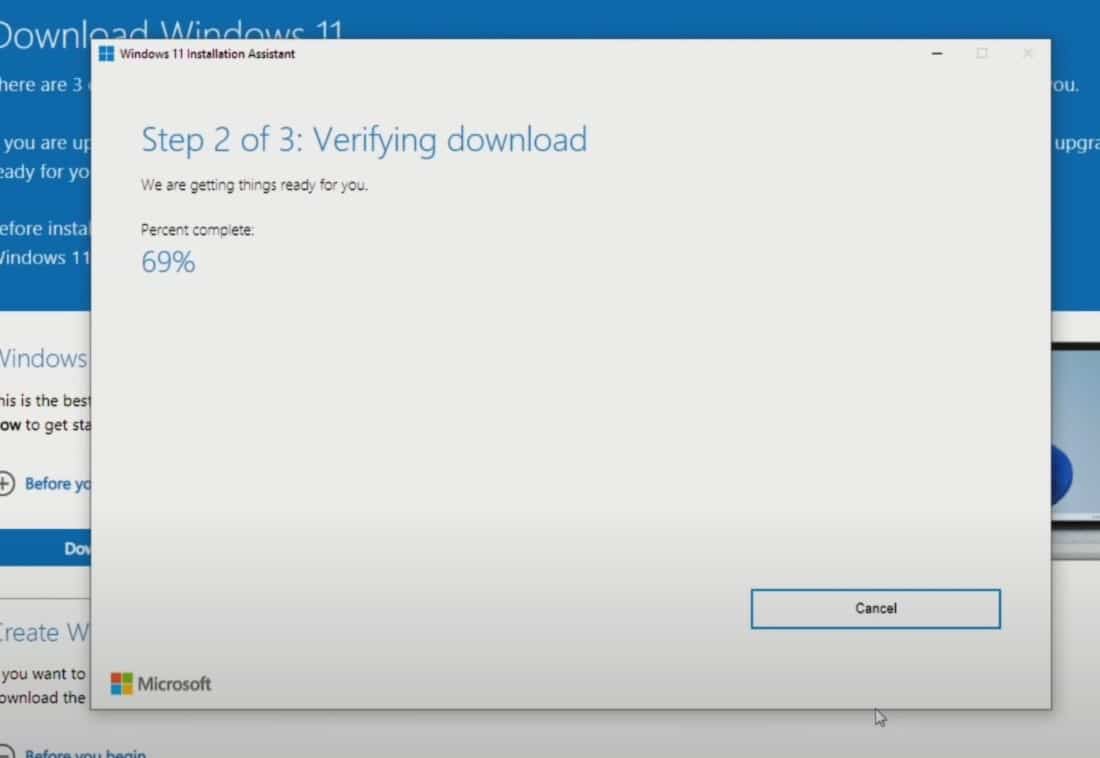 The installation process should automatically begin once the files have been verified.
Step 3 is which actually installing windows 11. This one took a little bit longer (Around 15 to 20 minutes)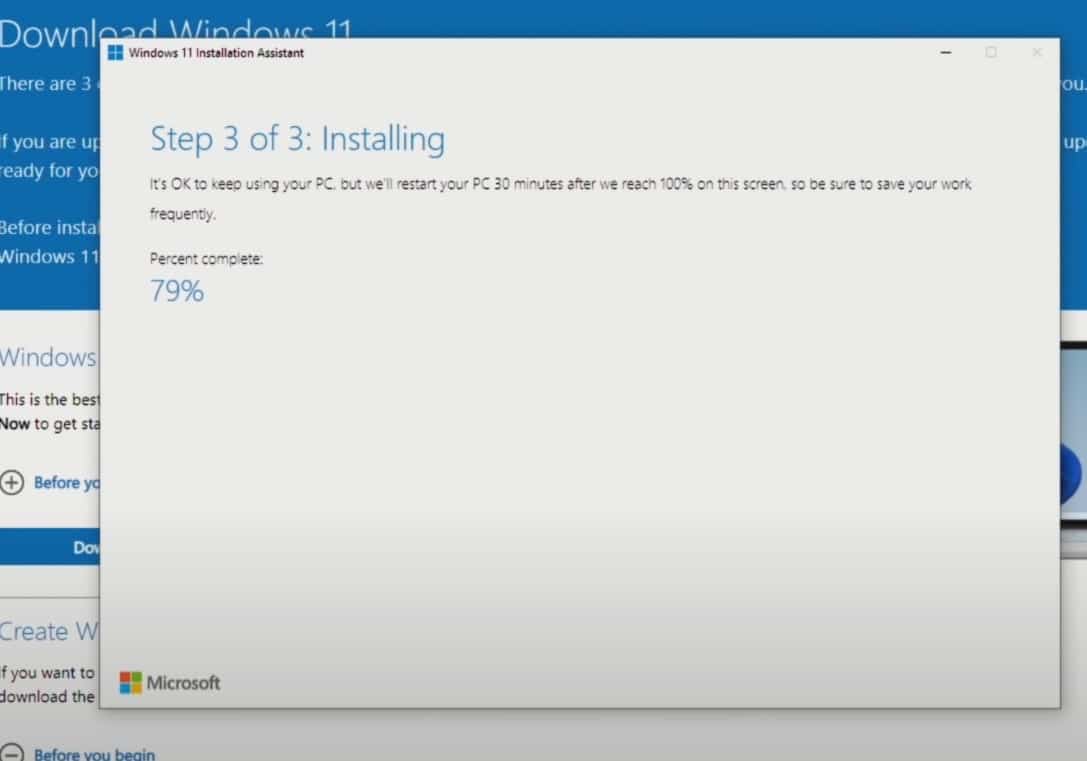 Restart your computer
Once the installation is complete your computer will automatically restart after 30 minutes. Or you have the option to Click on 'Restart now' click on it so It can load up windows 11 and configure it for you.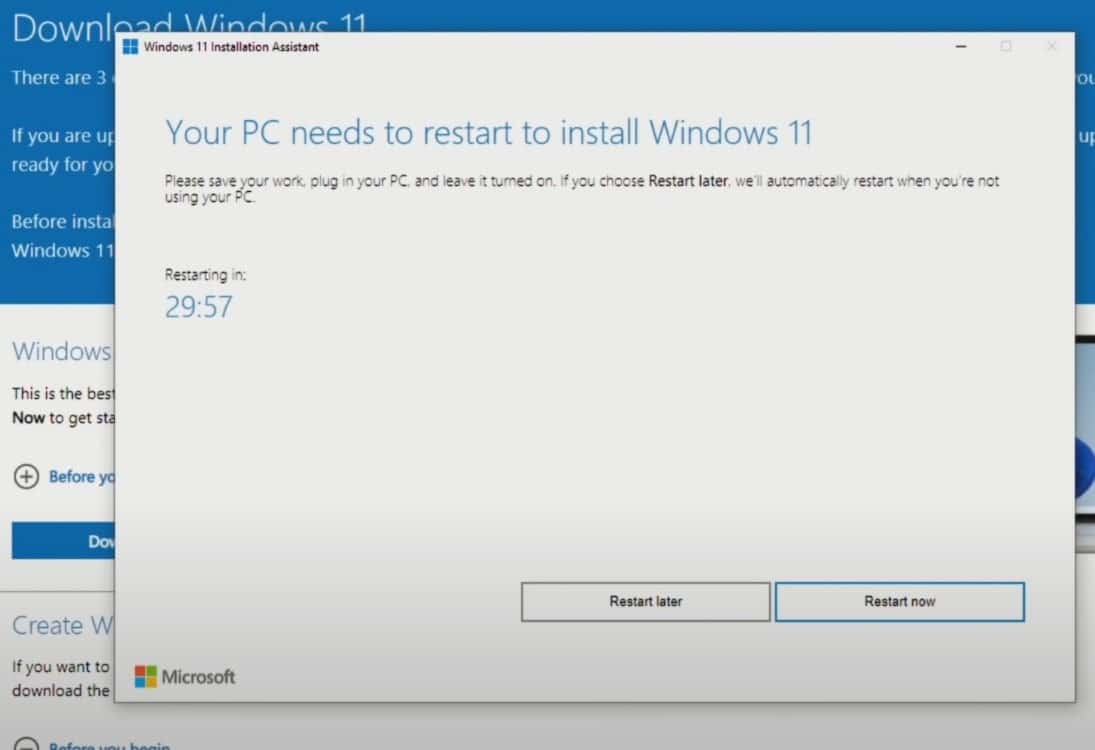 Once you reboot your PC, and your computer prompts working on updates make sure to keep your computer on (Don't turn off your computer during this time) and your computer may restart a few times during this process.
Once the process completes it will prompt for Log in to your account when you are at the lock screen and Windows should now continue with the setup.
Once complete, you will be automatically taken to your desktop. All your data should be preserved, and all your installed apps should be intact.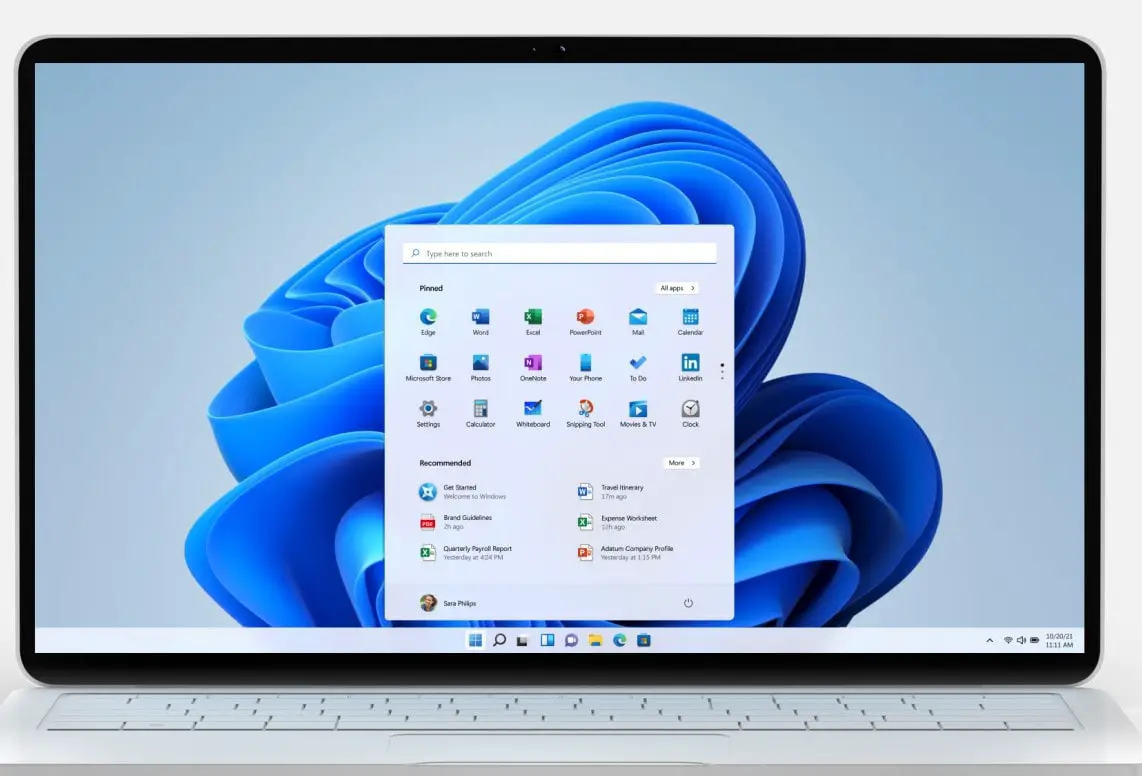 How to rollback Windows 11
After upgrading to windows 11, if you notice it's not working as expected, having different bugs or problems, or Windows 11 isn't for you and you want to roll back to Windows 10 for now you can go back previous windows 10 following the steps below.
Note: You can roll back windows 11 or revert back to windows 10 within 10 days of the upgrade.
Open windows 11 settings using Windows key + I or right-click on the start menu and select settings,
Go to settings then click on Advanced options,
Again under additional options locate recovery expand it
Here you will get the Go back option click on it and follow on-screen instructions to revert back to previous windows 10.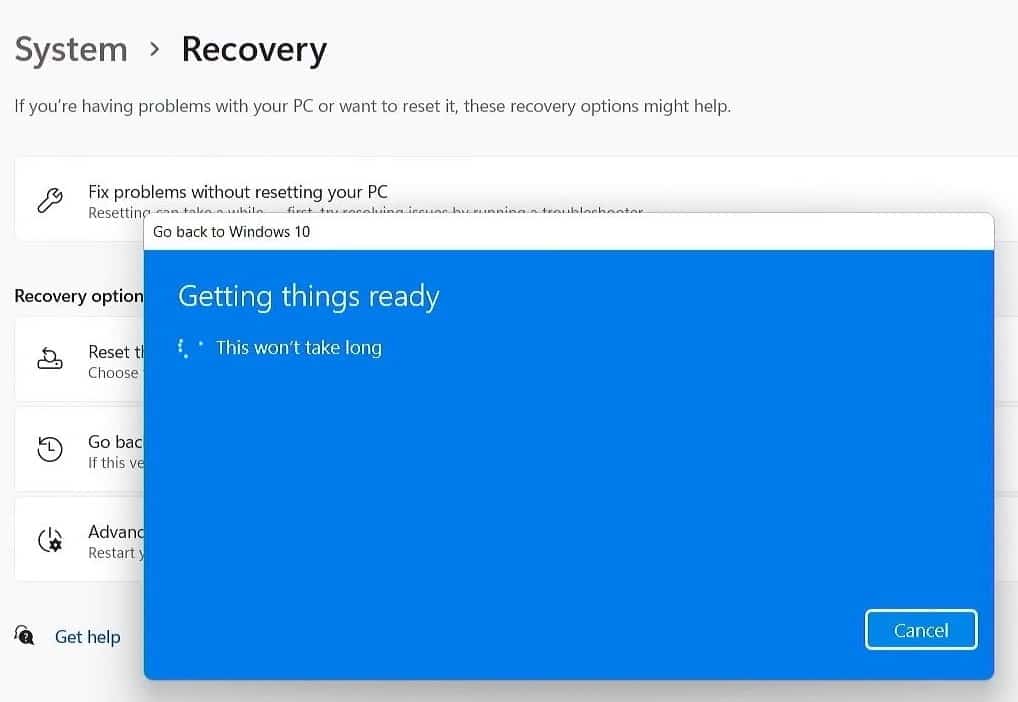 Frequently Asked Questions (FAQs)
What is the Windows 11 Installation Assistant?
The Windows 11 Installation Assistant is a tool provided by Microsoft to help users upgrade their eligible Windows 10 devices to Windows 11.
Can I use the Windows 11 Installation Assistant to upgrade from Windows 7 or 8.1?
No, the tool is specifically designed for upgrading eligible Windows 10 devices to Windows 11.
What are the system requirements for using the Windows 11 Installation Assistant?
Your PC must meet the minimum system requirements for Windows 11, including a compatible 64-bit processor, 4 GB of RAM or more, and UEFI firmware with Secure Boot capability, among other specifications.
Is the use of the Windows 11 Installation Assistant free?
Yes, the tool is provided by Microsoft free of charge to assist with the upgrade process.
How do I download and run the Windows 11 Installation Assistant?
Visit the official Microsoft website, download the tool, and run the executable file. Follow the on-screen instructions to proceed with the upgrade.
Can I use the Windows 11 Installation Assistant to perform a clean installation?
No, the tool is primarily intended for upgrading existing Windows 10 installations to Windows 11. For a clean installation, you'll need to create bootable media using the official ISO file.
Does the Windows 11 Installation Assistant automatically backup my data?
No, it's important to back up your important data before using the tool to ensure you have a safety net in case of any unforeseen issues.
What if my PC is not eligible for the Windows 11 upgrade?
The tool will perform a system check to verify if your PC meets the requirements for Windows 11. If it doesn't, you will be notified and advised on the next steps.
Can I revert to Windows 10 after using the Windows 11 Installation Assistant?
Yes, you have a limited time window during which you can roll back to Windows 10 if you encounter any issues. However, it's recommended to create a backup before upgrading.
Also read: