Did you notice your Default printer keeps changing by itself when you have multiple printers configured on your computer? This is because of Windows 10 new feature called "Let Windows manage my default printer" which sets your most recently used printer as the default automatically. While this can be useful for some users, many others might prefer to set the default printer manually.  If you are looking to stop windows from changing the default printer, You can do this from Windows settings or using the Windows registry editor.
Prevent windows 10 from changing the default printer
When a device is changing on its own, it is usually because there is a setting On windows 10 PC that allows changing the device to the most suitable one that it deems worthy. Let's follow the steps below to Turn off Windows manage my default printer Option.
Press Windows + I to open Settings Window.
Click on Devices then select Printer & Scanners.
This interface lets you select the printer and set it as default, or remove the device.
Select your printer, Click on Manage and Set as default.
Now Scroll down a bit till you see a setting Let Windows manage my default printer.
When this setting is turned On, the default printer is the last used printer.
Make sure this option is unchecked.
Note: This option isn't present in Windows 8's Devices app, it's new to Windows 10.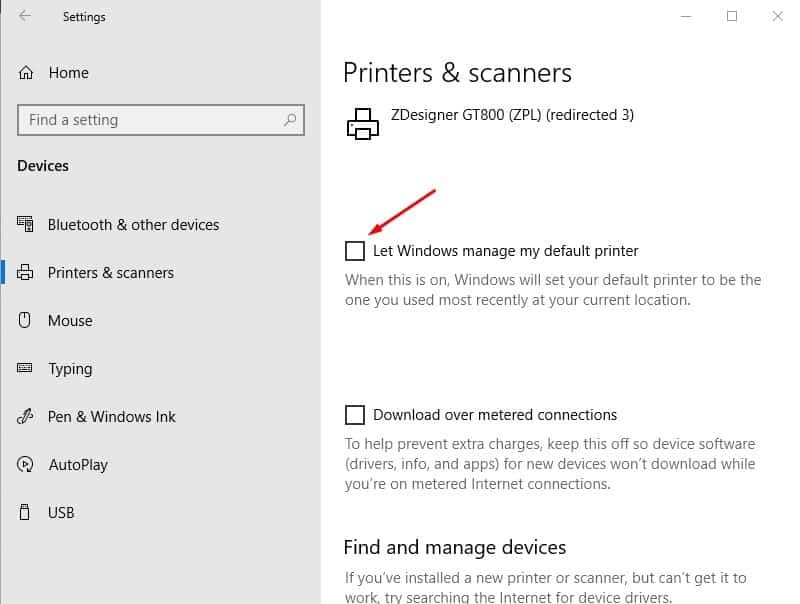 Set your default printer in Windows 10
Now go set your default printer. You will see the entire list of printers a little above this setting. Select the printer and click the Set as default button. It will show a green tick/checkmark.
Windows 10 will not change it again, even if you use another printer.
If it's a wireless printer, make sure it is connected to your wireless network.
The easiest way to do this is to re-do the wireless setup.
If it's wired over a USB Port, run the printer's setup and re-add the printer. (this will automatically) install the drivers as well.
Open Settings, then go into Devices > Printers and Scanners Set "Let Windows manage my default printer" to Off
Check your Sync settings
If the above setting enables automatically after some time, or after a restart then check your Sync settings. If the "Other Windows settings" option is enabled in the Sync settings page, Windows would sync your printer, mouse, keyboard and other settings.
Open Settings (WinKey + i), click Accounts, Sync your settings Disable the Other Windows settings toggle button.

Tweak Windows Registry to set the default printer
If due to some reason above solution didn't work for you, Here windows registry tweak that helps to prevent windows to default printer keeps changing.
Press Windows + R, type regedit and ok to open the windows registry editor.
Backup Registry Database, then navigate to the following path.
HKEY_CURRENT_USER\SOFTWARE\Microsoft\Windows NT\CurrentVersion\Windows
Change the value of LegacyDefaultPrinterMode from the default 0 to 1.
Having done this, Once Restart windows and set your default printer again.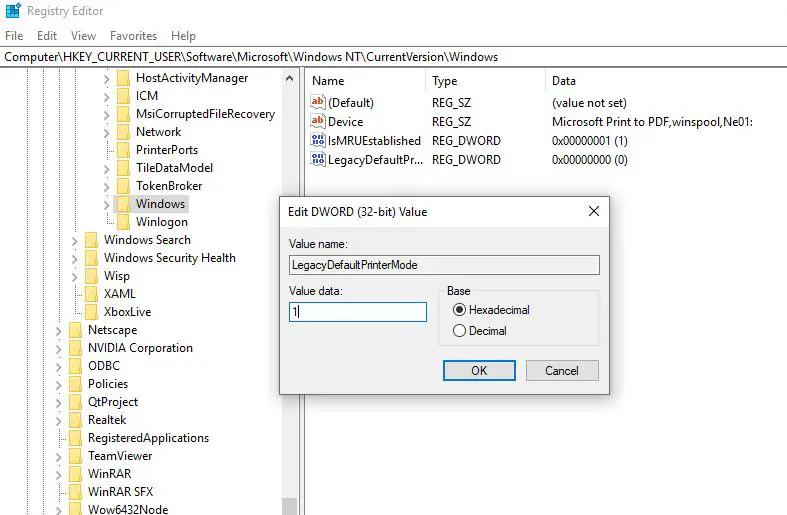 Did these tips help to prevent windows from changing the default printer? Let us know on the comments below.
FAQ
How do you change the default printer?
Open Control Panel and select Devices and Printers. Right-click printer and select Set as the default printer.
How do I stop Windows from managing the default printer?
Turn Off the option Let Windows Manage Default Printer in Settings
What happens if two printers have the same IP address?
If you have two printers on a network register with the same IP address, it may cause conflicts and may windows fails to print documents.
How do I set the default printer as PDF?
Right-click the PDF printer icon listed under "Devices and Printers" and click "Set as default printer,"
Also read