The IRQL_NOT_LESS_OR_EQUAL error on Windows 11 is a BSOD usually caused by memory problems or system corruption. Here is how to fix this blue screen error
Most often Blue screen error IRQL_NOT_LESS_OR_EQUAL occurs during the boot process or when working on an essential project, playing a game or working on heavy graphics software like photoshop, AutoCAD and more. IRQL is short for "Interrupt Request Level", And the not less or equal component refers to an attempt to access an address that is outside (greater than)that boundary value. the error IRQL Not Less or Equal in Windows 11 is memory related, and occurs when a system process or device driver wants to access a memory address, but finds itself unable to do so. System file corruption, Incompatible device drivers, Hardware failure or incompatibility or Incomplete or corrupted software installation and some common reasons behind this blue screen error on windows 11. Here in this article, we've got some troubleshooting advice to fix IRQL_NOT_LESS_OR_EQUAL on Windows 11.
How to fix IRQL_NOT_LESS_OR_EQUAL on Windows 11
A file that needs for the system to boot, get corrupted might be due to power outages or disk write errors or virus attacks or older outdated device drivers are the most common
cause for windows blue screen errors. Another major cause of the error code is faulty hardware items, bouched windows updates or incorrect software installation and more.
Blue screen errors can be caused by both hardware and software issues.
It's usually problem related to system memory and you need to check the memory on your PC using the memory diagnostic tool to fix this issue. If this blue screen triggers frequently then start windows 11 safe mode and Update, uninstall or roll back your drivers. In addition check for corrupted system files and restore them using sfc and DISM commands.
Disconnect external devices
Let's first disconnect all external devices connected to your computer and reboot your device. That probably helps get out of this blue screen error if driver incompatibility or a faulty hardware device causes the issue.
Start windows 11 safe mode:
If your computer restarts frequently with this IRQL_NOT_LESS_OR_EQUAL error you need to start windows 11 in safe mode and apply the solutions listed below. windows software mode enables users to access an altered version of Windows and correct any problems preventing windows 11 start normally or crashes frequently.
Access advanced options:
Well if widows fail to start in safe mode, then you need to access advanced options to perform startup repair that probably detect and fix the startup problems. Also, there is an option to access the command prompt and repair system files, system restore, and more.
Access advanced options and click on startup repair,
If the system detects any problems, it will attempt to solve them.
Once done it will reboot normally and allow to perform additional troubleshooting.
Update windows 11
Microsoft regularly drop windows updates with security improvements and bug fix for previous problems. Let's check and install if any updates are pending there, and that may have a bug fix for this blue screen error.
Press the Windows key + X and select settings,
Go to windows update then hit the check for updates button,
If new updates are pending there, allow them to download and install on your device.
Once done you need to reboot your PC to apply them and check if the problem is gone.
When you check for updates, your PC will also search for the latest device drivers, which can also help improve your PC's performance.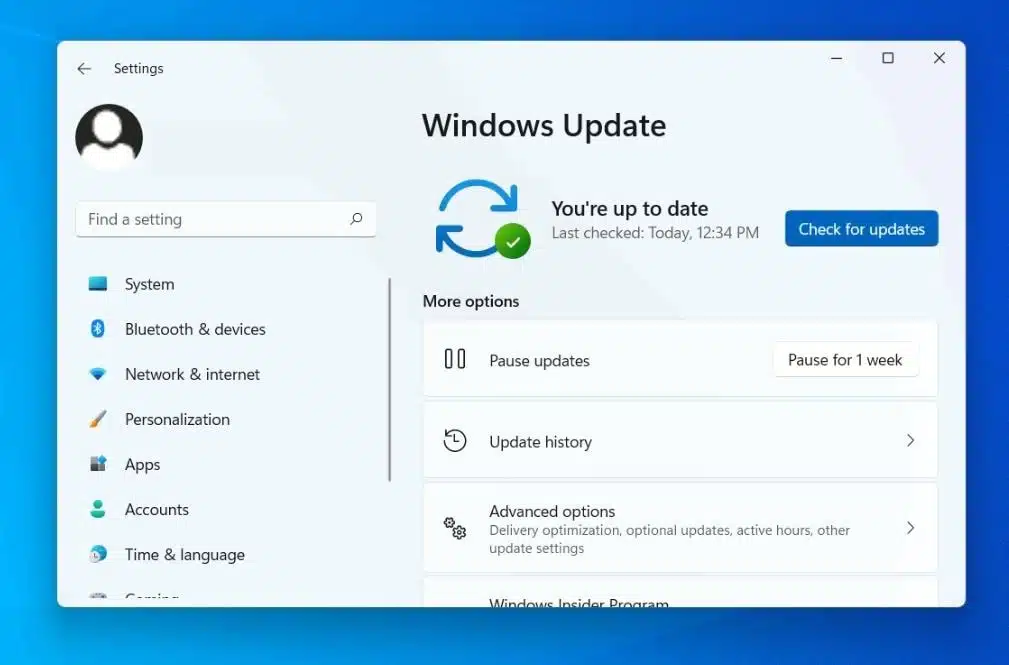 Update drivers
Another common reason for windows 11 blue screen error is the older or outdated device driver. To get the best performance from your computer you need to Make sure you have the latest device drivers installed for windows 11.
Note – Driver Verifier can help you find faulty drivers,
Press the Windows key + R, type verifier and click ok.
Create standard settings, and then click Next.
Check Automatically select unsigned drivers and Click Next. Then it will search for unsigned drivers.
Install optional driver updates:
Open windows 11 settings, navigate to windows update then select advanced options,
scroll down and choose Optional updates, here

 check all the available updates and click

Download & install

.

Once you have completed these steps, restart your PC and check whether this problem occurs again.
Update drivers on Device manager:
Press Windows key + X and select device manager,
This will display a list of devices and peripherals connected to your computer,
Expand all of them and look if any drivers is listed there with a yellow exclamation mark, If yes you need to update or reinstall the driver.
If not found any we recommend update the essential drivers that include Chipset, Video, Audio and Network (Ethernet/Wireless).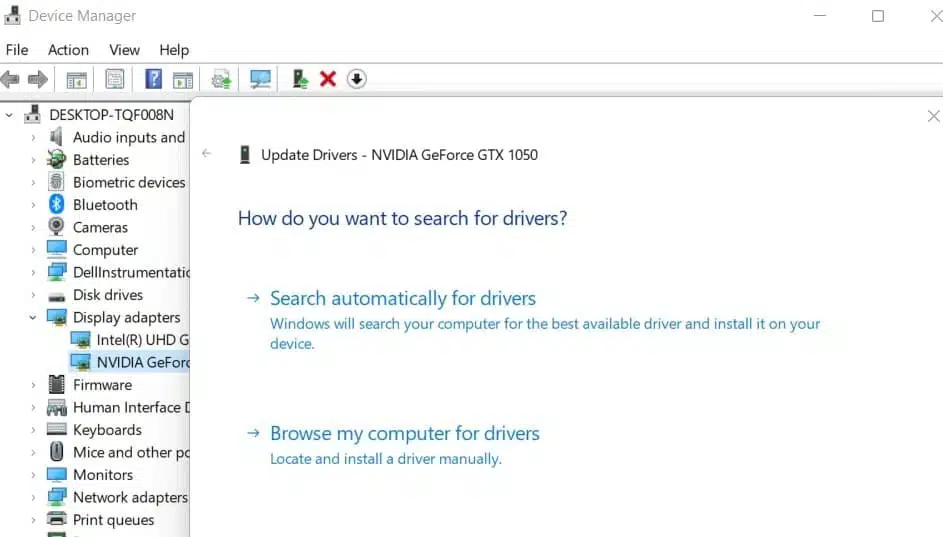 Get driver updates from manufacturers:
Also, you can get the latest driver update for the desired device on the manufacturer's website. Moreover, many third-party tools can help you update drivers on Windows 11. These tools automatically search and install drivers directly from official resources.
Run Windows Memory Diagnostic tool
This error IRQL Not Less or Equal is usually related to memory problems. If updating drivers or installing the latest windows update didn't fix the problem you need to check memory errors with the windows memory Diagnostics tool.
Press Windows key + S and search for Windows Memory Diagnostic, select the first result,
Next, click on Restart now and check for problems (recommended)
Windows will automatically restart, run the test and reboot back into Windows.
The utility tests the Random Access Memory (RAM) on the computer and reports any errors that are found.
If you don't see the result, you can search in Event Viewer by following this path: Event Viewer (right-click Start Menu) > Windows Log > System > Find (in the right pane)> type MemoryDiagnostic > Find Next.
In addition, the physical RAM can also be the source of a problem that causes the PC to reboot and cause the IRQL_NOT_LESS_OR_EQUAL error. If the problem occurs after replacing the RAM with newer RAM, install the old RAM back in.
If the computer works fine with the old RAM, the problem may be with the new RAM. The manufacturer usually shows a list of RAMs tested with almost every motherboard. Check to see if your new RAM is on this list. Also, make sure that it is correctly installed.
Repair system files using SFC and DISM
Problems with system files that are corrupted or missing due to power failure, hard disk error, or virus malware infection can also cause windows 11 to freeze and crash with a blue screen IRQL Not Less or Equal error. You can run the system file checker and DISM restore heal command to check system health and repair system files on windows 11.
Press Windows key + S and type cmd, right-click on the command prompt select run as administrator,
First, run the DISM restore health command DISM.exe /Online /Cleanup-Image /Restorehealth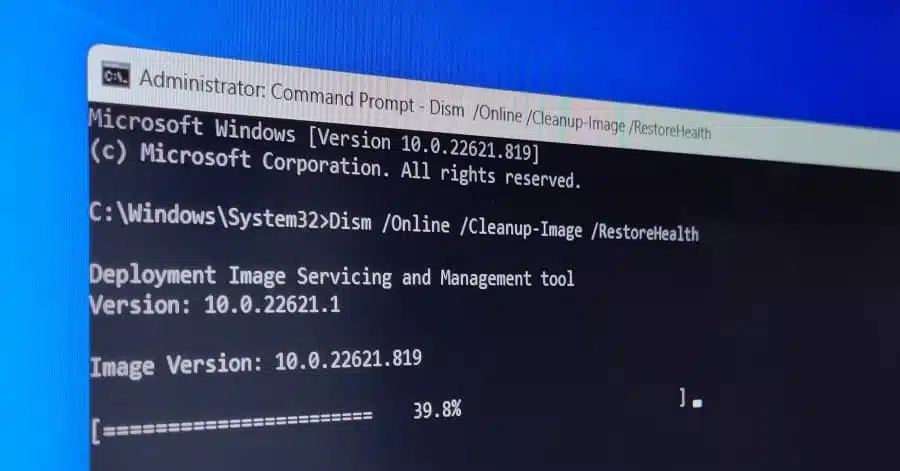 This will check the system image health and try to repair them using windows update as the source,
Next type sfc /scannow and press enter key to execute the command.
This will scan can all protected system files, and replace corrupted files with a cached copy that is located in a compressed folder.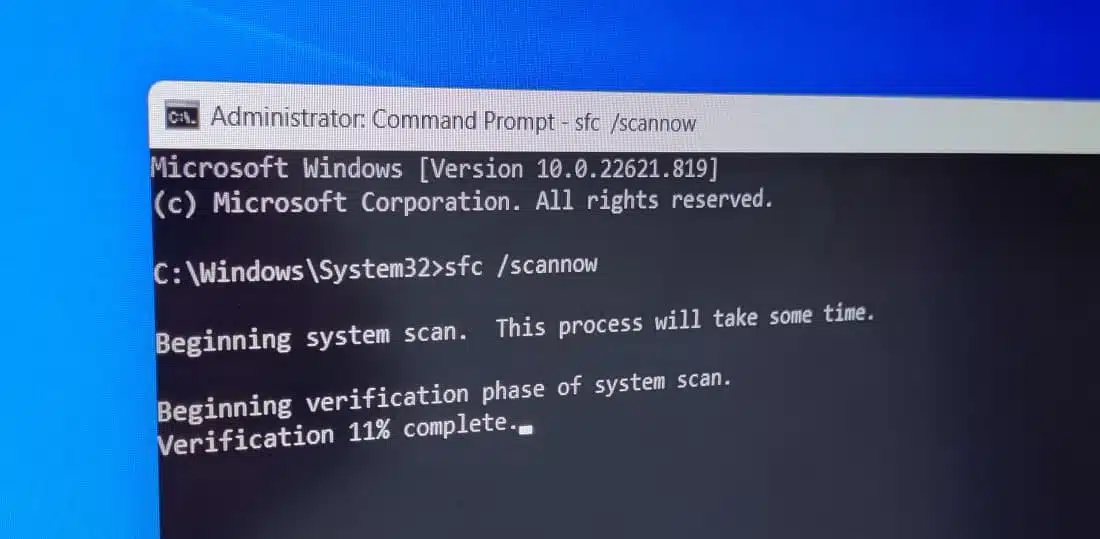 Let the scanning process complete 100%, once done reboot your computer to take effect the changes.
Run the CheckDisk tool
Disk drive error or bad sectors in the hard disk is another reason why windows 11 freezes and crashes with IRQL_NOT_LESS_OR_EQUAL error. If nothing above helps, you can check your hard drive for errors using chkdsk tool.
Press Windows key + S and type cmd, right-click on the command prompt select run as administrator,
You can run chkdsk command to scan the disk drive for error but it won't repair it,
For this, you need to add some extra parameters that you can get by running chkdsk /?
To scan the disk drive for errors and repair them run the command chkdsk C: /f /r and press enter key,
Type Y and press enter key to schedule scan and repair disk drive errors on the next start.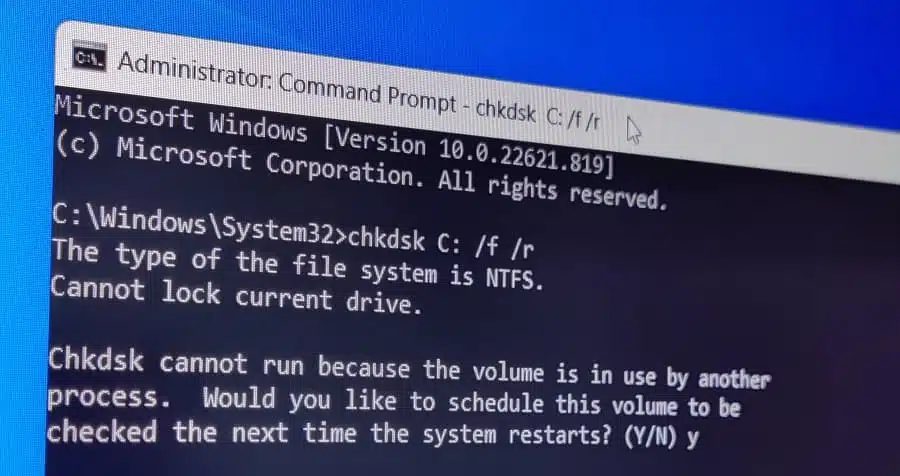 When you are ready restart your PC. This tool should eliminate all errors related to the hard disk drive.
Look for virus malware infection
Sometimes viruses or malware infections could be the reason for the windows 11 blue screen error. If the above methods fail to fix the problem, scan for viruses or malware infections using the latest updated antivirus or antimalware removal tool and that probably helps fix the error.
Also, You can uninstall the antivirus software for a period of time to test if this causes your screen changes to blue.
If the solutions above cannot help you with the problem, you can try to restore your system.
To prevent blue screen errors on windows 11
You should always check and be sure that all PC components are correctly installed. This is especially the case with RAM and the hard drive.
Try to check for Windows updates as often as possible.
Try to update the drivers at least once every six months. The more often, the better.
Did the above solutions help fix IRQL Not Less or Equal blue screen error on windows 11? Let us know on the comments below.
Also read: