Microsoft clam Windows 11 is the most secure version of Windows history. Improved Windows Defender firewall, Trusted platform module (TPM) encryption, Secure boot, and Windows Sandbox, make Windows 11 the most secure operating system. In addition, the latest Windows use virtualization-based security (VBS) for enhanced kernel protection against potential threats. And Microsoft dev team work hard and regularly updates the OS to keep their user safe, but hackers still exploit unique vulnerabilities only found in Windows PC. In this post we go through talk about best security Practices to Keep Windows 11 computers secure from virus and hackers.
Best Practices to keep windows 11 secure
Here are some of the best ways you can tighten your security settings in Windows 11 even more
Check and install the latest Windows updates regularly, and update other apps as well.
Enable Windows firewall that prevents unauthorized access to your business network and alerts you to any intrusion attempts.
Use a Strong password of at least eight characters and a combination of numbers, uppercase and lowercase letters, and computer symbols
Install antivirus software that helps protect your PC against unauthorized code or software that may threaten your OS.
Backing up your information regularly helps in case hackers do succeed in getting through and trashing your system.
Switch off your machine overnight or during long stretches when you're not working
Install windows updates
Keeping your Windows 11 and all other software up to date is the first and most effective way to protect your computer from bad guys or hackers. Microsoft regularly releases Windows updates with the latest bug fixes and security improvements to patch security holes. The same goes for apps. If you have outdated Windows OS or software or drivers installed on your PC or it's not updated for a long time, it opens the door for hackers to exploit the vulnerabilities.
Press the Windows key + I to open the settings app,
Go to Windows Update then hit the check for updates button,
If new Windows updates are pending there, allow them to download and install
Once done you need to reboot your computer to apply the changes.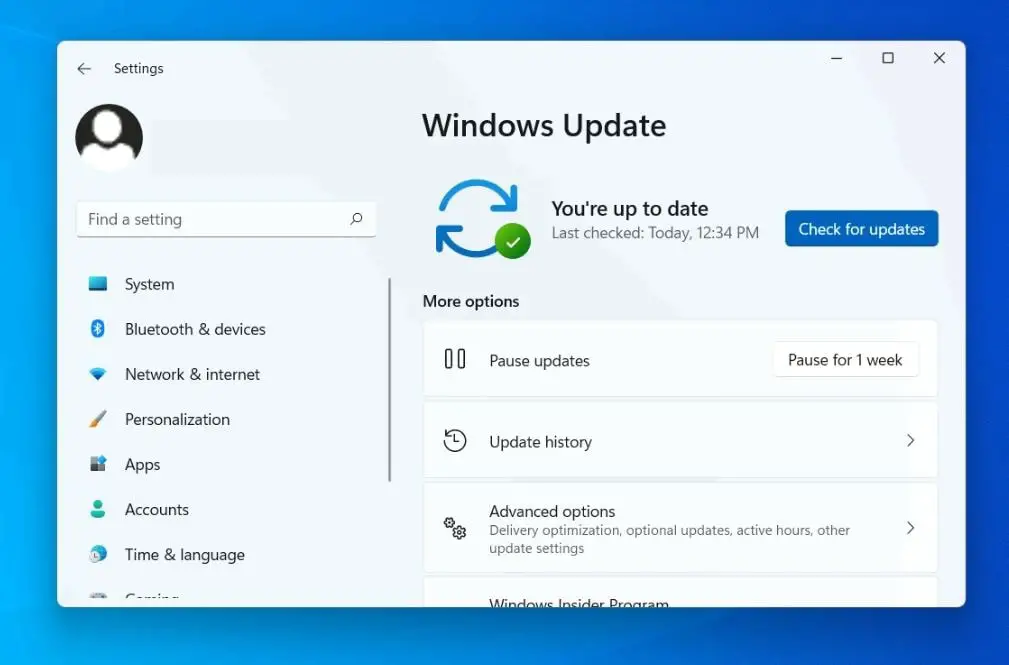 In addition, open Windows security, navigate Virus & Threat Protection and click on Manage settings. Here make sure to enable Real-time protection that helps protect your PC from all the problems that might try to attack it in the future.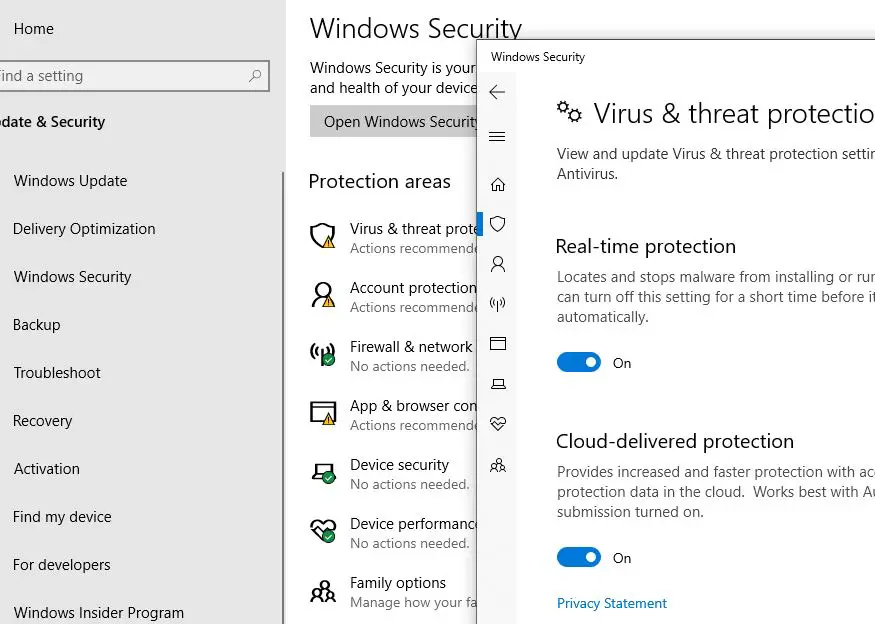 Enable Windows Firewall
That is a sophisticated tool to protect internal networks from threats from external sources such as intruders or malware. Enable Windows firewall to block incoming traffic from suspicious locations, and keep malicious files and hackers from invading your computer through the internet connection.
You can enable the built-in Windows firewall from the control panel
Navigate Windows Defender Firewall then click on Turn windows Defender Firewall on or off.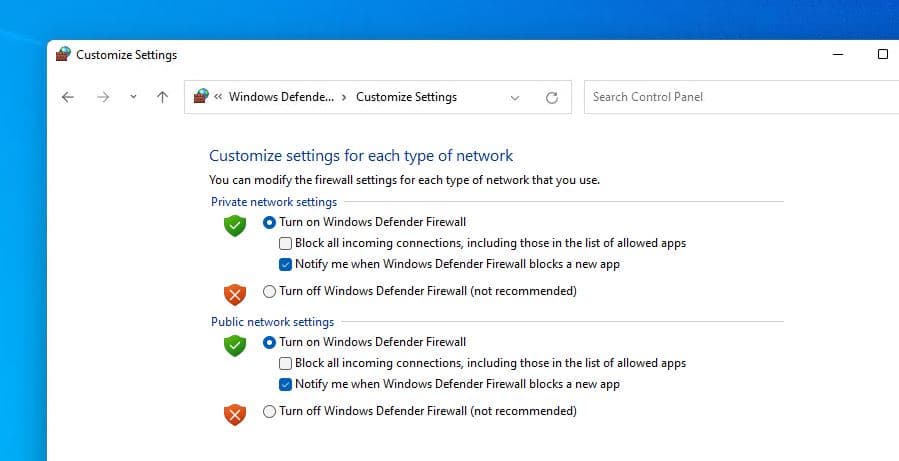 A firewall monitors the traffic coming in and out of your network.
If you are using third-party security software (antivirus) you can manage the firewall from there. McAfee and Norton both include advanced threat detection in their firewalls, which allows them to determine new threats more effectively than Windows Firewall.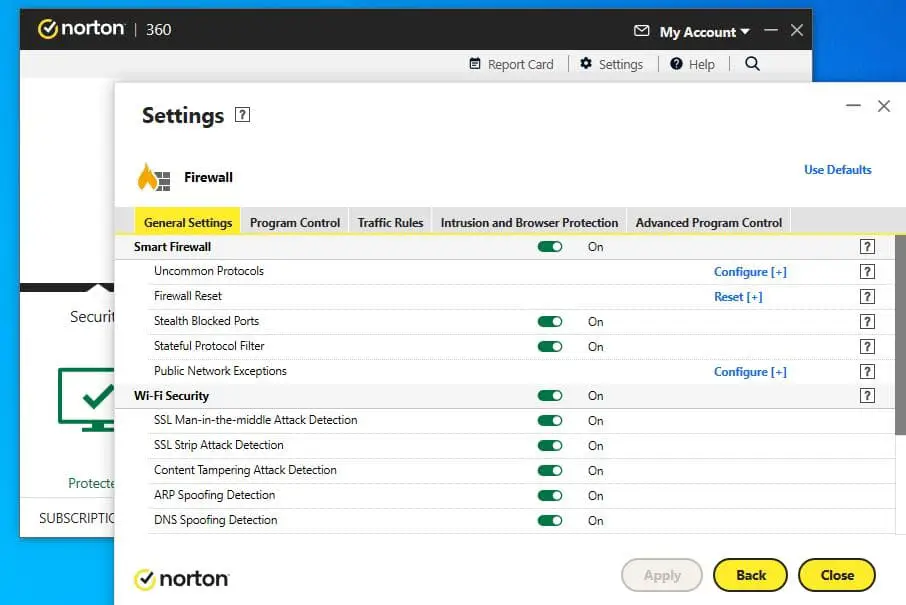 In addition, Beware of email messages from unknown parties, and never click on links or open attachments that accompany them. Avoid Opening and Downloading Attachments from Unknown Senders.
The Remote Desktop feature enables, people to connect to your computer remotely, which can be a security risk. Go to Settings -> System -> Remote Desktop. Then toggle the switch to off.
Monitor Your PC with Windows Task Manager
If you notice Windows 11 is very slow, and behaving strangely, you either have malware or some kind of performance issue. Task Manager tells you what programs are running on your computer, how much space they're taking up, and how much disk space is left on your hard drive.
When it comes to diagnosing computer problems, Windows Task Manager is the best place to start. 
Task Manager can be accessed by pressing Ctrl + shift + Esc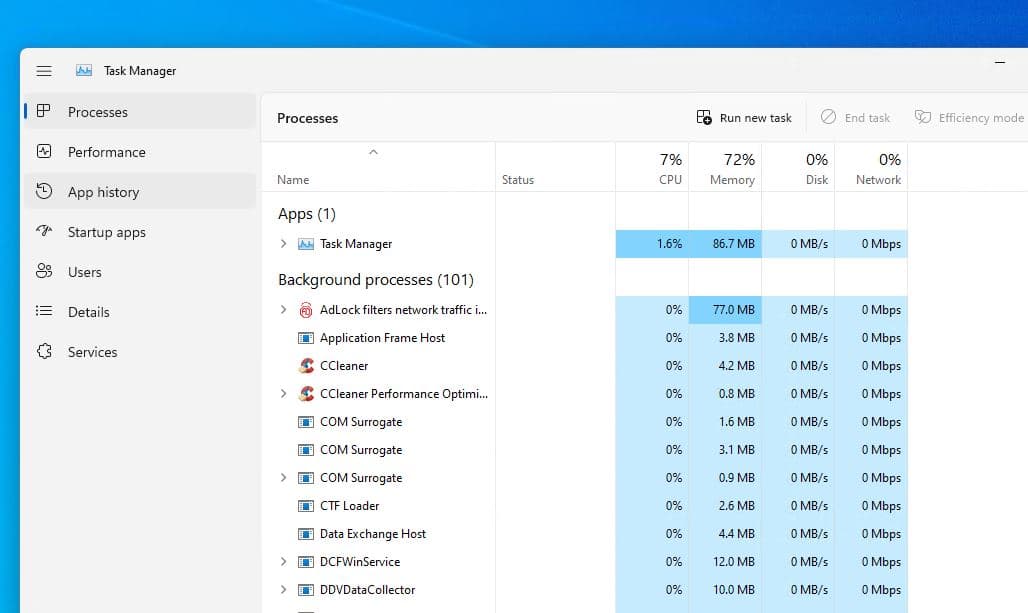 Check your CPU usage, and look at the programs that are taking up the most processing power. Well if you don't know what they are, a little bit of research can help you figure out if you've got a malware infection or just some bloatware hogging your CPU.
In addition, Having an ad blocker is a great way to reduce your risk of malware infection, especially if you're navigating to less secure websites.
A lot of Chrome and Firefox users choose Adblock Plus, which is a great ad blocking browser extension.
Also, perform a full system scan with Up to date Antivirus to remove all virus or malware and secure your computer, it scans the system for viruses, spyware, and adware and prevents rootkits or backdoors from invading your PC.
Browsing Private with a VPN
VPN stands for virtual private network, A client base software that provides anonymity and privacy by creating a private network from a public Internet connection. VPN tunnels your data through an encrypted server, mask your IP address with another (non-identifiable) IP address and makes your online activity almost impossible to track. Anybody tracking your browsing will only see the IP address of the anonymous server.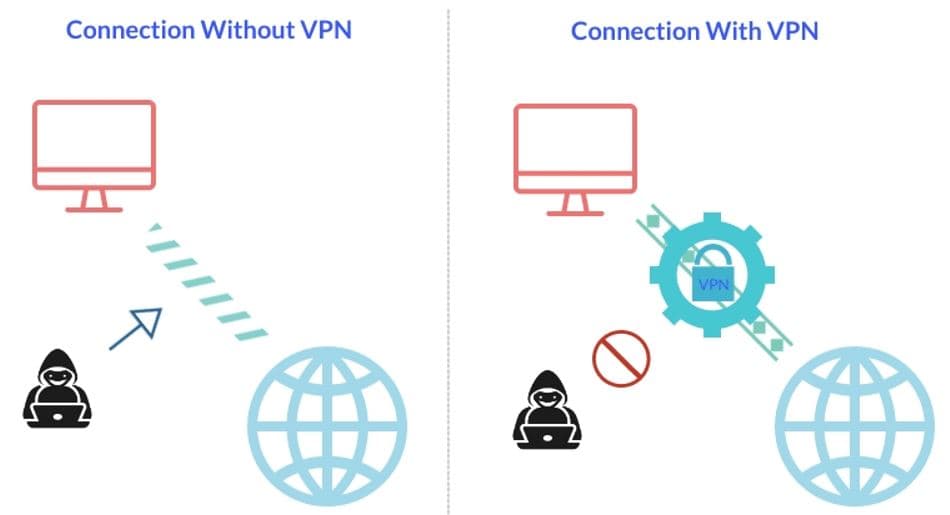 Using a VPN (virtual private network) is the best way to keep your internet use private  
Again If you are connected to public wifi, it's important to use a VPN. Public Wi-Fi networks can be set up by hackers who will spy on your usage once you connect to the network. A VPN makes it impossible to spy on your computer through a corrupted public Wi-Fi network.
Use a strong password and Two-Factor Authentication
The next thing you need to ensure Windows 11 PC is password protected. And most of the time users' accounts are easy to hack if you need an easy password like your name or 123456 to log in. It's recommended to create or use a complex password combination of letters, numbers, and symbols for excellent protection. Use a password that has at least eight characters and a combination of numbers, uppercase and lowercase letters, and computer symbols.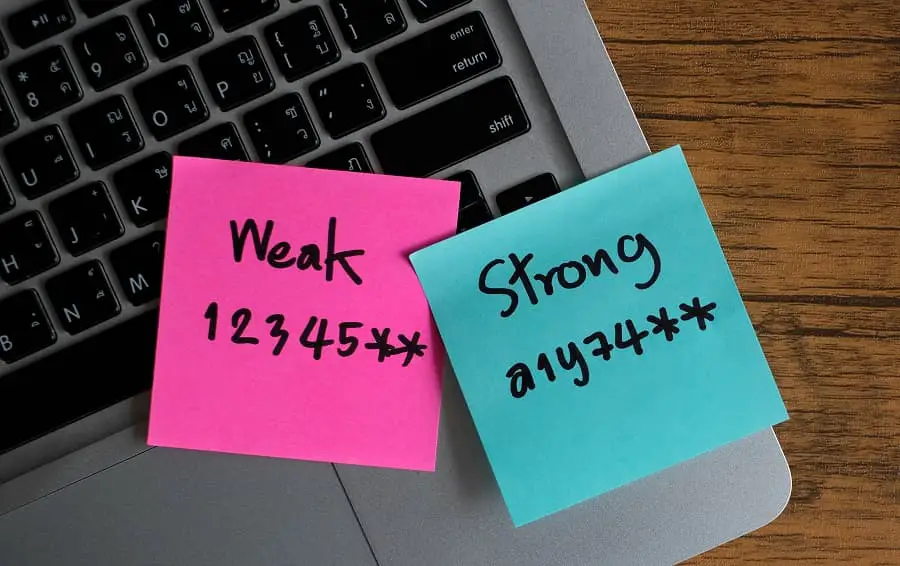 You can use a password manager to memorize all complex passwords. If you use the same password on different websites or your passwords aren't sufficiently complex, then your logins can be hacked into easily. Password managers generate and autofill extremely complex and secure passwords between all of your devices and browsers
Using secure passwords is the most important way to prevent network intrusions
Most password managers support two-factor authentication, (2FA), which requires you to enter both a password and a second form of verification to log into your password vault. This verification can be a fingerprint, face scan, USB stick, or temporary one-time password (TOTP) sent to your phone or smartwatch.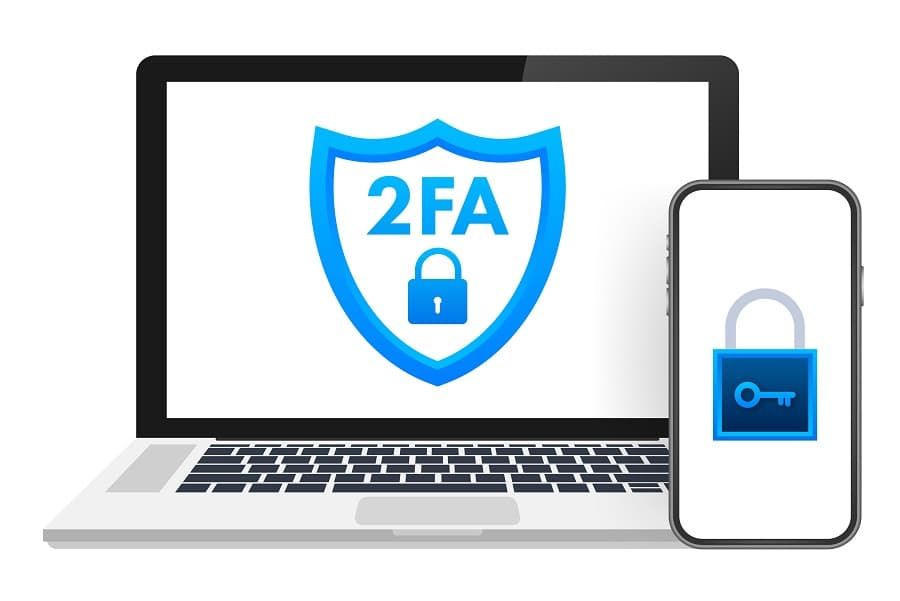 Encrypt Device Drivers With Bitlocker
This is another effective way to protect your important data using the Drive encryption (Bitlocker) feature. It's a built-in feature that encrypts your whole operating system and the files within it.
Press the windows key + E then select This file
Right-click on the drive and select turn on Bitlocker.
Select Enter a password option then create the password with need to unlock drive everything.
Select an option to backup the recovery key then Select how much of your drive to encrypt
Select the appropriate encryption mode and 'Run BitLocker system check' then click on 'Continue'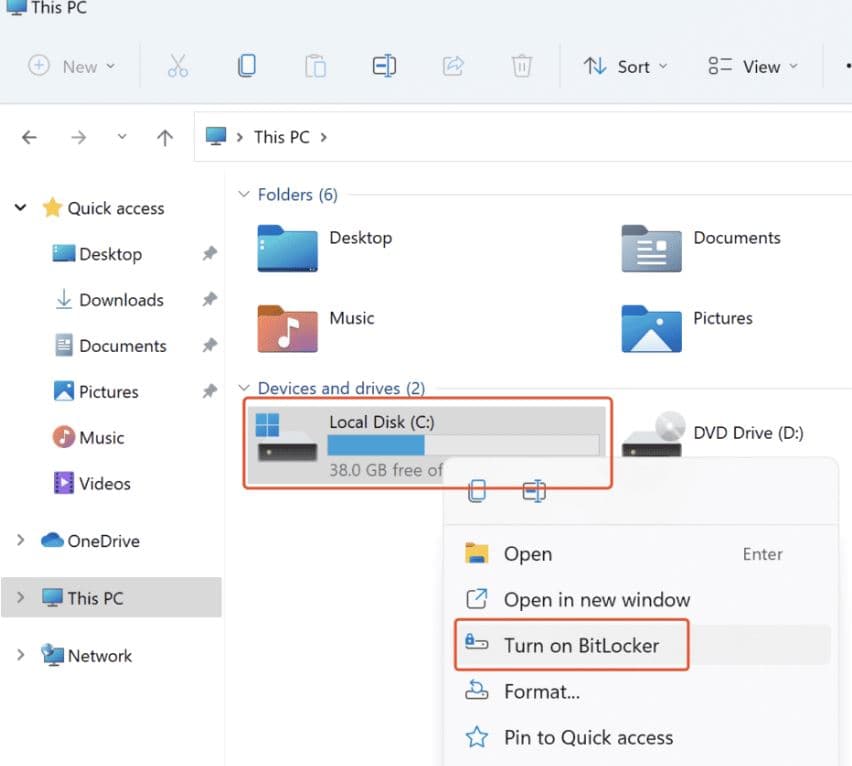 The downside of this Windows security method is that disk encryption utilities may cause performance issues on weak systems or systems equipped with HDD.
Back up your computer
File backups are essential for protecting yourself from losing important data if you have a sudden hard-drive failure or your PC get a virus. Also backing up your information is critical in case hackers do succeed in getting through and trashing your system.
You can use File History and other free tools in Windows 11 to create file backups.
Also, You can create a recovery drive to restore your system from an image backup.
With a storage-sync-and-share service, you can put your backups in the cloud. These are easy to set up, especially some of the most popular ones like OneDrive, Dropbox, or Google Drive.
An external backup hard drive can also provide enough space for these utilities to operate properly.
How does malware infect Windows computers?
Mostly viruses or malware are installed on your computer, without your permission and  try to trick you with deceptive downloads, pop-up windows, and malicious web scripts,
Does Windows 11 include every security feature I need?
Windows 11 has better security features than any of its predecessors — but it's far from perfect.