DirectX software is a collection of application programming interfaces, or APIs developed and designed by Microsoft to handle tasks related to rendering 2D and 3D vector graphics, rendering video and playing audio on the Windows platform. Its s a crucial component of Windows 10, required by many multimedia applications. Without direct files, all the multimedia applications get unable to execute properly. Sometimes you may experience, DirectX fails to work or displaying error Directx is no longer present on your system.
DirectX plays an important role in running various 3d programs games and graphics designing applications.
Reason Behind windows 10 Directx Error
There are multiple reasons why DirectX not working on your computer, It is because the Program Doesn't Support The DirectX version, or you have An outdated version of DirectX installed on your computer. Again issue with the Graphics driver or corrupted system files also cause DirectX not work on windows 10.
The latest Windows 10 comes with Directx 12 if the Game you are trying to open still runs on Direct11 which is not compatible with Windows 10. So all you have to do is install the Directx runtime and install all the updates old and new and fix the issue for Apps and Games to run as they should.
Check whether DirectX is installed on your computer or not:
Press Windows key + R, type dxdiag and click ok
This will open DirectX diagnosis too, look at which version of DirectX is installed on your PC.
Next, you have to go through all the tabs in this window Below you can see Notes, which will describe the possible fatal DirectX error issue if present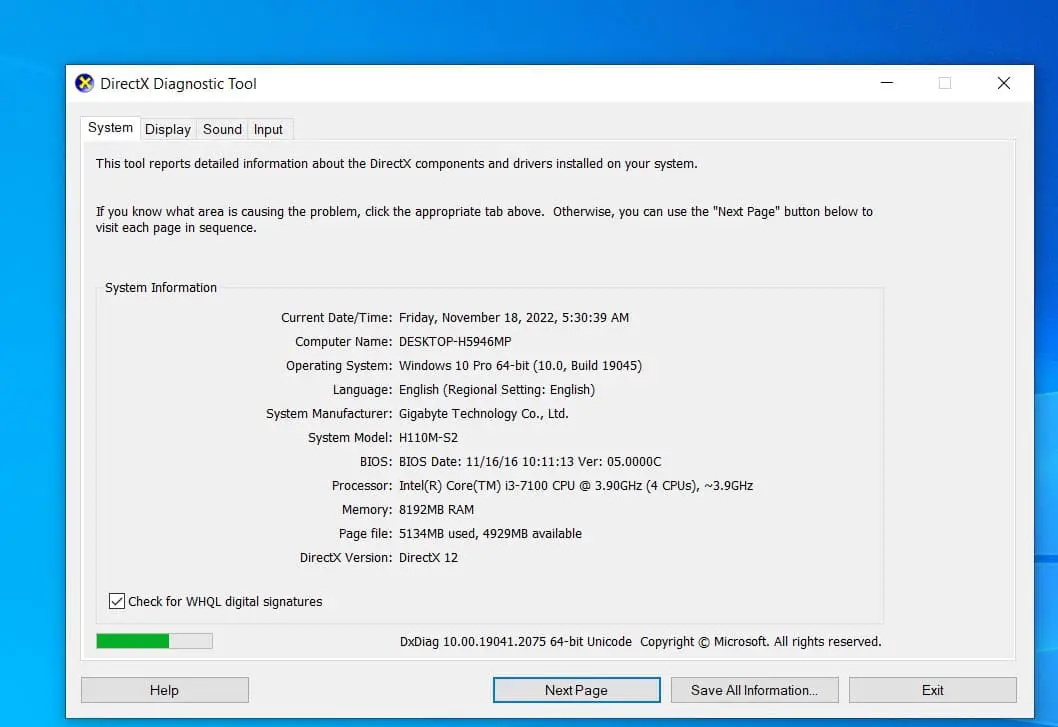 Quick Fix 
Go to your Video Card or Graphics card manufacturer, download and install the latest version of your graphics driver that is windows 10 compatible manually for the best experience with games.
Fix Windows 10 DirectX errors
If you are also getting Direct X Error while playing heavy Graphic games or running heavy load software like 3D Max, photoshop, And looking for a solution to fix the Direct X error on windows 10 apply the solutions listed below.
Run Hardware & Device troubleshooter
This is a pretty simple solution, and it will automatically check if your new hardware is installed properly.
First, move to Control Panel > All Control Panel Items > Troubleshooting and select View All on the left side panel.
This will list of Troubleshooting tools for your windows computer.
Here Click on Hardware and Device, Click next and follow the instructions to run the troubleshooter.
Wait flew moment to complete the troubleshooting process. After completing the troubleshooting restart the windows check problem is solved.
Download Visual C++ Redistributables
Few users reported that installing Visual C++ Redistributables has fixed DirectX errors. Users recommend downloading and installing this package. If that package doesn't work the list of all Visual C++ Redistributables can be found here.
Update your graphic card driver
Press the Windows key + X and select Device Manager,

This will display all installed device driver lists, here you need to find Display adapters and click it to expand it.

Locate your Graphics driver from the list, right-click on it and then click Update Driver Software.

Next screen Select Search Automatically for Updated Driver Software.



The installation process should do the rest automatically.
Reinstall graphic card drivers
Open the Device Manager by right click on this pc select manage on computer management windows.
Select device manager, Go to the Display Adapters section and find your graphic card driver.  After it right-clicks on the driver and select Uninstall.
Check on the Remove the driver software for this device and click OK.
Restart Windows after restart open the graphic card manufacturer's website and download the latest drivers for your graphic card. Install the downloaded drivers.
Run sfc /scannow: 
This command is to verify the System Files, via this command you can replace a missing or damaged copy of the DLL file (Only if this DLL file is provided by Microsoft). Read How To Run SFC utility to Repair missing Dll file on windows 10.
Replace corrupt or missing .dll files
Sometimes Replace .dll file may fix your direct x problem. You can also fix DirectX errors on Windows 10 simply by downloading the missing .dll files and moving them to the Windows System32 (for 32-bit versions of Windows 10) or to WindowsSysWOW64 (for 64-bit versions of Windows 10) folder. This solution might not be the safest if you download these missing files from the internet, so keep that in mind. Alternatively, you can copy the missing .dll files from another computer that you use.
You can take the help of a professional DLL error Repair tool, this app will make you able to deal with all types of DLL error with ease.
Perform A System Restore
If you are getting the DLLerror just after doing any change to an important file or configuration then by restoring System could fix this issue with ease. see How To Perform A System Restore on Windows 10.
These are some best working solutions to fix Windows 10 DirectX Errors permanently. Have any query suggestions feel free to comment below.
Also read: