Getting privacy error while browser web pages on Google chrome? Here some simple yet useful steps to rectify the privacy error message in Google Chrome.
Google Chrome is perhaps the most used browser in the world. And why wouldn't it be? With an amazing user interface and with super-fast browsing options Google Chrome has gained many loyal users since its release. But, just like other software or applications, sometimes Google Chrome shows some error messages. Most of these errors are simple enough to solve quickly. Well, there are some exceptions also, but those are very rare.
Have you ever received a privacy error message while browsing on your chrome? If you have, then following expert ideas to resolve the problem is going to be very useful for you. Here, we are going to discuss some simple steps to rectify the privacy error message in Google Chrome. So, let's begin.
Privacy Error Message in Google Chrome – Solved
Long story short, Chrome generally sends you a privacy error message, to the user, when the browser is unable to verify the SSL certificate of the website, the user is trying to access.
Secure Sockets Layer or SSL certificate for every website is mandatory. It validates that the website is using secured servers and is also safe to visit. That means, whenever you visit a website with proper SSL certificate validation, any data you enter on that website will be secure and privatized.
Now, there can be numerous reasons which cause an SSL error, like –
It is possible that the website you are trying to access is using an expired SSL certificate.
Your internet connection is not private.
A Chrome extension might be resisting you to visit the website.
Your browser got infected by virus and malware.
No matter what the cause is, the privacy error message problem can be easily solved. There is actually nothing to worry about. Here are some simple yet useful steps to rectify the privacy error message in Google Chrome.
Reload the Page
Let us start with the simplest solution to rectify the problem. Suppose you entered some web address on the search bar. Upon pressing enter, Google Chrome showed you a message saying "your connection is not private" or "privacy error".
Just try to refresh the page first. We know this solution is too obvious, but we must include this tip, as it works most of the time. Sometimes, the connection between your browser and the SSL certificate of that website does not work properly. Therefore, refreshing the page can solve this problem right away.
Do not use Public Wi-Fi
We all have a habit of going to places and connecting to every public Wi-Fi we find. And, that is not at all a good habit. Accessing your delicate data using public Wi-Fi can jeopardize your privacy.
The same goes for this error also. People who mostly use public Wi-Fi to access the internet get this privacy error message in Chrome. Most people do not know this fact, but let us give you a piece of information that — All the public WI-FI uses HTTP. That means, any data or information you put online over a public network is not encrypted and is easily accessible. Thus, making you more vulnerable. Therefore, we suggest that you should use public Wi-Fi as little as possible.
Clear the Browsing Data on your Chrome
This is another effective solution for the privacy error message. Chrome creates a detailed history of every browser activity of yours. If you open the history section, then you will find the list of every website you visited.
Over bulking the browsing history or browsing data can also lead to the privacy error message. That is why we say that, in case you have not cleared your browsing data for a very long time, then you should do it right now. Here is how –
Open Google Chrome and tap on the three dots from the top right corner
Click on the More Tools option then tap on the option saying, "Clear browsing history".
In the opened window, select the beginning of time.
Tap on "Clear browsing Data".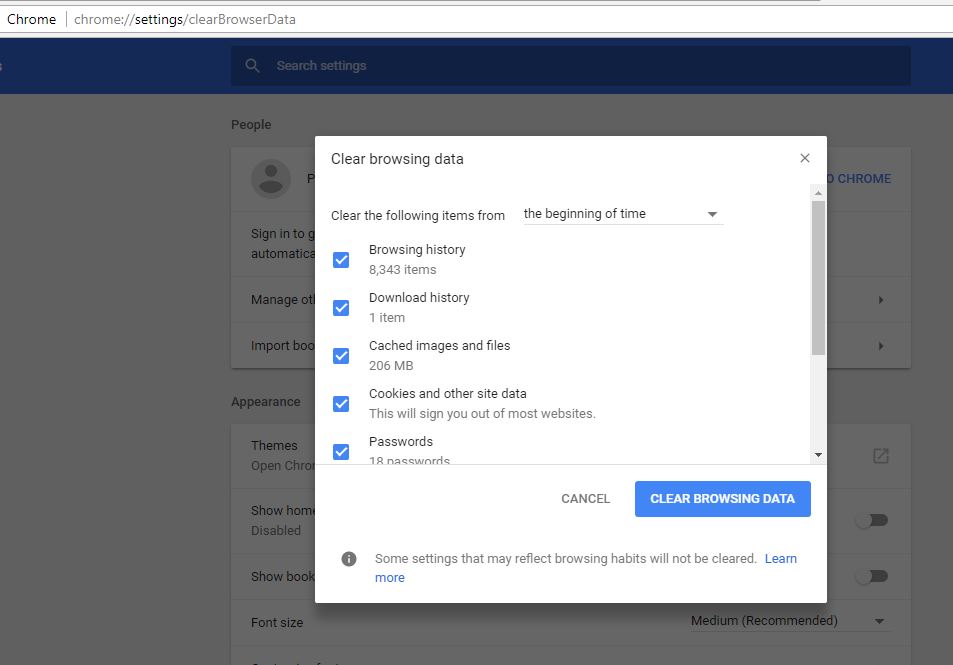 That's it, all your browsing data will be deleted with just a simple click. Now, again try to visit the same website. This time hopefully you will be able to access the website. In case, the privacy error message is still showing, then just move on to the next solution.
Use Incognito Mode
Incognito Mode is an option available on Google Chrome. By using the Incognito Mode you can browse the internet anonymously, and none of your data or browsing history will be saved.
We listed this option as a solution because sometimes, websites that do not open in normal mode tend to open in Incognito Mode. That's because in Incognito Mode the browser does not use any of your previously saved data or added cookies.
Hence, in order to access the Incognito Mode all, you have to do is –
Open the Chrome browser and tap on the three dots from the top right corner.
From the opened list of options select "Incognito Mode".
A black-themed search engine will be displayed on your screen.
Now, here on the address bar, type in the website address and try to access it.
Check your Computer's Date and Time
Yes, the date and time set on your computer can affect the response of Chrome towards the validation of the SSL certificate. Therefore, it is mandatory that the time and date set on your computer must tally with that of the Chrome browser.
In case the date and time do not match, the SSL certificate might show as invalid, thus showing you the privacy error message. Therefore, we recommend you to check whether the date and time set on your computer is correct.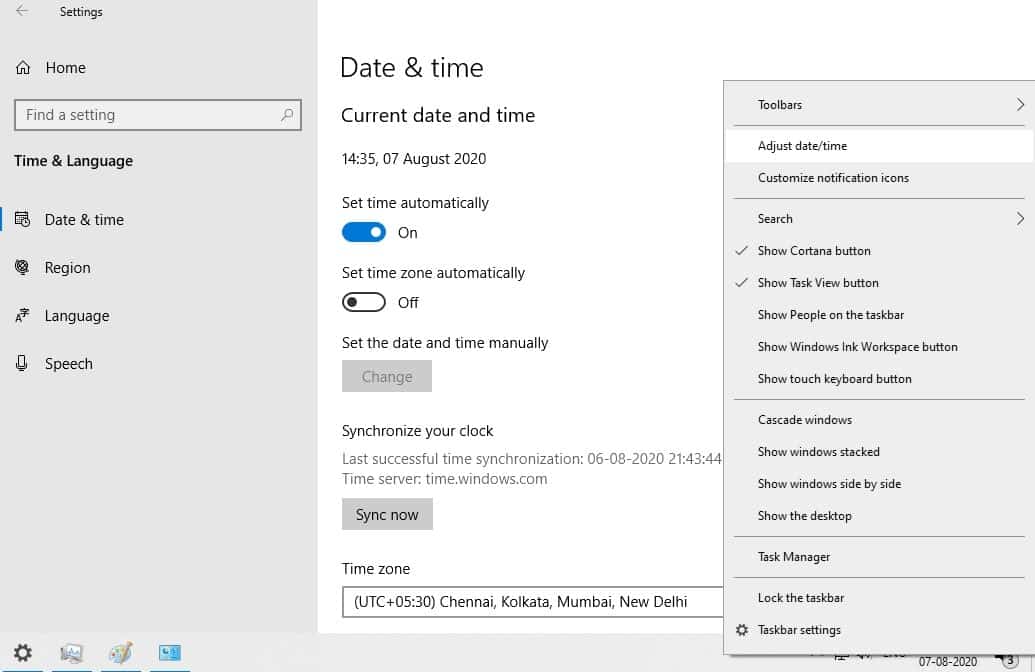 Check your Antivirus Status
Sometimes, the antivirus software installed on your computer blocks unusual SSL certificates. That means your antivirus will not give you permission to access that webpage. Thus, Chrome shows you the privacy error message.
In this case, what you can do is disable the antivirus for some time (until your work on that website is done). And, then re-enable the antivirus after you exit the website.
Another way is that you can only disable the SSL scanning feature keeping the browser firewall enabled. If you see that the problem is gone, then you are good to go.
Manually Proceed with Unsafe Connection
If you are reading this solution, then we assume that none of the above solutions has worked in your case. And, it is important for you to visit that website.
Remember this, the privacy error message cannot stop you from visiting that website. So, you still have a chance. But, it's a bit risky and not always recommended.
If you have no problem, then just click on the "advanced" option from your screen and select to proceed with that website, despite the privacy error.
Finally…
Google Chrome is one of the most downloaded and most used browsers on the internet. In the above topic, we have discussed some solutions regarding the privacy error message. Many users have already found these solutions effective and useful. Therefore, we recommend that in case you are also receiving the privacy error message from Google Chrome, then feel free to apply the solutions to your system. And, you will be good to use Chrome again, in no time.
Also read: