Here some of the best working solutions apply to fix, If you've been encountering issues during the installation of the Windows 10 cumulative updates,
Microsoft has recently released Security Update for devices running Windows 10 with both security and non-security fixes. As this is an important update, it downloads and installs automatically on your device. But for some users, windows update not going well as windows update is stuck checking for updates, update downloading and installation stuck installing or Cumulative Update for Windows 10 x64-based Systems failed to install with a different error such as error 0xca00a000, 80072ee2, 0x800f081f etc.
Windows 10 update failed to install
Users report the problem on the Microsoft forum, Reddit as Latest Update failed to install with the following error messages like
2022-12 Cumulative Update for Windows 10 x64-based Systems  – Error 0xca00a000
Some update files are missing or have problems. We'll try to download the Update again later Error code: (0x80073712)
There is a various reason that causes windows update fails to install, Stuck downloading, or installing, Such as a poor internet connection refuse Download update files from the Microsoft server, or take a long time to download the update files where you found yourself stuck for hours for downloading updates. Check and make sure you have a stable internet connection.
Remove third-party security software
Again sometimes security software (Antivirus) also prevent to do any changes that result from windows update stuck installed. We recommend Temporarily Disabling or uninstalling antivirus software if installed and check for windows updates.  +
The solution that worked for Me!
In the search box on the taskbar, type cmd.
Right-click Command Prompt in the search results and select Run as administrator.  (Select Yes, when prompted by the User Account Control.)
In the Administrator: Command Prompt window, type the following command and press Enter: SC config trustedinstaller start=auto
Restart the PC.
In some cases, a second restart may be required. If you look under Settings > Update & security and you see the message Status: Awaiting restart, restart the PC a second time to complete the installation.
Windows Update Troubleshooter
Windows has a built-in update troubleshooter that will try to detect and automatically resolve any problems preventing Windows Update from downloading and installing correctly. As it's a handy tool that mostly fixes windows update problems with few clicks. We recommend running the windows update troubleshooter before trying other solutions.
Press Windows + I to open the Settings App,
Go to Update & security then Troubleshoot, and click on the additional troubleshooter link
Select Windows update on the right-hand side and click Run troubleshooter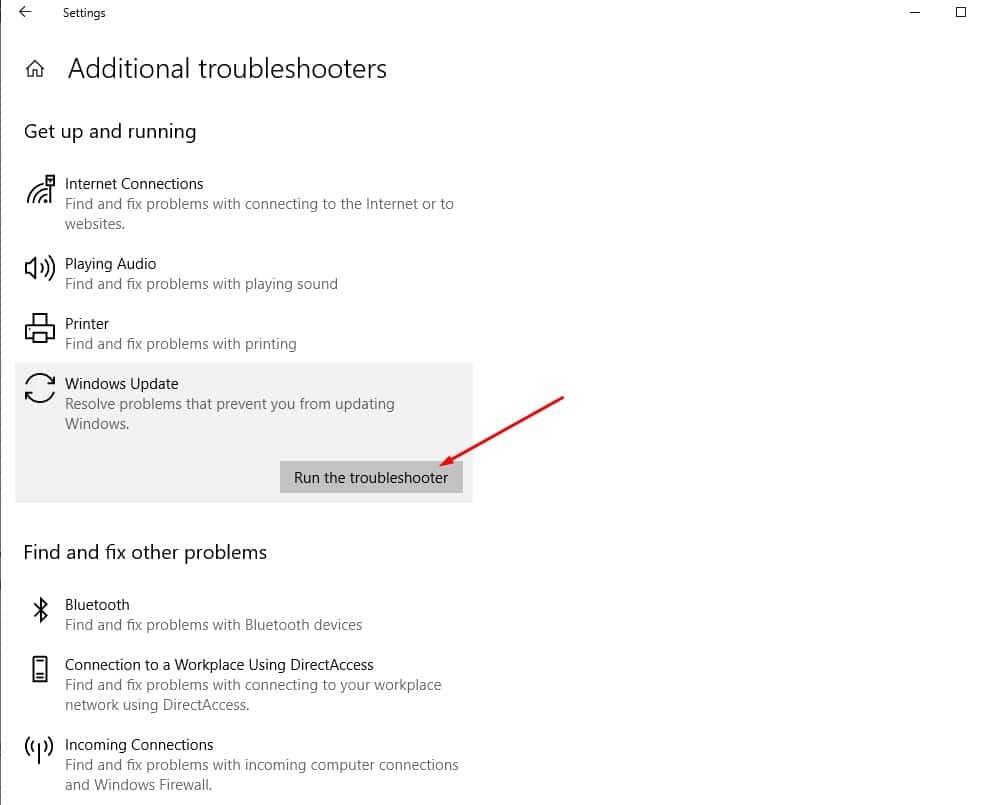 It will then begin to detect any problems that prevent windows updates install and automatically repair them. If it finds any, it will list them and whether it was able to resolve them or not. From here, you can view detailed information to find out more.
When the troubleshooting process is complete, click close to end the troubleshooter.
Restart windows and on the next login rerun Windows Update and see if it truly has resolved your issues. If not, don't worry try the next solution.
Clear Windows Updates Download Folder
Your Windows Update may fail to update your Windows because its components are corrupted. These components include the services and temporary files and folders associated with Windows Update. You can try resetting these components, Clearing the folder where all of the update files are stored will force Windows Update to download afresh, which can help resolve any problems.
To reset these components Click the Start button in the lower-left corner of your screen, then type "cmd". In the list of results, right-click Command Prompt and select Run as administrator. Now perform the command below to stop windows update and its related services.
net stop bits
net stop wuauserv
net stop appidsvc
net stop cryptsvc
Now press Windows key + E to open file explorer, and navigate to C:\Windows\SoftwareDistribution\Download
Delete everything inside the download folder, So that windows download the fresh update files next time when you check for updates.
To do so, press CTRL + A to select everything and then press Delete to remove the files.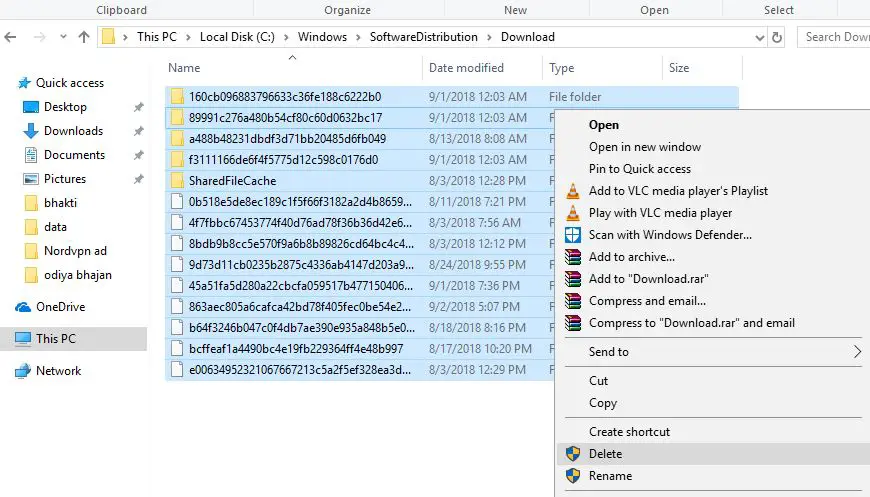 Now again open Command Prompt, type these commands and press Enter after each to restart the services you stopped before:
net start bits
net start wuauserv
net start appidsvc
net start cryptsvc
That's all, restart your computer and run Windows Update. This is the best solution users recommend which fixes most of the windows update-related problems, and I hope this also fixes the problem for you.
Windows corruption errors with DISM & SFC tools
If performing the above solutions didn't resolve the issue, and still windows update fails to install, there is a chance corrupted system files causing the issue. We recommend run the DISM and SFC utility to repair the system image and restore missing system files. To do that:
Open the command prompt as administrator. Type Command  Dism.exe /Online /Cleanup-Image /Restorehealth to repair the system image. After 100% complete the scanning process run sfc /scannow command to scan and restore missing system files. Restart windows when SFC utility completes the scanning process and check for updates.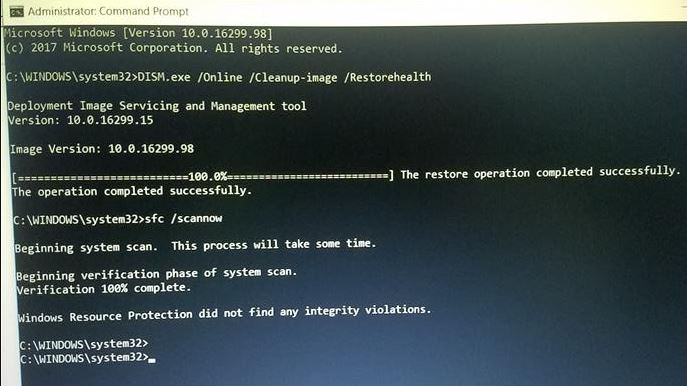 Manually install Windows updates
Also, you can resolve the problem manually by installing the latest Windows 10 updates.
Visit the Windows 10 update history webpage where you can notice the logs of all the previous Windows updates that have been released.
For the most recently released update, note down the KB number.
Now use the Windows Update Catalog Website to search for the Update specified by the KB number you noted down. Download the Update depending on if your machine is 32-bit = x86 or 64-bit=x64.
Open the downloaded file in order to install the Update.
That's all after installing the updates simply restart the computer to apply the changes. Also If you are getting windows update stuck while the upgrade process simply use the official media creation tool to upgrade to Windows 10 version 1909 without any error or problem.
Other Common Windows Update Errors
The following table lists the most common upgrade and installation errors and some things you can try to fix them. If you continue having problems upgrading or installing Windows 10, contact Microsoft support.
Error
What it means and how to fix it
0xC1900208 – 0x4000C
This could indicate that an incompatible app installed on your PC is blocking the upgrade process from completing. Check to make sure that any incompatible apps are uninstalled and then try upgrading again.
0xC1900107
A cleanup operation from a previous installation attempt is still pending, and a system restart is required to continue the upgrade. Restart the device and run the setup again. If restarting the device does not resolve the issue, then use the Disk Cleanup utility and clean up the temporary files and the System files. For more information, see Disk cleanup in Windows 10.
0x80073712
A file needed by Windows Update is likely damaged or missing. Try repairing your system files: Select the Start button and type command prompt in the search box on the taskbar. Choose Command Prompt from the list of results. In the window that appears, type DISM.exe /Online /Cleanup-image /Restorehealth and press the Enter key.

0xC1900200 – 0x20008

0xC1900202 – 0x20008

This may signify that your PC doesn't meet the minimum requirements to download or install the upgrade to Windows 10. Learn more about the minimum requirements for Windows 10
0x800F0923
This might indicate that a driver or other software on your PC isn't compatible with the upgrade to Windows 10. For info about how to fix this problem, contact Microsoft support.
0x80200056
This could mean that the upgrade process was interrupted because you accidentally restarted your PC or signed out of your PC. Try upgrading again and make sure your PC is plugged in and stays turned on.
0x800F0922

This error might mean that your PC couldn't connect to the Windows Update servers. If you're using a VPN connection to connect to a work network, disconnect from the network and turn off the VPN software (if applicable) and try upgrading again.

The error could also mean there isn't enough free space in the System Reserved partition. You might be able to fix this problem by using third-party software to increase the size of the System Reserved partition.

Error: We couldn't complete the updates. Undoing changes. Don't turn off your computer.

Error: Failure configuring Windows Updates. Reverting changes.

These are generic errors that might appear any time a Windows update fails. You'll need to determine the specific error code to investigate how to best resolve this problem.

You can find the error code for the failed Update by viewing your update history. Look for the Update that wasn't installed, note the error code, and then contact Microsoft support.

 

To view your update history in Windows 8.1:

Open Windows Update by swiping in from the right edge of the screen (or, if you're using a mouse, pointing to the lower-right corner of the screen and moving the mouse pointer up), select Settings  > Change PC settings > Update and recovery > View your update history.

To view your update history in Windows 7:

Select the Start

button. In the search box, type Update, and then, in the list of results, select Windows Update > View update history.

Error: The Update isn't applicable to your computer.
This error might mean that your PC doesn't have the required updates installed. Check to make sure that all important updates are installed on your PC before you try upgrading.

0x80070070 – 0x50011

0x80070070 – 0x50012

0x80070070 – 0x60000

This likely indicates that your PC doesn't have enough space available to install the upgrade. Free some space on the drive and try again. Get tips for freeing up drive space
Did these solutions help to fix "Windows 10 update failed to install"? Let us know which option worked for you. Also, Read