Windows Module Installer Worker or TiWorker.exe service responsible for checking and updating Windows OS. Here is what to do If the service causing High CPU or disk usage problem.
Sometimes you may experience windows 11 laptop or computer is very slow to respond or freezes, especially after the windows 11 update and Windows Modules Installer takes up a lot of resources. A number of users report Why does the Windows Modules Installer Worker require such a high CPU usage? Usually, Windows Modules Installer Worker or TiWorker.exe is a legitimate windows service, it's related to windows updates. And it may consume a higher quantity of CPU resources when looking for and installing updates. But if you notice Windows Module installer worker is constantly running with very high CPU usage and slow down the PC performance here are a few workarounds to apply.
What is Windows Modules Installer Worker?
Windows Modules Installer Worker also known as TiWorker.exe is a legitimate system component in Microsoft Windows which is responsible for installing new modules and updates. It prepares your Windows 11 computer for installation and checks frequently for new updates. Also, this TiWorker.exe completes the various tasks that are needed after the update to Windows.
Generally, this windows modules installer worker will terminate all the resource that is necessary for Windows Update once the update is finished. But sometimes due to technical reasons, these resources will keep on running in the background, Which Causes High System Resource usage and your computer gets slowed down. Again Virus malware infection, Interference due to third-party apps, Corrupted system files, Bad configuration of windows updates, etc cause windows modules installer worker to 100% CPU usage or High Disk usage problem.
Fix windows modules installer worker high CPU usage
Windows 11 high CPU usage by Windows Modules Installer is a common problem and running related troubleshooter or deleting the software distribution folder help fix such problem. Sometimes you need to run SFC and DISM commands to repair system files that help fix high CPU usage problems on windows 11. Also, Disable the automatic Windows Update check if the high CPU issue is solved.
Lets first restart the system and check if the high CPU issue is solved. This will reloads the operating system files and clear temporary gliches that migth cause 100 CPU usage on windows 11.
Check for malware virus infection
The next thing you need to check and make sure Virus or Malware Infection not causing the issue. We recommend perform full system scan with latest updataed antivirus or anti malware problem.
Also Install a Free System optimizer like Ccleaner to Clean up junk, Temp, Cache, System errors, Memory Dump files, And Fix missing broken registry Errors.
Perform Windows clean boot that helps to determine if any third-party service conflict causing windows modules installer worker high CPU usage problem.
Restart the Windows Update Service
As this problem is related to windows update, and if due to any reason windows update service stuck running that might cause module installer running background and cause high system resource usage on windows 11.
Press windows key + R, type services.msc and click ok to open windows service console,
Scroll down to locate windows update service, right click on it and select the Stop option.
Wait a few minuts, now

right-click on the Windows Update service again and select Start.
Install All Available Updates
Make sure that you have installed all available Windows Updates on your computer. Installing latest windows updates not only clear or fix previous bugs that might causing 100 CPU usage but also optimize windows 11 performance as well. Again if due to some reason windows update install stuck, the pending update process run on the background that may causes High System resource usage by windows modules installer worker.
Lets check and install windows 11 updates first:
Press windows key + X and select settings form the context menu,
Nevigate windows updates and hit check for updates button,
If new updates available or pending there allow them download and install on your computer,
Once done you need to reboot your PC to apply them.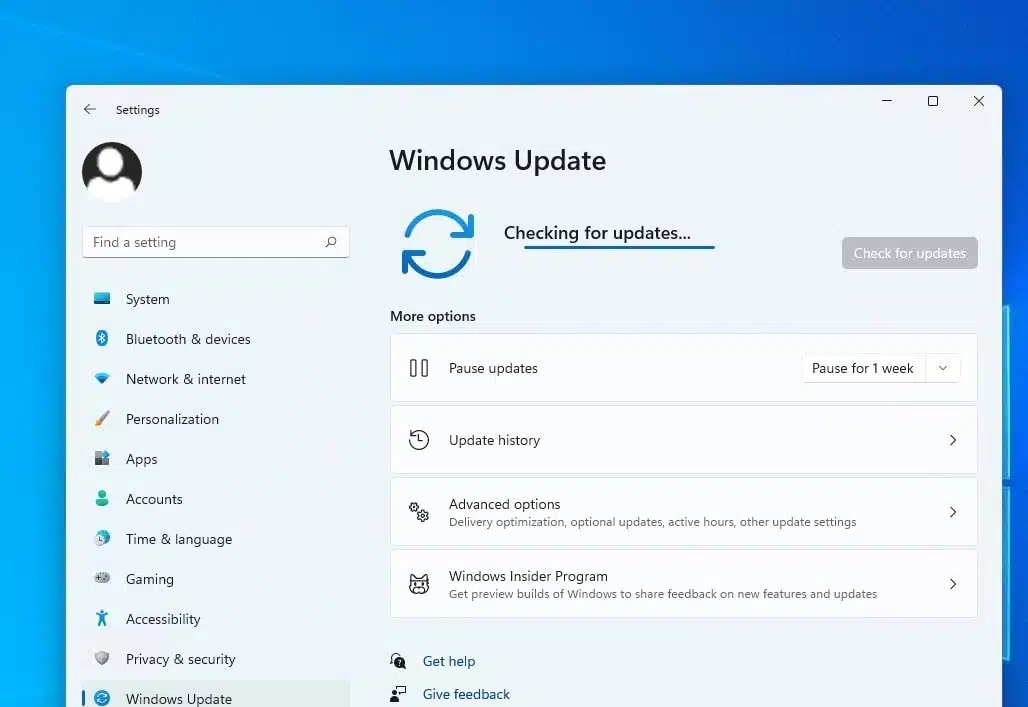 Run Windows Update Troubleshooter
This problem, windows module installer worker high cpu usage is related to windows update. If due to some reason windows update stuck download or install the windows module installer continues run on background and consume system resources. And that result windows 11 High CPU or Disk usage problem. And in such cause you need to fix the windows update problem first to reduce system resource usage on your computer.
The most quick and easiest way to fix windows update probems is run its related troubleshooter. Running the windows update troubleshooter will run and attempt to identify if any problems exist and try to fix them automaticlaly.
Press windows key + I to open windows 11 settings,
Nevigate system the troubleshoot and click on other troubleshooters,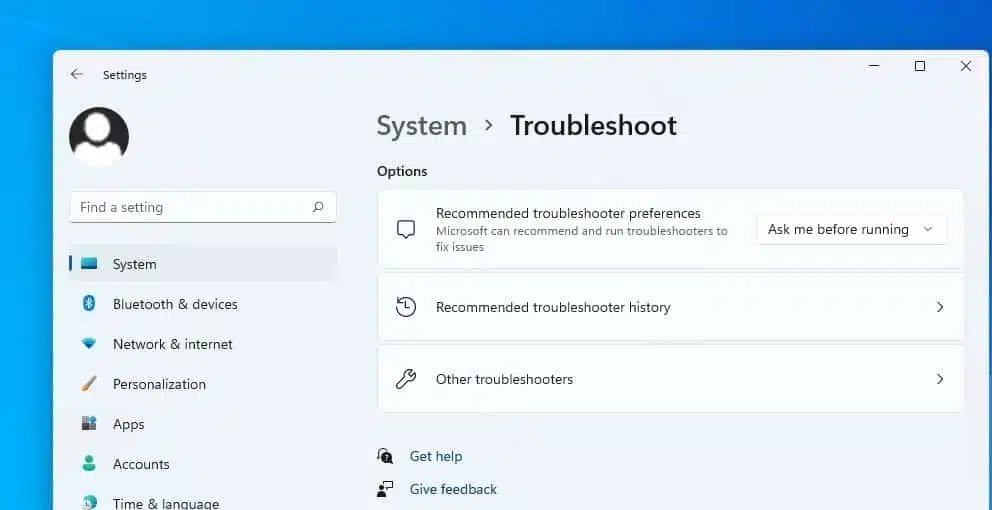 This will display a list of troubleshooters available to fix windows 11 problems automatically,
Scrolldown to locate and select windows update then click on Run
This will automatically scan for and detect problems within your system, which can take a few minutes to complete.
let windows check and fix any buggy update stuck or causing High CPU usage problem itself for you. Once doen reboot your system and check if the problem resolved.
Clear windows update cache files
Bydefault, windows update files download and stored in the SoftwareDistribution folder. And a single corruption on this folder causes different problems installing Windows updates, cause updates stuck checking that results windows modules installer worker high CPU usage. Lets clear the windows update folder and force windows update download fresh new files form microsoft server. Dont worry windows automatically generate a new folder with the same name when a new Windows update appears. So, there is no risk in deleting the SoftwareDistribution folder.
Stop windows update service:
Press windows key + R, type services.msc and click ok to open windows service console,
Scrolldown to locate windows update service, right click on it select stop,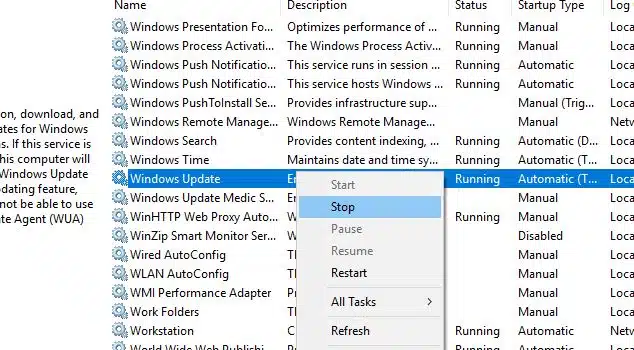 Clear windows update cache
Next press windows key + E to open windows 11 Home,
Neviate C:\Windows\SoftwareDistribution\Download
Here delete all files and folders inside the download folder, to do so press ctrl + A to select all then hit the del key.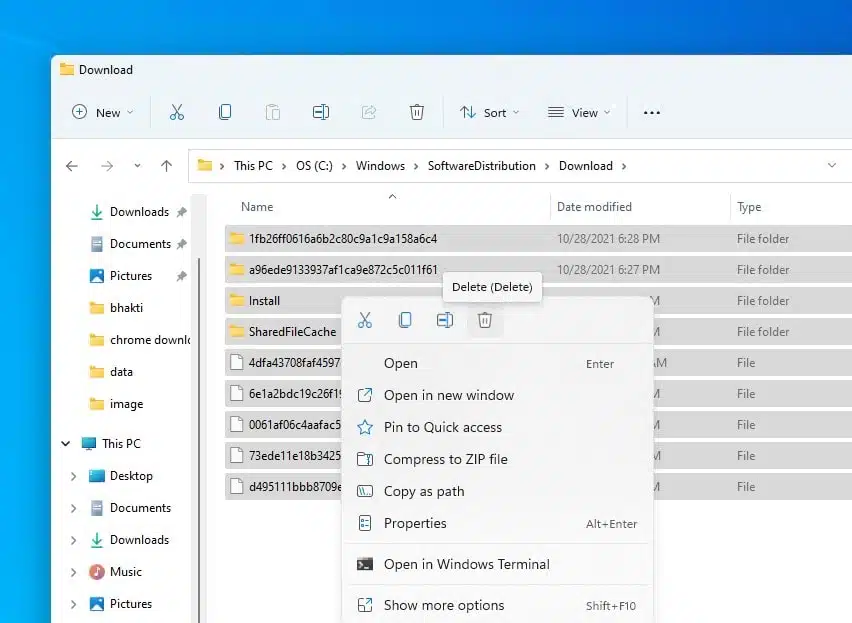 Restart windows update service
Again open windows service console using services.msc
Locate the windows update service, right click on it select start or restart.
Now Restart windows to take a fresh start, then check there is no more High CPU usage.
Decrease TiWorker process priority
Press Ctrl + Shift + Esc simultaneously to open the Task Manager, then click More Details.
Next move to the Details tab scrolldown to locate TiWorker.exe process right click on it and Set the priority to Low.
Now see how your computer acts with this setting, If TiWorker high usage issue is not eliminated continue to the next solution.
Checking the System Maintenance
The system maintenance will take you into a number of steps that will remove unused files, and shortcuts and performs task maintenance. You can not only fix windows modules installer worker High Cpu usage but also you can remove the other unwanted files.
This is an alternative solution to the above problem. To clear the TiWorker.exe "problem" (which isn't really a problem) run Automatic Maintenance
Press windows key + S and search for control panel app
Nevigate Security and Maintenance then expand the maintenance section and click on Start Maintenance.
This process can take some time so make sure that you have something else to do before you start the process.
Repair Corrupt system Filest
This is also an alternate method to fix the windows 11 High CPU usage problem. Corrupted system files also responsible for different problems on the windows computer. If due to some reason TiWorker.exe or the files it needs for its operation corrupted or missing may cause the windows modules installer worker unresponsive.
To check and make sure missing damaged system files not causing the issue Run the windows SFC utility by the following below.
First open the command prompt as administrator
Then type sfc /scannow and hit the enter key.
The SFC utility will start scanning for missing corrupted system files.
If found the system file checker utility Restore them from a compressed folder located on %WinDir%\System32\dllcache.
Wait until 100% complete the scanning process
After that Restart windows and check the High System resource usage problem is resolved.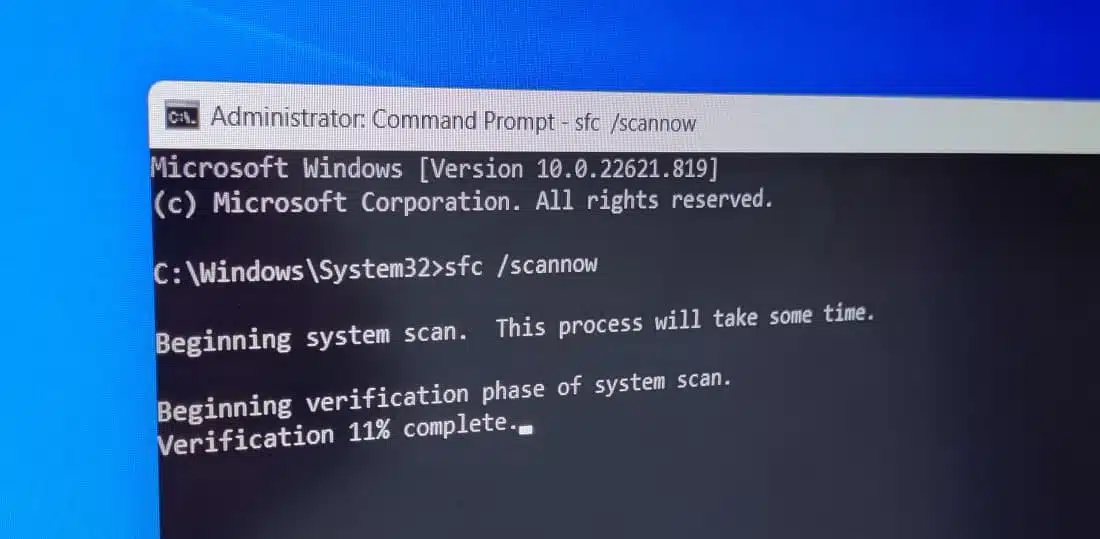 Run DISM Command
If the System file checker Results Windows Resource Protection Found Corrupt Files but is unable to fix them. This means the utility is unable to repair missing damaged system files. That cause you need to run the DISM command Dism /Online /Cleanup-Image /RestoreHealth which Repairs the System image and Enables SFC to do its job.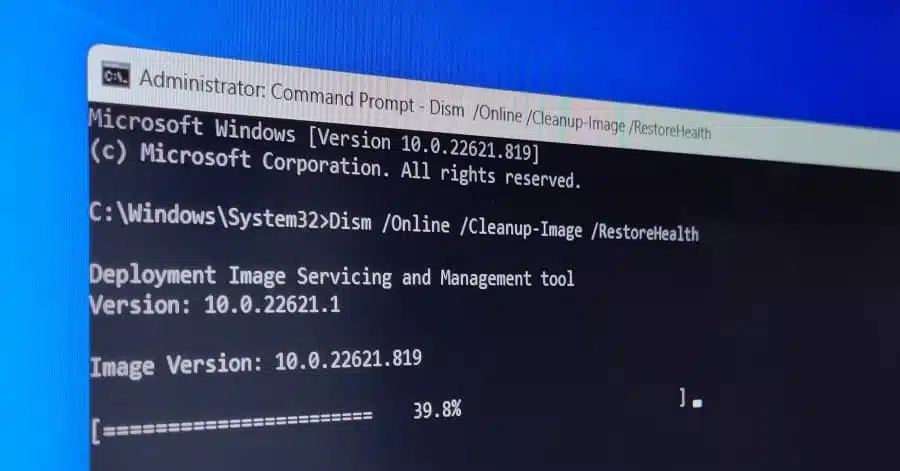 After Run the DISM command Again Run Sfc /scannow command to repair missing system files. After That Check and fix Disk Drive errors by running the Check Disk Command line. Now Restart windows and Check, There is no more 100% CPU usage or High Disk Usage by the windows modules installer worker.
Turn off Automatic updates for Windows 11
Windows Modules Installer Worker is a core component of Windows Update. And few users report, disabling Windows 11 automatic updates help them fix Windows Modules Installer Worker High CPU problem on their computer.
Press Window key +I to open the Windows 11 Settings,
Nevigate windows Update in the left sidebar, and next to pause updates option select pause for 1 week
Also you can enable metered connection to prevent download and install windows updates automatically.
In addition you can disable the windows update and its related services to disable automatic updates for windows 11.
 Press windows key + R, type services.msc and click ok
Scrolldown to locate windows update service right click on it select properties,
Change startup type disabled and stop the service next to service status.
Note: As we set Windows Update to Disable, windows didn't download and install the latest updates.
Did these solutions help to fix the windows modules installer worker high CPU usage problem on Windows 11? Let us know in the comments below,  also read