Microsoft released a New Cumulative update KB5032190 (OS Build 22621.2715) that brings the Moment 4 features to Windows 11 version 22H2. KB5032190 is a mandatory security update for Windows 11 version 22H2 and 23H2 and brings a number of new features, bug fixes and improvements. You can download and install Windows 11 KB5032190 via Windows Update and Microsoft Update Catalog. It's like a regular Windows update installation and you need to reboot your PC to apply the changes. But few users report Windows 11 KB5032190 update stuck download or it fails to install with Error 0x800f081f. If you are also experiencing problems installing Windows 11 updates on your computer, Windows Update Stuck at 100 apply the solutions listed below.
Windows 11 KB5032190 stuck download
There are several reasons that cause Windows 11 KB5032190 update to stuck downloading or fail to install but most often, these types of problems are due to a software conflict or maybe a pre-existing issue in the update that was not identified until the update began installing and more.
It's due to a Slow or unstable internet connection window takes time to download update files from the Microsoft server or Windows update stuck at 100. Again, security software like third-party antivirus or VPN blocks download or apply Windows update files.
Insufficient disk space or corrupt system files on your PC are some other reasons why Windows 11 Update is Stuck at 100. Whatever the reason, there are a bunch of solutions you can apply to Fix Windows Update Errors in Windows 11.
Before getting started check and Confirm the Update Is Truly Stuck? Because sometimes due to a slow internet connection downloading Windows update files from the Microsoft server may take some time. That's why we suggest to wait a few more minutes and let the updates download.
The next thing you need to check and make sure you have a working internet connection. In addition, temporarily disable Antivirus protection, and also disconnect from VPN (if configured on your PC)
Next Start Windows into clean boot state and check for Windows updates. This will help if any third-party software conflict causes Windows Update to stuck downloading. The latest Windows 11 Moment 3 update brings a number of new features and is big in size compared to regular cumulative updates, Ane we recommend free up the system drive to download new update files from the Microsoft server.
Run Windows Update Troubleshooter
Run the Build in Windows update troubleshooter that helps to detect and fix the problems that cause Windows Update to stuck downloading and installing.
The windows update troubleshooter is specifically designed for fix windows update and its related process.
Press the keyboard shortcut, Windows + I to open the settings app,
Click on troubleshoot then other troubleshooters,
Locate Windows Update and then select Run to start the diagnosis process,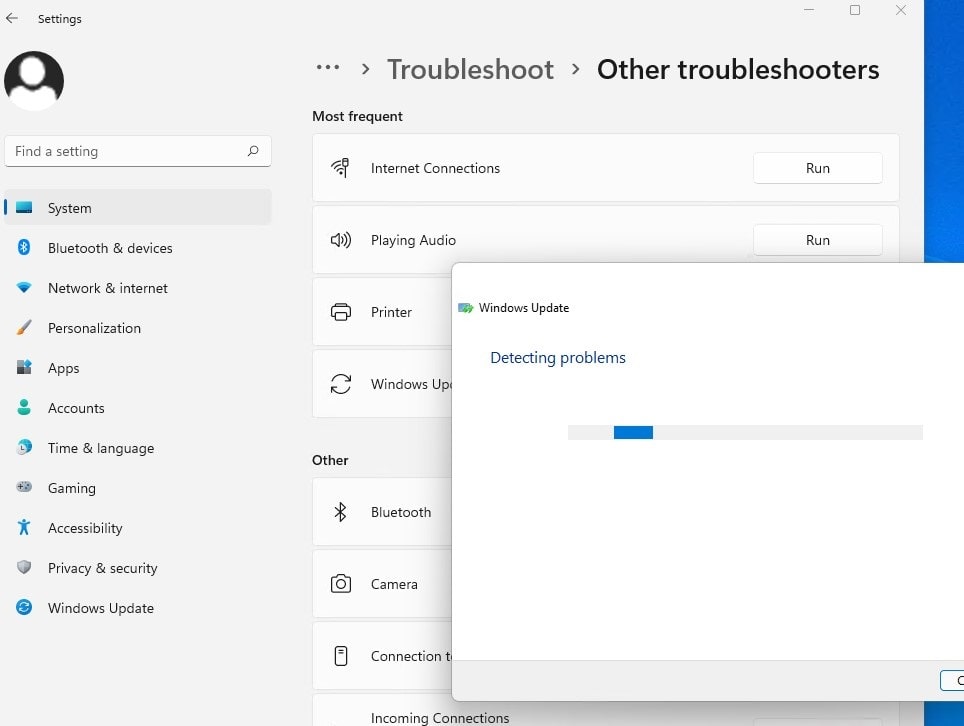 The troubleshooter will attempt to identify if any problems exist that prevent your computer from downloading and installing Windows Updates.
In most cases, the Troubleshooter will tell you there are pending updates to install. Click 'Apply this fix' and allow the Troubleshooter to install them. In other cases, you will need to follow the onscreen instructions to repair the update.
And If found any problem the update troubleshooter try to fix the problem itself. After complete the troubleshooting process simply restart Windows and check for updates from settings Windows update -> check for updates.
Run a System File Scan
Corrupted system files are another common reason why Windows update is stuck in download or installation. Run the DISM restore health and system file checker command that helps scan and repair system files on Windows 11.
Press Windows key + S and type cmd, right click on command prompt select run as administrator
First, run DISM command DISM.exe /Online /Cleanup-image /Restorehealth
Next, run the system file checker command sfc /scannow
The above command line utility verifies the integrity of system files and replaces corrupted ones.
Once done reboot your PC and try to install Windows updates again.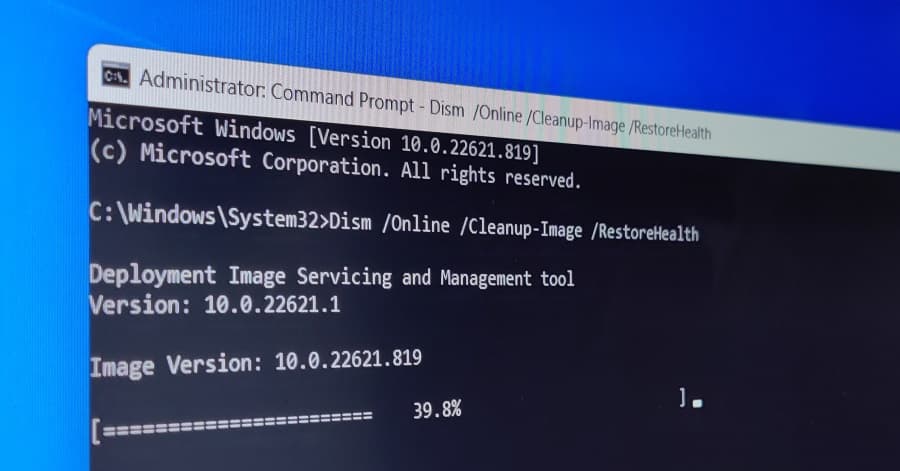 Restart Windows Update Service
Windows update and its related services need to be enabled and running to download and install Windows 11 updates from the Microsoft server. If the Windows 11 update won't download or it's stuck checking need to check and ensure the required services are running.
Press the Windows key + R and type services.msc then click OK,
Now scroll down to locate the Windows update service, right-click on it select restart.
If the service is not started, right-click on Windows Update Service select properties,
Here make sure the startup type is selected Automatic and click start next to service status.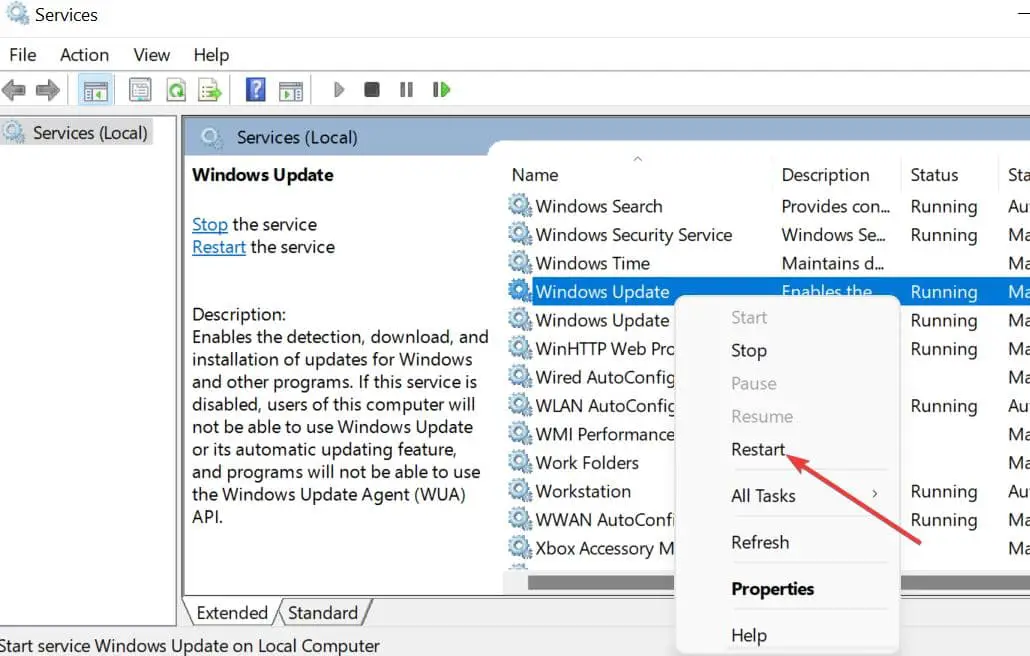 Click apply then OK to save changes, Do the same for related services required by Windows Update are enabled and running.
Application Identity
Background Intelligent Transfer Service (BITS)
Cryptographic Services
Reset Windows Update components
Also, there are chances that the Windows update database get corrupted which conflicts with new updates to download and install. Let's reset Windows update components and force Windows Update to download fresh update files from the Microsoft server.
Open the command prompt as administrator, and perform the command below to stop Windows update and its related BITs service.
net stop wuauserv
net stop bits
Now navigate to File Explorer then C:\Windows\SoftwareDistribution\download.
Here delete all data inside the download folder, To do this press Ctrl + A keyboard shortcut and press the Del key.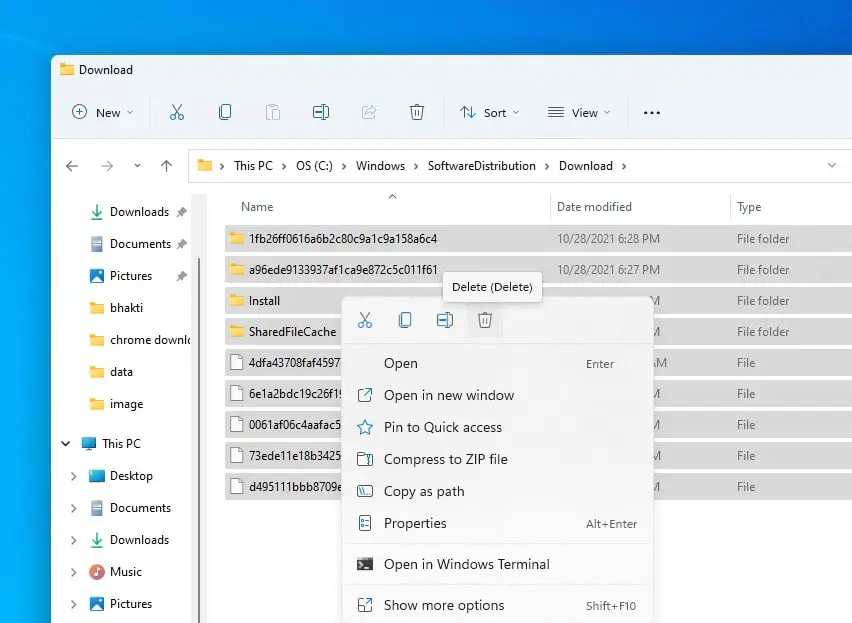 Now again open the command prompt and run commands "net start wuauserv" and "net start bits" To restart the Windows Update Service and Background Intelligent Transfer Service which you previously stopped.
Let's open settings again, then Windows update and hit the check for updates button.
Install Windows 11 KB5032190 Update manually
If all the above solutions fail to fix the problem, the Windows update stuck downloading or fails to install then let's install Windows 11 KB5032190 updates manually.
Visit the Windows 11 update history webpage where you can notice the logs of all the previous Windows updates that have been released.
For the most recently released update, note down the KB number.
Now use the Windows Update Catalog Website to search for the update specified by the KB number you noted down. Download the update depending on your machine.
Open the downloaded file in order to install the update.
That's all after installing the updates simply restart the computer to apply the changes. Also, If you are getting Windows Update stuck during the upgrade process simply use an official media creation tool to upgrade to Windows 11 22H2 moment 4 without any error or problem.
I am sure this time your system successfully installs the latest Windows updates without any error or download, the installation is stuck. Still, if you need any help or face difficulty while performing the above solutions feel free to discuss them in the comments below.
Also read: