Here is how to troubleshoot and resolve the most frequent windows update problems on Windows 10.
Microsoft regularly releases Windows updates to improve the overall performance, integrate new features, and patch security vulnerabilities. Recently the company has released a new cumulative update KB5030211 for the latest Windows 10 version 22H2 with various bug fixes, and security and reliability improvements. On the devices already running the latest Windows 10 version 22H2, KB5030211 update download and install automatically and you need to restart your PC to apply them. But a few users report Windows 10 update KB5030211 Failed to Install or it's stuck 100% downloading for hours.
Can't install the windows 10 KB5030211 update
Windows update failed to install
So what causes, Windows 10 update failed to install? There are several reasons why Windows updates keep failing: such as Slow internet or incomplete downloads, incompatible hardware or software, insufficient disk space, or corrupt system files or third-party software conflict are common.
If you are experiencing a similar problem, "Windows 10 update stuck download" or its fails to install with different errors, this article explores several troubleshooting steps you can take to fix the problem. Such as running the Windows Update Troubleshooter, checking your internet connection, freeing up disk space, disabling antivirus software, and performing a clean boot.
Let's first reboot Windows 10 and check for updates again. This will wipe up system memory, restart all running processes clear temporary glitches that may present there, and prevent Windows update download or install on your PC.
Check Internet connection
Your PC needs to be connected to a stable internet connection to download the latest Windows update files from the Microsoft server. If the Windows update is stuck downloading for hours or fails to install, the first thing you need to check and ensure the Internet connection is working.
You can check internet speed on fast.com or speedtest.com.
Also, you can confirm the same using the ping command.
Press Windows + R, type ping google.com -t and click ok
Check and confirm you're getting a reply without any packet loss.
If the ping replay disconnect between you need to troubleshoot the internet connection.
In addition, Antivirus software can sometimes interfere with the update process. Temporarily disable your antivirus software and disconnect from VPN (if configured) try installing the update again.
Sometimes, connected peripheral devices may cause conflicts and be the reason why Windows is unable to update. We recommend disconnecting the USB flash drive, in addition, remove the printer, and external HDD webcams, reboot your machine and then try to run the Windows update again.
Run the Windows update troubleshooter
Microsoft ships Windows 10 with a number of built-in troubleshooting tools that automatically detect and fix different problems with Windows 10. Run the built-in Windows update troubleshooter can help diagnose and resolve common problems with Windows Updates.
The Windows Update Troubleshooter identify and resolves many of Windows Update errors
Right-click on the start menu select settings,
Click on Update & Security then Troubleshoot.
Click the Additional Troubleshooter link (refer to the image below)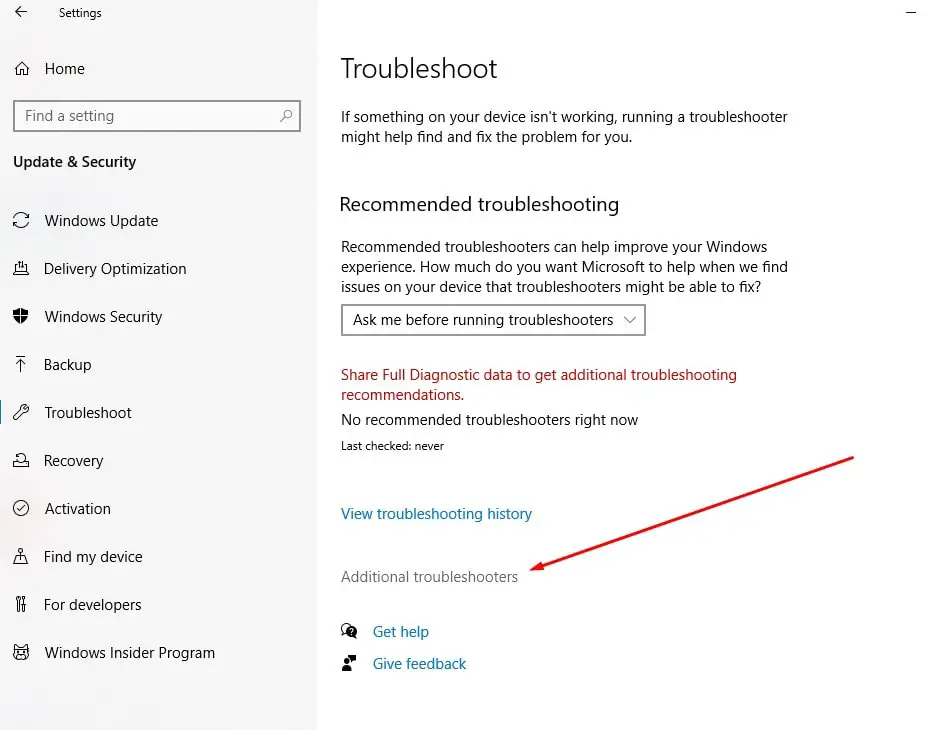 Next, Under the "Get up and running" section, select the Windows Update option.
Click the Run the troubleshooter button and follow the on-screen instructions,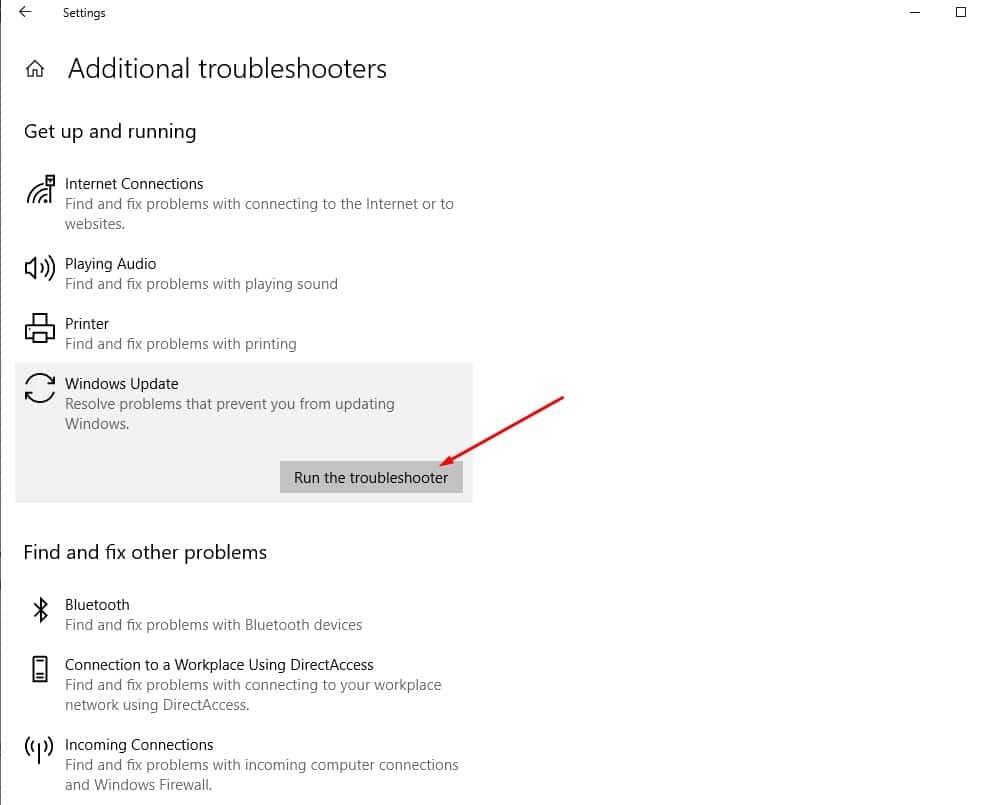 The Troubleshooter performs a series of checks to identify issues such as missing or corrupt files, network connection problems, or outdated drivers. Once the tool has identified the issue, it will suggest a solution or perform the necessary repairs to fix the problem.
Let the troubleshooter diagnose and resolve any issue that it finds once done restart your PC and check for updates again.
Reset the Windows update directory
If the troubleshooter doesn't fix the problem, then simply clear away the old update files and force download fresh Windows updates from the Microsoft server. To do this first stop Windows update service follow the steps below.
Press Windows + R, type services.msc and click ok
This will open the Windows services console
Scroll down and locate the Windows update service, right-click on it select stop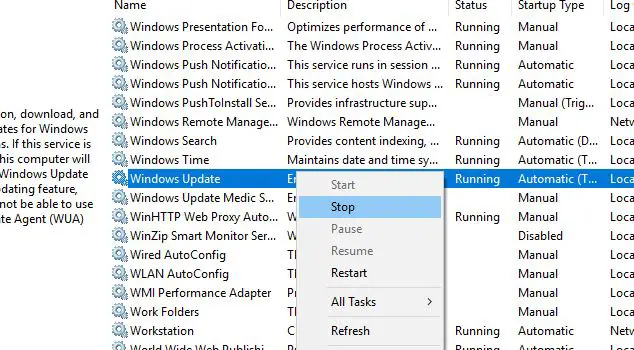 Now open File Explorer, navigate to the C drive the Windows\SoftwareDistribution\ Download.
Here select all files and folders (Ctrl + A) inside the download folder, Right-click, and delete.
Don't worry about these files, when you next time check for Windows updates it will download fresh ones from the Microsoft server.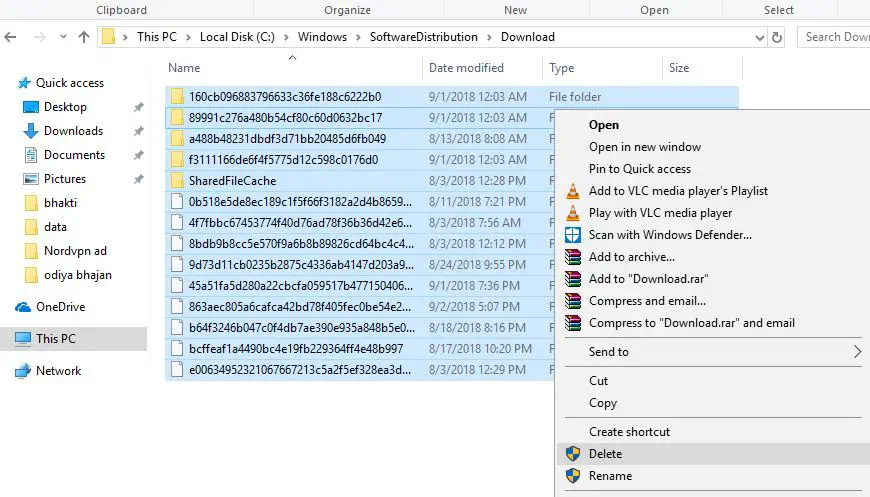 Again open the Windows service console, locate the Windows update service, right-click on it and select Start.
Now open Windows update and check for updates.
Perform a clean boot
Temporarily disable all non-Microsoft services and startup programs and try installing the update again. A number of users report start Windows in clean boot and check for updates help them install the latest Windows updates without any errors or problems. Let's perform a clean boot and check for Windows 10 updates.
Press the Windows key + R, type "msconfig," and press Enter.
Click on the "Services" tab, check "Hide all Microsoft services," and then click on "Disable all."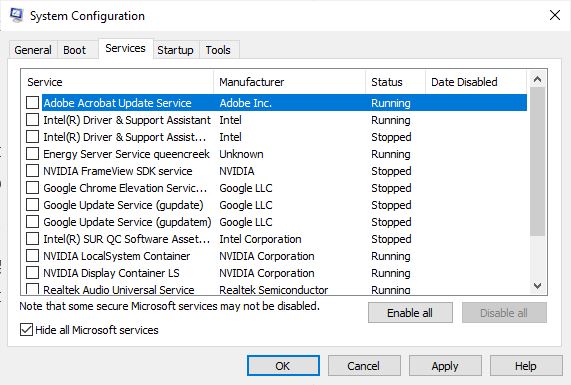 Click on the "Startup" tab and click on "Open Task Manager." Disable all startup items and restart your computer.
Your PC now starts in clean boot, open Windows settings, Go to update and security and check for updates.
Change DNS Settings
Here is another solution that helps fix most of the Windows update errors
Press Windows key + R, type ncpa.cpl and click ok,
Right-click on the active network adapter (Ethernet or WiFi) select properties,
Select Internet Protocol version 4 (TCP/IPV4) then click properties,
Now select the radio button and enter the following DNS server address ( Google's public DNS server)
Set preferred DNS server 8.8.8.8 and alternate DNS server 8.8.4.4
If you want to use an alternative like Cloudflare, you can input 1.1.1.1 and 1.0.0.1. Hit the "OK" button, and try Windows Update again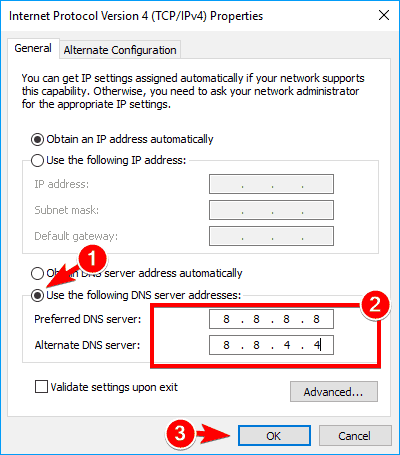 Run DISM and SFC command
There is a chance that your Windows 10 may have one or multiple corrupted system files, which may prevent Windows updates install.
Open Command Prompt as administrator.
In the Command Prompt window, copy and paste the following command: dism /online /cleanup-image /startcomponentcleanup
Wait for a few minutes to complete the scanning process
Next, type the command sfc /scannow and press the enter key
Once the scanning process completes 100% restart the system
Check for updates again.
Install Windows Update manually
If all the above solutions fail to fix the problem, still windows updates stuck downloading or fail to install then let's install Windows updates manually. Visit the Windows 10 update history webpage where you can notice the logs of all the previous Windows updates that have been released.
For the most recently released update, note down the KB number.
Now use the Windows Update Catalog Website to search for the update specified by the KB number you noted down. Download and install the update depending on if your machine is 32-bit = x86 or 64-bit = x64.
That's all after installing the updates simply restart the computer to apply the changes. Also If you are getting Windows Update stuck while upgrade the Windows 10 22H2 process simply use the official media creation tool to upgrade to Windows 10 version 22H2 without any error or problem.
Did the above solution help to resolve the Windows update installation problem? Share your feedback in the comments below.
FAQ:
Why did my Windows 10 update fail to install?
There are various reasons include slow internet or incomplete downloads, incompatible hardware or software, insufficient disk space, or corrupt system files cause Windows updates to fail to install or stuck downloading on your PC.
How can I fix a failed Windows 10 update?
Running the Windows Update Troubleshooter is a very effective solution automatically diagnose and fix the problem. In addition, you need to check your internet connection, free up disk space, disable antivirus software and more.
How do I run the Windows Update Troubleshooter?
Press the Windows key + X and select settings, now navigate to Update & Security > Troubleshoot > Additional troubleshooters > Windows Update. Then, click on the "Run the troubleshooter" button to start the process.
How do I free up disk space on my computer?
To free up disk space on your computer, you can uninstall unnecessary programs or files, use disk cleanup, or move files to an external storage device or cloud storage.
Also read: