Avast antivirus is one of the most popular free antivirus programs that help protect your computer against viruses, malware, ransomware, and other threats. It also offers various services like webcam and anti-phishing protection, secure password vault, internet threat scanning, and more. But sometimes you might notice, Avast antivirus won't open or not respond. If Avast is not opening on your Windows 10, there might be an incompatibility issue with your PC or the Avast installation may go corrupt or the Avast Antivirus service not running properly. There are several different methods people use in order to get rid of this problem. here in this article, we have listed the ones which have been the most helpful.
Avast Antivirus won't open
There are numerous reasons why Avast might not open it may be corrupt Avast installation that needs to be repaired or Avast Antivirus service not functioning properly.
Other security software or third-party applications on your computer might conflict with Avast, preventing it from opening properly.
If the Avast installation is corrupted or incomplete, it may lead to issues when trying to open the program.
Insufficient system resources, such as low RAM or a busy CPU, can hinder the proper functioning of Avast.
A corrupted user profile on your computer can impact the performance of installed applications, including Avast.
Avast might not be fully compatible with certain Windows configurations, leading to operational problems.
Before performing any solutions let's first restart the computer first. This action refreshes the computer system and removes corrupt temporary data that might cause this problem.
Restart the Avast Antivirus Service
When Avast doesn't open it could be the Avast Antivirus service is preventing the program from starting up properly. Restart the service following the steps below and check whether it resolves the problem or not.
Press Windows key + R, type services.msc and click ok
The Windows services console opens, scroll down and locate the Avast Antivirus service
Right-click on Avast Antivirus service select properties,
Check the Service status to see if it says Started and select Stop to stop it from running.
Set the Startup type option to Automatic and confirm the dialog box that appears.
Now click Start again to activate the Avast service.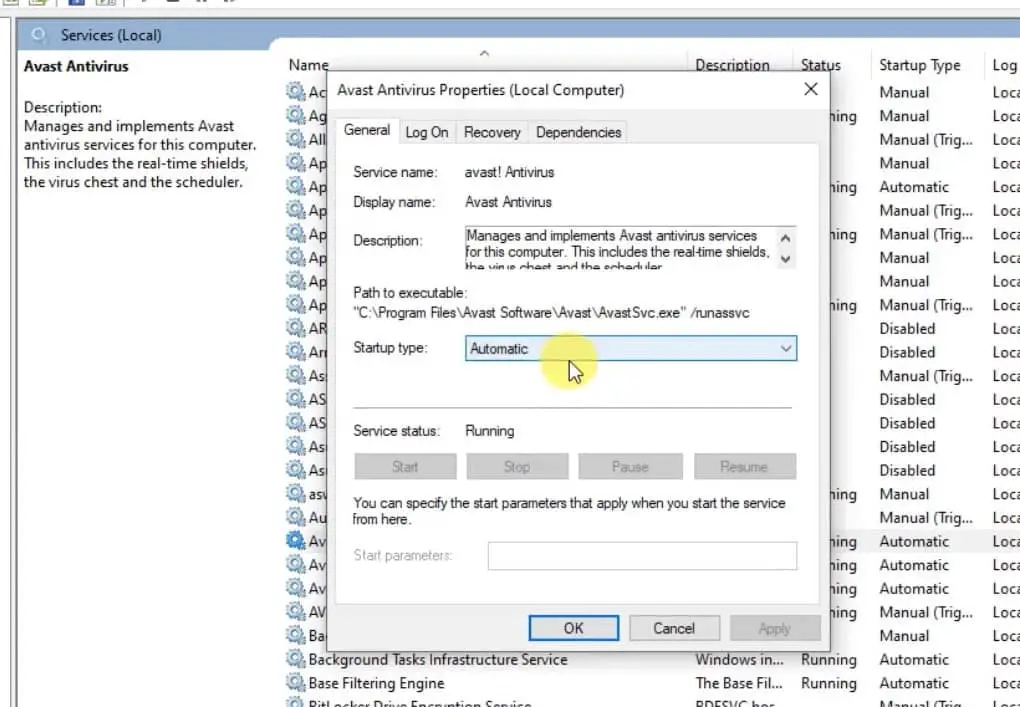 Repair the Avast Antivirus
There are chances, that Avast installation may have gone corrupt due to many different things and causing Avast won't open Windows 10. Repairing Avast will fix or replace program files that may be missing, outdated or corrupted, and reset the software configuration.
Go to Control Panel > Programs > Programs and Features.
 Find Avast antivirus in the list of installed programs and click on Uninstall/Change.
In the Avast setup wizard, click on Repair, click on Yes when ask for confirmation wait for the process to complete
After the avast repair process is complete click done close everything and restart your computer.
Update Avast antivirus
If you are using an outdated version of Avast antivirus, you may encounter some compatibility or performance issues that prevent it from opening. To avoid this, you should always keep your Avast antivirus up to date with the latest patches and updates.
Open Avast antivirus and go to Menu > Settings > Update.
Click on Check for updates under both Virus Definitions and Program.
If there are any updates available, click on Update now and wait for the update process to complete.
Restart your computer and check if Avast antivirus opens.
Execute a Clean Install
If the issue persists, completely remove all files associated with Avast from your PC using Avast Uninstall Utility. This can remove any corrupted or incompatible files that may cause Avast to not open.
Close any app or antivirus running on your PC, and then download the Avast Uninstall Utility tool.
Right-click the downloaded Avast Uninstall Utility file and select Run as administrator.
Avast Antivirus Clear dialog will prompt restart in Safe Mode, select Yes.
Select the location of Avast program files and the product edition to uninstall, and then select Uninstall.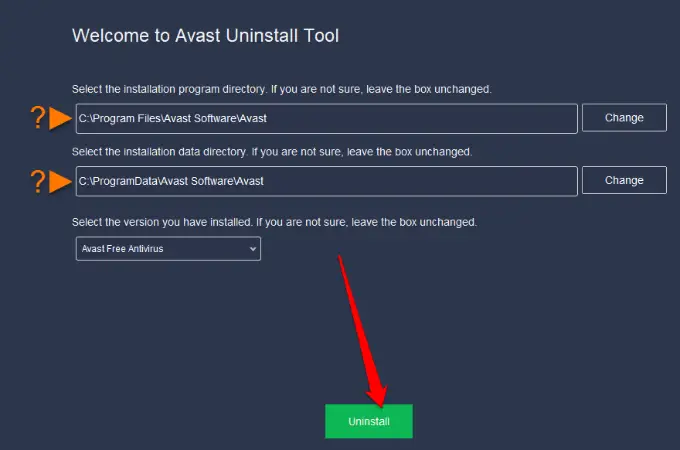 Once the removal process is completed, Restart the Computer to complete the uninstallation.
Now, reinstall Avast and try opening the program on your PC again.
Activate your license and check if Avast antivirus opens.
Sometimes when you are running outdated windows, you face this issue. The outdated Windows version may prevent other apps and software from running properly. Go to Settings>Update & Security> Windows Updates>Check for updates.
Other security software or third-party applications might interfere with Avast. Ensure that there are no conflicting programs installed. If necessary, temporarily disable other security software and see if Avast opens.
Ensure that your operating system is compatible with the version of Avast you have installed. Check the Avast website for compatibility information and update your operating system if needed.
Also read: