Sometimes you may encounter the error 651 "The modem (or another connecting device) has reported an error when you try to connect your PC (Windows 7/8/8.1 or 10) to the internet using the broadband connection. Error 651 is a common windows error that usually occurs when we try to establish an internet connection using PPPoE connections. It means that the required system driver file has failed to run which prevents you from using your internet connection as you should.
This error is usually caused by a Registry issue and will prevent the tool from recognizing your Router or Hub device. Again incorrect IP address configuration or Internet connection is broken that may causing error 651 on Windows 10, 8.1 and 7. Here different solutions to fix Error 651 in Windows 10.
Error 651 in Windows 10
Whenever we face any issue on mobile or on pc, the first step we take is to restart the device. And most of the time, doing this will resolve the issue. Let's restart your PC and/or, Restart your modem or any other internet connecting device. These steps are the most basic and initial troubleshooting.
Also, perform a clean boot and try to connect to the internet that helps if any startup service conflict causing the issue.
Temporarily disable security firewall and remove VPN (if configured on your PC)
Creating New Dial-Up Connection
There are chances the dial-up connection might get hanged and it will not work properly. Let's first create a new dial-up connection and check if this helps.
First, open  Control Panel
Click Network and Sharing Center then Change adapter settings(left side)
Right-click on the existing dial-up connection and click Create Copy.
Now delete your old dial-up connection and redial with the new connection.
Run the Network Troubleshooter
The Network troubleshooter is a windows automated tool that can find and automatically fix some common networking problems. Let's run the troubleshooter and allow windows to diagnose and fix the problem itself.
Open control panel
Search for and select troubleshooting
Next click hardware and sound then click network adapter (refer to image below)
The network adapter troubleshooting window opens, click next and follow on-screen instructions.
Once the troubleshooting completes check the troubleshooting report and let's know the details. You may also try the suggestions given by the troubleshooter and check if that helps. Let's also run the Network Adapter Troubleshooter and check if that helps.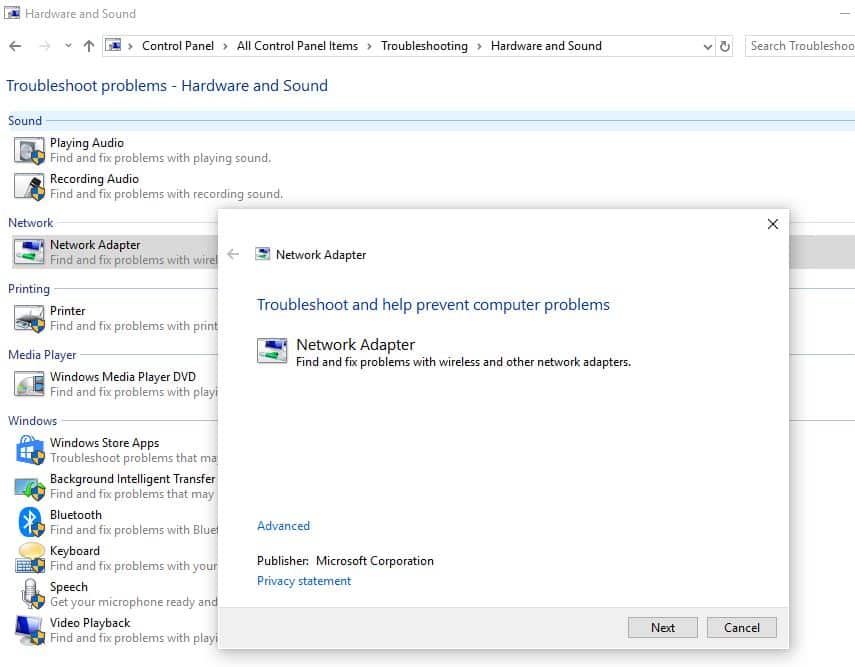 Update your Network drivers
Corrupt, missing, or incompatible network drivers are likely to cause this issue because the connection between the PC and the modem cannot be completed. This is usually the case after upgrading your OS. To reinstall your drivers
Press Windows Key + R to open Run
Type devmgmt.msc and hit enter to open the device manager window
Expand the Network Adapter section
Right-click on your Network card and select 'Update driver software…'
On the next window, click, "Search automatically for updated driver software"
The device manager will find the drivers from your PC and install your network card
Reinstall Network Adapter
This is the most working troubleshooting step when it comes to internet connection problems. You can simply reinstall the network adapter to fix the Connection Failed Error 651 problem. Just follow the below guide to reinstall the network adapter.
Windows + R and type devmgmt.msc and press enter key.
This will open the Windows Device manager here you will see the list of installed device drivers.
Expend network adapter, right-click on installed network adapter select uninstall.
Restart your computer and your network adapter will get automatically reinstalled.
Otherwise, you can visit the Device manufacturer website, download the latest available drivers for this device and install it.
Reset TCP/IP on your Windows
TCP/IP is the short-term for Transmission Control Protocol/Internet Protocol and is used as a communication protocol in the private network. TCP defines how the programs can create the communication channels through a network, while IP is responsible for the address of each packet and make sure it is sent to the correct destination. Let's reset the TCP/IP protocol default that probably helps fix the problem.
Open the command prompt as administrator, and perform commands below one by one.
netsh winsock reset
netsh int ip reset
After the commands are completed, restart your PC and try to connect again.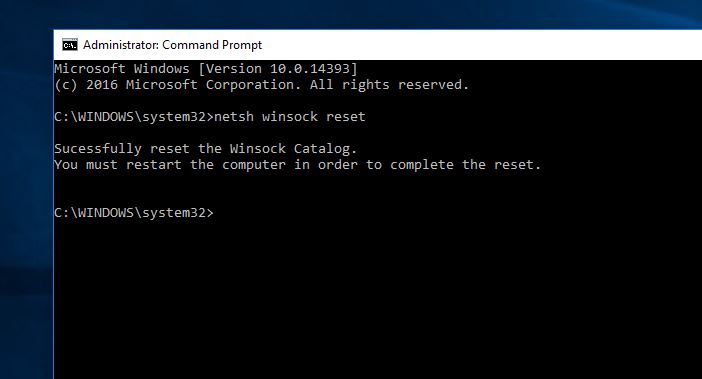 Disable Auto Tuning Feature
If you are using a router then this method can do the magic, Follow the below steps to disable the auto-tuning feature.
Open the command prompt as administrator,
copy and paste the following command, and press enter key.
Netsh interface TCP set global autotuning=disabled
Now just try to restart/reconnect your internet connection.
Disable IPv6 of your Internet Connection

Also, this solution worked for many users. You can simply disable IPv6 to fix this error. Follow the below guide to disable IPv6.
Open Control Panel and select Network & Internet.
Further, choose the Network & Sharing Center.
Now click on your active network connection.
Select Properties and switch to the Networking tab.
Untick/Uncheck Internet Protocol version 6 (TCP/IPv6) and click on Ok.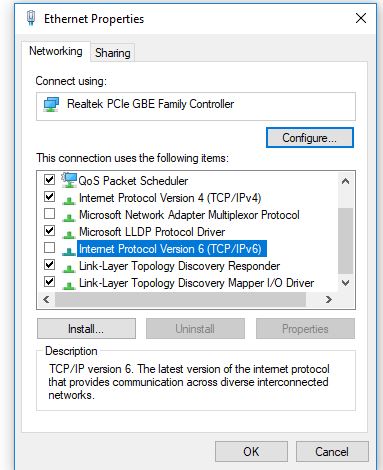 Reregister raspppoe.sys file
Raspppoe.sys is a Windows RAS PPPoE mini-port driver file that allows your computer to communicate with hardware or connected devices. If there's any problem related to its functioning, you'll get the error.
Open command prompt as administrator and perform command regsvr32 raspppoe.sys.
Once done restart your PC and check if the problem is resolved.
These are some best solutions to fix connection failed error 651 for windows 10, 8.1, and 7 computers. Have any query, any new ways to fix this problem feel free to comment below.
Also read: