What is Microsoft Edge? It is the default web browser on Windows 11 and Windows 10, made by Microsoft to replace Internet Explorer, runs faster and with more features. Microsoft Edge was first released in 2015 for Windows 10 and Xbox One, for Android, Chrome OS, and iOS in 2017, then for macOS in 2019. The tech giant regularly updates the browser with the latest security enhancements, and bug fixes and adds new features. With the rollout of Microsoft Edge version 79 on January 15, 2020, Microsoft shifted the browser EdgeHTML engine to the Chromium engine. Let's explore what the is chromium engine, why Microsoft switched edge browser to Chromium, and what changes it brings.
What is the Chromium Web Browser?
The Chromium engine is an open-source browser project developed by Google. Since it is an open-source project, Chromium is free and available for any developer to adapt and use. Google Chrome is based almost entirely on Chromium, and with version 79 on January 15, 2020 Microsoft adopted Chromium as the foundation for Microsoft Edge.
Chromium serves as the foundation for various web browsers, including Google Chrome, Microsoft Edge, Opera, Brave, Vivaldi and many others.
Chromium is designed for speed and efficiency, ensuring fast and consistent rendering of web content. The Chromium engine is designed to work on various operating systems, including Windows, macOS, Linux, Android, and iOS. This allows browsers using the Chromium engine to be available on a wide range of devices.
How is Chromium Related to Chrome?
Both Chromium and Google Chrome share the same core rendering engine, which is responsible for interpreting and displaying web content. But Google adds its own proprietary elements to Chromium, such as certain codecs and features like auto-updates and crash reporting, to create the Chrome browser. This means that Google Chrome includes additional functionalities and services that are not present in the open-source Chromium project.
Why Microsoft Edge switch to chromium engine?
Microsoft Edge made the switch to the Chromium engine for several important reasons. Initially, it faced challenges as it was exclusive to Windows 10, limiting its user base, with most people still favoring Chrome. Additionally, Edge had issues with web standards, causing some websites to display incorrectly. Another issue stemmed from the update cycle. Edge couldn't receive immediate updates, and instead, it was tied to the larger Windows OS update schedule, which occurred every six months.
Considering these hurdles, Microsoft chose to adopt the Chromium engine. This made Microsoft Edge available not only on various Windows versions but also on platforms like macOS, significantly expanding its reach.
Additionally, switching to Chromium Edge became compatible with a wide range of web standards and could run a broad selection of extensions designed for Chrome users. This encompassed a wide range of tools, from screen readers to productivity-enhancing applications, offering users a more versatile browsing experience.
What is Microsoft Edge used for?
Microsoft Edge is a web browser developed by Microsoft. It is primarily used for accessing and navigating websites and web-based applications on the internet.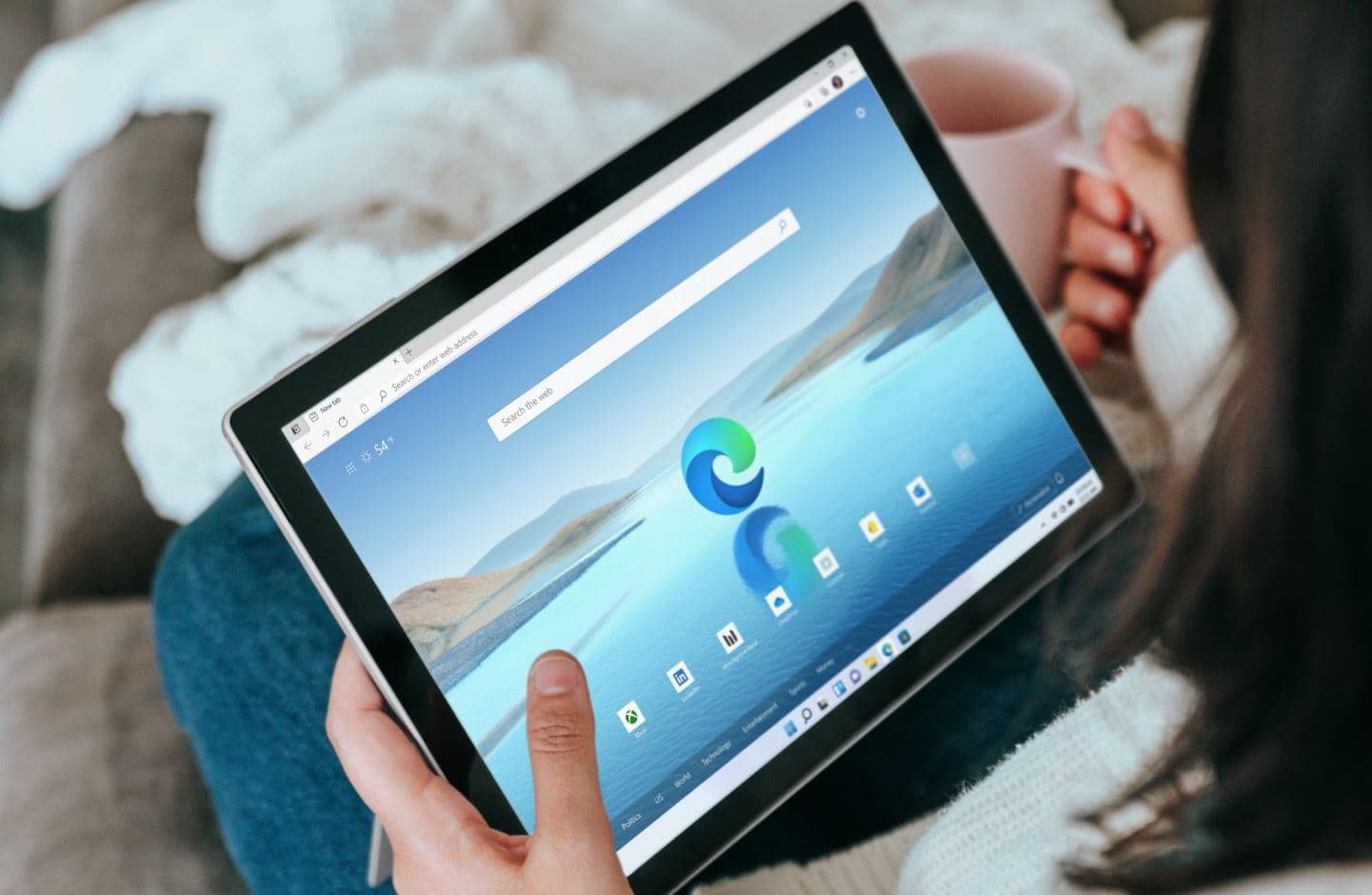 Here are some key uses of Microsoft Edge:
The primary function of Microsoft Edge is to allow users to browse the internet. It enables users to view websites, interact with web content, and navigate between different pages.
Edge provides a built-in search bar where users can enter search queries and get results from search engines like Bing or any other search engine they have set as default.
It includes features like Reading View, which makes articles easier to read by removing clutter from web pages. Additionally, it has a built-in PDF viewer, making it convenient for reading documents.
Edge offers a password manager and the ability to save and auto-fill passwords, making it convenient and secure for users to log into websites.
Edge includes features like SmartScreen, which helps protect against phishing attacks and malicious websites. It also offers tracking prevention to enhance user privacy.
Edge is integrated with Microsoft 365, providing enhanced security, productivity, and collaboration features for businesses and enterprises.
How to download Microsoft Edge
Microsoft Edge is the default web browser for Windows 11 and Windows 10. It means it comes preinstalled when you install or upgrade to the latest Windows 11 or 10. Also, you can download the Microsoft Edge official site here.
The page should automatically detect the user's device, whether it's a Mac, PC, iPhone, or Android device.
If the user believes that the detection is incorrect, they can take the following steps:

Look for the "Download" button on the page.
Next to the "Download" button, there should be an arrow icon.
Click on the arrow icon to access a dropdown menu.
In the dropdown menu, the user will find all the available versions of the software.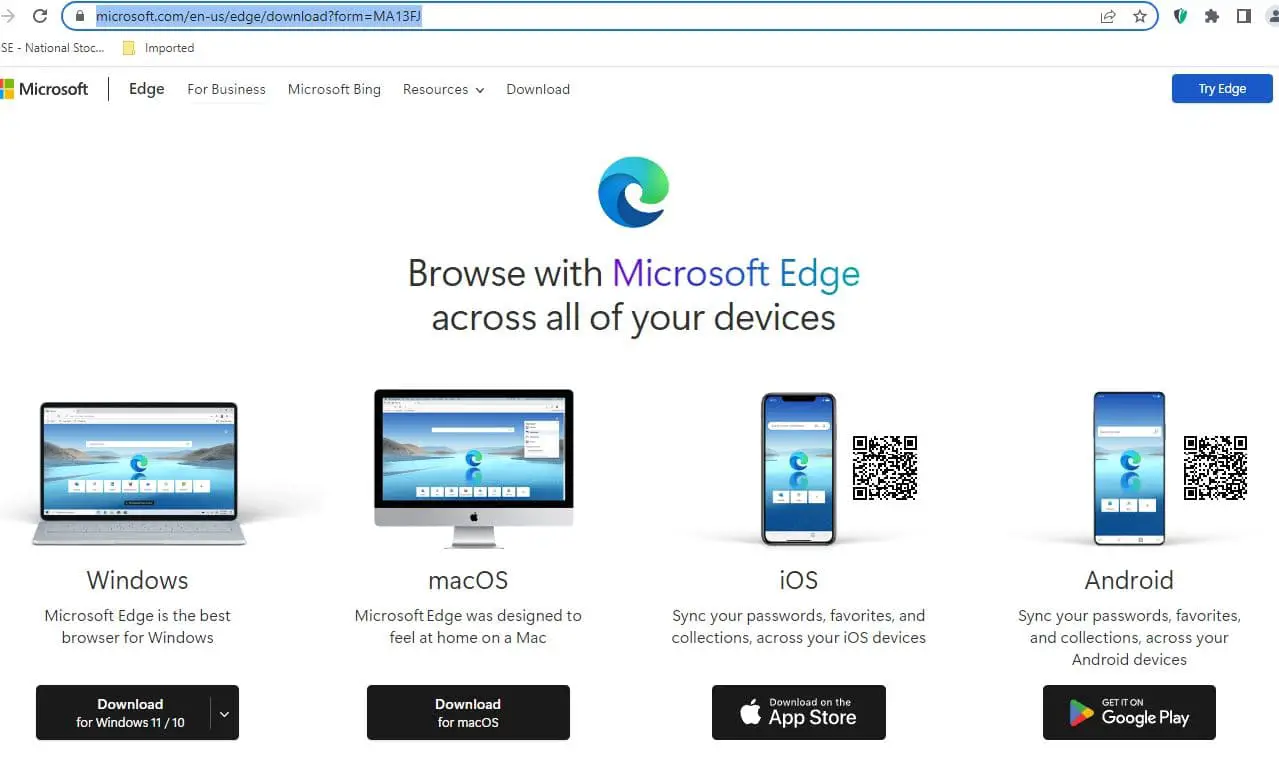 To install it, locate the installer, right-click on it select run as administrator and follow on-screen instructions.
How to update Microsoft Edge
Microsoft regularly update Microsoft Edge to deliver critical security patches, new feature and performance improvements. The Edge browser automatically updates itself, or you can manually check for and install updates following steps.
Open Microsoft Edge, click the menu button in the top-right corner
Point to "Help & Feedback" and click "About Microsoft Edge."
You can also access this page by copy-pasting edge:

//settings/help into edge address bar then press enter.
This will check for any available updates and install them automatically.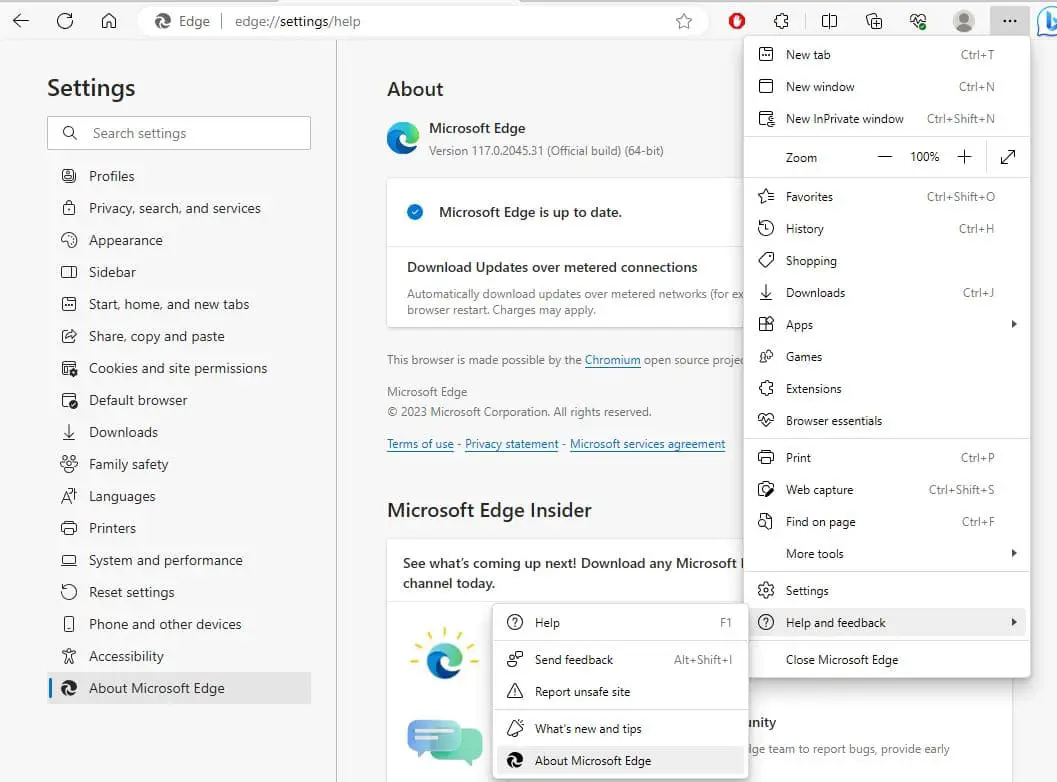 How to repair Microsoft Edge
If you experience a problem with Microsoft Edge, such as Microsoft Edge won't open, or crash immediately after opening you can repair the Edge browser to reinstall Edge browser files. Any of the browser's broken, damaged, or missing files in its program folder and Windows registry will be replaced, and this could potentially get it to start working again.
First ensure the Edge browser is not running, or open Task Manager and end Edge running tasks.
Right-click on the start menu and select settings
Select Apps on the left sidebar and then click on Installed apps on the right
Scroll down to locate Microsoft Edge and click on the three dots on the right. select the modify option.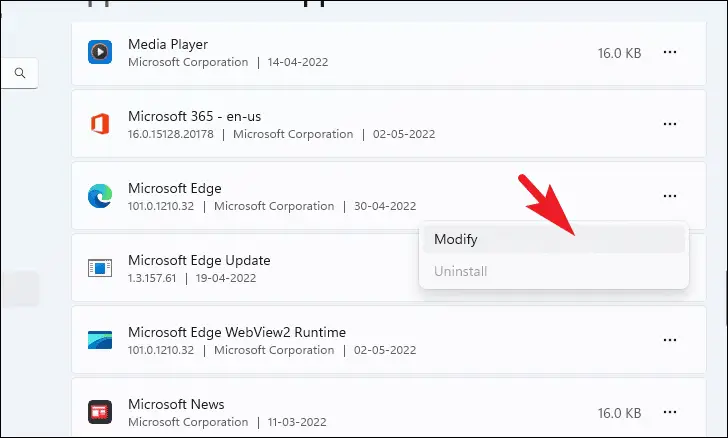 When it prompts for permission to make changes on Edge, click Yes.
A small window will pop up, so click on Repair to begin the process.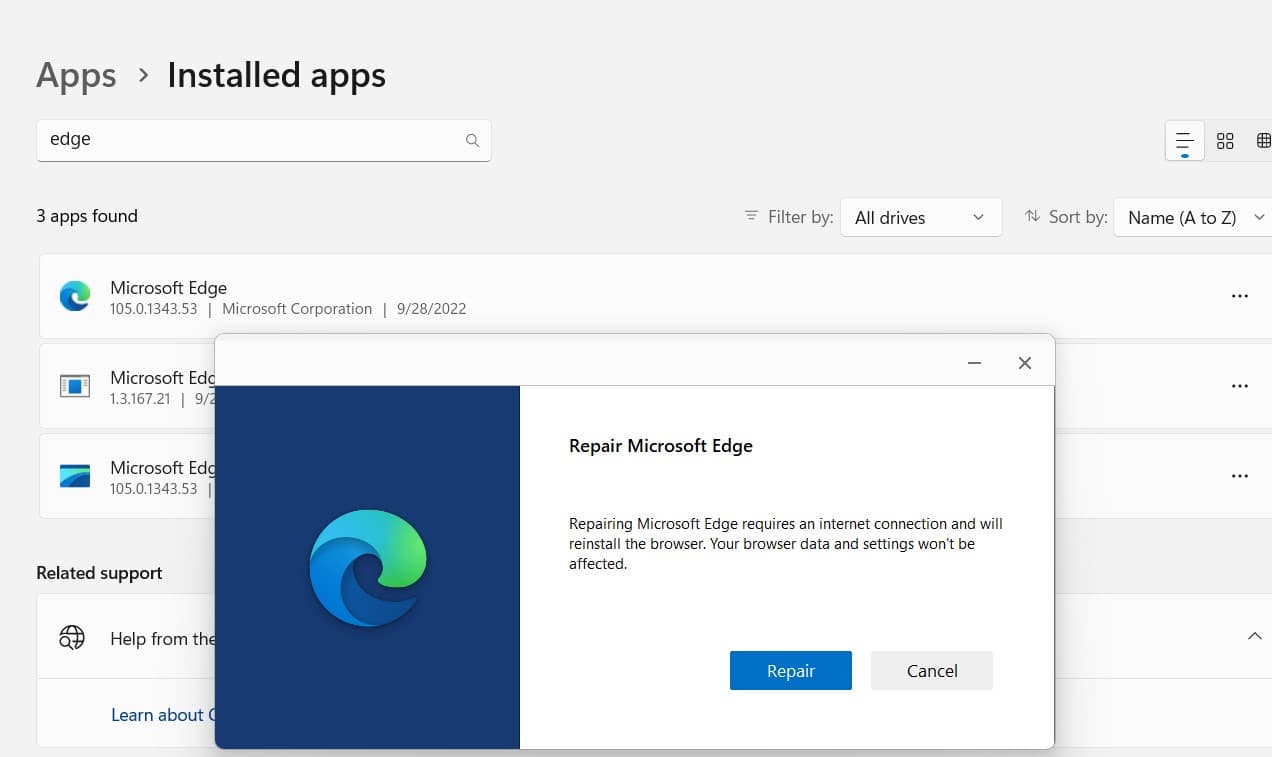 Since it will download Microsoft edge files again, ensure connected to stable internet
How to uninstall Microsoft Edge
Since it is the default web browser in Windows 11 and Windows 10, is an essential component of the operating system and you can't uninstall Microsoft Edge.
If you experience a problem with the Microsoft Edge browser you should try to repair the Edge browser.
In addition, reset Microsoft Edge to its default settings following steps.
Open Microsoft Edge.
Click on the three horizontal dots (ellipsis) in the top-right corner to open the menu.
Select "Settings" from the dropdown menu.
In the left sidebar, scroll down and click on "Reset settings" under the "Reset settings" section.
Click on the "Restore settings to their default values" button.
A confirmation dialog will appear. Click on "Reset" to confirm.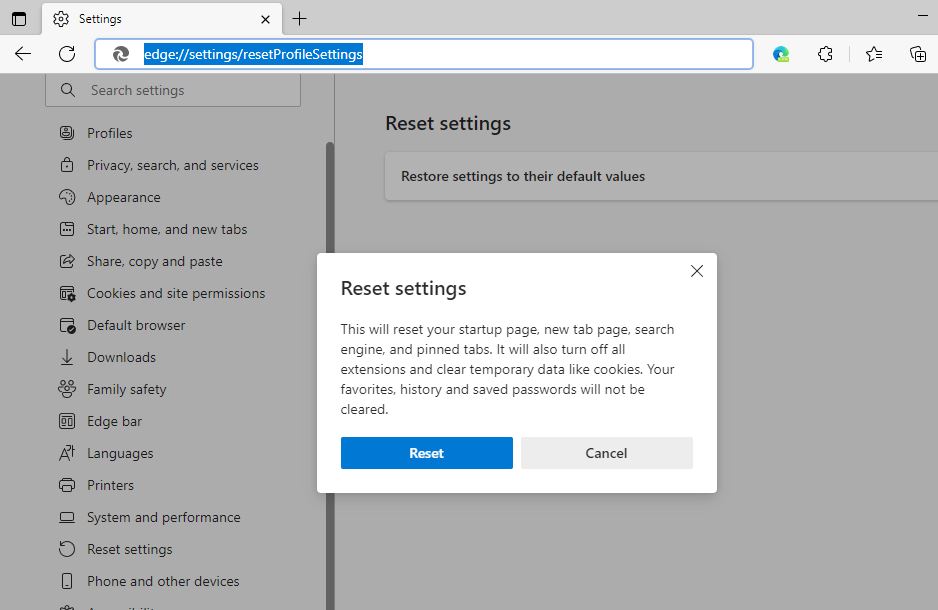 Keep in mind that this action will reset various settings, including your startup page, new tab page, search engine, pinned tabs, and more. Your browsing history, passwords, and bookmarks will not be affected.
Frequently Asked Questions (FAQs)
What is Microsoft Edge? 
Microsoft Edge is a web browser developed by Microsoft.
What is Microsoft Edge used for?
Microsoft Edge is used for browsing the internet, accessing websites, and interacting with web-based applications.
Is Microsoft Edge the default browser in Windows?
Yes, Microsoft Edge is the default web browser in Windows operating systems.
Is Microsoft Edge available on other platforms besides Windows?
Yes, Microsoft Edge is available on other platforms including macOS, iOS, and Android.
Is Microsoft Edge based on an open-source platform?
Yes, Microsoft Edge is built on the Chromium engine, which is an open-source project primarily developed by Google.
How does Microsoft Edge enhance security while browsing?
Microsoft Edge employs various security features, including SmartScreen filtering, anti-phishing technology, and Microsoft Defender SmartScreen, to protect users from malicious websites and threats.
Also read: