Microsoft rollout feature update Windows 11 version 23H2 for compatible devices with a number of new features and security improvements to enhance the operating system's overall experience. The latest Windows 11 2023 update is available as an optional update for compatible devices running an older version of Windows 11 or Windows 10 version 2004 and later. And you need to click on the download & install button on Windows Update to get the Windows 11 version 23H2 installed on your device. Overall it's easy to install or upgrade to Windows 11 version 23H2 but few users report Windows 11 23H2 update not installing or the update fails to install, accompanied by a 'Download error – 0x800f0806' message.
There are multiple reasons that may prevent installing the Windows 11 2023 update on your device. Here in this post, we have different solutions apply to fix if Windows 11 version 23H2 failed to install or stuck downloading.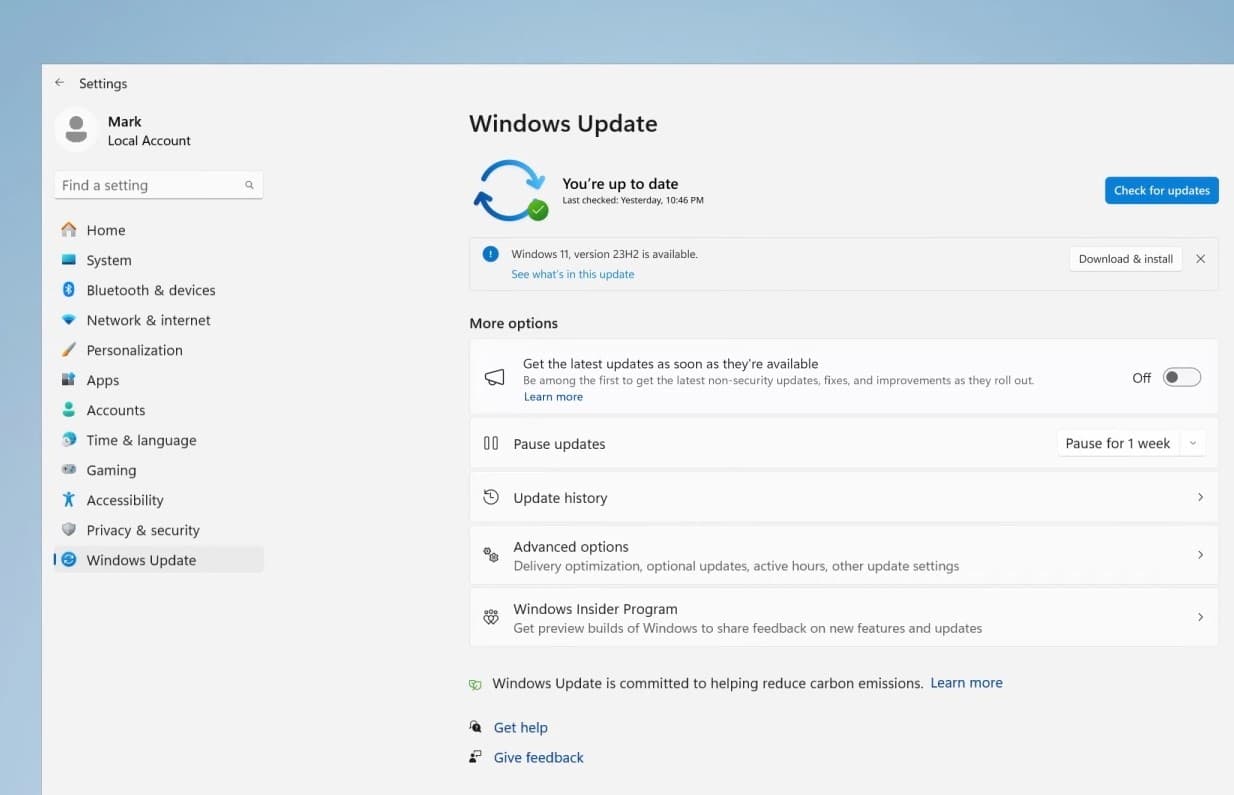 Why does the Windows 11 23H2 update fail?
Lake of storage space, Internet connectivity issues, corrupted system files, a bug in an earlier version or security software preventing any changes on Windows 11 are some common reasons why the Windows 11 2022 update fails to install.
Updates require a certain amount of free space on your hard drive. If there isn't enough room, the update process can't proceed.
System files are vital for the proper functioning of the operating system. If they're damaged or corrupted, it can prevent updates from installing correctly.
A stable internet connection is crucial for downloading and installing updates. If there are network interruptions or a slow connection, it can result in update failures.
Some third-party software or antivirus programs may interfere with Windows updates. They can block or modify the update process, leading to errors.
Occasionally, the update files themselves can become corrupted during download or storage. This can lead to errors during the update process.
Running the Windows update troubleshooter, restart the update service, reset the Windows update cache, disable Antivirus or repair corrupted system files using DISM and SFC command help fix most of the Windows update problems and allows upgrade to Windows 11 version 23H2 without any error.
Windows 11 version 23H2 failed to install
Most of time restarting your computer is a simple yet effective step to refresh the operating system and resolve temporary glitches that might hinder the Windows 11 23H2 upgrade process. This action essentially clears the system's current state and allows for a fresh start, potentially resolving any minor issues that could be causing installation difficulties.
Disconnect external Devices
Next, Unplug external devices such as printers or scanners (except keyboard and mouse) and reboot your PC. This action helps in isolating potential hardware or driver conflicts that may be impeding the Windows 11 22H2 upgrade process.
Now check for updates and try to install the Windows 11 2023 update. By temporarily removing these external devices, you reduce the chances of any conflicts arising during the installation, thereby increasing the likelihood of a successful upgrade.
Free up Disk space
Updates require disk space to be downloaded and stored temporarily before installation. If there's not enough space on the system drive usually its C drive, the update process can fail. Let's Check and make sure enough Free space on the system drive (usually the C Drive) to download Windows 11 23H2 update files on local storage before install or apply. It's recommended to free up 5 to 10 GB of storage space before apply a big update, to do so you can move some large files to an external disk or remove unused programs or files.
One of the most common causes of failed Windows 11 updates is a lack of drive space.
Clean boot Windows 11 and try to install the feature update version 23H2, which helps fix the problem if a third-party program or service conflict causes the Windows 11 2023 update fail to install or stuck downloading.
Check Internet connection
This is very important if the Windows update is stuck download or fails to install with different errors. You need a stable internet connection to download Windows 11 2023 update files from the Microsoft server. You can check your internet download or upload speed here https://www.speedtest.net/
In addition Press, the Windows key + R, type ping google.com -t and click ok, check if you are continuously getting replays from Google.com. If the ping reply breaks you need to troubleshoot your internet connection.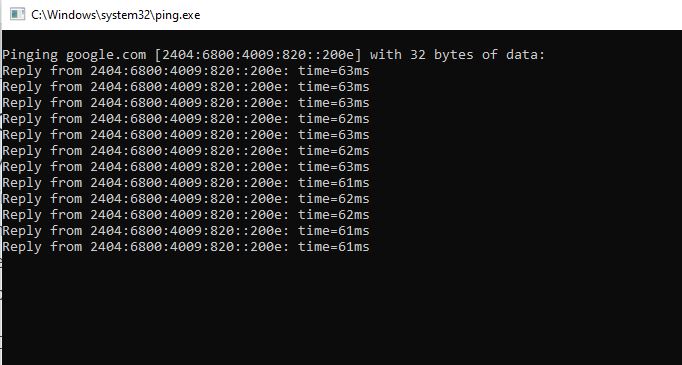 If your device is connected to a virtual private network (VPN) then disconnect it and temporarily disable or uninstall third-party antivirus on your device. Now open Windows update and click on the Download & install button next to Windows 11 version 23H2 is available.
Use the Windows 11 update troubleshooting tool
With Windows 11 Microsoft includes a built-in update troubleshooter app that can help fix a lot of Windows update problems, include Feature update Windows 11 version 23h2 failed to install. Let's run the Windows Update Troubleshooter and let Windows address any issues preventing updates from downloading or installing.
Press the Windows key + X and select settings,
Go to the system then Troubleshoot, and click on other troubleshooters,
This displays a list of available troubleshooters, locate Windows update and click Run next to it.
This will begin to detect and fix any problems present there and prevent upgrade Windows 11 23H2 on your computer.
You should wait patiently until the whole process ends.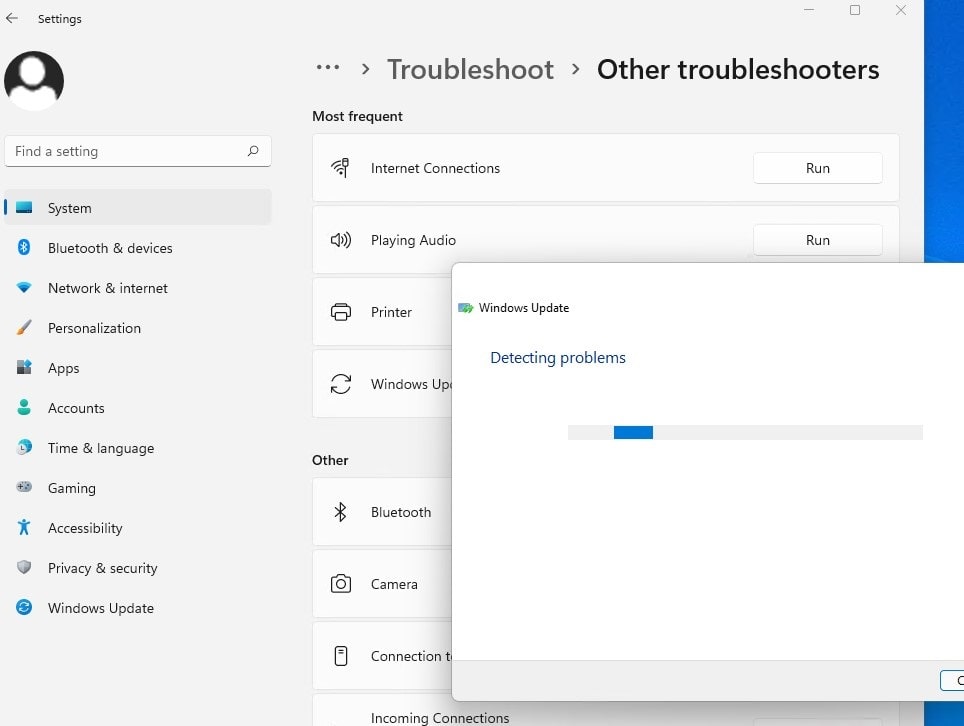 Once the troubleshooting process completes, restart your PC and try to upgrade the Windows 11 22H2 update again.
Reset Windows Update Components
If the Windows update troubleshooter fails to fix the problem and still Windows 11 2023 update is stuck download or fails to install with a different error then manually Repair Corrupt Windows Update Components probably fix the problem for you.
To do so first we have to stop Windows update and its related services, then clear Windows update cache files and force Windows update to download fresh files from the Microsoft server.
Step 1: Stop Windows Update Service
Press Windows key + R, and type services.msc to open the Windows service console
Scroll down and locate the Windows update service, right-click on it select stop,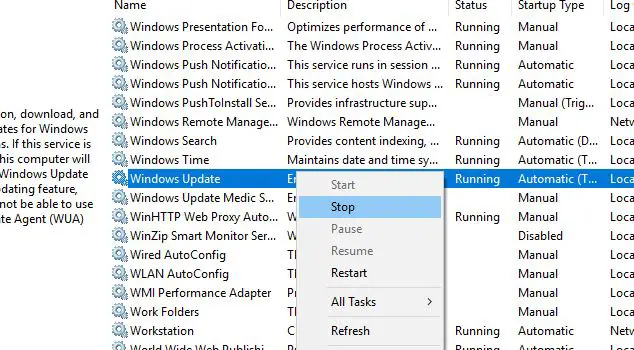 Step 2: Clear Windows Update Cache
Now press the windows key + E to open File Explorer, and navigate to C:\Windows\SoftwareDistribution\Download,
Here delete all files and folders inside the download folder, to do so press the Windows key + A to select all and hit Del key,
Don't worry about these files, when you next time check for updates it will download fresh files from the Microsoft server.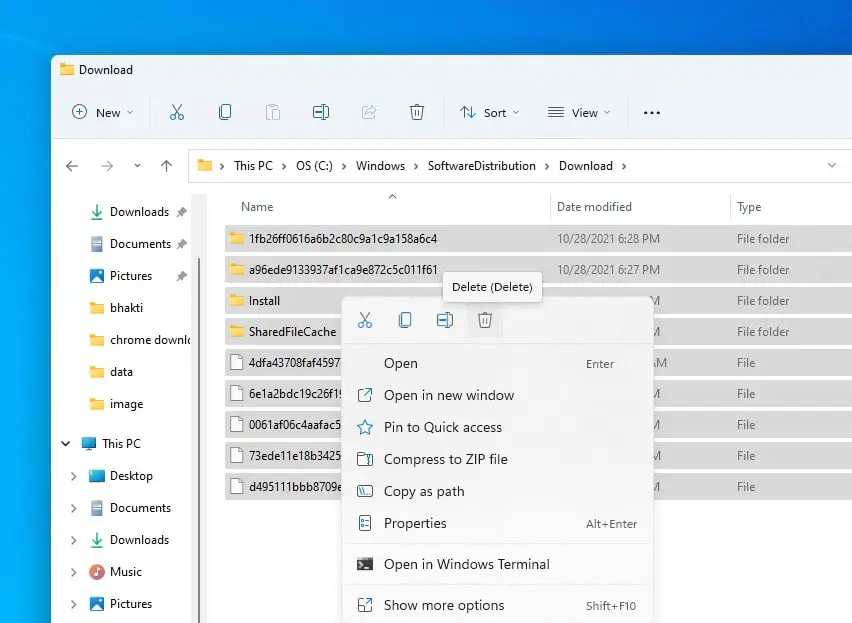 Step: 3 Restart Windows Update Service
Open Services again using services.msc
Find Windows Update and right-click it. Then, select Start.
Now again open settings then Windows update, and click download and install next to Windows 11 23H2 update available. Check if this time the feature update downloads and installs successfully, once done reboot your PC to apply the changes.
Run System File Checker
If the system files on your PC get corrupted or lost unexpectedly, you may experience different problems or Windows update stuck download or fails to install. To rule out this possibility, we recommend run DISM restore health and SFC command to repair the damaged system files or restore the missing system files.
First Open the Command Prompt as administrator on your Windows 11 computer. To do so,
Press Windows key + S type cmd, right-click on the command prompt and select run as administrator,
Click yes if  User Account Control (UAC) prompts for permission,
First, run the DISM command DISM /Online /Cleanup-Image /RestoreHealth that repairs the system image, and let the scanning process complete 100%
Next, run the system file checker command sfc /scannow which scan and repairs the damaged system files or restores them with the correct one.
Again the scanning process may take some time, let it complete 100% and reboot your computer. Now open settings then Windows update and try to upgrade to Windows 11 version 22H2 again.
Switch to Google DNS
Some users report changing the DNS server address on their computer helps them fix the Windows update problem. It's a very useful solution if the Windows 11 version 22H2 update is stuck downloading.
Press Windows key + R, type ncpa.cpl and click ok to open network settings,
Locate the active network adapter (WiFi or Ethernet) right-click on it select properties,
Select Internet protocol version 4 (TCP/ IPv4) then click on properties,
Here select the radio button use the following DNS server address, set Preferred DNS server 8.8.8.8 and Alternate DNS server 8.8.4.4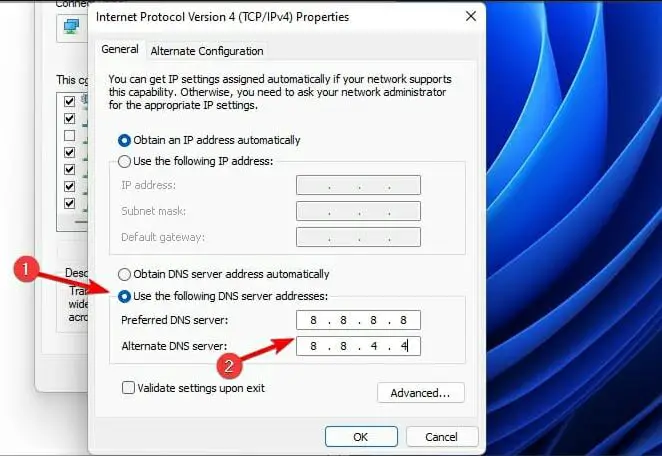 Click ok then apply and ok to save changes, Now check for Windows updates again.
Use Windows 11 Installation Assistant
Still need help, it's time to use the official Windows 11 Installation Assistant that automatically check your system for compatibility issues and helps upgrade to Windows 11 version 23H2 without any error.
First, visit https://www.microsoft.com/en-in/software-download/windows11 and Download the Windows 11 Installation Assistant,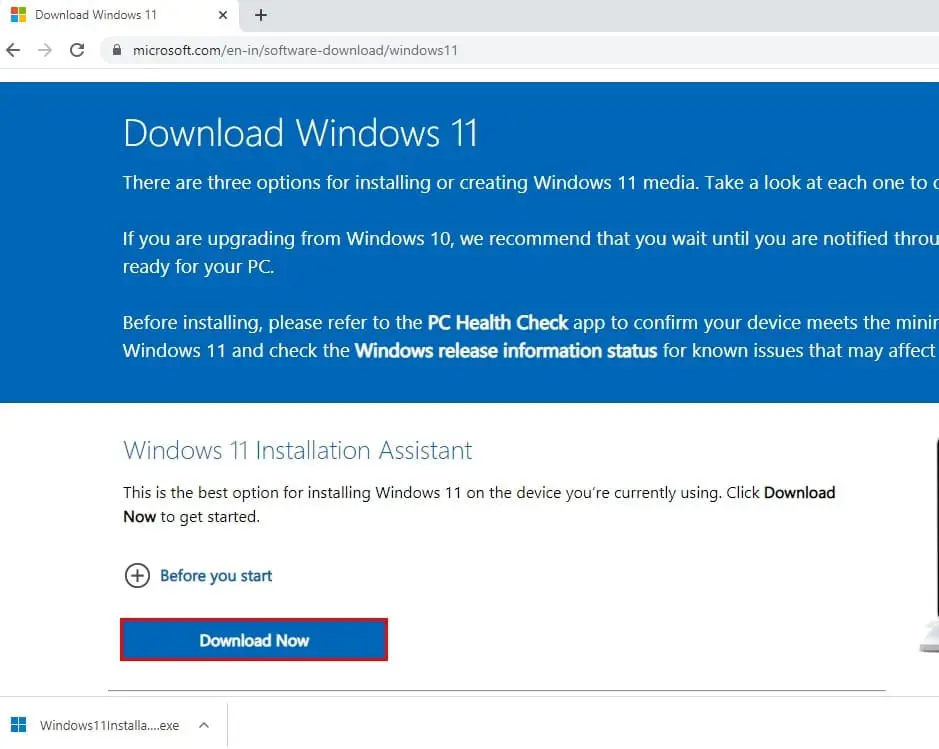 Open the installer tool, click yes if UAC prompts for permission, Read the Microsoft license terms click on the Accept and Install button.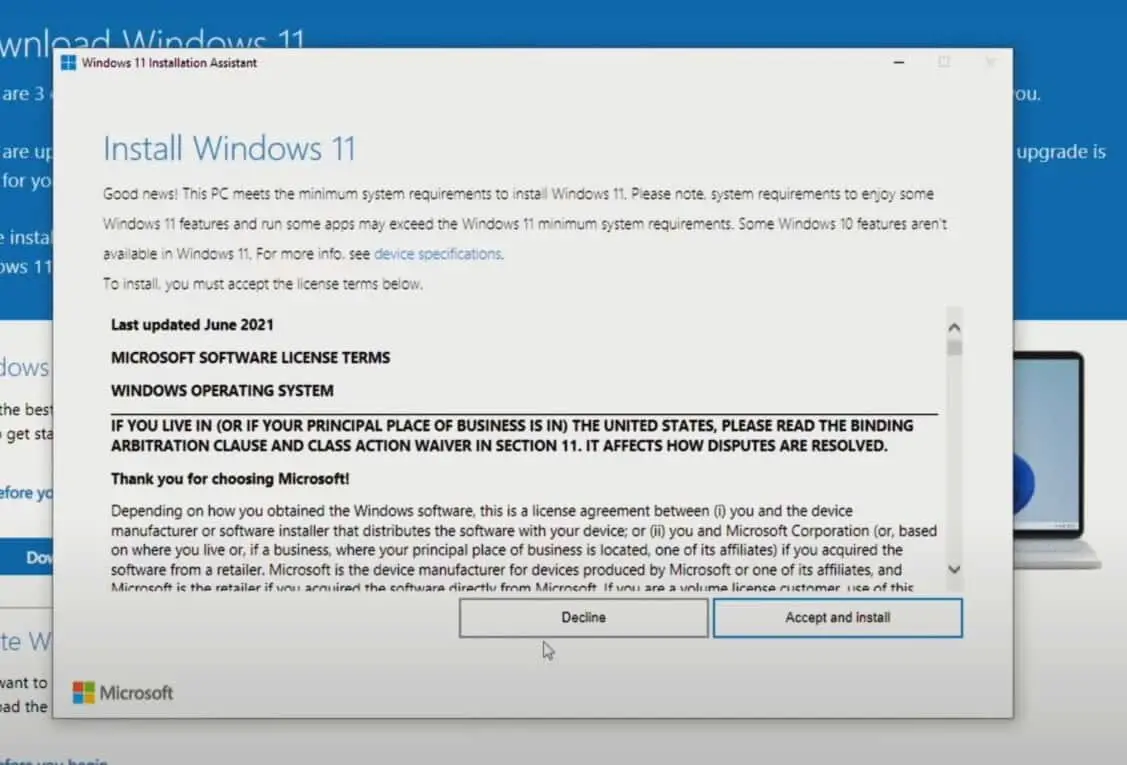 This will start downloading Windows 11 necessary files, and automatically verify and install them on your computer.
Once done your computer will automatically restart after 30 minutes Or you have the option to Click on 'Restart now.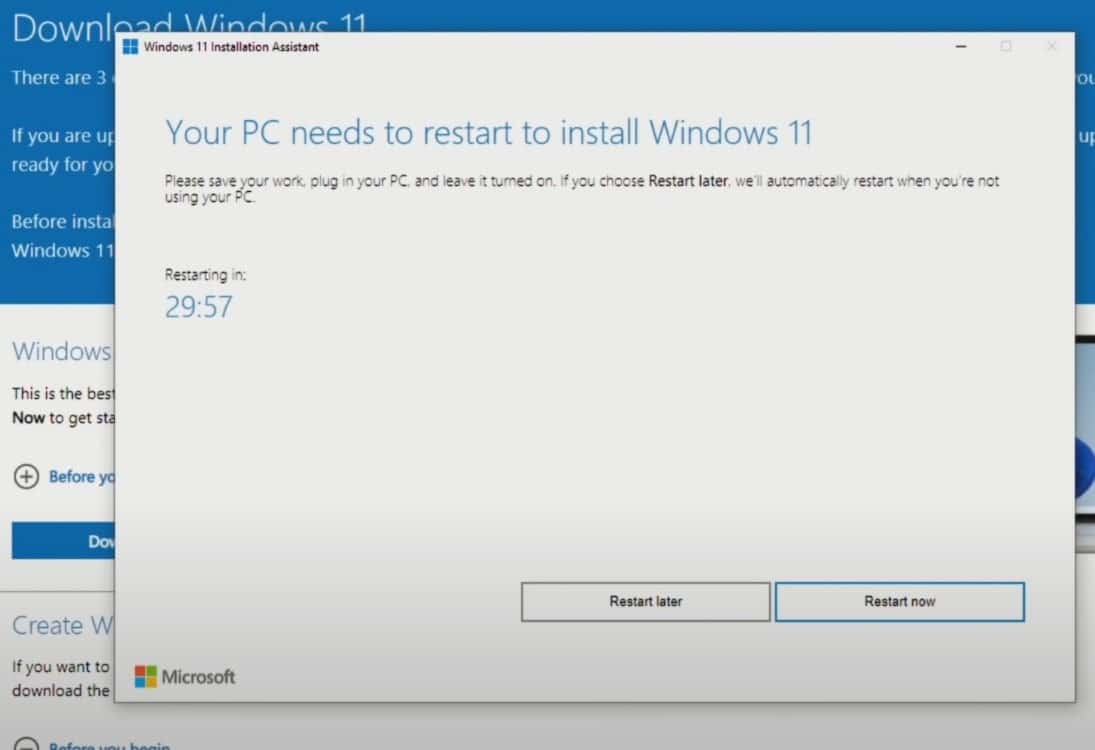 This will automatically do the rest of the process, you only have to wait a few minutes to get the Windows 11 version 23H2 desktop screen.
Also, you can refer below video explains how to upgrade Windows 11 using the Installation Assistant.
Did the above solutions help fix Windows 11 version 23H2 upgrade error? Let us know in the comments below.
Also read: