With the latest release of Windows 11 version 23H2 Microsoft enhanced Paint with AI drawing and digital creation. The new Paint app receives several major features, including support for layers, transparency, and the addition of a background removal tool. These new updates suggest Microsoft is turning the classic Paint app into a valuable graphics editing software on Windows 11. Also, there is an AI-powered Paint Cocreator feature that uses DALL-E an AI system that can create realistic images and art from text descriptions, and as the strings say, it lets you create images by describing what you want to see just like on Bing Image Creator.
You can now use Windows 11's Paint app to remove the background from any image or add, remove, and manage layers on the canvas to create richer and more complex digital art. In addition, the new paint app adds support for transparency as well, including the ability to open and save transparent PNGs.
Microsoft Paint app on Windows 11
Microsoft Paint, also known as MS Paint, has been part of the desktop operating systems since 1985. Until now MS Paint is a basic software tool, with minimal updates, primarily used to quickly save JPG or PNG files. In July 2017, Microsoft added Paint to the list of deprecated features on Windows 10, the company announced no longer updating or working on Paint instead moving on to Paint 3D.
But the decision was eventually reversed, With the introduction of Windows 11, Paint was brought back as a core software product. And now Microsoft updated the paint app with support for image 'transparency' and 'layers' letting users add, remove and manage layers as well as support for opening transparent PNGs.
Layers and Transparency in Paint App
So, what is layering? Layering is like stacking transparent sheets to create a complete picture. Each sheet holds a different part, and you can work on them independently without affecting the others. This makes it easy to make complex and detailed changes to images.
Transparency in images means that certain parts are see-through, allowing whatever is behind them to show through. It's like having a clear window in a painting. This feature is useful for creating effects like shadows or for overlaying images on top of each other.
In the latest Paint update, you'll find a new set of tools on the right-hand side of the interface dedicated to layers. These tools include familiar options like hiding, duplicating, or merging different elements.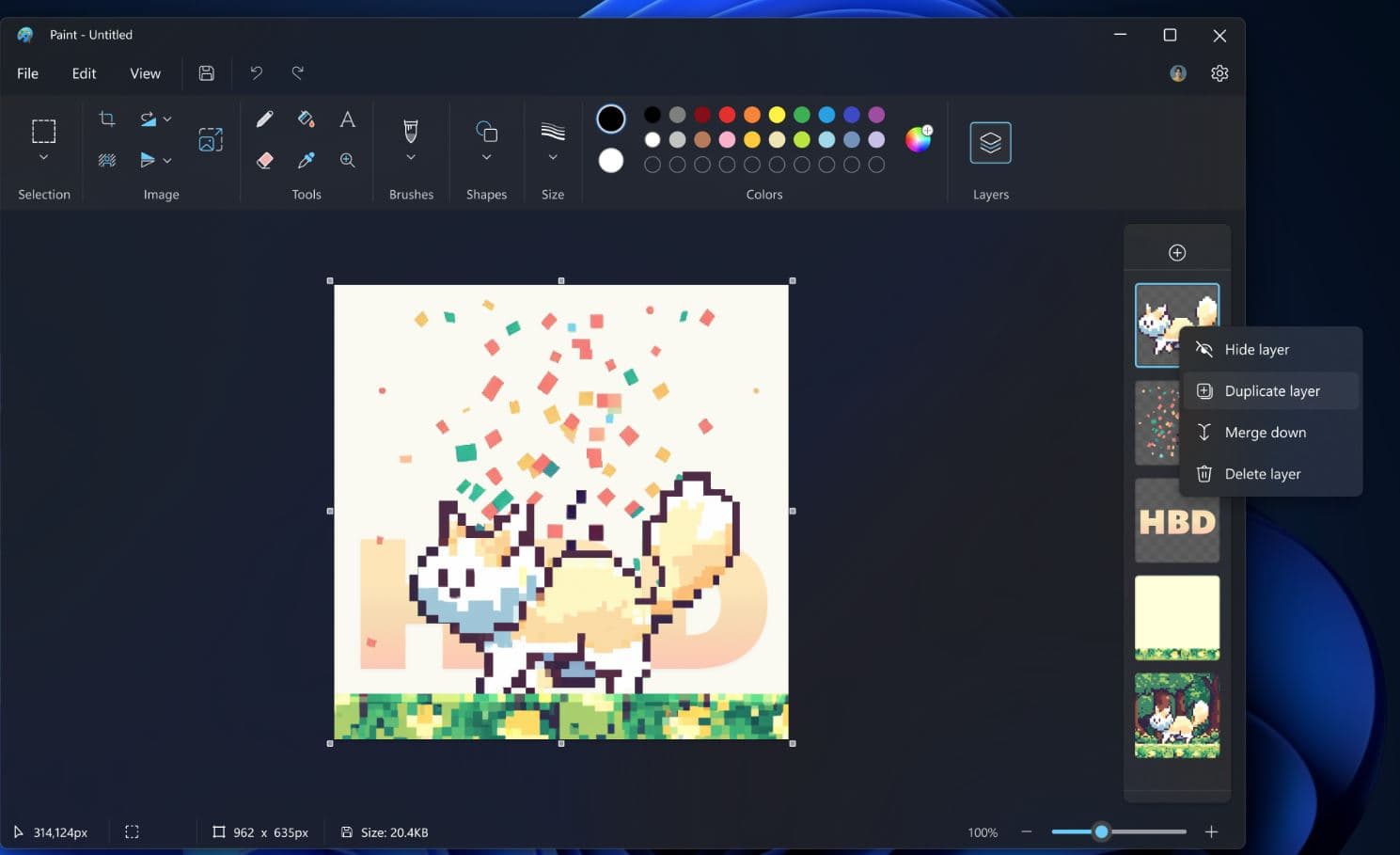 With this update, users gain the ability to stack shapes, text, or other image components on top of each other, opening up a whole new realm of creative possibilities.
How to use layers in Paint for Windows 11
Ensure you are using the latest version of the Microsoft Paint app or Download and install the updated version of Paint from the Microsoft Store.
Open the Paint app and Click the Layers button, This is located in the toolbar.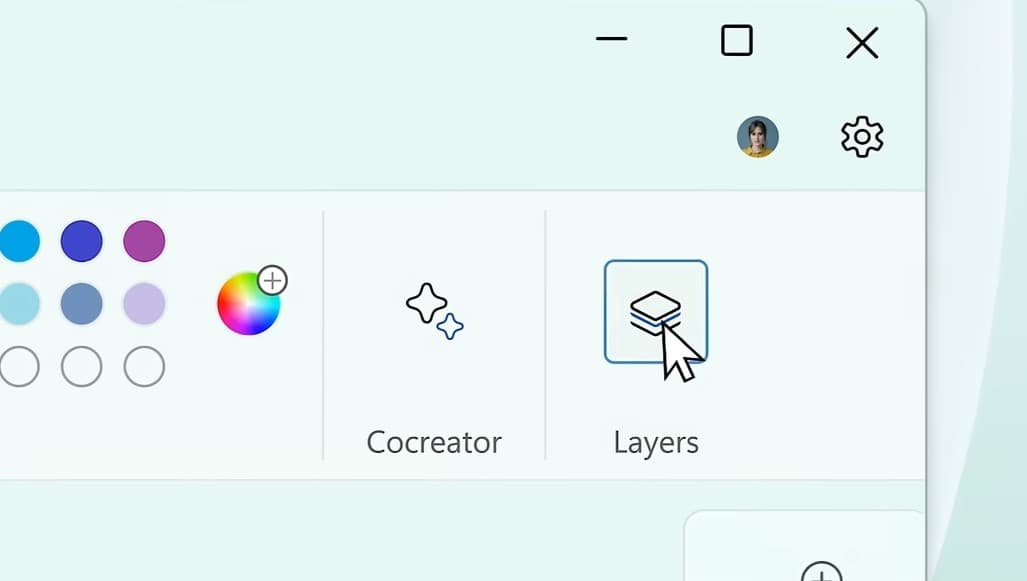 A new panel will be on the right side of the app's screen Here you can add, remove or change the order of the layers in the app. You can drag and drop one layer above another to change the order of stacked elements on the canvas.
You can also show or hide and duplicate individual layers or merge layers. When you're done, you can hide or create more identical layers with a duplicate layer feature.
How to Remove Image Background on Paint
Microsoft introduced a game-changing feature to its MS Paint app called "Remove Background". With this tool, you can effortlessly remove the background from any image with just a single click, and the best part is, it doesn't require an internet connection. This process is entirely offline, so you don't need to rely on internet-based websites for this task.
You can use the new Paint to remove the background from a picture. This is something people often do in Photoshop, but Microsoft's tool does it for free!
Open Paint, Paste or import any image onto the app's canvas
Click the "remove background" button in the toolbar.
This will automatically remove the background on your entire.
It's also possible to take control of the process and use Paint's existing rectangle select function to remove the background from an area specified by you.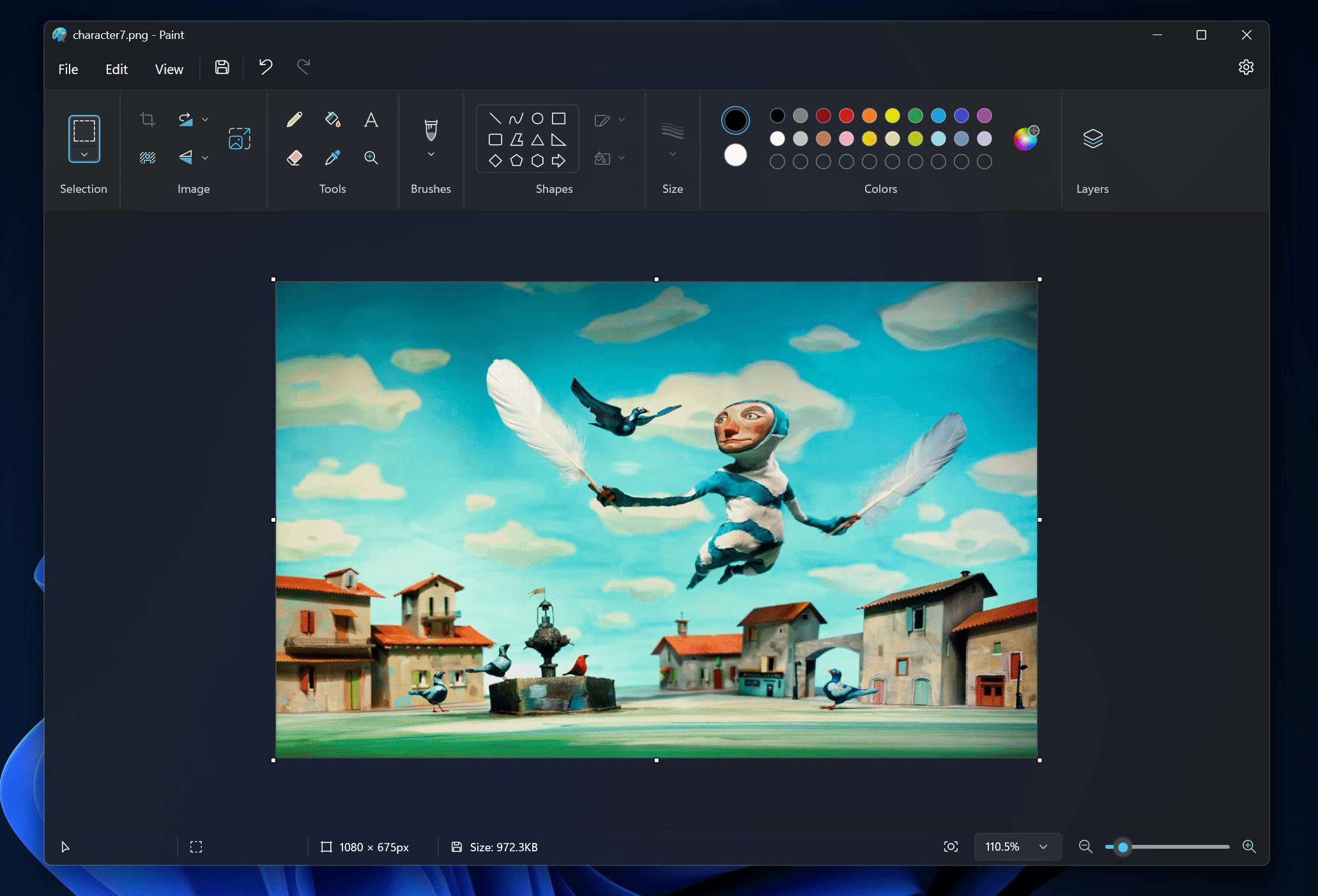 It's really helpful if you have a picture and want to get rid of the background stuff. Or if you have a picture with a background that isn't actually see-through, this tool can fix it up for you.
Microsoft also noted, introducing transparency support, which means you can now open and save transparent PNGs. When you're working with just one layer, you'll see a checkerboard pattern on the canvas, showing the transparent parts of the image. If you erase something, it genuinely disappears instead of being replaced with white. And when you're dealing with multiple layers, erasing on one layer reveals what's beneath it.
"When you combine layers, transparency, and other tools in Paint, you can create exciting new images and artwork! For example, when combined with the new background removal feature, you can quickly create interesting layered compositions," Grochocki said.
Also, there is a new AI-powered Paint Cocreator feature, that uses DALL-E, an AI system that can create realistic images and art from text descriptions, and as the strings say, it lets you create images by describing what you want to see just like on Bing Image Creator.
How to Use the Paint Cocreator Feature
To make use of the Paint Cocreator feature, ensure that your Windows 11 PC is running the latest available build. Additionally, check the Microsoft Store for any updates to the Paint app. The Cocreator functionality is accessible in Paint version 11.2309.20.0 or higher, so ensure you've updated to this version to access it.
Launch the Paint app.
Navigate to the top menu and click on the Cocreator icon. This action will open the feature in a side pane.
Provide a detailed description of the image you wish to generate using AI. For instance, you can type something like "Design an album cover for a jazz band named the Blue Notes" or anything else.
Beneath the "Choose a style" option, click the dropdown list. You can either select an option from the list or leave it unselected.
Click on the "Create" button.
Please be patient as the feature generates the images based on the prompt you provided. This process may take some time as it creates and retrieves the images from the server. The feature will produce three sets of images for each prompt.
Once the images are generated, you can select them to add to your existing image or an empty canvas.
To save the generated image, click on the ellipses icon associated with the image and choose the "Save image" option. Give the image a name and click "Save" to store it in PNG format.
Here are some of interesting features introduced on Windows 11 version 23H2.
Also read: