At Microsoft's Surface and AI event on 21 September 2023, Microsoft announced Windows 11 Moment 4 available on September 26th, 2023 for all existing Windows 11 users. The latest Windows 11 2023 update referred as the "Moment 4" update brings a number of changes, improvements, and new features include AI-powered Windows Copilot, redesigned File Explorer, a new Ink Anywhere feature for pen users, big improvements to the Paint app and much more. It's a free upgrade for existing Windows 11 users Compatible devices connected to the Microsoft server automatically receive the Windows 11 23H2 updates via Windows update. Well, sometimes Windows update installations are smooth But more often than not, updates occur at the most inopportune of times and/or bring unexpected troubles. And to avoid these interruptions and data loss here we have some workaround to help Successful Windows 11 23H2 Upgrade.
Note: Today 31/October/2023 Microsoft officially rollout the Windows 11 2023 update (version 23H3), here is how to get it now.
Prepare Device for Windows 11 Moment 4 update
Microsoft has scheduled the Windows 11 2023  update to be released on 31 October 2023, And the upgrade process is planned to go progressively. This means that not everyone will get updated the same day. It'll take a few days (even months) for all devices to get access to the new version. depend on a number of variables like the type of device you're using, location, how you've obtained Windows 11, and Microsoft update servers load during the rollout. Also, the company releases the official upgrade assistant and media creation tool which helps manually upgrade Windows 11 version 23H2. But before you jump in, let's make sure your device is all set
Are you ready to Upgrade?
First of think for a few minutes and make sure that you do want to upgrade your Windows 11 right away. As per Microsoft history, every time installing the latest Windows feature update causes different problems, system crashes, BSOD etc. If you have doubts in your mind or if you do not want to face the uncertainty of possible problems and issues after installing the Windows 11 2023 updates, you can Defer the installation of this feature update for some days. That means the Windows 11 23H2 Update will not install for a few months. Wait for the update to Stable then upgrade your Windows 11.
Create a Windows Recovery Drive
If you decide to upgrade to Windows 11 2023 update, we recommend Create a Windows Recovery Drive before new updates take in place. A Windows Recovery Drive is a USB stick that acts as a backup for your computer's system. It contains tools to fix startup problems. If any Cause Windows update is a corrupted operating system that won't boot. That causes the Windows recovery drive help to fix Startup Problems.
To Create a Recovery Drive on Windows 11, Simply you need a USB Drive At least 16GB of Free Space.
First, insert the USB drive,
Click on Start menu Search Type recovery Drive and hit the enter key.
And follow the Recovery Drive Creator Wizard's instructions.
Keep it safe—it's your rescue kit if your system encounters issues after the upgrade. Plug it in, restart, and follow the prompts to get your computer back on track.
Find And note down Your Product Keys
If after the upgrade Something Goes wrong, you get the Windows license Expired, and Windows has not been activated. That time you need your old product key to get back windows activated. Also, some causes You do end up needing to install Windows from scratch, you'll also need your Windows product key. So Before Do Upgrade processes, it's a good idea to note down the Windows and Office product keys.
You can easily Get your current product key using this find product key software. This is a portable (i.e. no need to install) utility that scans your system for product keys belonging to notable apps, including Microsoft Office 2000 to 2016, Adobe and Autodesk products, and most Windows versions.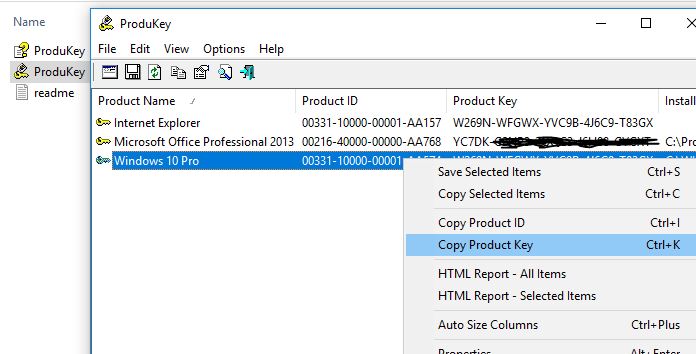 Create a Restore Point
Before Windows applies the new update, It's Important to back up various parts of the system, including the Windows Registry. To do this you can Enable The Windows system protection Feature and Create a system restore point. If anything goes wrong after upgrade to Windows 11 version 23H2  you can Revert back to the previous settings by performing System Restore.
Here is How To Turn On System protection and Create A system restore point.
First Press Windows + Q, type restore,
Select Create a restore point to open the System Protection controls.
Here select the Windows installed Drive (System drive),
Click Configure and select the radio button Turn on system protection.
And create a System Restore point.
We do recommend making a restore point before each update just in case. Afterward, if you're satisfied with the stability, you can disable it again to free up used space.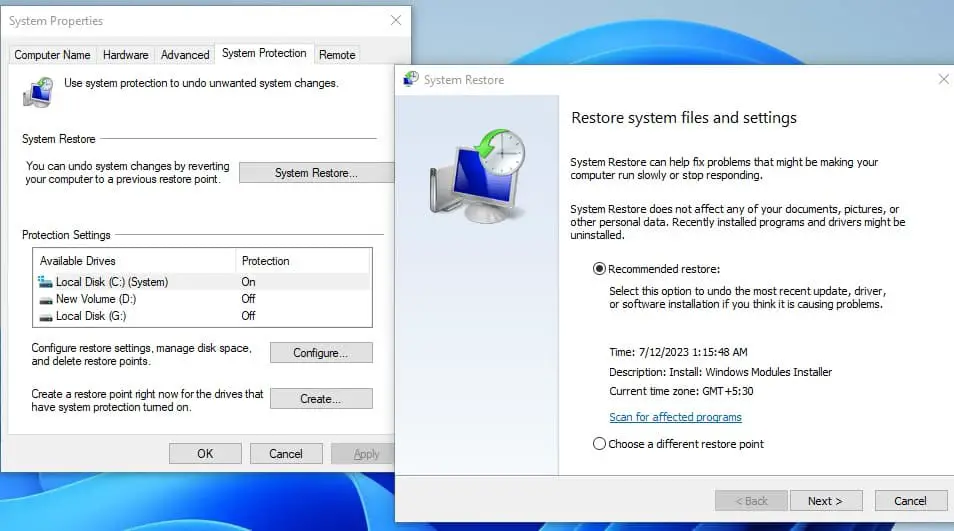 Backup Important Data
System Recovery Drive and System Restore Restore only save the Windows settings, Startup configurations won't save your personal files. So if an update goes awry and your system gets wiped, you could lose a lot of non-backed-up data. We recommend At the very least, back up your Documents and Downloads folders. Plus any media-related files you might have (e.g. music, videos, etc.). Store them on an external drive, or even better, a NAS device. Read how to backup Windows 11 using the file history backup feature.
Use an external hard drive or a reliable cloud storage service to store your important files, ensuring they're protected in case of any unforeseen issues during the update.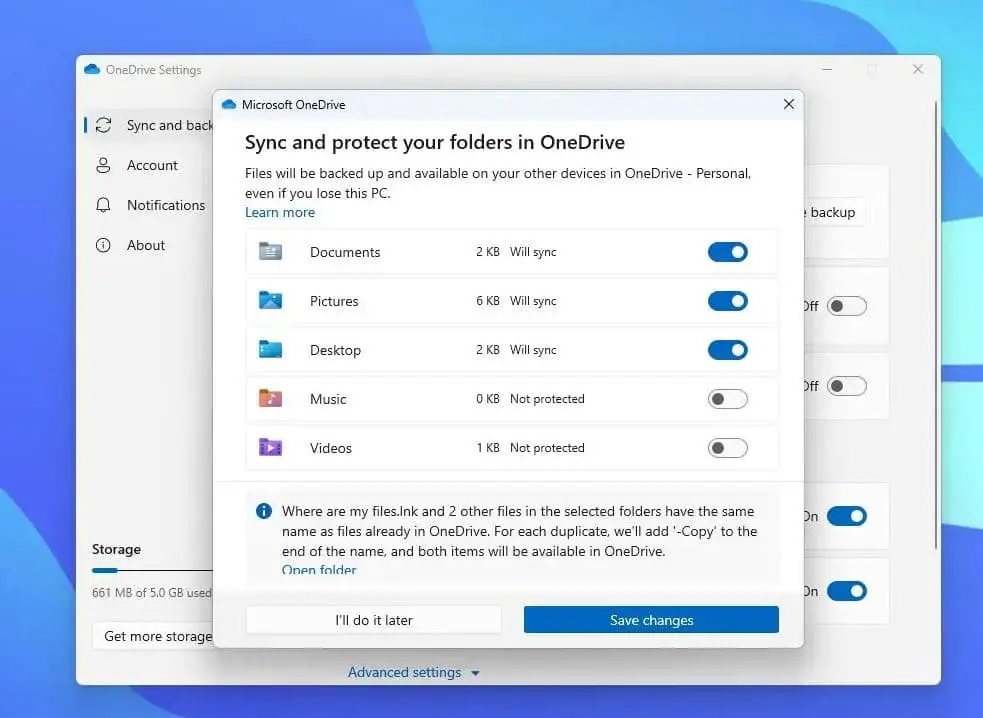 Make Sure Your System Has Enough Disk Space
The update process requires sufficient free disk space. So make sure you have enough free Disk space for downloading and install Windows 11 2023 update. You can move your unnecessary Data from the System installation Drive (C:). Run storage sens to clean Unnecessary temp files, junk files, System error files etc. Also, run Third-party Software CCleaner to clean up unnecessary files and fix corrupted, missing registry files.
Clean up unnecessary files, uninstall unused applications, and consider transferring large files to an external drive to ensure ample space for the update
WINDOWS 11 VERSION 23H2 SYSTEM REQUIREMENTS
Processor
 1GHz or faster CPU or System on a Chip (SoC) with two or more cores.
RAM
4GB and more
Hard drive space
 64GB or larger.
System firmware
UEFI, Secure Boot capable.
Graphics
Compatible with DirectX 12 or later with WDDM 2.0 driver.
Display resolution
High definition (720p) display greater than 9″ diagonally, 8 bits per color channel.
Networking
Microsoft account and internet connectivity are required for setup for Windows 11 Home.
Note: Windows 11 relies on Secure Boot and TPM (Trusted Platform Module) for enhanced security features. Access your computer's BIOS settings and ensure both Secure Boot and TPM are enabled. Refer to your motherboard or device manual for specific instructions.
Update Device Drivers
Outdated or incompatible drivers can lead to compatibility issues with Windows 11. Visit your device manufacturer's website to download and install the latest drivers for your hardware components, including graphics cards, network adapters, and peripherals.
Disabling third-party antivirus software is a crucial step when performing certain system tasks or installations to prevent conflicts.
It's essential to remove any plugged-in USB drives and disconnect any attached peripherals to ensure a smooth and trouble-free process. This prevents potential conflicts during the upgrade. Once Windows 11 is successfully installed, you can reconnect your devices as needed.
Before initiating any major system upgrade, especially moving to Windows 11 23H2, it's highly recommended to have your laptop plugged into a mains power supply and ensure it's fully charged. This safeguards against any interruptions due to battery issues during the upgrade process, ensuring a seamless and uninterrupted installation. Thank you for emphasizing this important step!
In addition, Running the DISM (Deployment Image Service and Management Tool) restore health command and the System File Checker (SFC) utility are excellent precautionary measures to ensure a smooth upgrade process and prevent feature errors. These tools help to scan and repair system files, addressing potential issues that could cause complications during the upgrade. Thank you for highlighting these important steps!
Some older or niche applications may not be compatible with Windows 11. Visit the official websites of your essential software and verify if they support the new operating system. Consider seeking alternatives if needed.
When you are ready here are step by step guide on how to upgrade Windows 11 23H2 for Free.
Also read: