Windows users Report After installing the Recent Windows 10 update version 22H2, they Are unable to type anything, Keyboard input not working even the keyboard light is on. Laptop users also have the same issue unable to type anything, Laptop Keyboard Not Working for them. This issue mostly occurs due to the corrupted Device driver, may the installed driver is not compatible with the current Windows 10 version.
Laptop Keyboard Not Working
There are two scenarios for this Keyboard input not working issue. The first keyboard light is on but unable to type anything keyboard totally not respond to any commands. This is mostly software problems or system file corruption issues.
And the second scenario keyboard working smoothly but was Unable to type anything, keyboard input not working on the start menu /Cortana search or Edge browser web bar it didn't display any input letters. This is cause we need to fix Windows App Related problems. Let's Apply Bellow Solution As per your problem To get fixed keyboard & mouse not working issue on Windows 10.
Cause 01: Keyboard not working / Not responding
First Apply Bellow solutions To fix Driver related problems, Check compatibility issues, repair Corrupted System files etc. Start with basic Troubleshooting For Desktop computers
Make sure the keyboard USB / PS2 pin is attached properly,
Try to attach the pin to the Different USB ports.
Also, Make sure Windows have the latest updates installed
from Settings -> update & security -> Windows update -> check for updates. Then after Restart Windows and check the problem gets resolved, If not apply the below solutions.
Update / Roll Back Device Driver
If the problem Started after installing recent updates or a recent Windows upgrade then the Keyboard / Mouse Driver get corrupted, The Installed driver is older or not compatible with the current Windows version. That causes you to need to update the device driver or use the Rollback driver option to revert back to the previous driver version.
Roll Back Driver
Press Windows + X and select Device Manager,
Expand keyboards, Double click on the installed keyboard device driver
Then move to the Driver tab.
Here you will find the Rollback Driver option, click on it
When Windows ask for confirmation click yes
Select the reason why you are performing the rollback option.
After that Restart windows and check the next reboot keyboard and mouse working properly.
Update Driver
Also, an Outdated and corrupted device driver causes The keyboard and mouse not work. To deal with issues like this we need to update or reinstall the keyboard driver.
Again open Device Manager using devmgmt.msc
Expand the keyboard then right-click on the installed Keyboard driver and select update driver.
Then Fallow the On-Screen Instructions to install the latest available updated driver.
Or you Can Visit the Device manufacturer's website and download and install the latest driver for the keyboard. Then after Restart windows and check the problem is solved.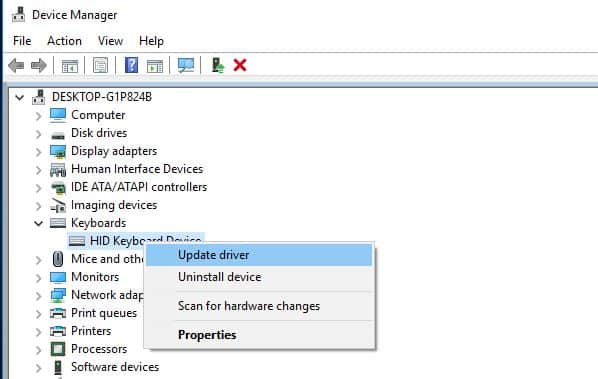 Run System File Checker
Also During the Windows 10 upgrade Process if system files get corrupted or missing cause also you may face different problems, or Devices not working. We recommend running the Windows SFC utility which scans and repairs missing corrupted system files. If System File checker Results found some corrupted system files but is unable to repair them. Then you need to Run the DISM Tool which repairs the system image and allows SFC utility to do its job. After that Restart Windows and check the problem get resolved.
Perform Clean Boot
Third-party services in Windows have a bad reputation for creating conflicts. many third-party Applications or Services cause this issue. We Recommend Performing Clean Boot windows, Which disables third-party services and makes a clean environment where only official Microsoft services will be active. Check after Clean boot if the keyboard & mouse working properly then you need to find out which application Causing the issue.
Cause 2: Keyboard input not Working on Start menu search, Cortana or Edge
On the Second scenario if the keyboard input not working while type something on the Start menu search, Cortana or Edge browser bar then this may cause the App not to work, the System not responding etc. To Deal with Issues like First, We need to optimize System performance. And fix or repair the Windows 10 Start menu, Cortana App or Edge browser.
Optimize System Performance
First, check system working properly, there is no 100% CPU usage or High Disk Usage, The Memory Leak issue this thing make the system unresponsive and doesn't allow to perform any task including typing anything.
Also, Check system is not infected with viruses/malware by running a full system scan.
You can Run third-party System optimizers like Ccleaner to clean junk, and system error files, clear browser cache, and cookies and repair Windows registry errors while help fix many system errors and fast system performance.
Run Start Menu Troubleshooter
If the keyboard type problem only exists in the start menu and Cortana, You should run a troubleshooter. It may resolve your problem. Download the start menu troubleshooter from the following link: http://aka.ms/diag_StartMenu  Run the Troubleshooter which automatically checks for the start menu or Cortana app related problems and fixes them for yours.
Fix Windows Apps
If the problem only on apps, Such As on the start menu you are unable to type anything, keyboard input not working or on edge browser Web bar don't allow to type anything then we need to deal with the specific app. Such as we need to repair or Re-register the Start menu or Reset the Edge Web browser.  After That Restart Windows to make A Fresh Start and check hope this time the keyboard & mouse working smoothly for you.
These Are some Most applicable solutions to fix the Keyboard Input not Working or the keyboard mouse not working on Windows 10. I hope After applying these solutions your problem will get resolved and the keyboard & mouse Start working properly. Face any difficulty While apply these solutions feel free to discuss on the comments below.
Also, Read